When it comes to elevating your style, a proper piece of neckwear is a must. Out of all fashion accessories, the tie comes in a gamut of patterns, sizes, and colors.
Whether you are looking to go wild with your suit selection, or you simply want to complement a classy blazer, paying extra attention to choosing a tie is of the utmost importance. Just remember that if you will be attending a business event, a necktie of solid color (red, black, navy blue) is your best choice.
However, if it is a party or an informal event, then you have more freedom to get creative and experiment with vivid designs, including polka dots, plaid, and floral patterns.
To help you get started, we have prepared a list of the best men's ties to help you find the perfect option based on your style, taste, and budget. So without further ado, let's take a look at these excellent options.
Comparison Chart
Men's Ties Reviews
KissTies Solid Satin Tie Pure Color Necktie + Gift Box
If your coworkers are on the traditional side, and your job position requires you to look sleek and classy, then a solid satin tie can go a long way. While not featuring any of the fancier patterns, this product will still be a good addition to your fashion game, especially considering that there are a plethora of solid colors to choose from.
Review
The first thing that we want to discuss is the wide array of available models. When it comes to the classy choices, we would recommend the Burgundy Red, Black, Royal Navy Blue, or even the Turquoise (for those of you wearing a blue suit). What you should keep in mind is that these neckties are set at 3.35 inches wide, which is quite wide but suitable for more formal occasions.
On the other hand, the Fuschia Pink, Lavender Purple, and Green Olive are fantastic choices for events such as wedding celebrations and less formal dinners. The length of 58 inches can be a bit tricky to work with if you are a taller guy, as it won't allow you to go for the tighter and longer-lasting knots. As for the design quality, there isn't a lot that you should worry about.
We were quite impressed with the microfiber satin material that these neckties are made from. Soft to the touch and comfortable to wear, these both look and feel smooth. You can either hand wash or machine wash cold to ensure that the KissTies tie holds its structure.
Overall, you are looking at a neckwear item that comes at an affordable price and is highlighted by high-quality composition, as well as vibrant, solid colors.
Pros
Good price for great value
Shiny and smooth – looks great for smart or casual
Soft and comfortable
For different applications
Simple to clean and maintain
Cons
A bit short for taller guys
CHECK LATEST PRICE ON AMAZON.COM
Adulove Men's Necktie Classic Silk Tie
For those who don't have time to look for each necktie separately and want to have more versatility in your wardrobe, this Adulove set is a fantastic choice. Available in 6, 9, or 12 pieces, the combinations are pre-set, but the array of covered patterns includes polka dots, plaid, floral, fauna, and classy striped neckties.
Review
To be honest, finding a high-quality set of neckties isn't as simple as you may think, which is why we were happy to come across this Adulove set. In our opinion, these are perfect whether you are going to a fancy party, formal event, or just planning a casual stroll downtown. The featured novelty patterns will help you step up your fashion game and allow you to be the main star of the evening.
Keep in mind that this product can also be made as a fantastic gift, as there is a fine storage box included with the neckties. In terms of durability, there isn't much we can say against this Adulove neckwear. Made out of woven silk, you can be sure that these ties will last you for years with proper maintenance.
Much like with the aforementioned product, the issue with this one is the length, as 57.5 inches simply isn't long enough if you are a taller guy. The width is set at 3.1 inches. Finally, it is safe to say that anyone who wants to look stylish while wearing a delicate and comfortable necktie should consider this Adulove product!
Pros
Novelty patterns offer excellent options
Hand-woven silk
For formal or informal events
Comfortable and delicate
Cons
Could be longer – a bit short for tall men
CHECK LATEST PRICE ON AMAZON.COM
Jacob Alexander Solid Color Men's Regular Tie
Getting back to neckwear that is more basic and features just solid color designs, it is hard to overlook these Jacob Alexander models. Although listing all the available neckties would be too much, we want to point out that there are a plethora of colors to choose from, including different shades of Black, Blue, Red, Pink, Purple, Green, and White!
Review
When it comes to the composition of this product, we are satisfied with the featured microfiber, which ensures optimal durability and is simple to maintain. However, we have to say that it is nowhere near as soft to the touch or comfortable to wear as those that are made from satin or hand-woven silk. This is something that you should consider if the event you will be attending lasts throughout the entire day.
Wearing this Jacob Alexander Solid Color Tie will allow you to maintain a sleek and classy appearance because the design isn't too shiny or too matte. What secures these models further is the bar tackling on both sides, as well as the full lining that allows you to achieve thicker knots with less effort.
Set at a width of 3.25 inches, you will be confident wearing one of these models with your elegant suit. For the given price and considering the available colors, we consider this product to be worthy of its price.
Pros
Fully lined – more comfortable to wear
Versatile solid colors
Durable – will last for years
Suitable for thick knots
Good price for a long-lasting tie
Cons
Could be softer
Not as comfortable as similar options
CHECK LATEST PRICE ON AMAZON.COM
Soophen Mens Necktie 3.75 Inch Solid Color Ties
While working on a limited budget can be quite tricky, especially if you are trying to go for a sleek and classy look, it isn't impossible. With this in mind, we would suggest that you consider these Soophen ties because these solid color neckties come at an extremely affordable price and can be worn to complement a nice suit.
Review
Made out of silky and soft fabric, we were quite impressed with the number of colors that these neckties come in, which is 26. You shouldn't have a tough time finding one that suits your style or occasion, as Soophen offers anything from Black, Red, and Blue to White, Green, and Purple. These neckties can be used for both parties and more formal events.
We can say that the solid color designs are very attractive, and all of these ties are shiny (but not too shiny) and soft to the touch. On the other hand, the width of 3.75 inches may be a little much.
Finally, for the price that this neckwear comes at and considering all the available colors, you should give these a chance.
Pros
Soft fabric looks and feels great
Silky, fashionable look
26 color options to choose from
Extremely affordable price
CHECK LATEST PRICE ON AMAZON.COM
ZENXUS Solid Skinny Ties for Men
Ending our list of the best men's ties, we find it appropriate to highlight a set of skinny ties that can be worn for a wedding celebration or a party. Yes, the ZENXUS models are narrow, but if you are wearing a fancy blazer or suit jacket, then these ties can be successfully combined with it.
Review
There is an array of premade neckwear on offer that you can choose from, including multi-color and single color options. The good thing is that you are getting four neckties in each of the sets, allowing you to switch between them depending on the occasion.
Our personal favorite is the Matte Mix #1 due to the nice combination of Grey, Black, Burgundy, and Navy Blue neckties. On the other hand, if you are looking for a more vibrant set, then go for the Bright Mix #3, which comes with Turquoise, Navy Blue, Burgundy, and Champagne. All of these ties measure 2.5 inches in width and 58 inches in length, which is adequate, as we are talking about skinny ties.
Highlighted by a matte microfiber composition, these neckties are a bit too soft, which is the main reason why you will want to go for tighter knots. Other than that, there is not much to say against this ZENXUS product, which we would recommend to anyone who is fine with the skinny design.
Pros
Both darker and brighter colors
Good length for most men
Matte microfiber
Can be worn for all occasions
Cons
A bit too soft for more complicated knots
CHECK LATEST PRICE ON AMAZON.COM
Buyer's Guide
When it comes to choosing a suitable necktie, it comes down to much more than the color and the brand that stands behind it. To bring your attention to what matters, we have prepared a list of the key points of any necktie. Let's take a look.
Purpose – What Do You Need It For? (Casual or Formal Event)
Throughout this article, we have emphasized the importance of distinguishing between neckwear that offers solid colors and those with more vivid patterns. Frankly, if you are looking for a cravat to wear at work or in the office, then we would suggest something classier and less outgoing, such as a Black, Navy Blue, or Burgundy solid color model.
Still, for wedding celebrations or informal parties, you shouldn't restrict yourself. Let your creativity go wild by choosing a polka dot tie or one with floral or even fauna prints!
Material
Among the most important points is the composition of the necktie. With that in mind, you should look for models that are made from hand-woven silk or with a satin finish. This material is very soft to the touch and comfortable to wear, which goes a long way if the wedding celebration or the formal event you are attending will last the whole day.
Color and Design
As we mentioned earlier, the color and design determine whether you will be looking old-school classy or more modern and fancy. Luckily, the market is versatile, and you shouldn't have an issue finding the model that suits you, whether that means a solid color necktie of different Red, Blue, and Black shades, or something that will liven up your outfit.
Size
When it comes to the size of a regular tie, we would say 58/59 inches in length and 3.1 to 3.3 inches in width is ideal. Still, some models are wider, and skinny ties can go well with less formal blazers, especially when worn by younger men. Once again, it all depends on the event you are attending, as well as whether the necktie will be proportionate to your body.
Price
Much like with any other product, price plays an essential role when it comes to choosing a suitable necktie. The good thing is that you won't have to blow your budget to find a necktie that will last you for years and that can be worn on different occasions. The Adulove Neckwear Set and the Soophen Solid Color Ties are the perfect examples of this.
Wrap Up
At the end of the day, you should choose a necktie that suits you and the suit jackets or blazers that you like to wear. Our personal favorite is the Adulove set of neckties that allows you the much-needed versatility of patterns and colors.
As our second choice, we would point out the Soophen ties that are highlighted by a shiny design and that help you complement a nice suit at an extremely affordable price.
For more stylish options to complete your look, be sure to check out our reviews of the Best Golden Ties and the Best Red Ties.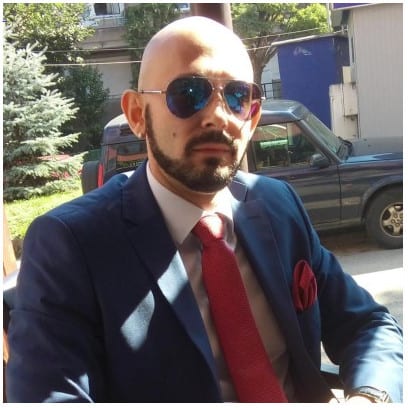 Samoel Ovanessian is the founder and creator of StylishAlpha.com – a website dedicated to men's fashion. As a proud owner of more than 200 ties, he loves digging through new clothing combinations for everyday use, formal events and even just for fun. You can read more about Samoel here.