When it comes to a fashion item that any man should own, we would recommend a nice white dress shirt. Whether you want to look classy at a formal event or fashionable at a fancy party, this item can go a long way.
Luckily, there are hundreds of different models to choose from, and it all comes down to the fit, the brand, and the budget that you are working with. In our opinion, you should always have a couple to choose from, including a white dress shirt that can be tucked into nice pants and one that is more suited for a casual, elegant dress code.
For this reason, we have prepared a list of the best white dress shirts, pointing out both budget-friendly and more expensive products, allowing you to choose one based on your preferences, style, and budget. So without further ado, let's take a look at what these white dress shirts have to offer.
Comparison Chart
White Dress Shirts Reviews
The white dress shirt is the core of every man's wardrobe. Whether you want to put together a formal look or a simple casual look, the white dress shirt is always on hand to complete the look. It's clear this piece is essential to every man's closet and the market has no shortage of options to choose from.
If your biggest worry is finding a white dress shirt, here are a few you won't regret adding to your collection;
Arrow 1851 Men's Dress Shirt Poplin
If you are looking for a versatile set of dress shirts that come in several different fits, then you are in the right place. While we will be reviewing the white one in this article, the Corn Flower, Deep Black, Lavender, Beaujolais, and other featured colors are of great quality, as well.
Review
The first thing that we were impressed by is that you can choose between an array of different designs when it comes to this white dress shirt. If you are looking to wear it untucked, then something like the slim or the extra-slim model can come in handy. On the other hand, if you want to be more comfortable, while remaining classy, the regular fit dress shirt is the way to go.
This product is 65% polyester and 35% cotton. While great in terms of durability, this means that the Arrow 1851 may not be as soft to the touch and as comfortable to wear as a 100% linen or cotton dress shirt. Still, there is a positive point to this blend – you won't have to spend time on the ironing process, as the fabric holds its form very well (anti-wrinkle).
You are looking at a streamlined dress shirt that can be worn for formal and informal occasions both with or without neckwear. Overall, it is an affordable and well-made product that you should definitely consider when upgrading your wardrobe.
Pros
Affordable price for daily wear dress shirt
Wrinkle-free design
Several fit options
Streamlined design
Cons
Not as soft or comfortable as other options
CHECK LATEST PRICE ON AMAZON.COM
Amazon Essentials Men's Regular-Fit Dress Shirt
For those on a limited budget who aren't looking to get products that are designed by expensive fashion retailers, we have just the thing for you. Coming directly from Amazon, this dress shirt is 98% cotton and is available in a plethora of sizes, which means that anyone can find an option that fits.
Review
The first thing that we want to discuss is that this product comes in more than just white. If you are interested in going for a more vibrant model, you can choose between Lavender, Light Blue, Pink, and French Blue, and there is also a streamlined Black for a more elegant approach. What we love about the Amazon Essentials Men's Regular Fit White Dress Shirt is that it is highlighted by a classy, clean design that will allow you to wear it on an everyday basis, no matter the event.
You are looking at a regular fit model that is highlighted by a double-pleat back and a rounded hem. Unlike slim fit shirts, this one offers more room in the upper body, which will allow you to be on the move throughout the day. Trying to achieve a classy appeal, Amazon Essentials decided to go for a single-button cuff, as well as a patch chest pocket.
The soft feel and elasticity that results from the 98% cotton/2% spandex composition has its downside, though – wrinkling. Still, as long as you are experienced with how to iron a dress shirt, that shouldn't be a deal-breaker. Overall, this is an attractive and versatile model that will serve you well!
Pros
Great price for great value
Patched pocket
Classy, clean design
98% cotton is soft
Comfortable – can be worn all day
CHECK LATEST PRICE ON AMAZON.COM
IZOD Men's Slim Fit Dress Shirt
Continuing with our list of the best white dress shirts, we present you with a product that is an ideal choice for anyone who enjoys athletic or slim fit fashionwear. This model is highlighted by tapered sleeves, a trimmed chest, and a slimmer waist without sacrificing comfort and while displaying your physique.
Review
The composition of the IZOD Men's Dress Shirt Slim Fit is quite specific, given the 66% cotton, 30% nylon, and 4% spandex for added elasticity. It is highlighted by a classic slim-fit design with no pocket and a button-collar (not adequate for wider neckwear). One of the coolest features has to be the breathability of the fabric, which will help wick away any moisture or heat and allow you to stay dry and cool even during the hottest summer days.
Additionally, not only is this dress shirt soft, but it also allows a nice range of movement, which is ideal if you will be wearing it throughout the day. This shirt's fabric is quite thin, so be extra careful when it comes to machine washing and ironing. Other than that, there is not much to say against it given its elegant design and nice fit.
Pros
Slim fit
Comfortable to wear all day
Moisture-wicking fabric
Elegant design
Good elasticity for ease of movement
Cons
Thin fabric – needs extra care when cleaning
Not for wide neckwear
CHECK LATEST PRICE ON AMAZON.COM
Calvin Klein Xtreme Slim-Fit Men's Dress Shirt
Coming in a variety of colors, including Ultra Blue, Mist, Antique Rose, Black, Smoke, Sandstone, and White, this is one of the best mid-range dress shirts. It is highlighted by an extremely slim fit but still leaves enough room in the upper body, and it offers good elasticity.
Review
The main point of this model is that it is 100% cotton, which means that the comfort and soft texture is exquisite. Along with that, while not featuring polyester, this material is quite simple to iron and is even wrinkle-free, which means that you will be spending a lot less time on making sure it is ironed out. The trimmed chest, tapered sleeves, and slim waist make it a great choice for anyone who wants to highlight their physique.
We are glad that it doesn't feature a pocket, as a pocket doesn't belong in such a streamlined, elegant design. On the other hand, it offers a spread collar that supports any type of neckwear, including wide neckties. Much like the aforementioned product, the fabric is wicking, which means it is suitable for both winter and summer.
The only issue that we have with this product is that the fit at the shoulders is a bit weird, so you should be careful with the sizing. Other than that, this dress shirt comes at a fine price and is the perfect example of Calvin Klein men's fashion wear!
Pros
Attractive button-up design
Comfortable material
Tapered sleeves, trimmed chest
Great breathability keeps you cool
Spread collar
Cons
Tight fit around the shoulders
CHECK LATEST PRICE ON AMAZON.COM
Alex Vandos Men's Dress Shirts
Lastly, we have a tumble dry low, button-closure dress shirt that is suitable for both offices and fancy parties. Available in more than just the classy White, including Blue, Red, Pink, Burgundy, Charcoal, Black, and several other colors, it holds great value for the price that it is offered at.
Review
What makes this dress shirt so comfortable is its composition of 97% cotton and 3% spandex. That blend seems to work the best when it comes to ensuring a texture is soft to the touch while allowing freedom of movement. Additionally, it offers good breathability, which is of the utmost importance when it comes to wearing this shirt on hot days.
Nicely stitched and with a spread collar, you are looking at a high-quality dress shirt that can be worn with different styles. The only concern that we have is the wrinkling that comes as a consequence of the thin fabric this product is made out of. Still, for the price and given the versatility that it offers, we consider it a worthy choice!
Pros
97% cotton is very comfortable
Good breathability
Lightweight design
Versatile – can be worn for smart or casual
CHECK LATEST PRICE ON AMAZON.COM
Things to consider when choosing a white dress shirt
Fabric
The white dress shirt can be worn all year round and is made with several materials to facilitate this simple fact. The most common materials are cotton and linen however silk dress shirts are also available for days when you want to look flashy.
Most dress shirts created for business and formal meetings are made of cotton as the material is breathable, lightweight, absorbent, and can be worn year-round. Let's break down some of the terms you'll come across when shopping for cotton dress shirts.
Non–iron cotton
This is fabric that has been treated in a chemical solution and baked to alter the way the fabric naturally creases. These shirts are usually ready to wear straight from the dryer and require little to no maintenance.
Pinpoint Oxford Cotton
This is fabric that has a slightly textured weave and was initially associated with Ivy League. Naturally, shirts made with this material are durable and upstyle.
Supima Cotton
This is cotton grown exclusively in the USA and makes for the most luxurious feel. This cotton is undeniably better than regular cotton as it is strong and soft.
Poplin Cotton
This is fabric with a very fine plain weave that makes it strong, lustrous, and sophisticated. This fabric is much dressier than pinpoint cotton.
Collar
The white dress shirt can be worn as formal, business casual, and casual attire. For this reason, understanding your collars can help you pick the right shirt for the occasion each time
The straight collar
The straight collar points end between 1.5-3.5 inches from each other. This collar is good for slimmer knots and can double down as a casual look when left undone
The button-down collar
This collar was originally designed for sports shirts but has since into everyday wear. These collars have buttons at the points to enable them to be buttoned down to the shirt. These collars are considered casual and are best for less formal events.
The Tab collar
This collar has a small button in between the collar points that serves to prop up your tie knot and give a more sophisticated look. This collar should always be worn with a tie.
The spread collar
This is the most popular collar and the points are usually 4-6 inches apart. This collar is perfect for larger tie knots as it balances the knot and does not appear stretched,
Weave
When picking you can always pick the solid weave, the herringbone weave, or the twill weave. The herringbone and twill are subtle weaves that add texture and dimension to a shirt and can be the finishing touch you need.
Wrap Up
At the end of the day, all of the listed products are worth the money. If what you are looking for is a regular fit shirt that isn't baggy and comes at a fine price, then we would suggest the Amazon Essentials Dress Shirt for its classy design and great breathability. For those of you who are more interested in an athletic fit, the IZOD Men's Dress Shirt serves as a fantastic option that is highlighted by a modern design and good elasticity!
FAQs
Should I wear an undershirt with a dress shirt?
Yes, always wear an undershirt with your dress shirt. Dress shirts are priced possessions in any wardrobe and you want to make the most out of them by prolonging their life. Apart from that, some dress shirts can be a little see-through and can be considered inappropriate for some occasions. We believe that dress shirts fit better with undershirts so we recommend you get some if you don't already own some.
What color of undershirt is best for a white dress shirt?
You can wear a white undershirt with a white dress shirt as long as it blends well with your skin and does not show harsh contrast lines. To be on the safe side you can settle
for heather-grey as it blends perfectly into the background. For darker men, a brown undershirt may just do the trick for you.
What can I pair with my white dress shirt?
A white dress shirt can be worn with a suit, official pants, chinos, or even jeans for a casual look.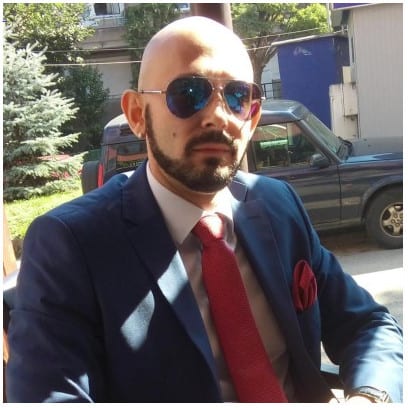 Samoel Ovanessian is the founder and creator of StylishAlpha.com – a website dedicated to men's fashion. As a proud owner of more than 200 ties, he loves digging through new clothing combinations for everyday use, formal events and even just for fun. You can read more about Samoel here.