Growing tired of wearing your suits in one solid color? Thinking of ways you can spice up your outfits without having to buy a whole new wardrobe? Then it's time to explore the world of mixing colors. Today we will answer the query: can you wear a blue blazer with black pants?
You can wear a blue blazer with black pants. Blue blazers are versatile and look great when paired with both formal and casual attire. When creating a formal outfit, you can pair your blue blazer and black pants with a fresh white shirt, a tier or a pocket square and leather shoes. If you prefer something more relaxed, a polo shirt, black jeans, and white sneakers will get the job done.
In this article, we will look at what to wear with a blue blazer and black pants, how to accessorize the outfit, and the benefits of wearing this combination. As well as providing helpful advice on how to create a formal and casual look with these clothing items!
5 Best Ways to Wear Blue Blazer With Black Pants
Now that you know that this combination is a good pairing, here are some of the best outfits you can make using the two items.
You will also like these other guides:
Outfit #1: The Classic Look
For the classic look, you can pair your blue blazer with black pants, a white shirt, a tie and leather shoes. This combination is perfect for formal occasions like weddings, business meetings or job interviews.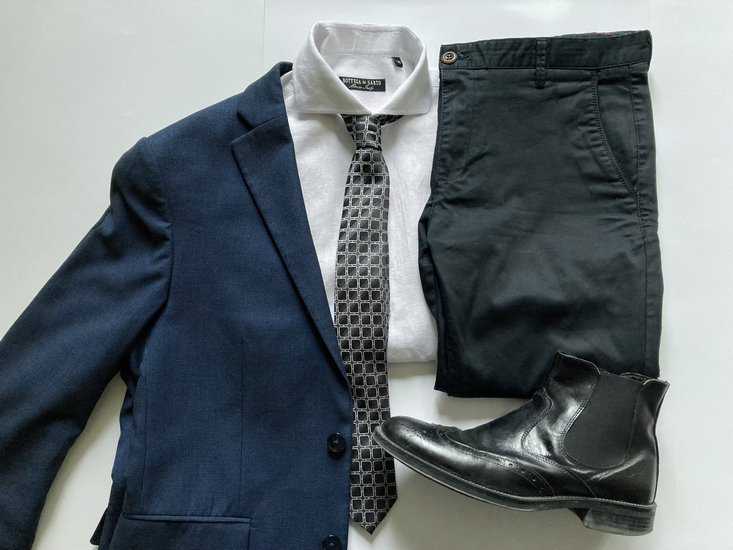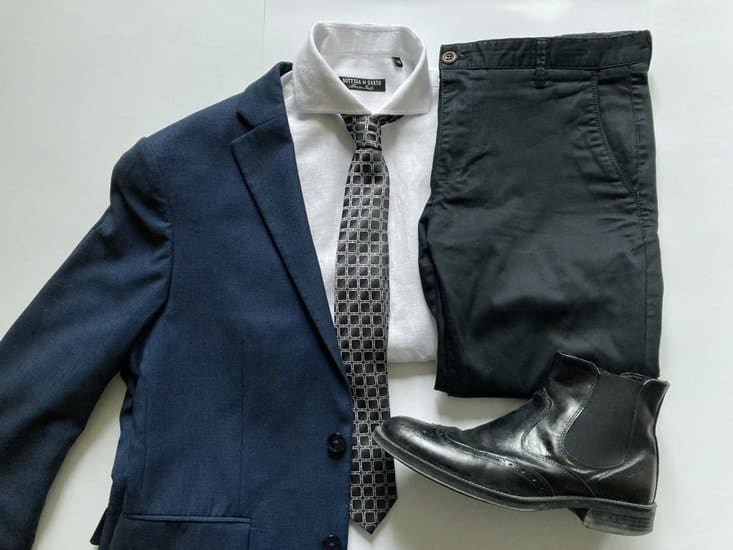 To make the look more stylish and modern, choose a tailored cut blazer and slim fit pants. Finish the outfit off with a printed silk tie in shades of navy or burgundy and brown leather brogues or Oxford shoes.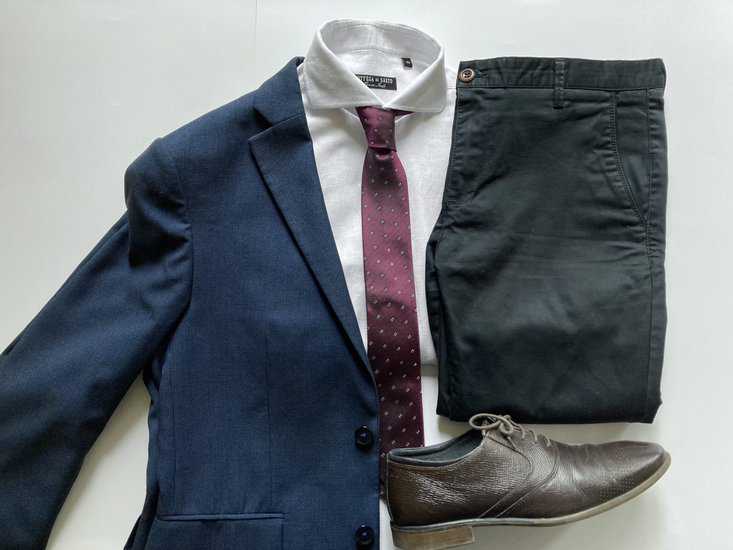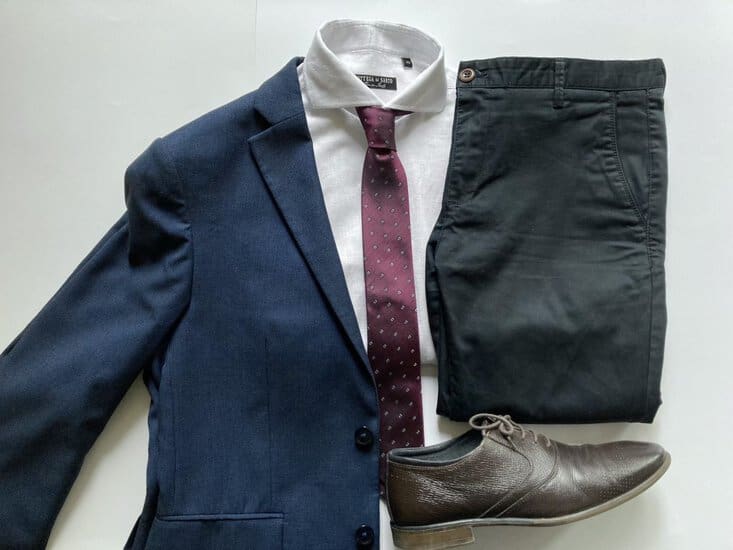 Outfit #2: Business Casual
If you want to look professional but don't need to wear something too formal, then this outfit is great for you. Start by pairing your blue blazer with chinos or black jeans and a crisp white shirt. You can also play around with different materials: try tweed for wintertime or lightweight cotton for summer days. Finish off the look with loafers or boat shoes in leather or suede.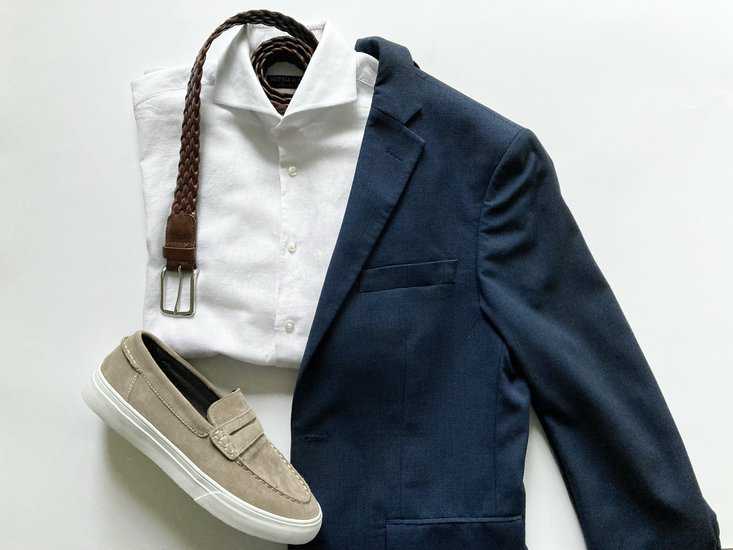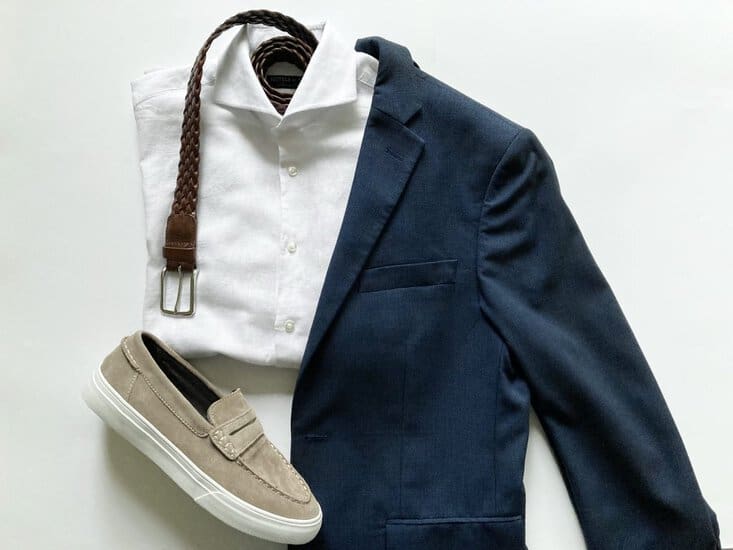 Outfit #3: Smart Casual
If you are looking for something more casual but still want to stay looking smart, this is the perfect combo for you. Pair your blue blazer with black chinos or jeans and pair it with a polo t-shirt in navy, light blue or any other color that matches your trousers. Complete the look with some casual shoes like trainers or sneakers in white or muted colors such as gray and navy blue.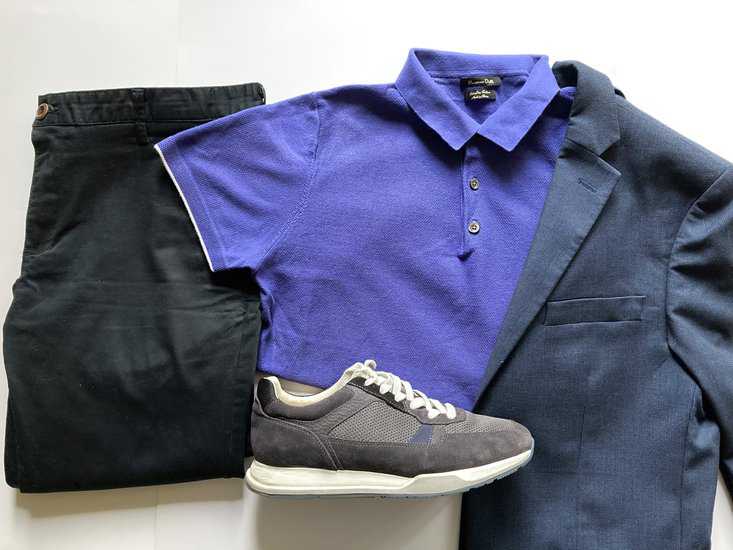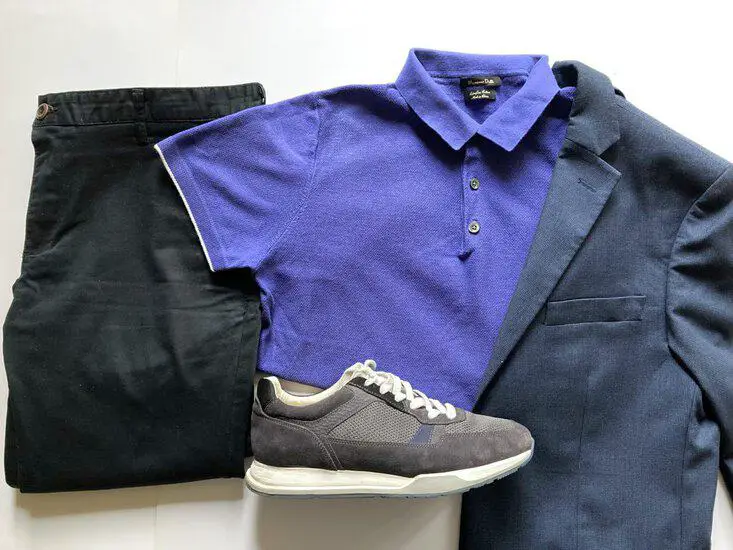 Outfit #4: Preppy Chic
This particular combination is great if you want to look polished. Start by pairing your blazer with black jeans (slim fit preferred) and layer over it a colorful gingham shirt in pink, yellow or green tones. Add some personality to your look adding accessories like braces in bright colors that will stand out against the blues of the blazer; finish off the look with some desert boots in tan leather of suede material.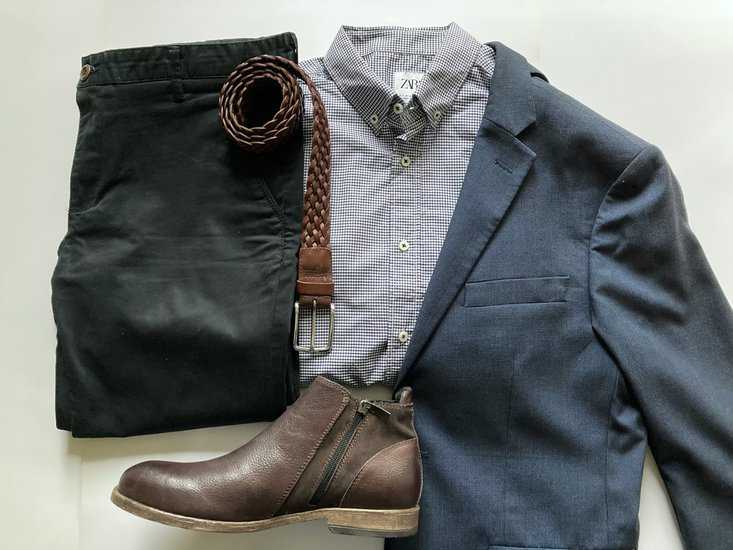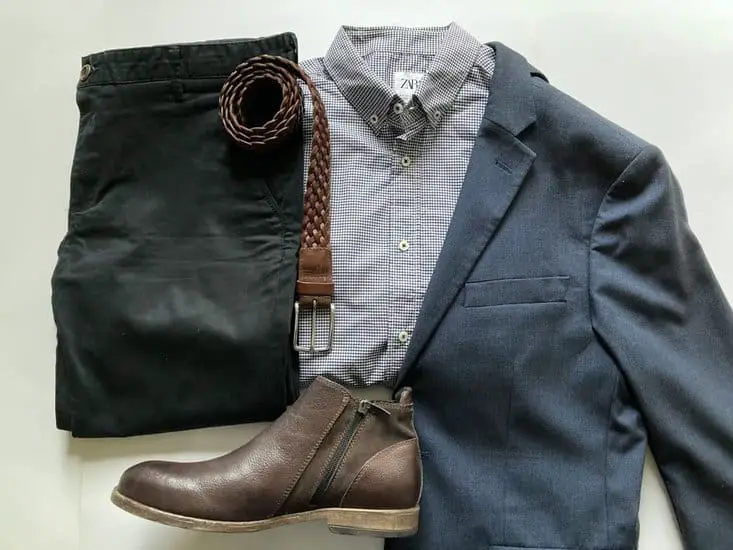 Outfit #5: Going Out
When going out you want to make sure that you're dressed up but still comfortable so that you can enjoy yourself without worrying too much about what you're wearing! For this particular look start by pairing your classic navy-blue blazer with skinny black jeans and add to it an interesting patterned shirt like stripes, paisley print or florals.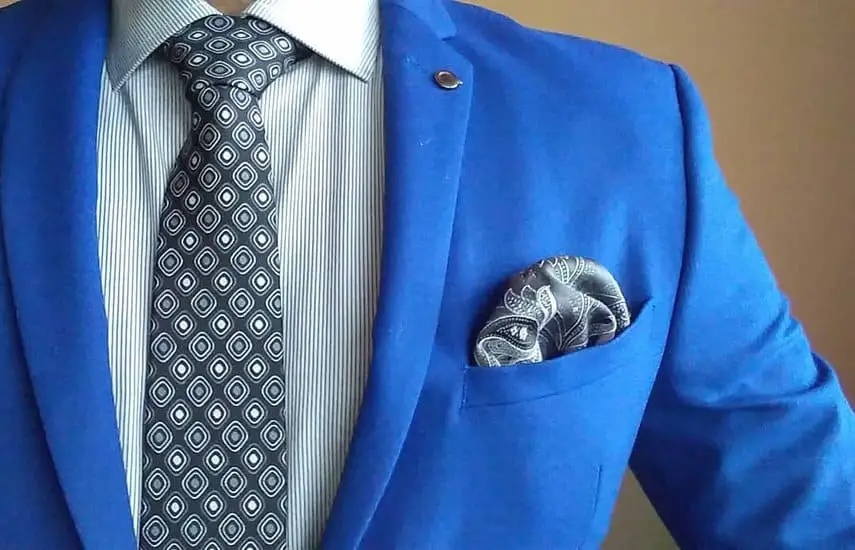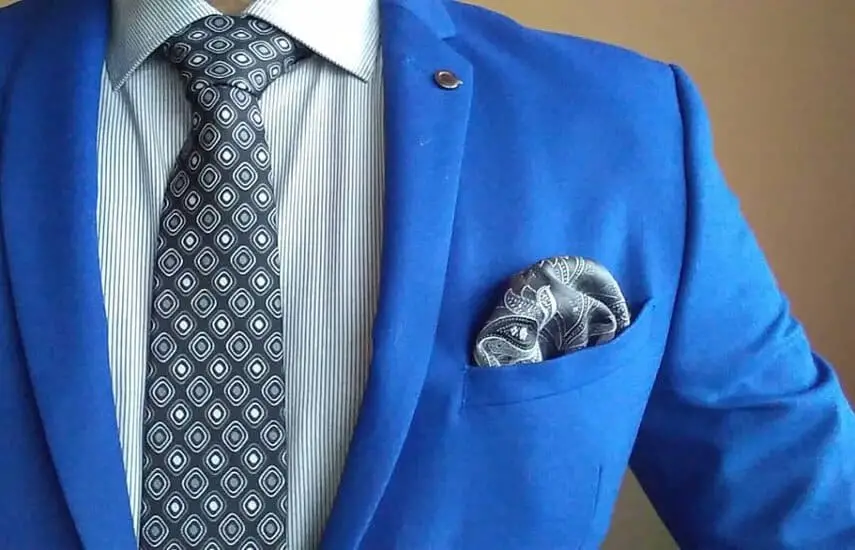 Finish off the look by accessorizing it with a pocket square in complementary hues of tie's tones complemented by some smart loafers will do just fine!
How to Wear a Blue Blazer & Black Pants: Formal or Casual
As we now know, the combination of a blue blazer and black pants can be worn in both formal and casual outfits, after all – the accessories will be what sets the tone for your outfit. Here are some pointers for which items will work best depending on the occasion.
Formal
When it comes to the formal look, the key is to keep things classic, as this will help ensure that you look put-together. To create a formal outfit with your blue blazer, always pair it with a classic white shirt. Then add some black pants made from high-quality materials that are tailored to fit your body type.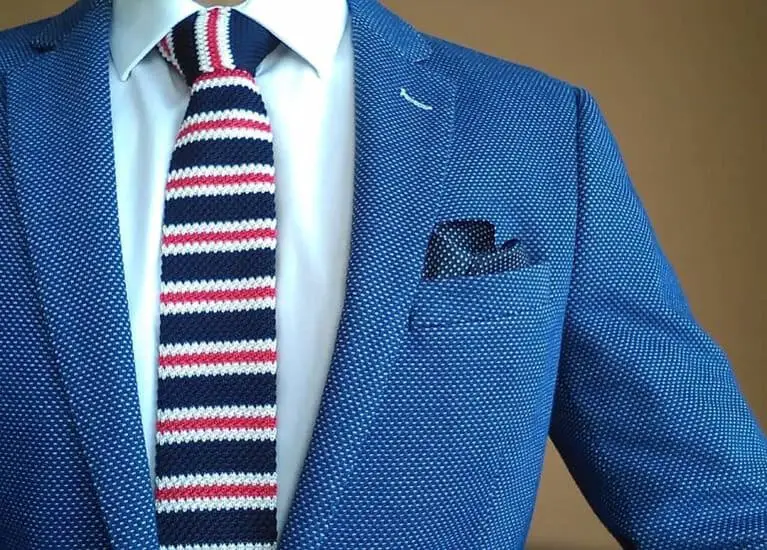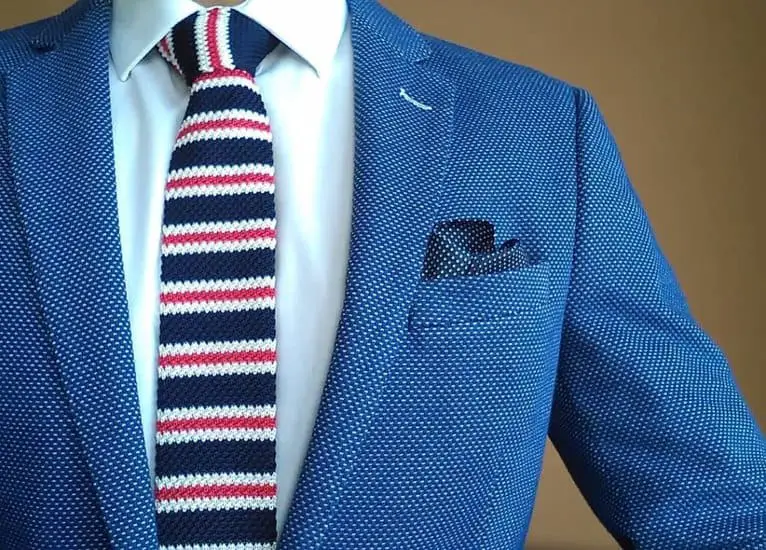 The best shoes for this ensemble are either leather derby or oxford shoes. Finally add a tie or a pocket square in one of these colors that will go well with a blue blazer and black pants: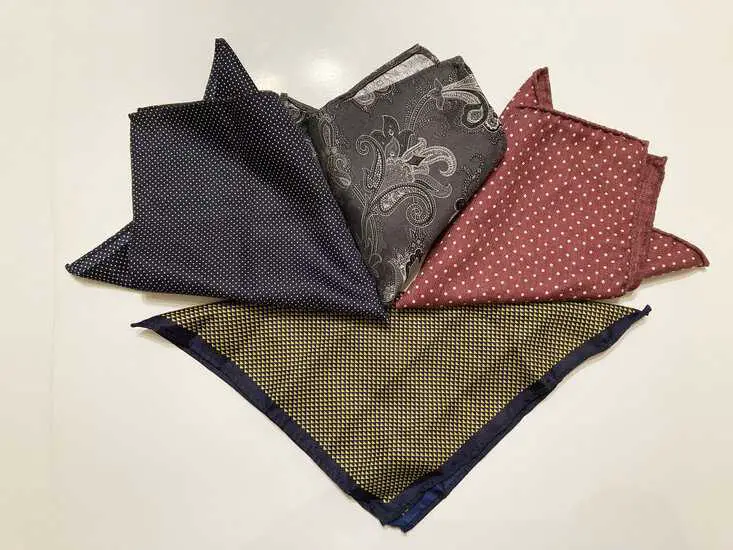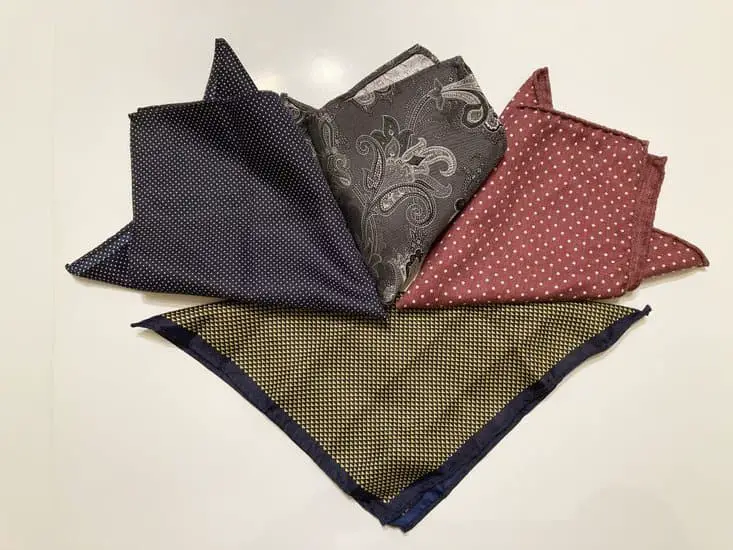 Navy blue
Burgundy red
Charcoal gray
Taupe
Plum purple
Maroon red
Bottle green
Sky Blue
Tan brown
Casual
When creating a casual look, a polo shirt or a plain t-shirt in any color are a great choice for what to put under your blue blazer. For your pants you should go with black jeans that fit well and are made from quality materials like cotton or denim. Again, you should choose a pair that fits you perfectly.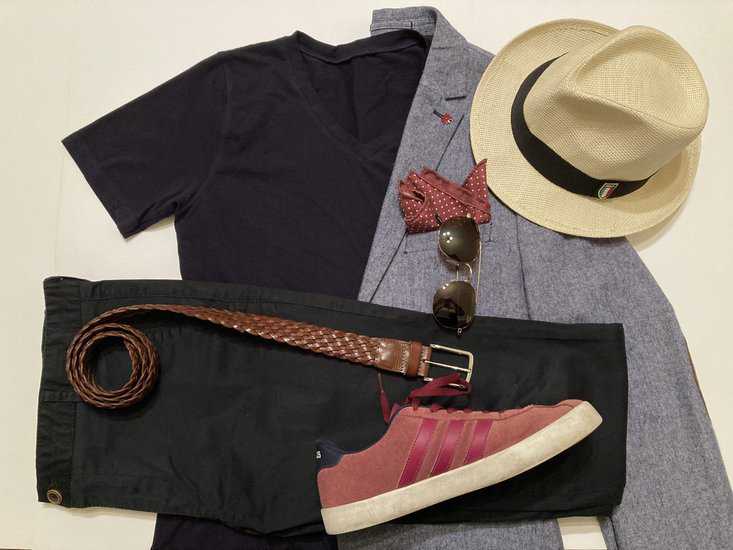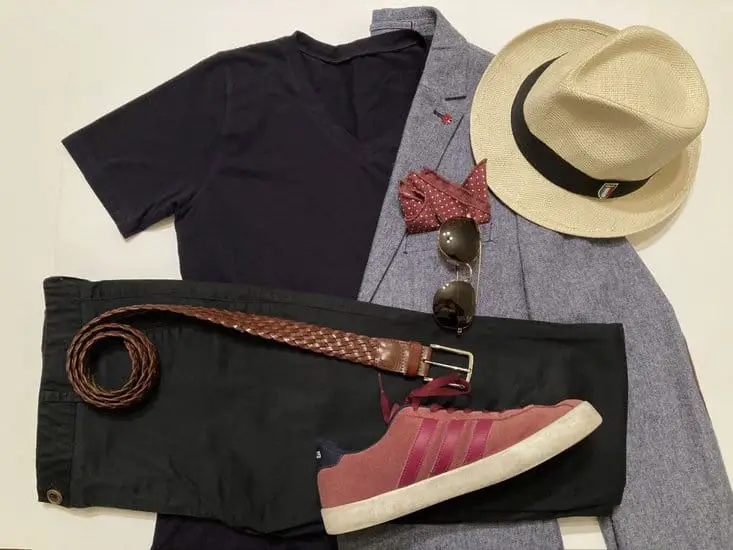 Add a relaxed flair to the look with sneakers like a pair of Converse or Vans. Finish off with a belt in black or brown, and add any accessories of your choice like a watch, bracelet or sunglasses. If you'd like to add a hat for a sunny day, here are 3 best ones for this look:
Fedora – Will add a touch of elegance to your outfit.
Panama Hat – Perfect for a classic and stylish look.
Baseball cap – A casual and relaxed choice, and will add a hint of sporty flair.
With all this information in mind, you should now have a good idea of how to wear a blue blazer with black pants. So go ahead, get your blazer and pants, and start putting together your own original looks!
Is Blue Blazer & Black Pants Combo The Best?
The blue blazer and black pants combo is certainly an ideal look if you're looking for a smart and sophisticated style. However, it's not the only option, as there are endless ways to combine colors when wearing a blazer and pants.
Here are some of other great color combinations:
Black blazer and gray pants – A popular choice for men who want to look polished and professional.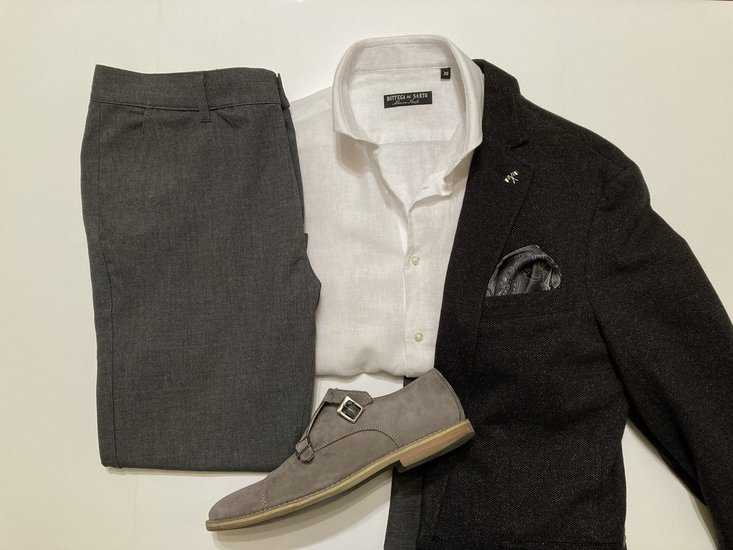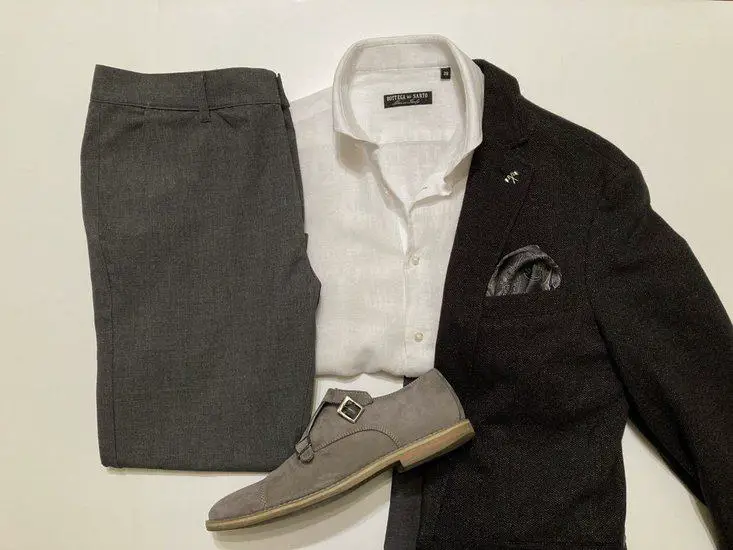 Navy blue blazer and light gray pants – A great choice for formal occasions.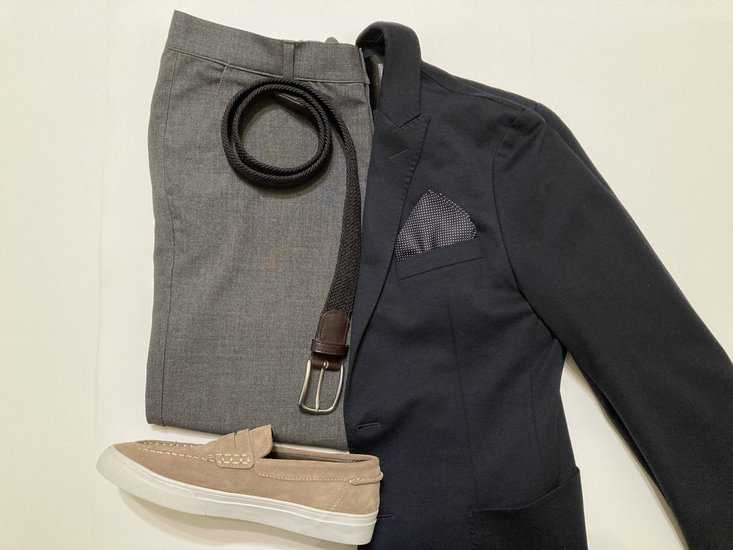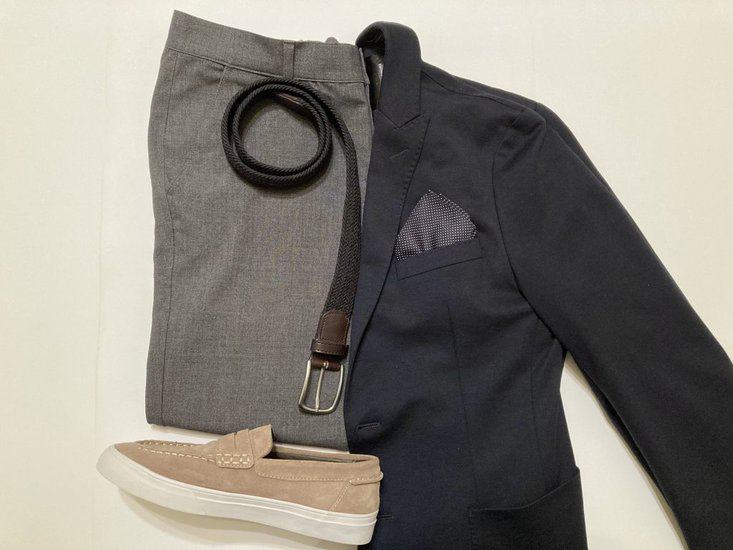 Brown blazer and khaki pants – perfect for a casual, yet classy look. These colors are also great for when you want to add a bit of texture, as brown blazers often come in different shades and materials such as tweed or corduroy.
Beige/cream colored blazers with white or cream colored trousers – Creates a modern and light look.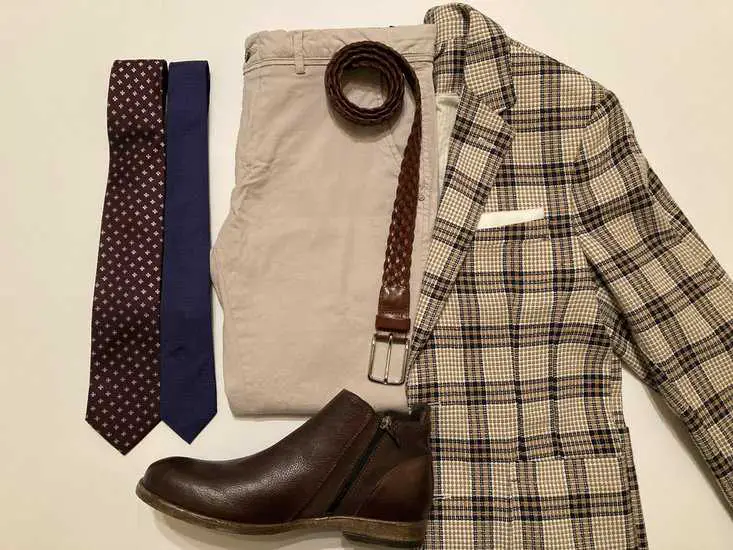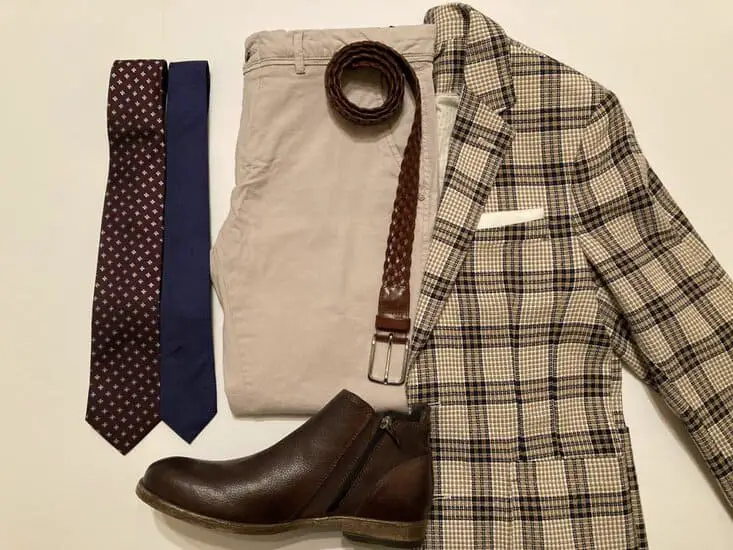 Ultimately when deciding how to style your wardrobe depends on personal preference and the occasion you will be dressing for. If you're looking to make a statement, then feel free to experiment with different color combinations! Otherwise stick to classic looks like the blue blazer & black pants combination for guaranteed success every time.
FAQs
Here are some of the most frequently asked questions on the topic:
Can you mix black and blue suits?
You can mix black and blue suits – in fact, this look is fairly interesting as it gives a contrast between the two pieces of clothing. However, some people believe that a blue blazer with black pants is a no go. Ultimately, it all depends on the occasion and your personal taste.
What color shirt goes with a blue blazer?
The best color shirts to wear with a blue blazer are usually white or light blue. You can also opt for more daring colors such as pink or yellow depending on the occasion. As long as it complements the blue of the blazer, it should look good.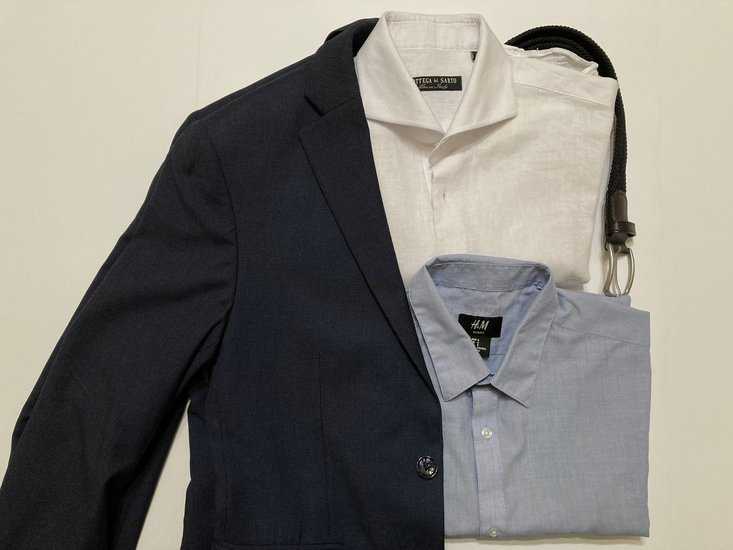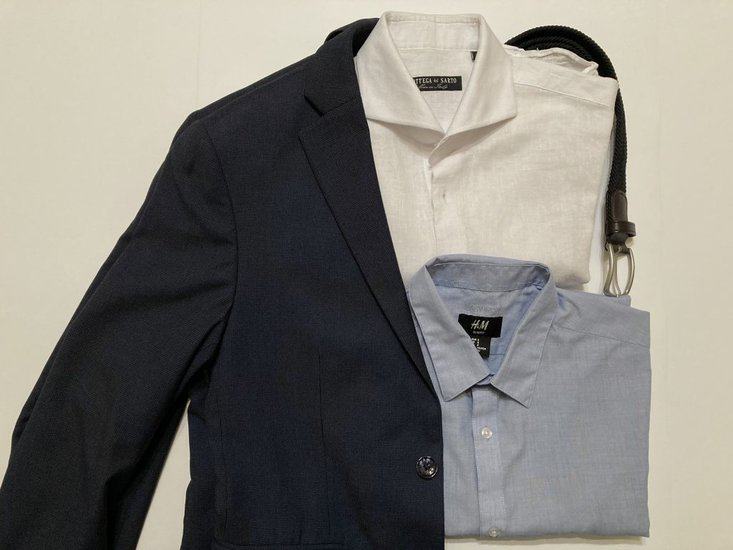 Do navy and black clash?
No, navy and black do not clash, this combination can actually look quite stylish if you pair them correctly. The colors that usually clash with black are ones that are too bright such as yellow or red, or dark brown.
Does navy blue look good on black people?
Yes, navy blue is a universally flattering color that looks good on all skin tones. It can be worn as part of formal or casual outfits, and pairs well with many other colors such as black, white, gray, and brown.
What is the best combination for a navy blue blazer?
The best combination for a navy blue blazer would depend on the occasion. The top three most popular pants color choices that are not blue are black, gray, and beige.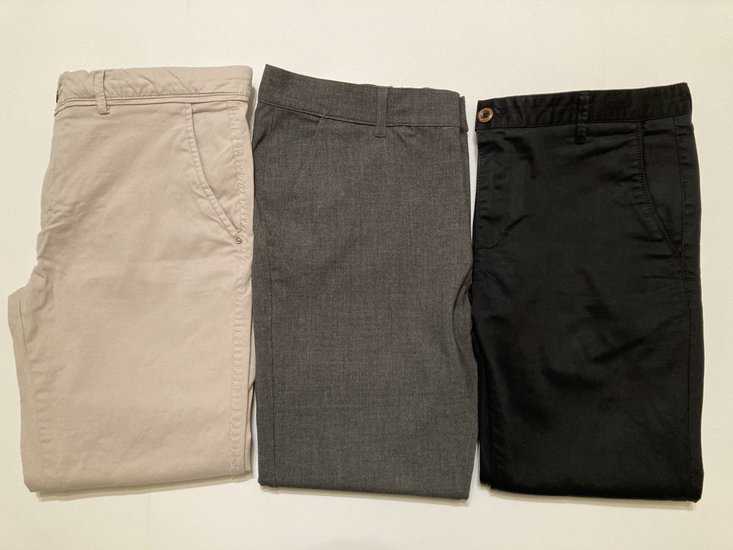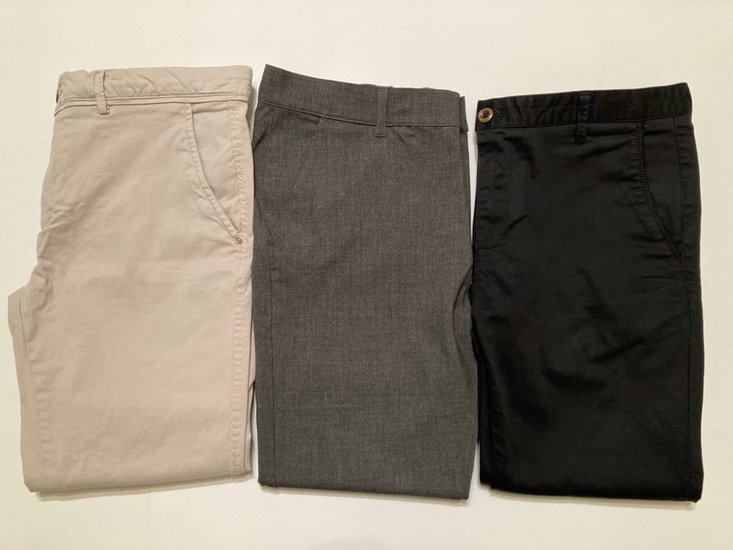 Final Thoughts on Can You Wear a Blue Blazer With Black Pants
As you can see from the above article, wearing a blue blazer with black pants is a great look that can be worn to both formal and casual occasions. Choose items that fit you perfectly and are made from quality materials, as well as the right accessories and colors to match. With this information in hand, you should now be able to pull off the outfit with confidence.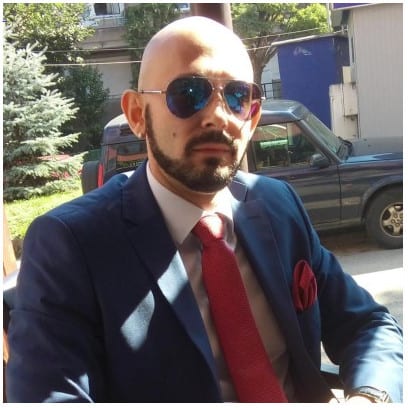 Samoel Ovanessian is the founder and creator of StylishAlpha.com – a website dedicated to men's fashion. As a proud owner of more than 200 ties, he loves digging through new clothing combinations for everyday use, formal events and even just for fun. You can read more about Samoel here.