A blazer is essential in everyone's wardrobe as it can be worn in several settings and looks flattering on any and every body type. If we talk about colors in blazers, one of the most stylish ones has got to be a brown blazer as it goes with a wide range of different clothing items. So, what color pants to wear with a brown blazer?
A brown blazer can be easily paired with different colored pants such as black, blue, and white jeans, whether they are slim fits, skinnies, flares or straight fits. Cream, blue, gray, and brown pants are also good options to wear with a brown blazer. Chinos and slacks in similar colors are also a great choice.
In this article, we will be talking about what color pants go best with a brown blazer, whether it is cream color or blue!
You also don't want to miss:
Brown Blazer and Jeans
Blazers and jeans are a common pairing avoided by most guys, largely because they are so difficult to match. Although wearing a brown blazer with jeans may seem unusual, they can be the perfect match if they complement one another.
For instance, less formal jeans will look great with a less formal blazer. To prevent any strange pairings, try wearing men's casual blazers with jeans. We can enjoy ripped jeans every now and then, especially if you already have a pair, but try to keep the look minimal because the blazer itself is a staple piece, and adding more could overdo it.
1. Black Jeans/Pants
Many men are now gravitating more towards a dark brown blazer as it gives a classy and sophisticated look, especially if worn in business-casual settings. As always, we are recommending you try out the brown and black combination as it is quite common and flattering.
A pair of black skinny slim black jeans (or pants) with a brown blazer will make you look good, and show you've put thought and effort into your style.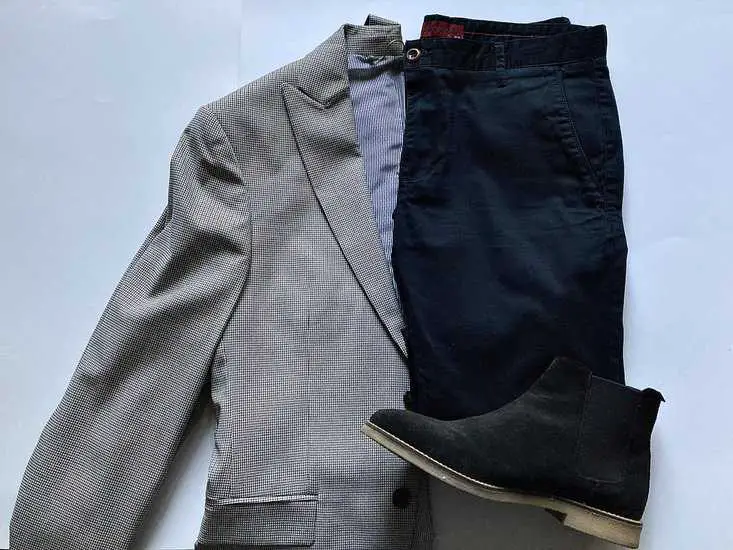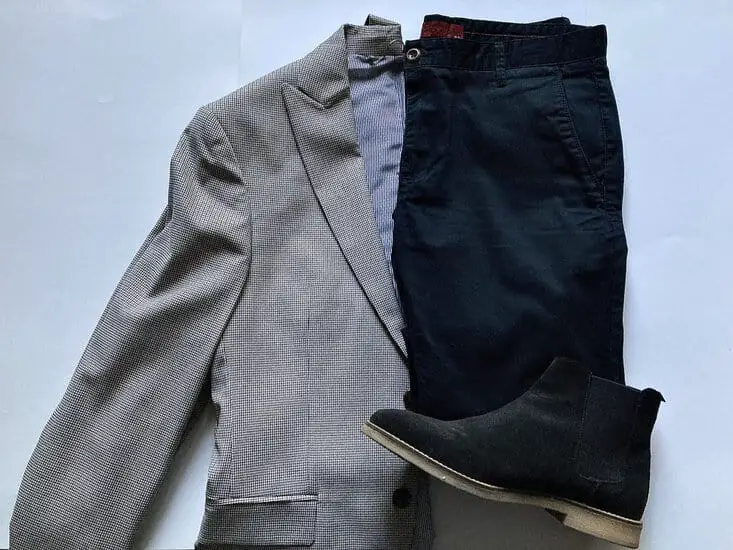 You can accessorize the outfit as you want such as wearing a watch with brown or black shoes. You can also add a cream-colored pocket square if you are dressing for a meeting or any professional gathering.  
This outfit is very versatile as it can be worn in professional, formal environments as well as casual settings as well. A black pants pair is a wardrobe essential, whether you plan to wear them with a brown blazer or not, which makes this outfit very accessible.
You can opt for a plain white t-shirt under the blazer to keep the rest of the outfit simple as the jeans and blazer combination is already eye-catching. If you are, however, going to a formal event and want to dress professionally, pick a light brown colored shirt.
2. Blue Jeans
When worn with classic blue denim, brown is a highly stylish color combination. Although a brown shirt and blue jeans are a well-known pairing, you could also try a brown blazer with denim to nail this style.
When it comes to this outfit, make sure your jeans are straight fits, but not too skinny. Avoid going for baggy or ripped jeans because instead of the rugged look you might be going for, it could just make you appear disheveled.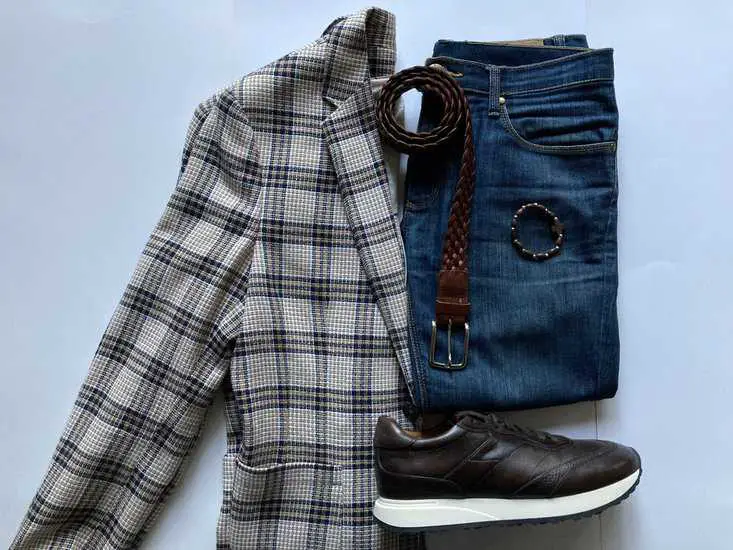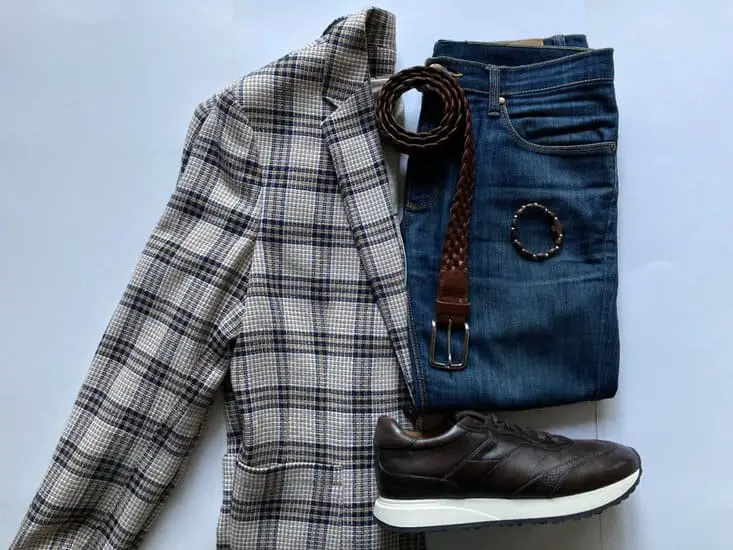 Another tip to avoid looking mismatched is to wear a plain, solid shit underneath. Any other types of patterns or designs can be too much and make the outfit too overwhelming, just keep it simple!
3. White Jeans
This combination is for people who like to appear professional and sophisticated in all settings. This combination is very versatile as it can be worn on a date, in a meeting, on a trip, etc.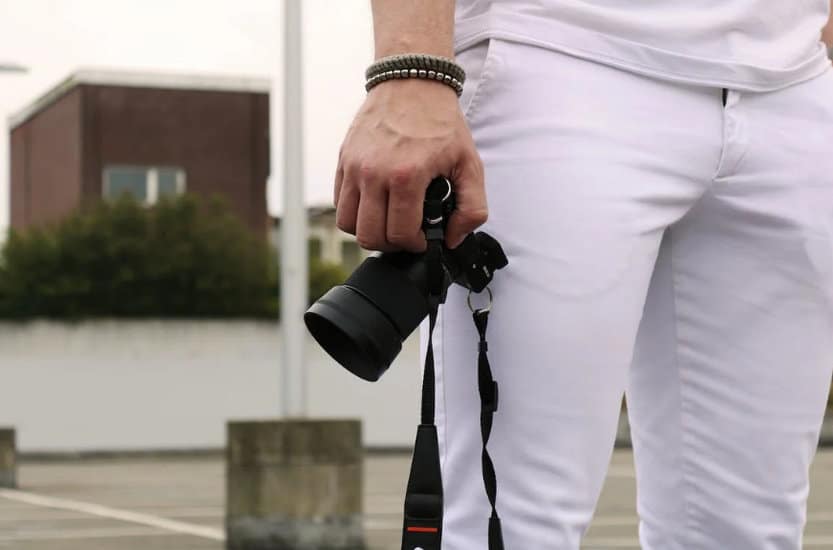 Again, with this outfit make sure the jeans are well-fitted and not baggy.
An outfit paired with a brown blazer and white jeans can look elegant, especially if you wear a white t-shirt underneath as this will give a monochromatic look. Just pick a warmer shade of white instead of a stark or cool white, to keep with the warm theme.
You can wear a variety of shoes with this and other combinations we've mentioned today. Brown blazers will look great with brown brogues, especially if they're in leather. Speaking of leather, black leather oxfords are insanely attractive.
You can also take this list of shoes we've made, that should really be in your closet:
1.    Sneakers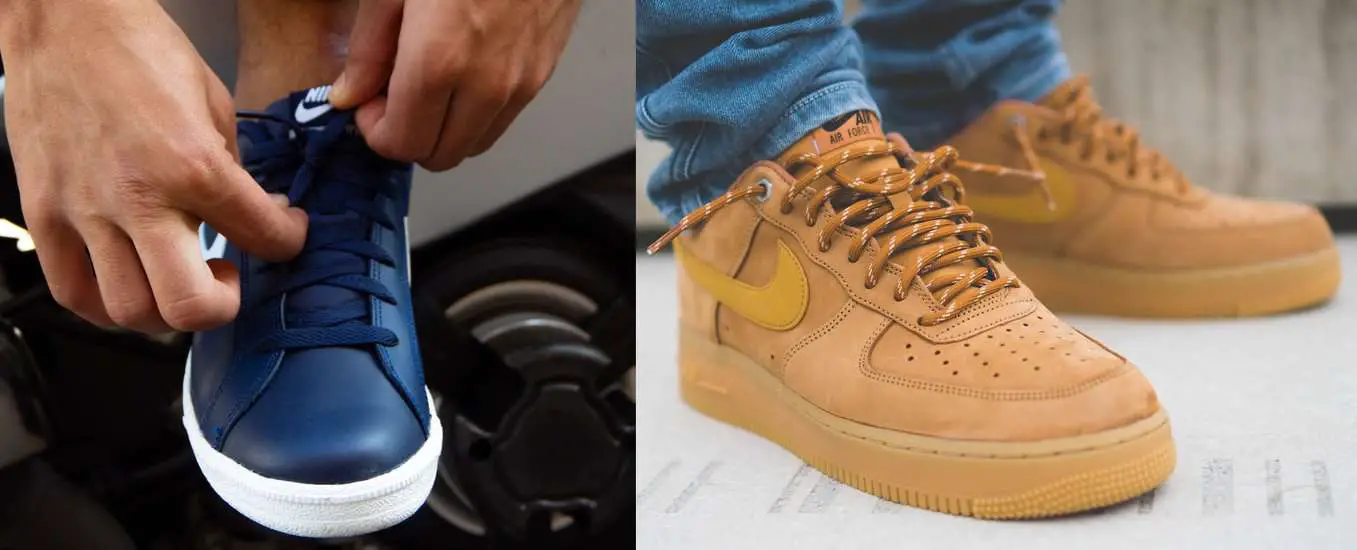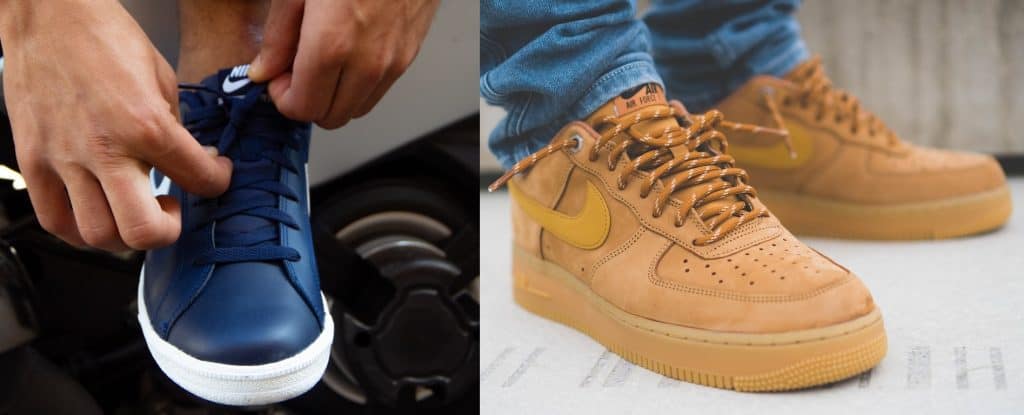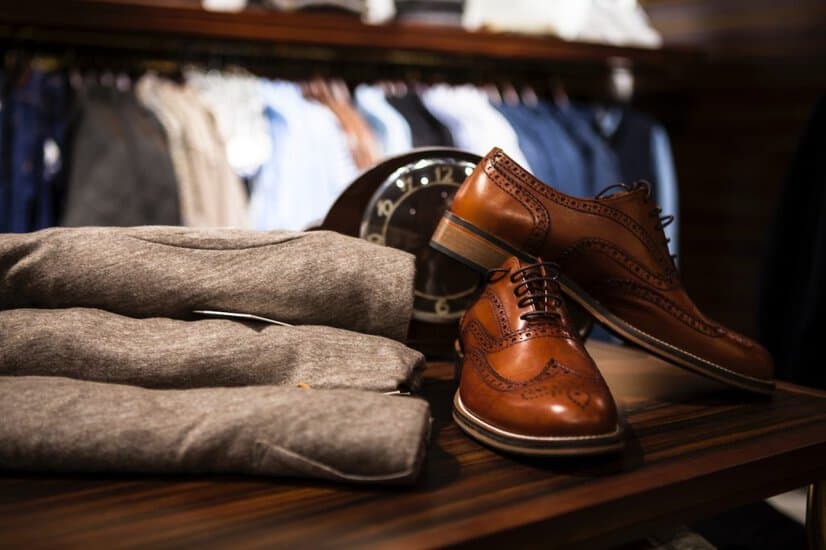 3.    Loafers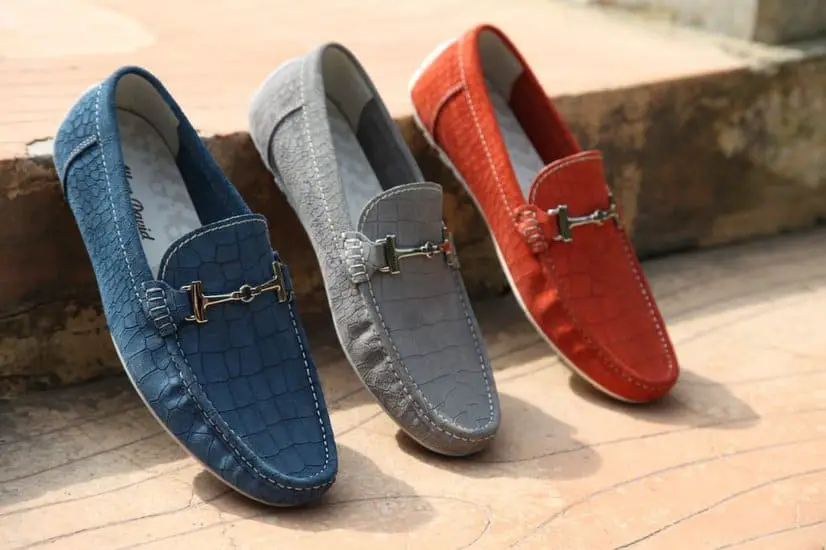 4.    Chelsea boots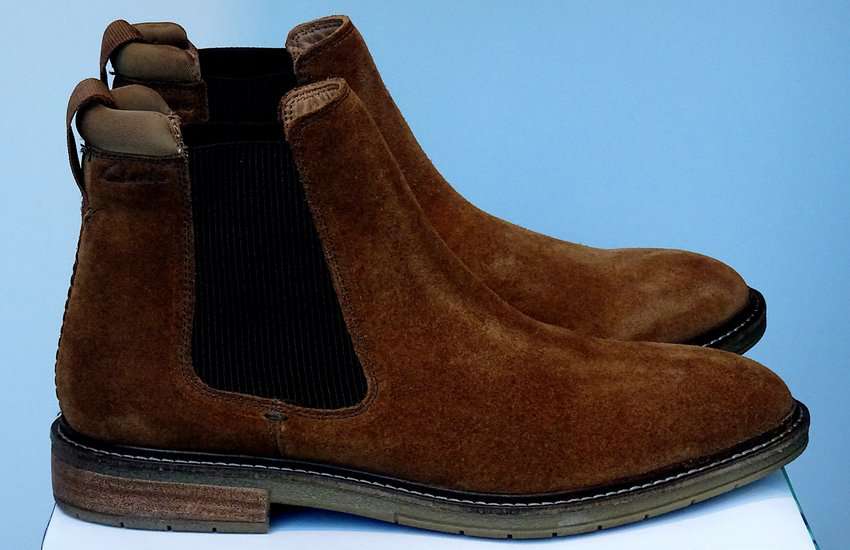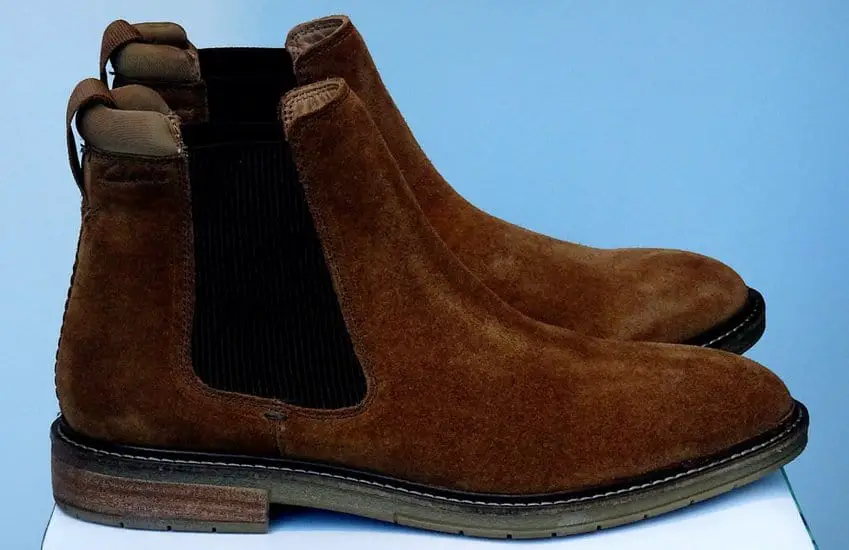 5.    Rugged boots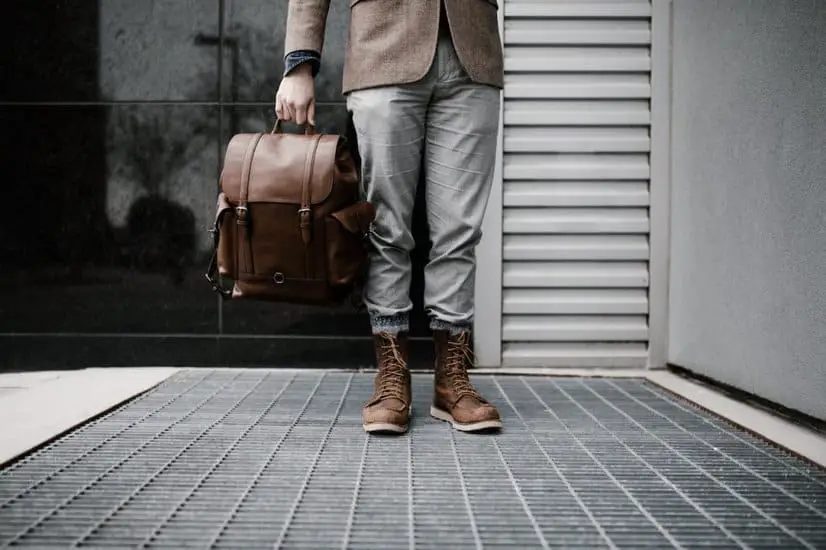 All of these options are multipurpose shoes. Just one tip; wear socks. We promise nobody wants to see ankles just peeking out from beneath an otherwise perfect outfit. Plus, socks can reduce the wear and tear on your soles by a large margin and you can get some really cool pairs!
4. Straight Fit Jeans
These types of jeans are a wardrobe essential and can be worn in any color with a brown blazer, whether it is black, blue, gray, cream, brown, or white.
This ensemble would look even more fashionable if you pick a different color for the jeans such as white or cream.
5. Dark Blue Cuffed Jeans
Instead of donning a standard brown blazer, you might want to opt for a brown tweed blazer with a more intricate finish to create this slightly more mature style. Wear a black t-shirt or button-up with a pair of dark blue slim-cuffed jeans for the remainder of the ensemble.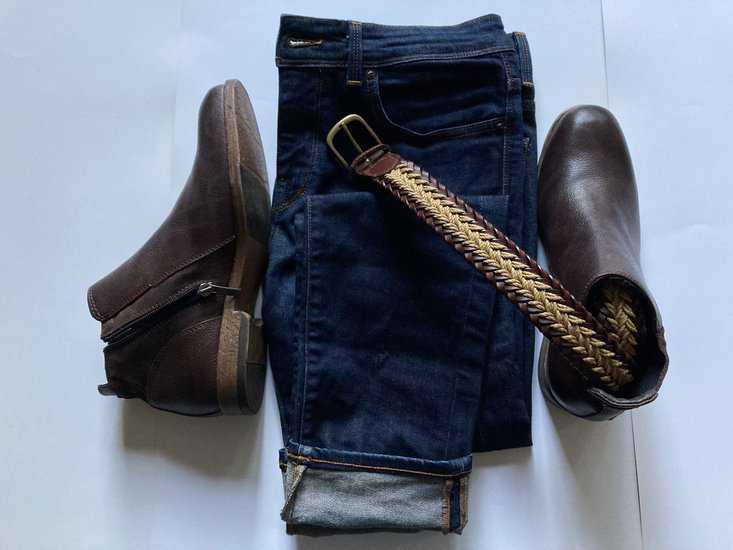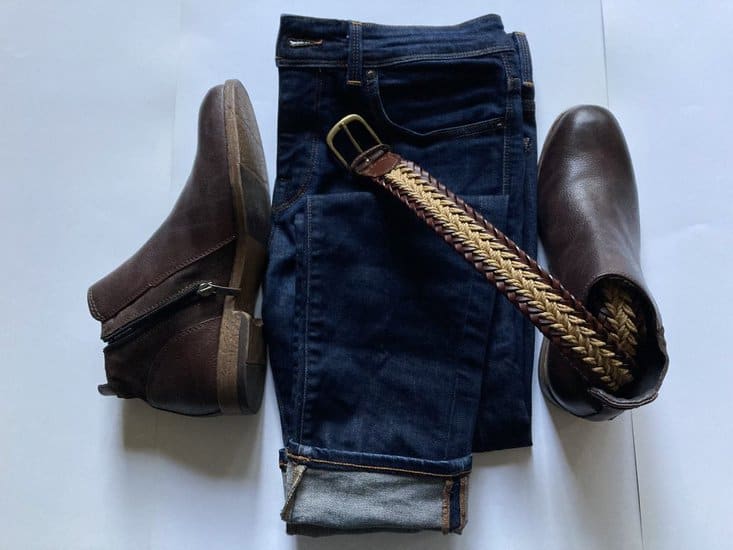 To finish the appearance, put on a pair of dark brown leather ankle boots. You can also wear brown leather shoes if you want a more polished look.
Brown Blazer with Pants
When worn with the right separates, a brown blazer can convey a tremendous sense of class and elegance. Although brown blazers and pants are seen as more casual, they can still be regarded as stylish and dapper when worn correctly.
As neutral color combinations are believed to be devoid of any negative impact connected to skin or hair color or body type, a simple brown blazer, and neutral pants color combination can be your go-to decision.
1. Cream Pants
Brown and cream are a great color combination which is of no surprise as both of them are from the warm color palette. Whether you choose a brown and cream combination in a hoodie and sweats or a blazer and pants, it is bound to get you a lot of compliments.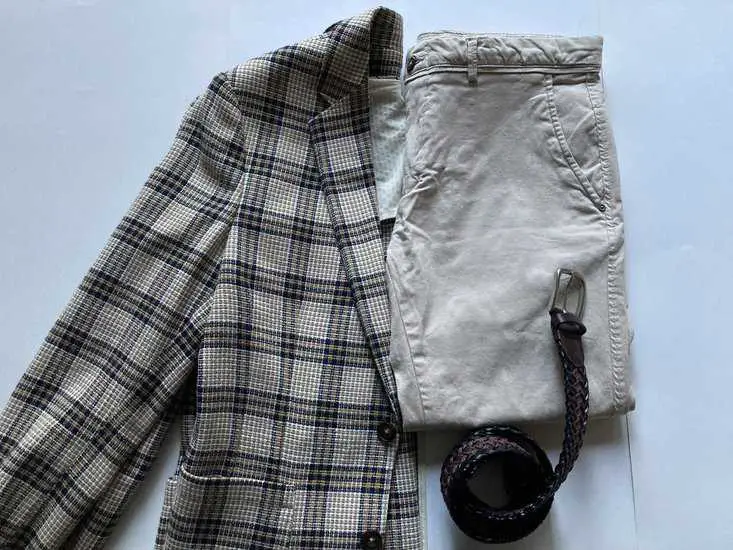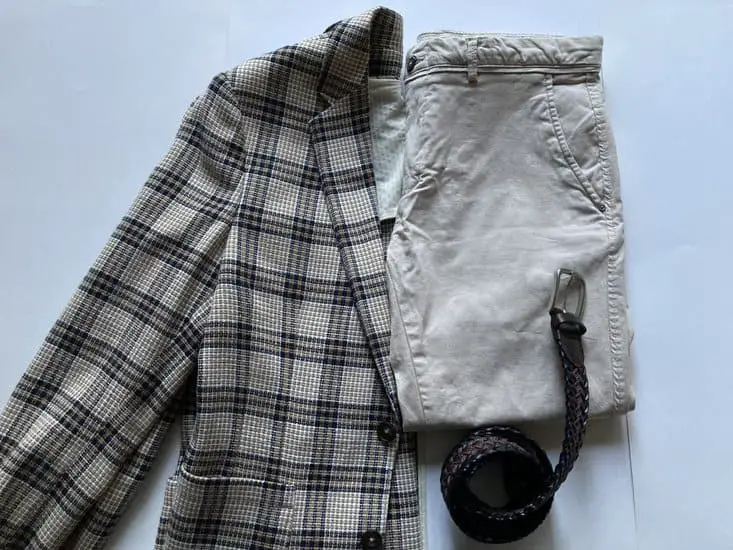 To make the outfit as casual as you want, you can wear a cream-colored turtleneck under a brown blazer topped with cream pants. If you have a fitted blazer, try for loose cream pants that are cinched or fitted at the waist and flow down. This will emphasize your shoulders and waist, and just make you look a lot cooler than anyone else around.
To keep the rest of the outfit minimal, choose sneakers or loafers, it comes down to the context you are dressing up for and also your preference.
2. Blue Pants
You can pair the dark brown blazer with dark brown slacks or other clothes that are darker in color, like dark blue. If you enjoy experimenting with patterns, there is no need to stick to solid colors.
To give this outfit more flair, brown pants might be paired with artistic patterns on the blazer or the pants. Patterns provide you with more color options to match your blue pants with your fashionable brown blazer.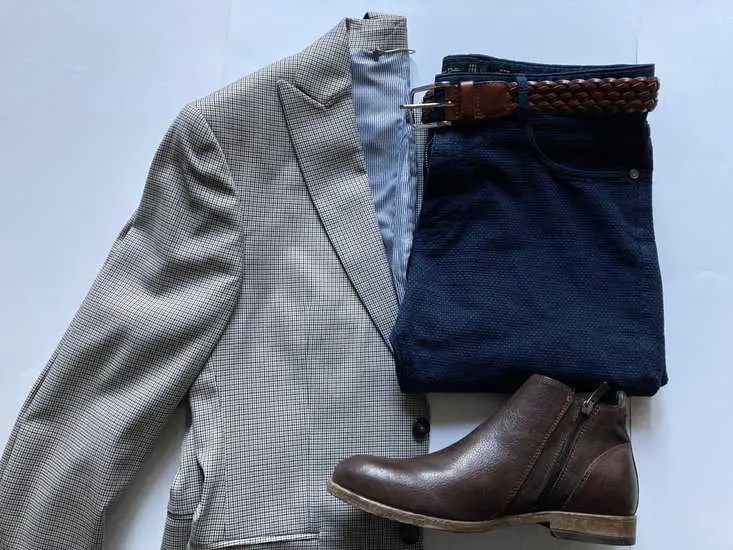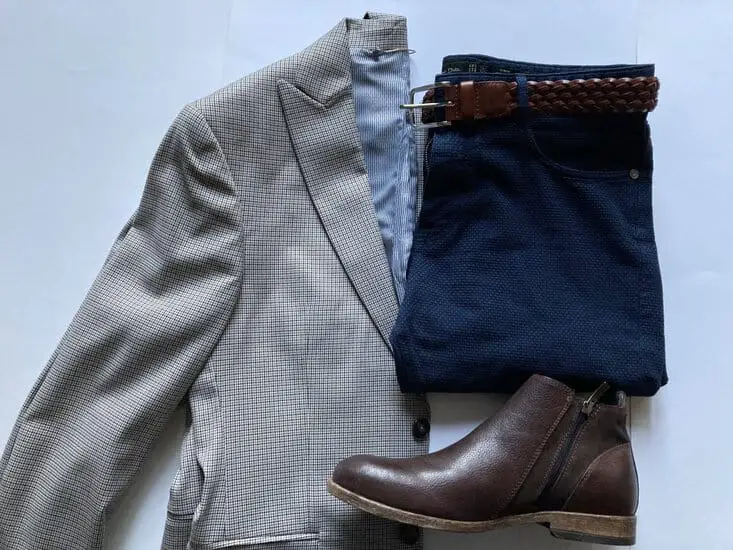 It's not difficult to combine different colors with a brown blazer, but choosing the right colors to finish the design is just as crucial. Always keep in mind elements like fabric, patterns, and seasons when making this decision.
3. Gray Pants
A very underrated color scheme that always goes untouched by many people is the gray and brown combination. If you choose to combine a brown blazer with gray pants, you choose to have people crown you as best dressed for the day, or night!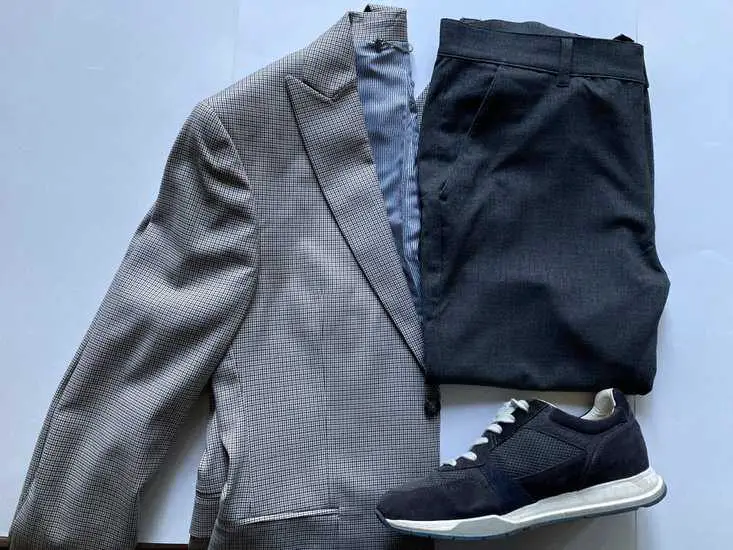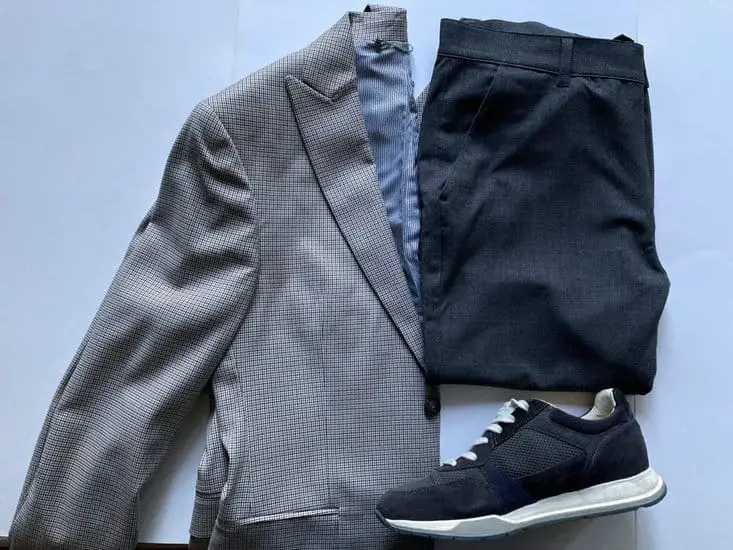 One thing about this outfit, you need to keep in mind how you style the rest of it as it can become mismatched and unruly rather quickly. Go for a white shirt underneath to tie the whole look in with brown shoes or blue trainers.
4. Brown Pants
A fundamental guideline for choosing the right color combinations is that they should complement one another rather than always being in contrast or the same color. It can be a brave move to wear brown pants and a matching brown shirt.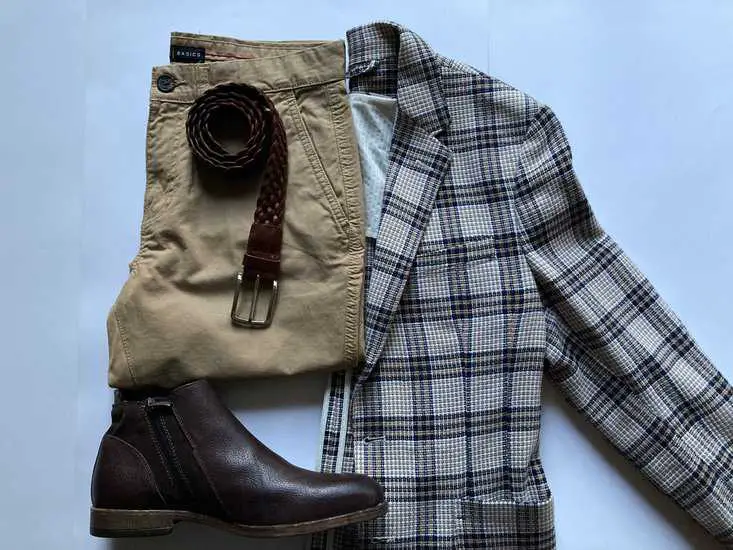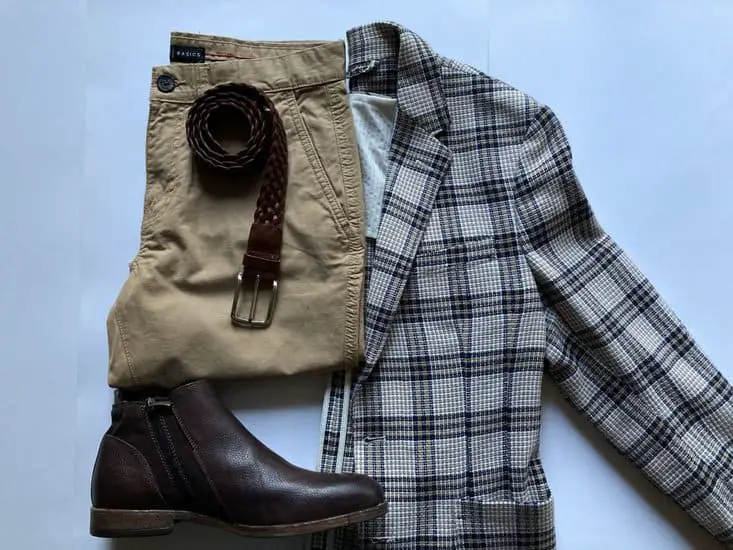 Are you still unsure of what shirt to wear with a dark brown blazer? A good option would be the white shirt and brown jeans outfit could be simple and effective. This will offer you a harmonious one-color appearance. Additionally, the mild neutral color scheme is effective for many complexions and hair tones.
Brown Blazer and Chinos
You can wear different colored chinos with a brown blazer if you want more professional outfit options. Chinos and blazer combinations are fit to be worn in all types of work environments as they give off a polished vibe.
You can wear a brown on brown combination. Or you can opt for more neutral-colored chinos such as gray and blue, especially the latter.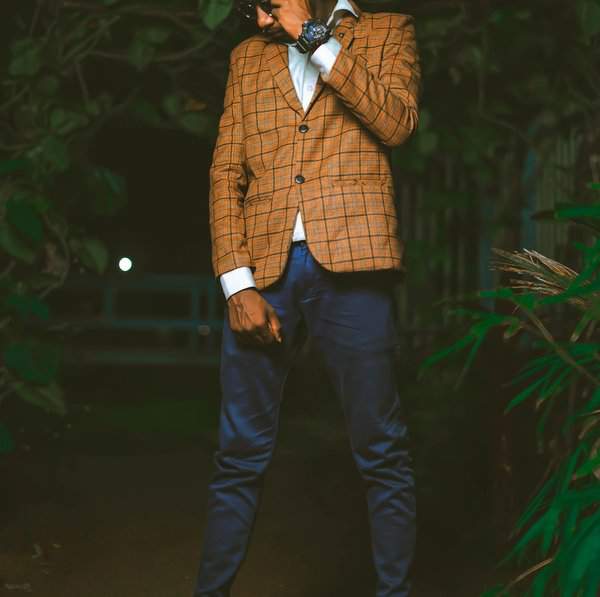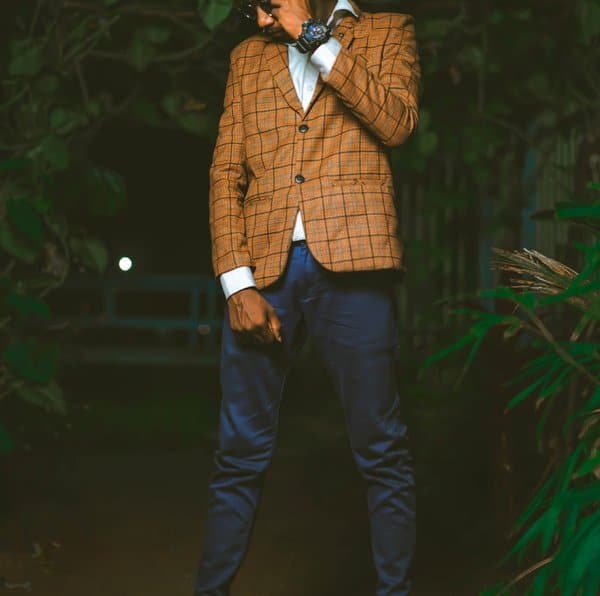 Under this outfit, you can wear a white, gray, or cream-colored shirt. Whichever suits the blazer and chino outfit combination you have picked, is the best.
Final Thoughts on What Color Pants to Wear with A Brown Blazer
The color brown is a relatively underrated color to have in your closet, with most men preferring black, blue and gray over it. However, brown can make you look warm, comfortable, and approachable, yet still put together. A brown blazer is an all rounder to have in your wardrobe and can be worn in never-ending combinations, all of which you can make up as you please.
Remember, the key to developing your own style is to test out what others do, and with our advice, a dash of perfume, and some accessories, you can become the most well-dressed person you know.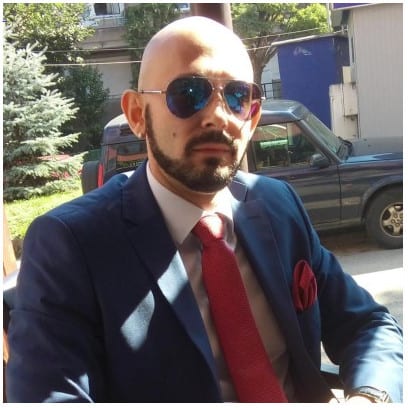 Samoel Ovanessian is the founder and creator of StylishAlpha.com – a website dedicated to men's fashion. As a proud owner of more than 200 ties, he loves digging through new clothing combinations for everyday use, formal events and even just for fun. You can read more about Samoel here.