Cardigans often get dismissed for being associated with elderly, meek gentlemen; one might imagine a grandfather wearing one. Mr. Rogers was one icon of American culture who popularized its use, but its association with the elderly has been hard to separate.
However, one needs to remember how versatile a cardigan can be, and you can wear it with a blazer, jacket, or almost anything. Jeans and a T-shirt with boots, a pair of trousers and a button-down with sandals, and even underneath a formal suit or blazer.
Today we'll be walking you through some of the best ways you can pair a cardigan with a blazer or sports jacket, ensuring you always look suave and stylish.
The Best Ways To Wear A Cardigan With a Blazer
Cardigans are incredibly versatile, and you can wear them with a blazer in both formal and casual settings.
However, there are some rules and tips you should keep in mind for both formal and casual use of the combination to make sure it always looks fresh and stylish.
Check out our other popular men style guides:
What to Wear With Seersucker Blazer?
What Color Pants to Wear With Black Blazer?
How to Wear a Turtleneck With a Blazer
1. The Formal Look
Whether it's for the office or any other formal setting, chances are you'll want to wear the cardigan with a full suit. The best way of incorporating the cardigan is to use it as a waistcoat and have a 3-piece-suit-esque look.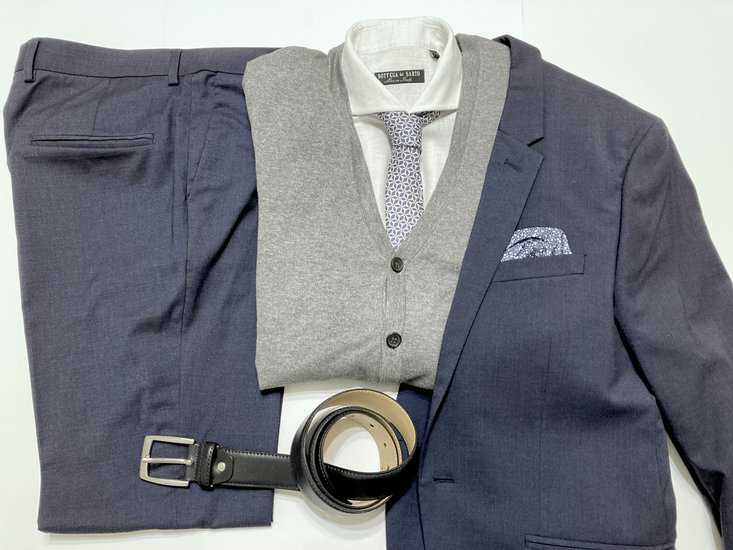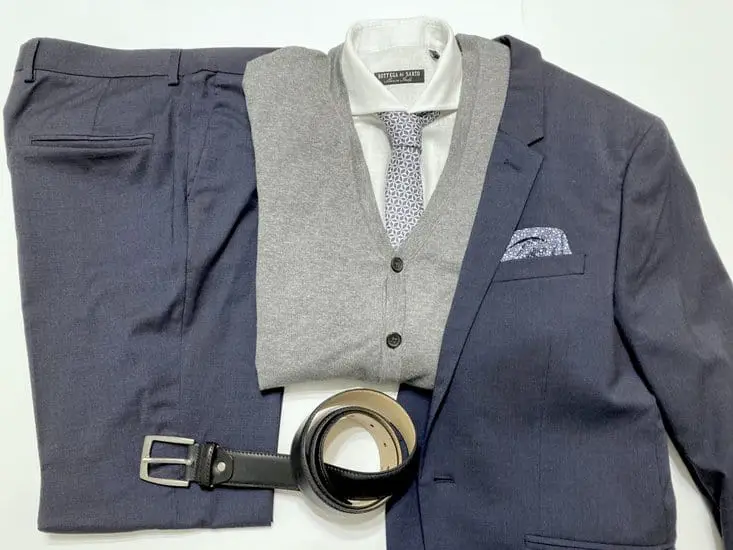 Make sure you contrast the cardigan with the suit to make the entire look pop. If you have a dark suit, like black, charcoal, or navy blue, then go with a light-colored cardigan like burgundy, grey or royal blue. If your suit is lighter, like beige or light grey, then go with a darker-colored cardigan, like black.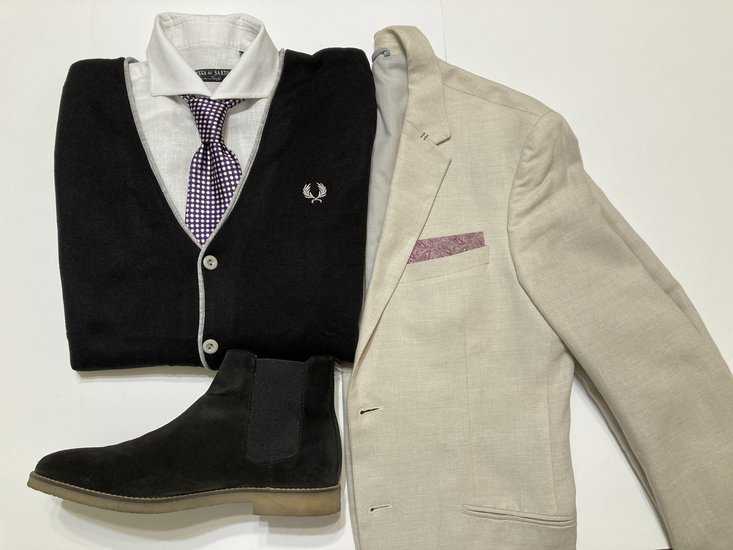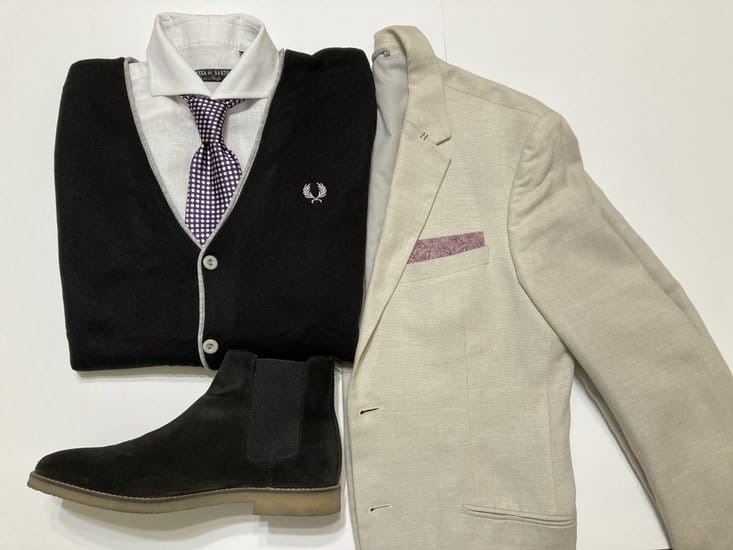 You can keep it simple and have a collection of cardigans that are in neutral and muted colors. These will go well with any shade of suit, and with muted colors, you can enhance the layered look and give your outfit some depth.
Also, in a formal setting, it's best to use a solid color and not go with any designs or patterns. If you're going to work, wearing a designed or patterned cardigan on special occasions, like Christmas, is fine, but it would be best to stick with solid colors on a day-to-day basis.
2. The Business Casual Look
In a casual setting, there's a lot you can do with the cardigan and blazer combination. Wear a grey cotton or tweed blazer with a maroon patterned cardigan, some jeans and boots, and you have a stylish look for an evening out with friends.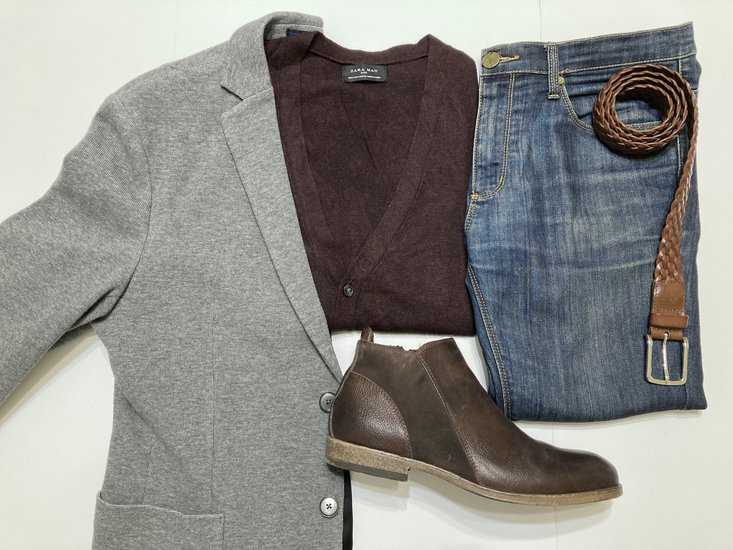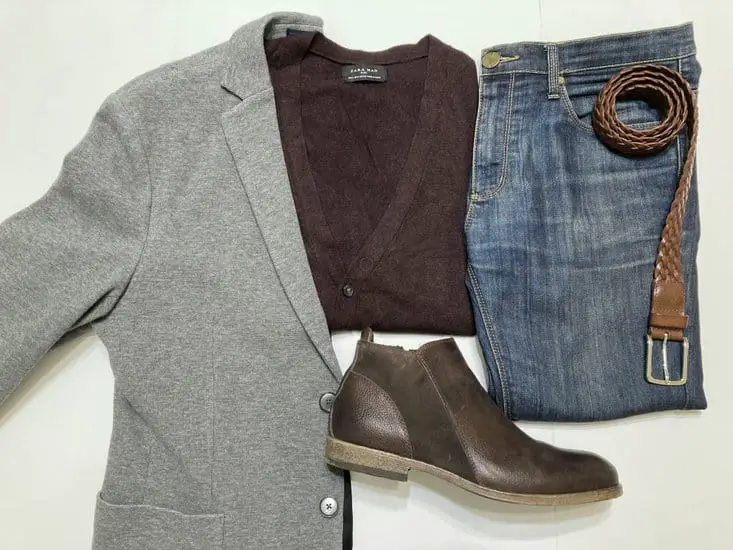 You can choose to go with solid colors with your cardigan and even bright, conspicuous colors like lime green or candy red.
However, the most stylish looks, even casual ones, always have some contrast, either in color or design. One example is if you have a patterned or checkered blazer, wear a solid cardigan, even if it's the same color as the blazer. 
Tips For Wearing A Cardigan Under A Blazer
There are some tips that you should always follow regardless of whether you're wearing the blazer-cardigan combination in a formal or casual setting.
1. Be Aware Of Knit Thickness
As a general rule, go for a thinner, lighter knit, especially for cardigans if you plan to wear with blazers. Thicker knit cardigans are better for outerwear without using anything on top, and with a thick knit, you'll also ruin the fit and look of the blazer.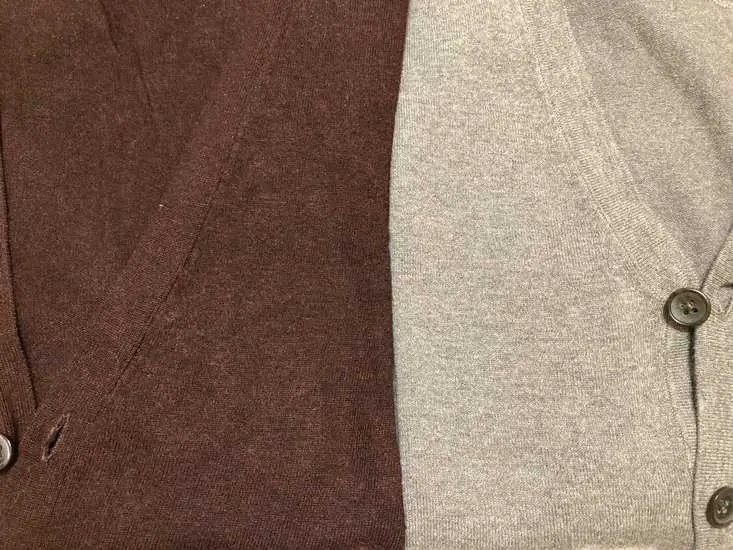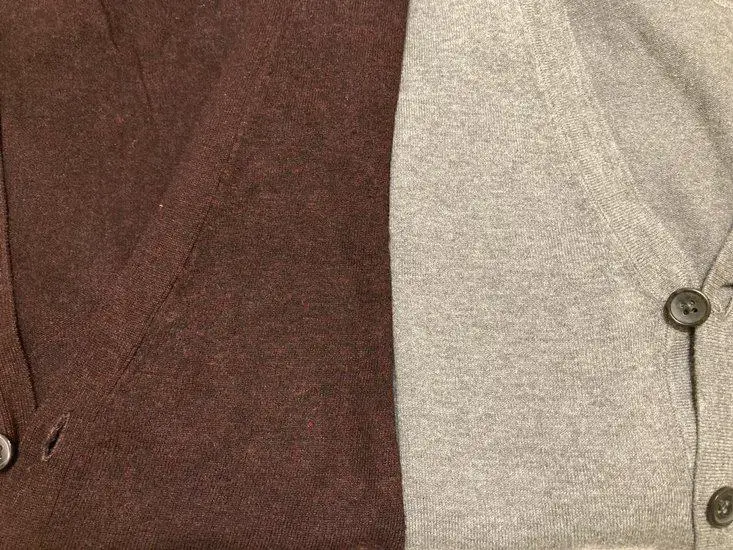 A thin knit cardigan with a blazer will ensure you're not too hot when inside or too cold when you're outside, and your blazer always sits nicely on you, and the overall fit looks good.
2. Fit Matters!
You have to make sure the cardigan's fit is perfect for your body. A loose and baggy cardigan will ruin the combination with the blazer, as the blazer won't sit well, and the entire outfit might look shabby.
To judge if a cardigan fits you perfectly, button it up and check if it sits as close as possible to the body without the v-neck gaping open when you lean over.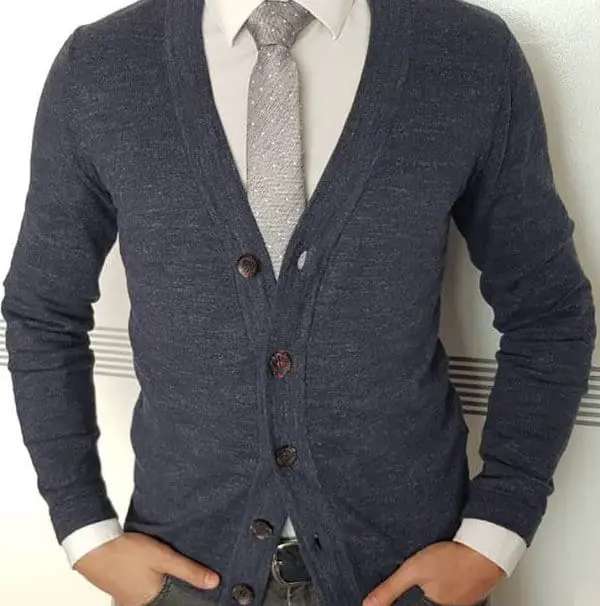 Next, check the sleeves to make sure they aren't too much longer than the blazer's sleeve length. You can pull up the sleeves of a cardigan, but if they're too long, they might become lumpy underneath the sleeve of the blazer and ruin the look.
Lastly, the overall length of the cardigan shouldn't go much past the top of your back pockets and should never be above the bottom of your belt or waistband.
3. Buttons Are Best!
You'll find a lot of different styles in cardigans, with buttons, latches, toggles, zippers, and even a belt to tie around like you would a robe. However, when it comes to blazers, your best choice is to go with buttons.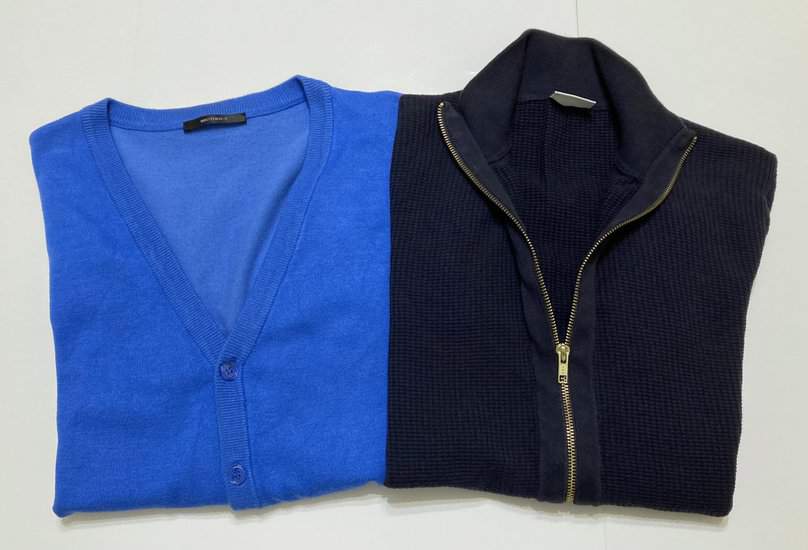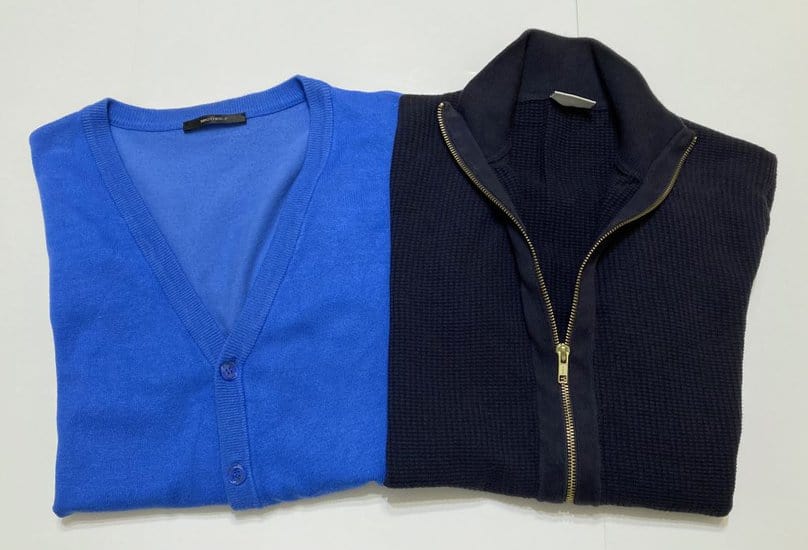 With buttons, you get a refined and sharp look, whereas with latches or toggles, or a zipper, wearing a blazer on top will make the overall outfit look as though you threw on a blazer last minute and just left the house hurriedly. Buttons also ensure you get that proper v-neck that sits so neatly with a blazer.
Other Important Things To Consider
Contrast colors and patterns in the right manner to make sure that the blazer and cardigan complement each other rather than make just one of the two stand out. Having muted and neutral colors for cardigans will ensure you can utilize them with the most number of outfits.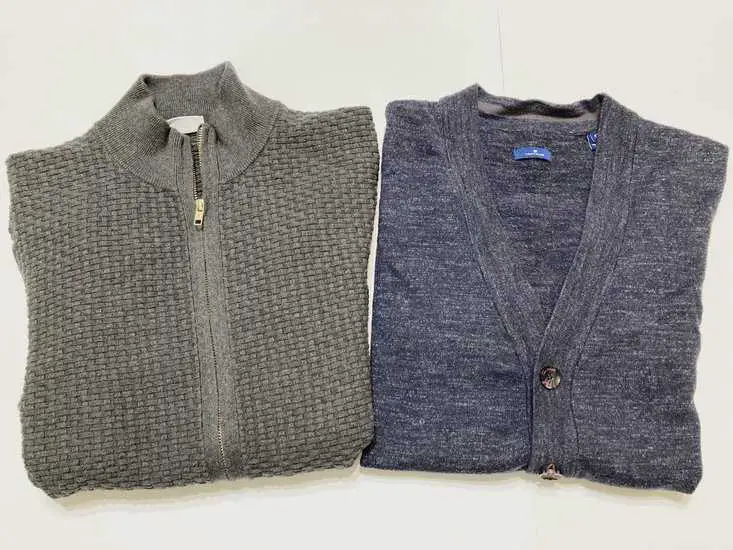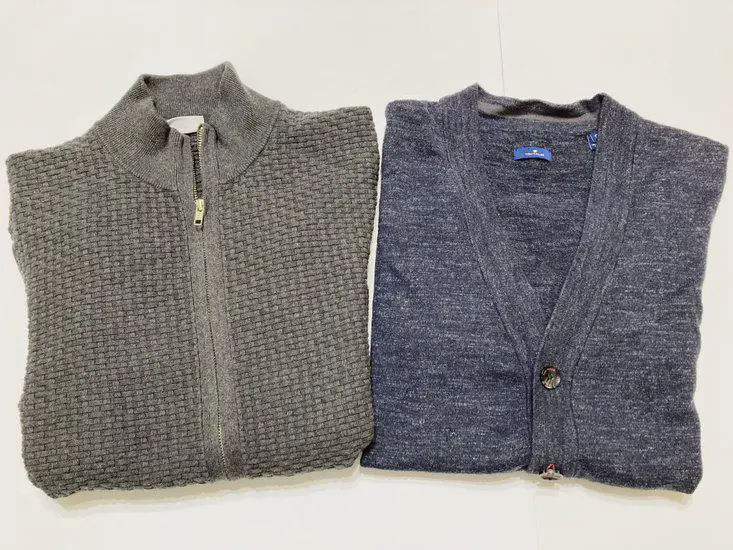 Your cardigan should also have buttons and not latches or toggles, or a robe-like belt. The button ensures the v-neck of the cardigan is always neatly standing, and this v-neck matches very nicely with the look of a blazer.
If you do choose to go with toggles or latches, make sure the v-neck is clearly defined and is always standing neatly.
Follow all these tips, and your cardigan-blazer combination is sure to be a hit at any occasion you attend!
The Cardigan's History In Formal Use – A Way To Make Military Uniforms Stand Out
The combination of a cardigan with a blazer shouldn't surprise anyone. Many people, including prominent celebrities and businessmen, wear the combination and carry it quite well. The combination is worn with formal trousers, shoes, jeans, and boots.
Cardigans were popularized through use in one of the most formal settings possible, military uniform. Even though fishermen and dock workers first used buttoned sweaters in the late 17th century, it was popularized in the 19th century by James Thomas Brudenell, the 7th Earl of Cardigan, which is where the sweater gets its name.
Thomas Brudenell was commander of the 11th Hussars, and, having a reputation for being vain, he ensured his soldiers were dressed immaculately, which included the use of cardigans at times. Brudenell himself adopted a sweater coat as his signature look, although his' was notably different in design from what you would see today, in the style of a military coat with fur trimmings.
After Brudenell's show of heroism during the Crimean War, the cardigan's use in high society became more common, especially with coats during the winter season. Hence, historically the cardigan has been worn prolifically with blazers and suits (albeit military uniforms, but suits nonetheless still).
FAQs
Do cardigans go well with a blazer or suit?
Cardigans are incredibly versatile and can fit quite well into your ensemble, especially with a blazer or suit. Just make sure you have the right contrast in color and pattern, and you'll have an incredibly stylish and comfortable outfit for yourself. Cardigans have been worn with blazers and coats since the 19th century, both among high society and the working class.
What style of cardigan should I choose?
A thin knit cardigan that fits well and closes using buttons rather than zippers, latches, or anything else. If you ignore the fit, it will make your blazer look lumpy and shabby. A thick knit will also make you uncomfortable and hot when you're indoors. You'll be forced to remove either the blazer or the cardigan, and that'll mess up your outfit. Without buttons, you won't get that perfect v-neck that sits well with a blazer and gives the entire look a clean finish.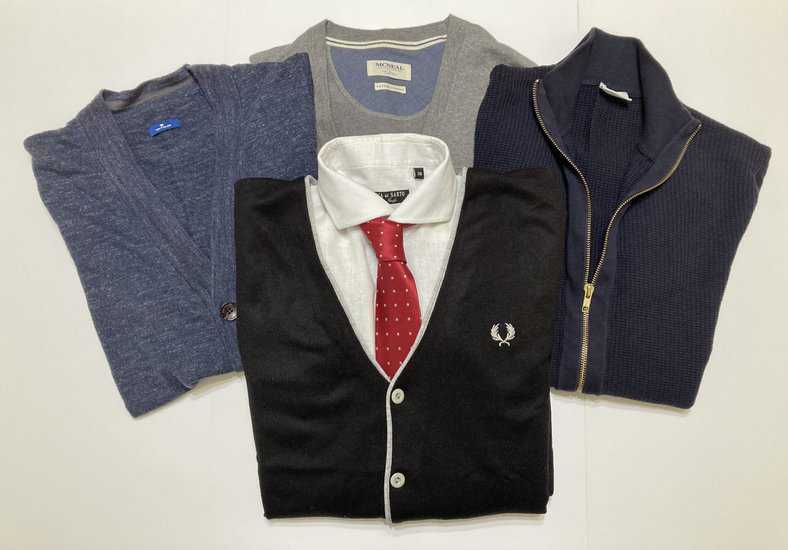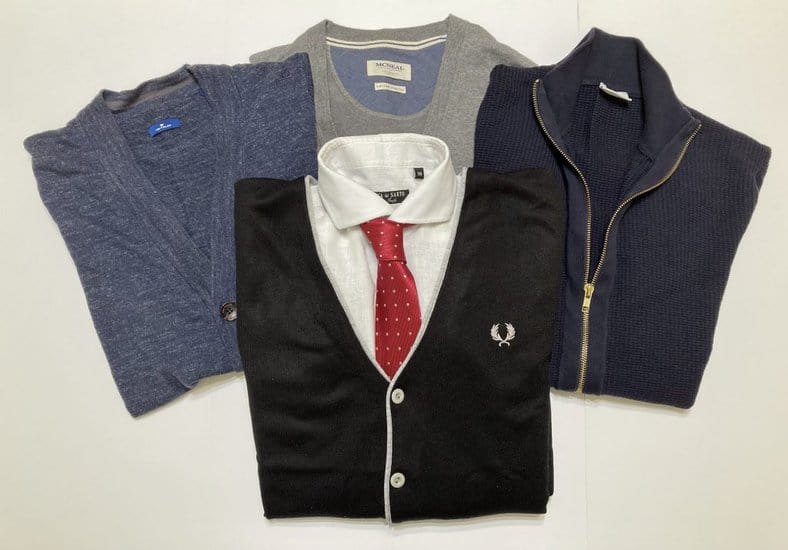 What colors should I choose?
It's best to go with muted neutral colors, as they would match perfectly with any shade or pattern of blazer. A muted color will also ensure that everyone's focus is on the entire outfit rather than just the cardigan. There's no harm in having a few brightly colored and patterned blazers for special occasions, but if you're looking to get the most value for your money and be able to use a few cardigans with as many outfits as possible, then go for muted and neutral colors.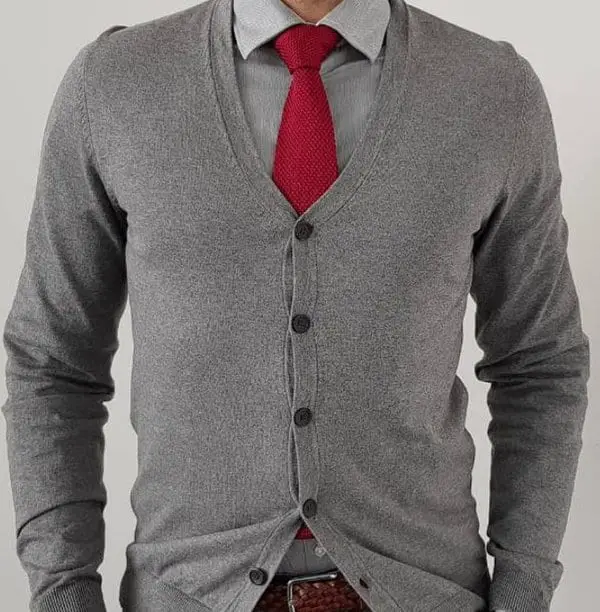 Final Thoughts
Simply put, you can wear a cardigan with a blazer, which makes for a very handsome look. Just make sure you follow the tips and rules that we've discussed above so that your outfit looks the part no matter where you go!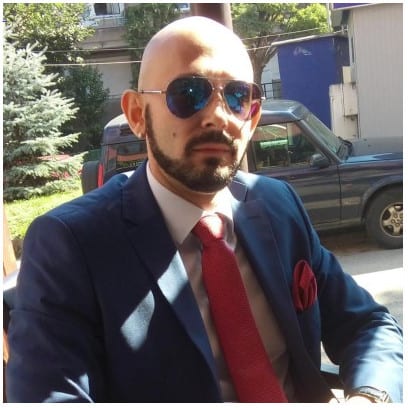 Samoel Ovanessian is the founder and creator of StylishAlpha.com – a website dedicated to men's fashion. As a proud owner of more than 200 ties, he loves digging through new clothing combinations for everyday use, formal events and even just for fun. You can read more about Samoel here.