Blazers are a wardrobe staple for men of any age. Whether you're heading to the office or out on the town, wearing a plaid blazer is sure to turn heads. In this post we'll discuss how to style your plaid blazer and look stylish at the same time. Let's get started! 
To style a plaid blazer in a timeless manner, pair it with classic pieces such as a white shirt and black trousers, or denim jeans and a plain t-shirt. If you're feeling more daring, try styling it with an unexpected color palette, like mustard yellow chino trousers. This will give your look a modern edge.
In this article, we'll discuss various ways to style a plaid blazer for different occasions, the best color pallets for plaid, and the best fabrics and cuts you should look for when shopping for one. We hope that after reading our article, you will understand the versatility of a plaid blazer, that can easily be dressed up or down.
5 Easy Ways to Style a Plaid Blazer
A plaid blazer can quickly become a staple in your wardrobe, as it adds a touch of style and sophistication to any look. Here are five ways you can style one:
Check out these other popular posts for outstanding combinations:
1. For Office Wear
A plaid blazer is perfect for a formal office dress code. To achieve an elegant, professional look, pair your blazer with black trousers or ankle pants and a white shirt. When picking a tie for the look, try to pick one that matches one of the colors in the plaid pattern. This way, the whole outfit will look balanced and well put together.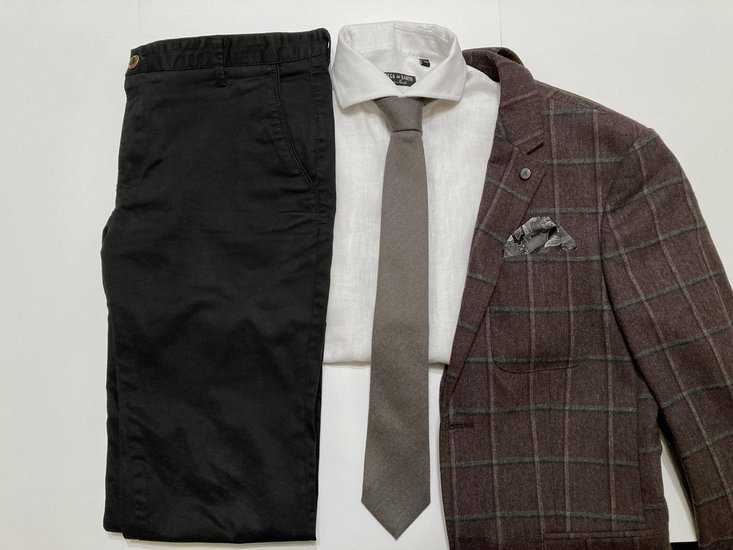 2. For an Event
When it comes to special events like weddings, a plaid blazer can be the go-to item for adding personality to your outfit. Pair it with a crisp white shirt and slim fit trousers in a neutral color. If you want to add a tie, consider one in a color of one of the lighter colors of your plaid blazer. Add a pocket square in the same tone, and finish off with leather dress shoes for extra sophistication.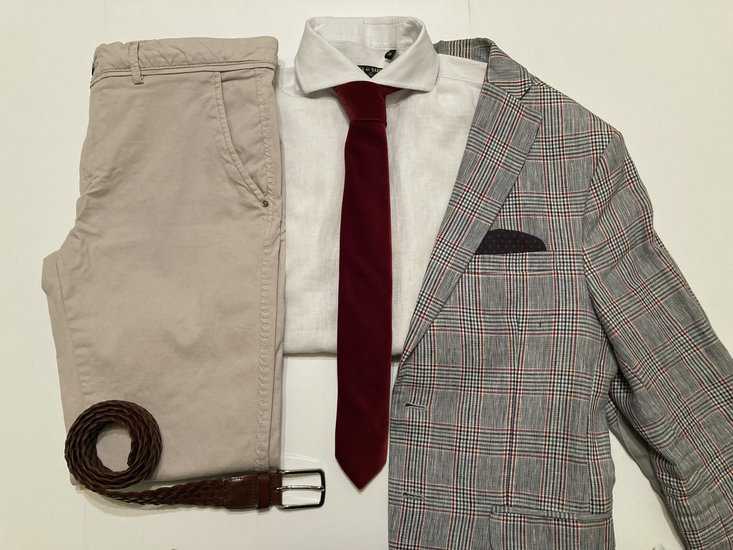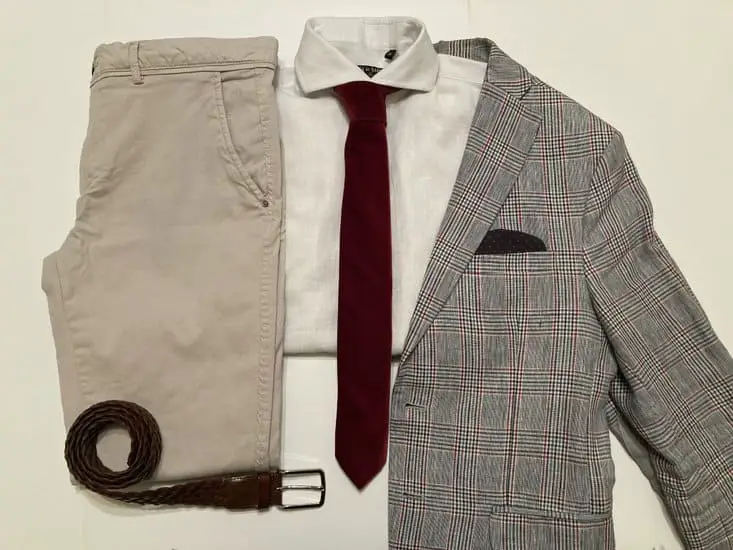 For a more casual event, substitute the slim fit trousers for some dark wash jeans and switch out the leather dress shoes for loafers or even some leather sneakers!
3. For a Smart Casual Style
As a plaid blazer can be dressed up, it can also easily be dressed down for more casual outings. If you're going out on a date night or lunch with friends, you could wear a plaid blazer with jeans, a t-shirt or tank top and some sneakers.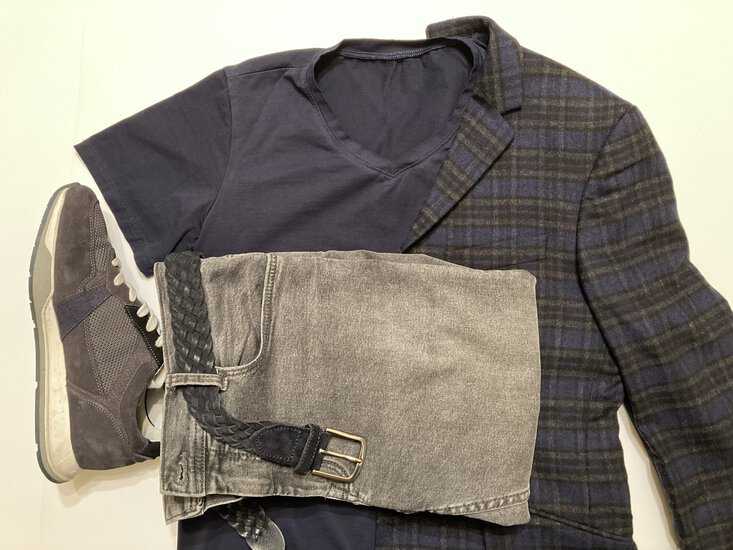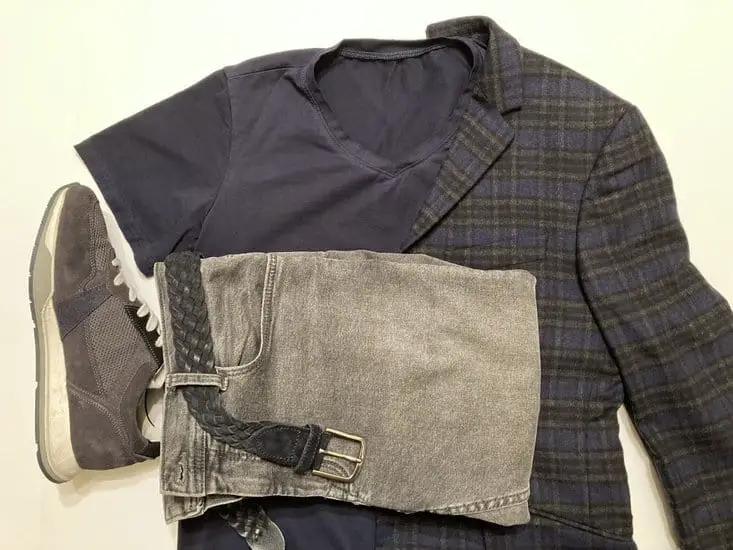 For a more professional look, you could pair the plaid blazer with dark navy chinos, a dress shirt and some leather boots.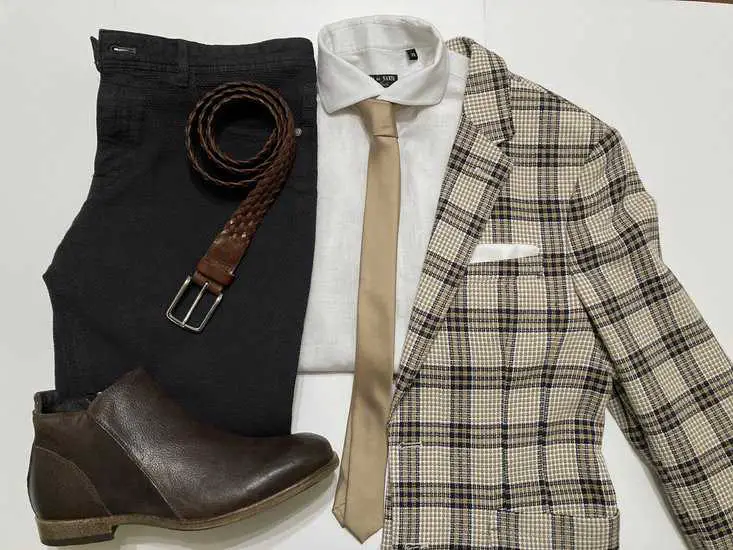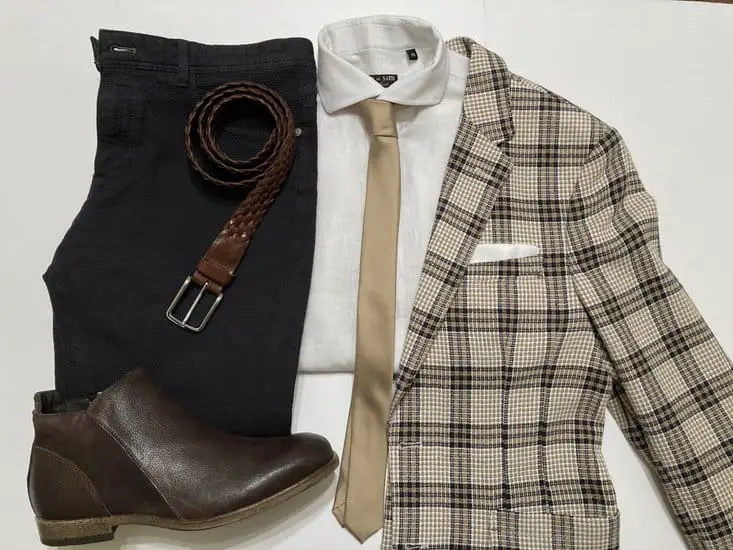 4. For a Night Out
For a night out, wear your plaid blazer to the bar or club with a pair of dark jeans and a colored top. To give the outfit some edge, try wearing it open and pairing it with leather pants or vegan leather pants for an edgier look. The best shoes for this look are patent leather loafers Complete the look with a neutral-colored belt and some statement accessories.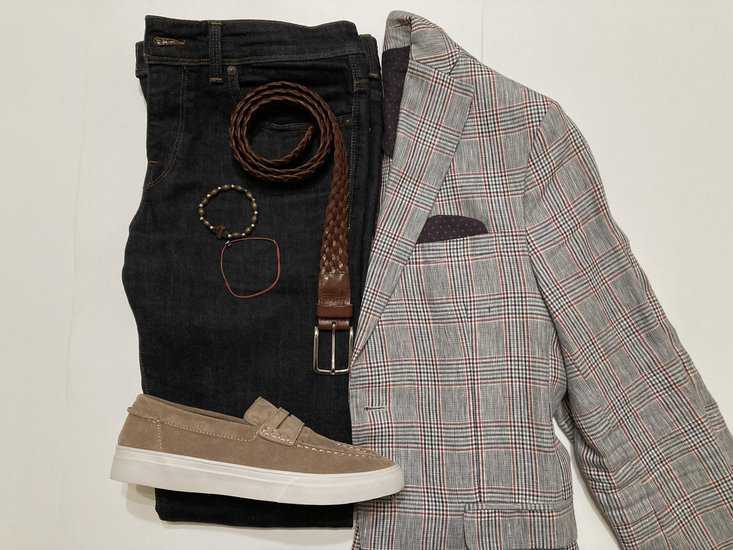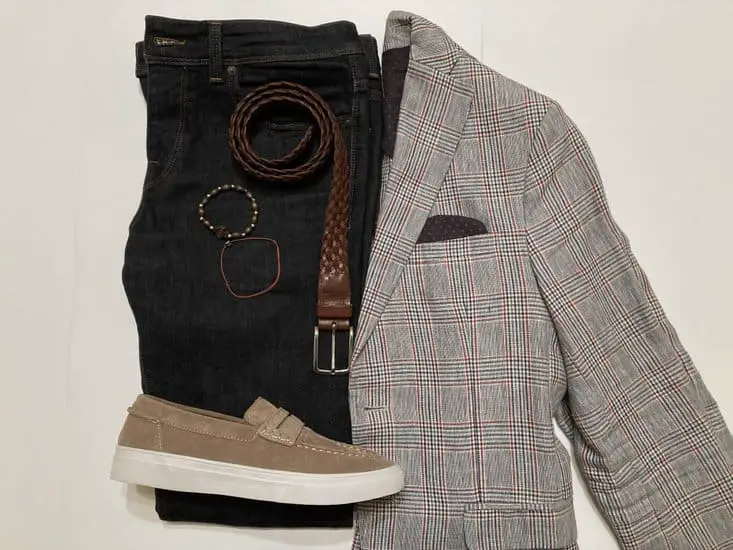 5. For Winter Wear
To stay stylish during the autumn-winter period, a plaid blazer is a great option. If you live in a colder country, pair it with some wool pants and a turtleneck sweater in a dark color. To further add warmth to your outfit, add a scarf and gloves in one of the colors from the plaid pattern. Finish the look off with a pair of leather boots and you'll be ready for whatever winter throws your way!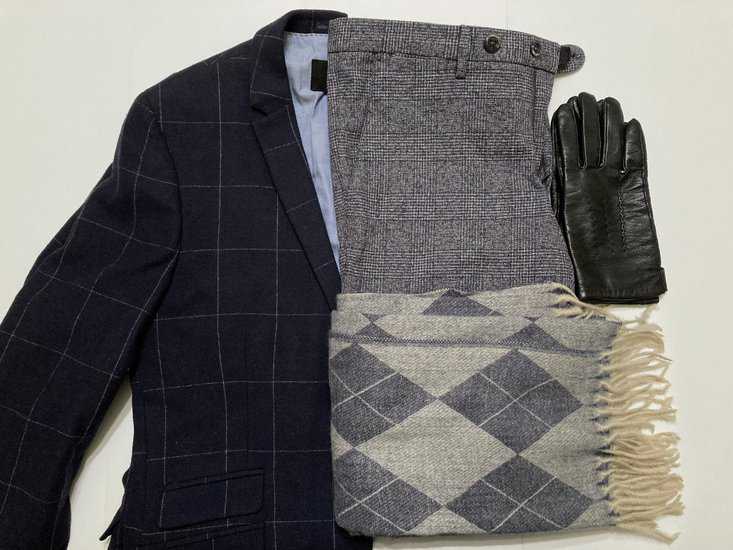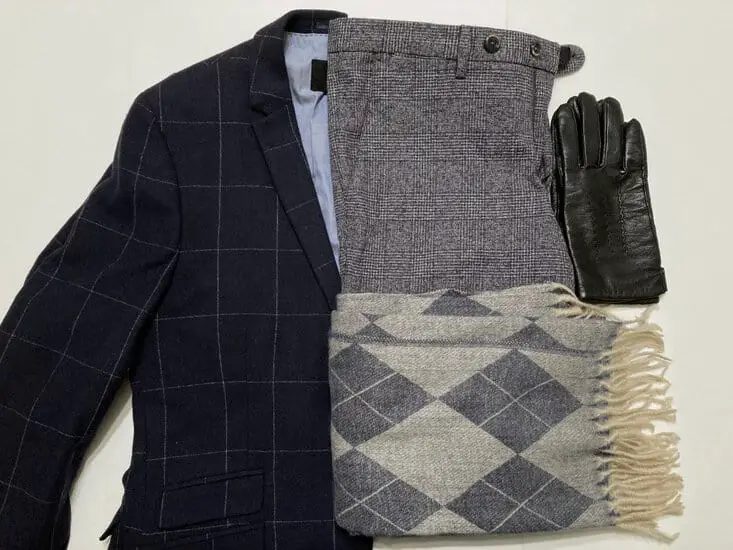 Best Colors For a Plaid Blazer
A plaid blazer can be found in a variety of colors, from traditional red and navy to more unexpected shades like lavender or olive. The safest color for a plaid blazer is usually one that involves a relatively neutral color like black, blue or brown, as it helps make the blazer more wearable and easier to style. However, safety is not always the best option!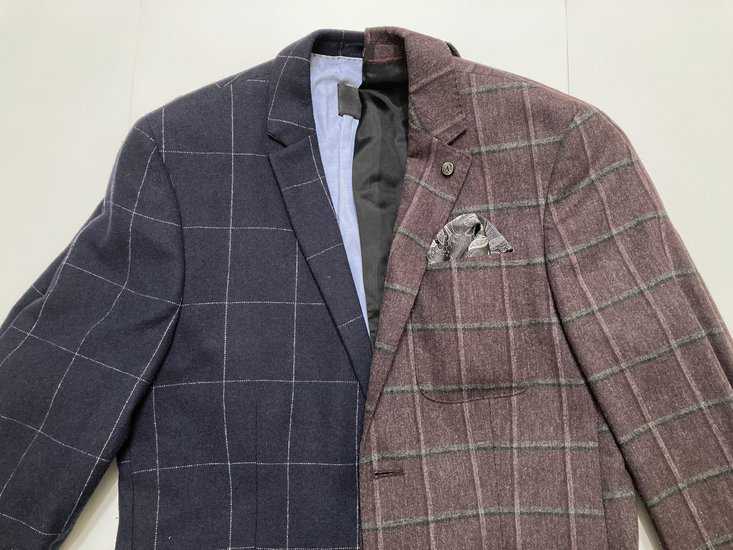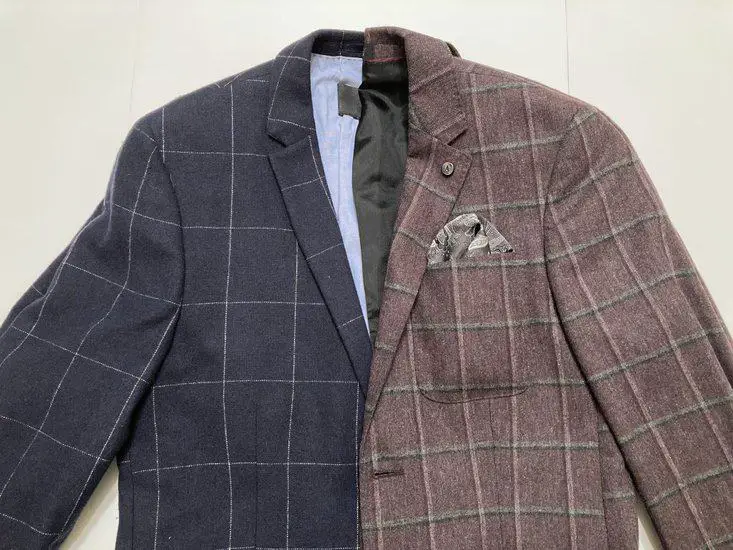 If you're looking to make a statement, bolder colors like navy and red are sure to get attention. To style a navy and red plaid blazer, try pairing it with a light blue Oxford shirt and dark jeans. Or pair the blazer with dark trousers and an ivory roll neck for a timeless, sophisticated look.
Alternatively, if you'd like to keep things toned down, try wearing a brown or olive plaid blazer instead. For a more casual look, try pairing it with black jeans and a white shirt or t-shirt. Or dress it up by adding a crisp white shirt and dark trousers.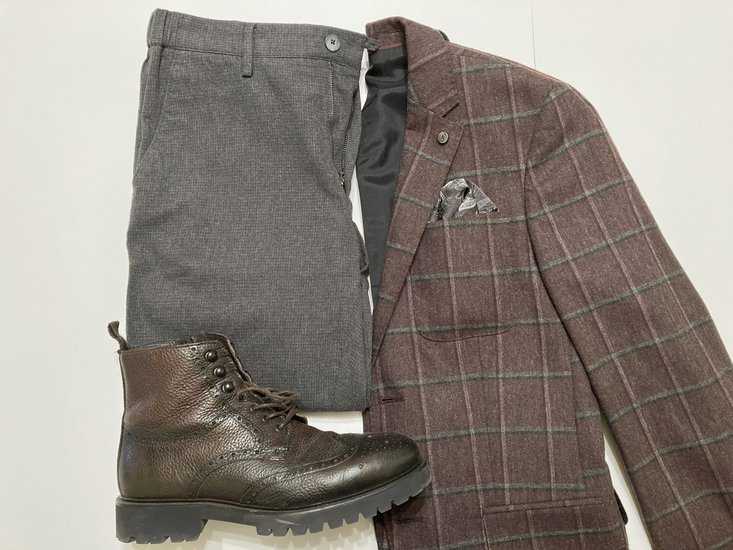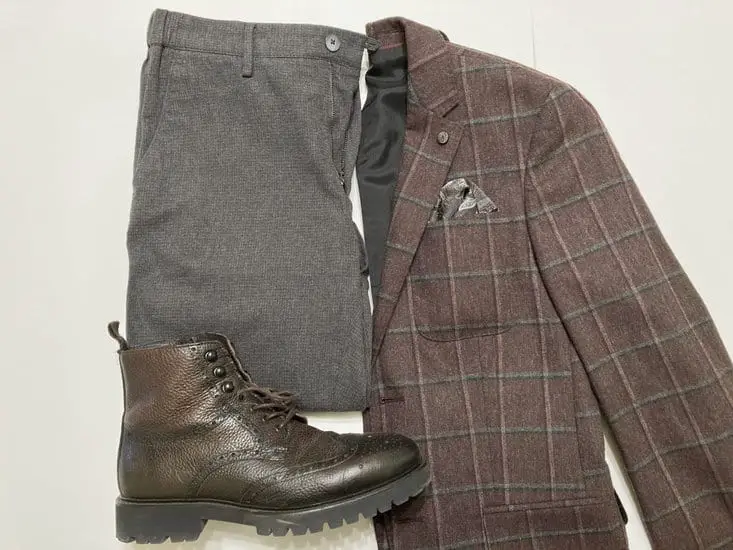 Finally, for a more contemporary take on men's fashion, go for a bright or patterned plaid blazer. This look will surely grab people's attention, so make sure to pick it for the right occasion like a cocktail party or a night out in town.
As you can see, the ultimate best color for a plaid blazer depends on you, the wearer. Whether you want to go classic, contemporary or casual, the plaid blazer is a great addition to any man's closet – as soon as you decide how you want to wear yours.
How to Buy a Good Plaid Blazer
When it comes to buying a blazer, there are a few really important points to keep in mind.
1. Fabric
Look for a blazer that is made from fabric thick enough like a wool blend or tweed. This will ensure that the blazer will be warm and comfortable, as well as being able to protect you from the elements if needed.
2. Fit
A good blazer should drape over your body, allowing you to move comfortably without feeling constricted. The best way to make sure the fit is appropriate for you is by trying the blazer on in the store instead of shopping for one online. This way, you can make sure that it's large enough to fit over a shirt – it should fit close to the body, but still be comfortable and allow for movement.
Avoid any plaid blazers that have a boxy cut or are too baggy as it will not look flattering.
3. Pattern
When it comes to picking the pattern of your plaid blazer, choosing the right one for your body type is key. If you are on the heavier side, it is best to opt for a smaller pattern or less color variation, while if you are on the slimmer side you can go bold with larger patterns or multiple colors.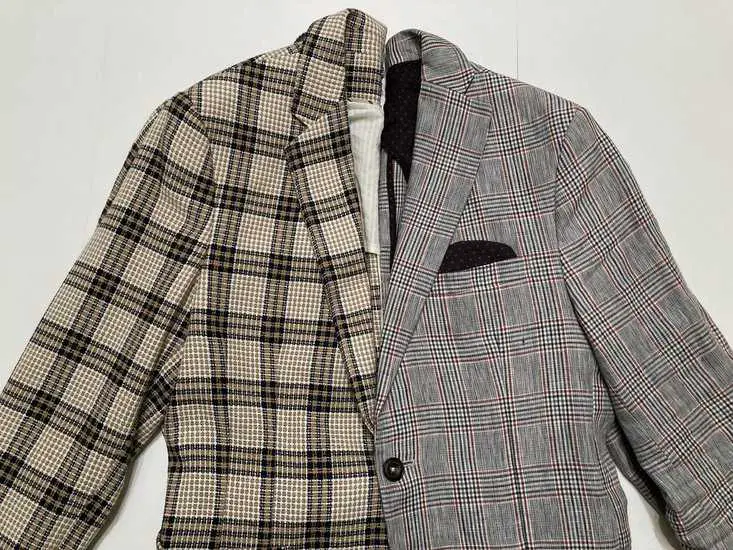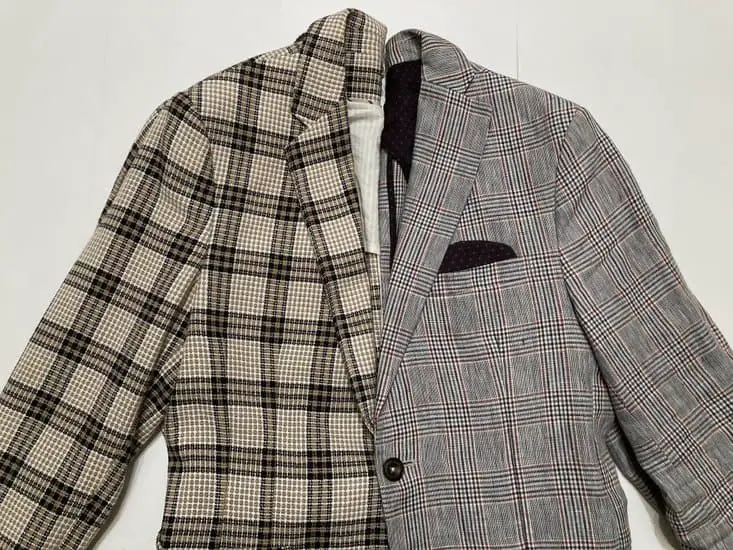 Furthermore, the pattern you choose should be appropriate for the occasion. For example, if you are attending a formal event, opt for a subtle pattern rather than one that is too loud and colorful.
4. Color
If you are not sure about which color to go with or if it is your first plaid blazer, try to match it to something else in your wardrobe. A classic navy blue plaid pattern will always be a timeless choice, and you can pair it with almost any color of trousers.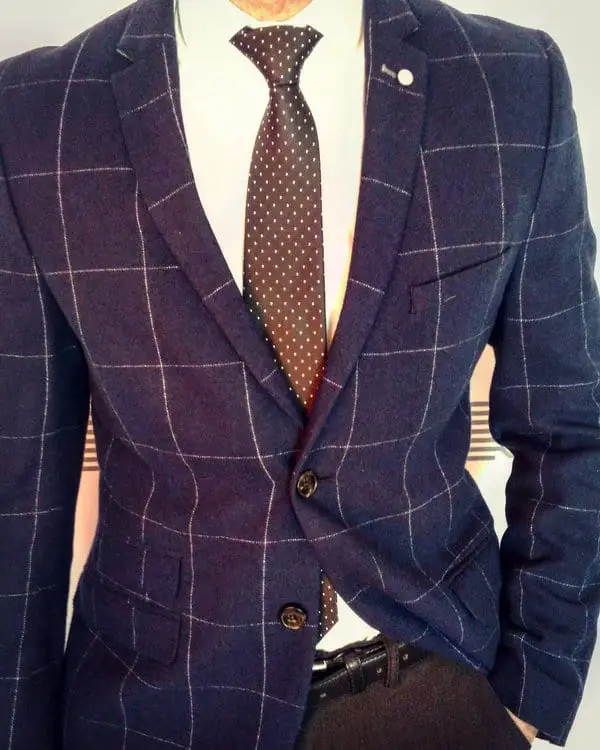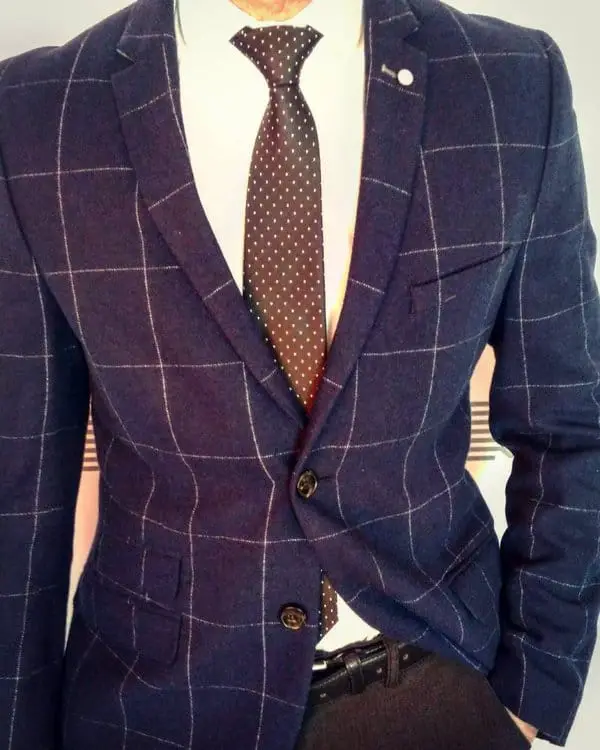 5. Check the Details
Last but not least, when shopping for any clothes you should always check all of the details. Make sure there are no wrinkles or loose threads, and that the buttons and pockets (if any) are well stitched and properly placed.
While a cheaper blazer may save you some money for the time being, it will likely not be the best choice in the long run, as they often lose shape and get worn out quickly. Do not be afraid to invest into this piece of clothing as a good blazer can last you for many years and is a timeless staple of men's fashion.
With these tips in mind, you can make sure to find the right blazer for you and look your best!
FAQs
Here are a few of the most commonly asked questions on the topic of plaid blazers answered:
Can I Wear a Plaid Blazer to a Wedding?
Yes, if the hosts of the wedding have not set a specific dress code. If it is a formal wedding, you should opt for a more classic and subtle shade of plaid. However, if it is a more relaxed setting, you can choose brighter and bolder colors to bring out your personality.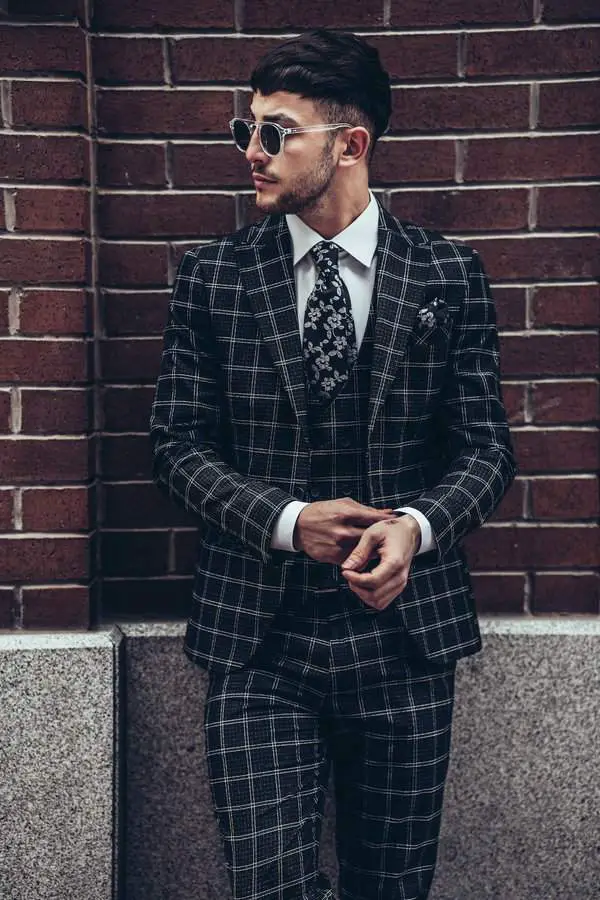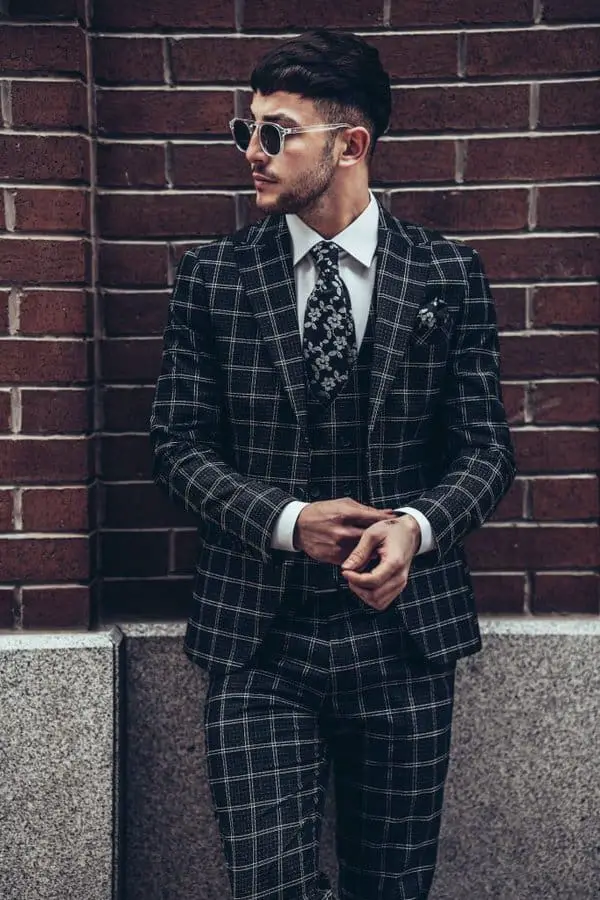 Are Plaid Suits in Style 2023?
Yes, plaid suits are timeless and will still be in style in 2023. With the right styling techniques, you can look modern and stylish in a classic plaid suit. It is all about choosing the right fit, color, and accessories to bring out the best in your ensemble. So, don't be afraid to experiment and have fun with your style!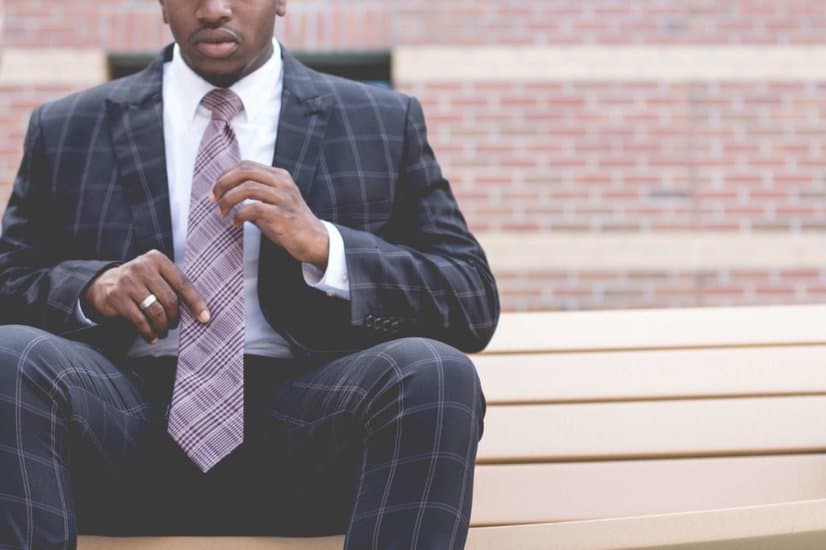 What Color Shirt Goes Best With a Plaid Suit?
A plain white dress shirt is the safest option when wearing a plaid suit. Keeping it classic and minimalistic will ensure that you don't clutter the look or take away from the centerpiece that is the plaid pattern. However, if you're feeling adventurous and want to add a pop of color, choose a solid and brighter color.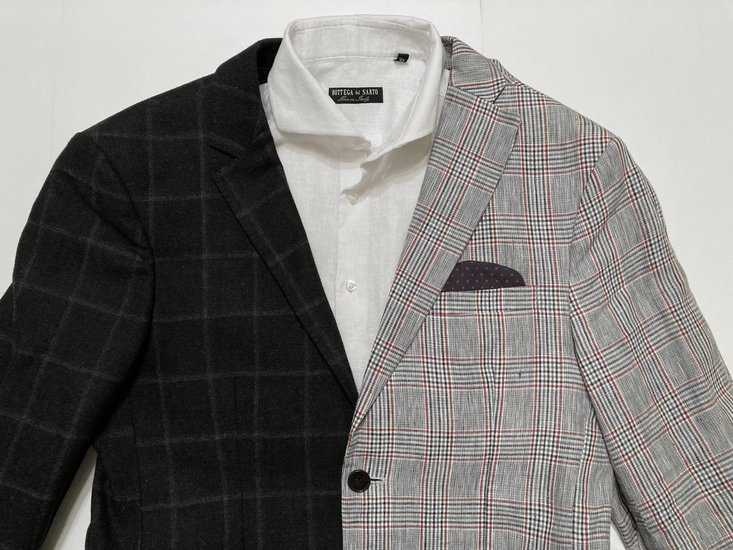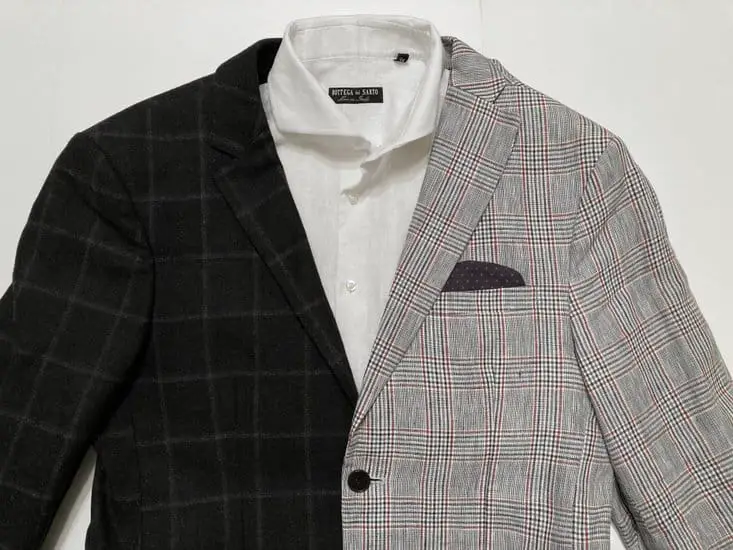 Conclusion
Styling a plaid blazer can be very fun, as you can easily dress it up or down depending on the occasion, you're wearing it for. It always helps to start off with a white dress shirt or t-shirt as the base and then build up from there. Whether you go for something classic or more contemporary, make sure you have fun experimenting with different looks. With the right combination of patterns, colors, and accessories, you'll be sure to make the best of your plaid blazer!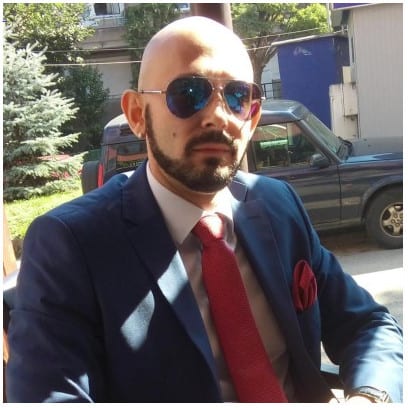 Samoel Ovanessian is the founder and creator of StylishAlpha.com – a website dedicated to men's fashion. As a proud owner of more than 200 ties, he loves digging through new clothing combinations for everyday use, formal events and even just for fun. You can read more about Samoel here.