Pocket watches may be old-fashioned, but that doesn't mean you can't wear them as a stylish accessory!
Traditional clothing has become more popular, especially as more people feel comfortable exploring different styles.
Pocket watches themselves are beautiful accessories. They are usually encased in a polished metal casing.
Some have beautiful designs, details, and even jewels. These timepieces need to be cared for correctly to prolong their lifespan.
Some people may shy away from pocket watches due to their size and thickness.
Nevertheless, pocket watches will always stand out, so they are great to wear at occasions and formal events.
Pocket watches, like the classic pocket square, can be stylish, but they can easily look dated if styled in the wrong way. Never fear though, as our guide can help you learn how to wear a pocket watch correctly. 
Whether you want to wear these timepieces with jeans, a three-piece suit, or in an old-fashioned manner, keep reading.
You'll find out how to wear a pocket watch by reading this article.
How To Wear A Pocket Watch In Early 20th Century Style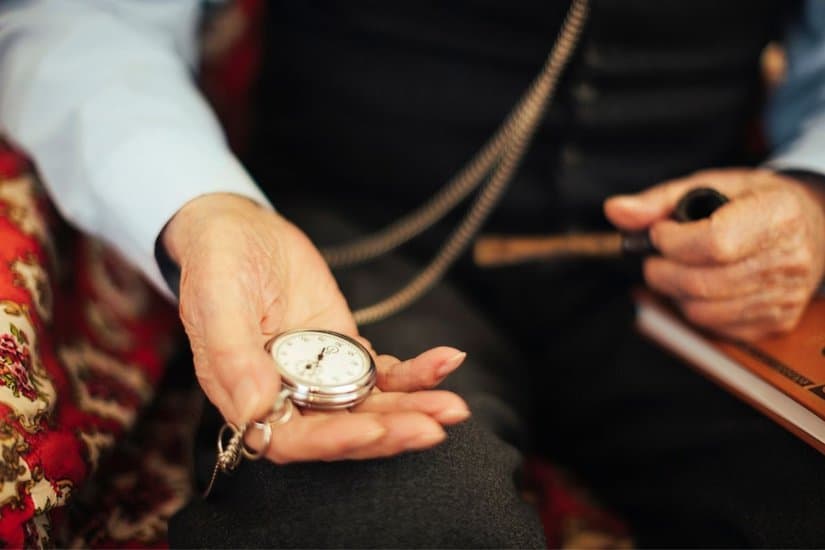 Let's take a look at how pocket watches were worn during the early 20th century. Keep reading and travel back in time with us.
Chain Style
Pocket watches were normally worn as a status symbol, particularly if the timepiece was of high quality. This is why men from previous eras would have their pocket watches on show.
Pocket watches were often hung from a chain attached to a waistcoat pocket. There were different types of chain styles available, such as the Fob or the Double Albert.
The Fob chain was shorter and hung straight down from the waist pocket, while the Double Albert had two parts fixed to pockets on both sides.
The Double Albert chain is a lot more visible, so it created a memorable impression. In contrast, chain styles like the Fob and the Single Albert were more discreet.
Pocket watches were also kept in trouser and blazer pockets, but having one on show would have alluded to the wearer possessing wealth.
If you're attempting to wear a pocket watch in a classic, old-fashioned style, use a chain to draw attention to the timepiece.
The chain style you choose will depend on your preferences, but there's nothing wrong with a simple chain hanging from the pocket, like the Single Albert style.
The Suit
Pocket watches were often worn with a tweed suit and waistcoat. Tweed used to be a workingman's fabric in Scotland, but it became popular with wealthy men after the 1920s.
Tweed is sourced from wool and comes in many types. You can find thicker tweed made from rougher wool or lighter tweed that's better for formal occasions.
Those that wear tweed in this day and age should take this into account, as coarser tweed may be uncomfortable during the day.
Hats
Tweed suits were often accompanied by Baker Boy Hats. These are rounded caps with a panel that extends slightly over the forehead.
The working class often wore flat caps, particularly after the UK parliament passed an act to support the wool industry.
More notably, males over six years old were instructed to wear flat caps on Sunday or be fined. The United States caught on later, and the trend spread across to other countries.
Before you decide on a Baker Boy hat, take its color and texture into account. Don't go for flat caps that are the same shade as your suit, as the clothes may blend into each other and look bland.
Texture also matters. Thicker tweed caps may work well in fall, but they may be uncomfortable during summer.
Similarly, linen Baker Boys can cool the head down in the heat, but they won't be very insulating during colder weather.
Those that want to wear a pocket watch in early 20th-century style should opt for a baker boy cap and tweed suit. These will be important parts of your outfit.
Try to choose the best colors and styles to complement your pocket watch. For example, a gold pocket watch would look good with brown shoes and a gray tweed suit.
Gold pocket watches would give the impression of status, so it's important to choose clothes that match.
Similarly, if you want to emulate a more 'working class' style, you may prefer a darker suit made from thicker tweed.
This is perfect to wear with a brass pocket watch, along with a less showy fob chain.
How To Wear A Pocket Watch In A Modern Style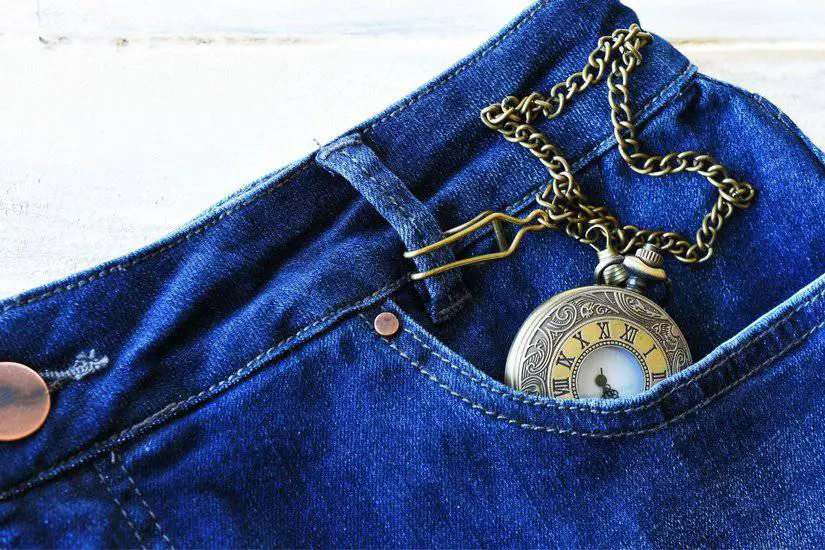 You can wear a pocket watch with modern clothing, but this may take trial and error to see what suits you best.
Jeans
Pocket watches were normally attached to a vest, but this doesn't have to be the case with modern clothing. These timepieces can be stored in trouser pockets for an understated look.
Jeans are popular and are seen as an essential fashion item. Jeans usually dress down an outfit, but they can also be dressed up with the right accessories.
Pocket watches can be attached to your belt and kept in a jean pocket. This has an advantage as the watch isn't on show. You can tuck it away until needed, keeping it on the discreet side. 
Pocket watches look good in a range of jeans styles, but the one you choose will depend on your unique style.
For instance, straight-leg jeans are better for a formal look, but skinny jeans have more of an edge.
If jeans aren't your thing, you can find pants that have waistband pockets designed to store a pocket watch.
You can't go wrong with a pair of black pants, as both gold and silver pocket watches will pair well with them.
Vests
Vest pockets, also known as waistcoat pockets, are often worn with pocket watches. Vests are still worn today and are a staple in modern fashion, but they can look more formal compared to relaxed clothing.
Vests come in different styles and are normally worn under blazers or long coats.
Some styles include the basic vest, a classic shape with five buttons and pockets on each side. Asymmetric vests are also popular.
These will have four buttons in a square and a single lapel that overlaps the other.
You'll need to take chain choice into account when choosing a vest. Fob and Single-Albert style chains look fine with an asymmetric vest, but a Double Albert chain wouldn't harmonize with the look.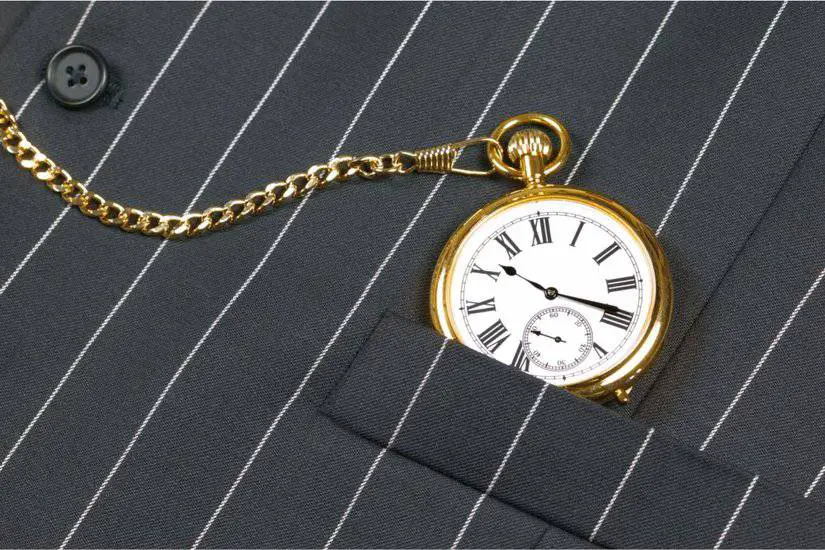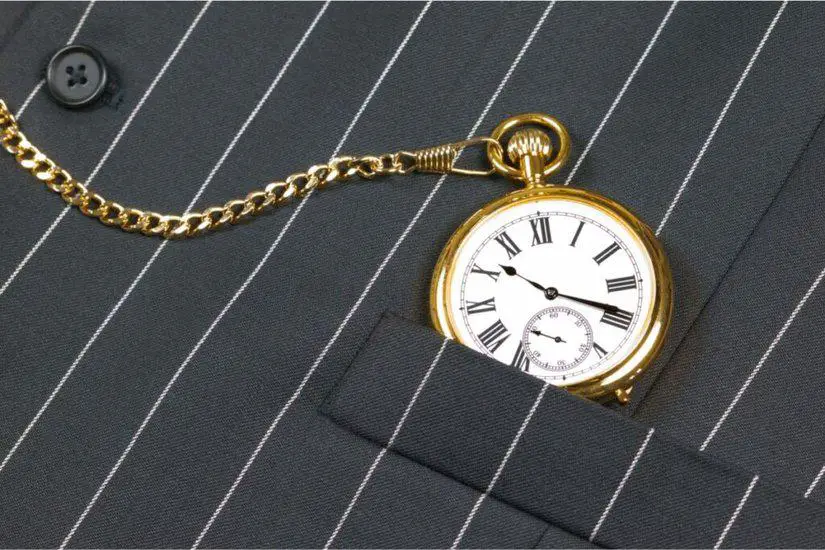 In most cases, basic vests with a classic shape will look good with most chain styles.
In today's era, vests are often worn as part of a formal outfit, such as a three-piece suit.
Try to match the look with your pocket watch. Gold or silver pocket watches will match this formal look, but brass ones will look less elegant.
A well-made pocket watch looks good with a dark vest. Both navy and black are good colors, particularly when contrasted with a classic white shirt.
However, a monochromatic look, such as an all-black vest, suit, and shoes, will draw attention to your beautiful pocket watch.
This is a great look to wear at weddings, formal date nights, or even at college reunions.
Conclusion
Pocket watches may be considered past relics, but they can still be worn as modern accessories.
A tweed suit and baker boy cap are essential to emulating a 20th-century look. Keep your chain style in mind as some may be showier than others.
You can wear pocket watches with jeans for a casual look, but keep them tucked in the waistband pocket to avoid looking too flashy.
Pocket watches also look amazing worn with a vest as part of a modern suit. Vests are normally worn as part of formal fashion, so make sure your pocket watch matches the look.
Gold and silver timepieces will look more elegant than brass, so they'll work well with modern-day vests.
Keep in mind that you'll probably have to answer a few questions if your pocket watch is on show.
It's a conversation starter, but as long as you don't mind, this is your sign to start wearing a pocket watch more often!
Samoel Ovanessian is the founder and creator of StylishAlpha.com – a website dedicated to men's fashion. As a proud owner of more than 200 ties, he loves digging through new clothing combinations for everyday use, formal events and even just for fun. You can read more about Samoel here