We don't think there's any room for disagreement when we say leather items are wardrobe essentials. Whether it is leather pants, leather jackets, or leather boots, the leather looks good in all types and must be a part of everyone's closet, especially if we talk about a leather blazer.
Leather blazers are versatile and chic options that can be paired with formal pants or slacks, a variety of jeans, and chinos. You can wear them with sweaters, jumpers, t-shirts, button-downs, turtlenecks, and more, all depending on the occasion and weather.
We'll take you through some easy-to-put-together outfit ideas that will have you wanting to wear a leather blazer more than ever before!
Leather Blazer
Genuine or faux leather is known to be one of the greatest trends of all time no matter what decade we are in. Many people are not sure how to dress up a leather blazer, one of the most popular leather styles to date, even if carrying a leather bag and donning leather pants are obvious possibilities, although some people would call too much leather unappealing.
Unsurprisingly, the ease with which you can incorporate them into your existing look is a major factor in their popularity. Given the range of colors and styles offered, there is also bound to be a leather blazer that makes you feel more like a badass version of yourself than a rocker who aspires to be famous.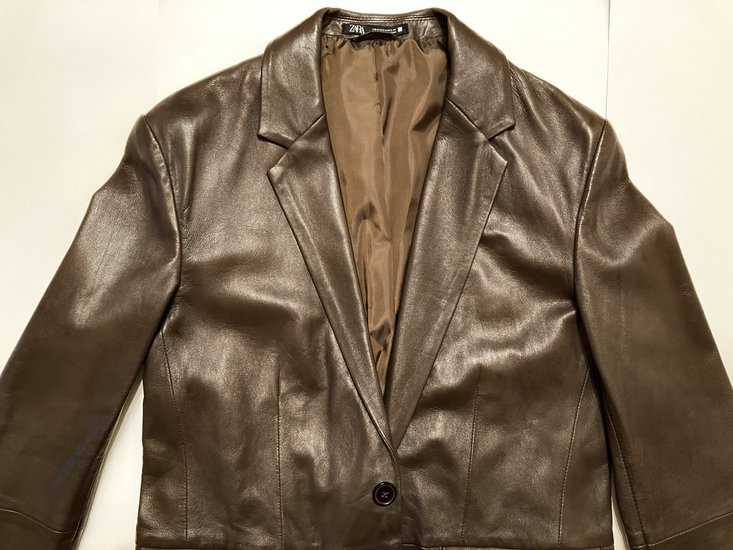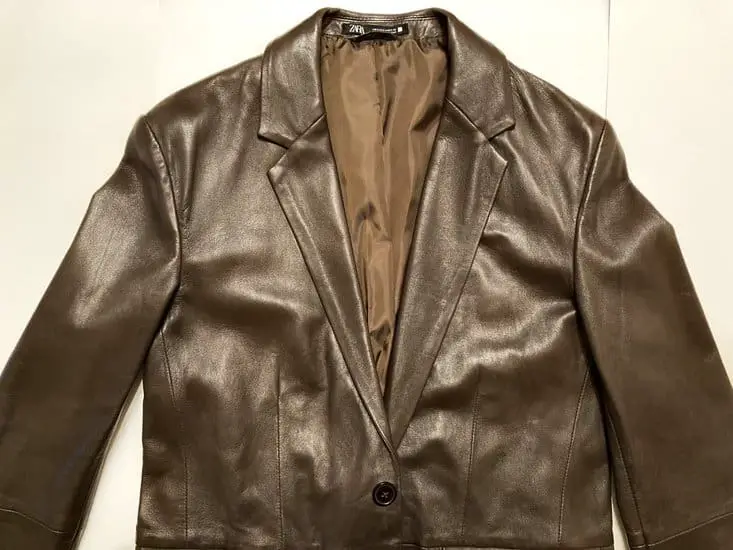 Plus, a leather blazer doesn't always need to be black. We're sure you've spotted olive or crocodile green – although the latter's pattern is very much up for debate – a nice warm brown, reddish brown shades, and of course, the scarlets!
You will also like these other related posts:
What To Pair with a Leather Blazer
In this section we will discuss the various outfits you can make up from your leather blazer. Let's start!
1. White and Black Wardrobe Essentials
If you like the way a casual ensemble appears, start by simply combining black leather with other black or white wardrobe staples. These can be pants, boots, sweaters, or T-shirts.
You can't go wrong with black and white clothes, especially if you want to add something creative to your work clothes. As we remind most readers, formal clothes don't need to be boring at all.
Have you tried ditching the usual blazer or coat from your suit and putting on a blazer? Adding accessories like rings, watches and if you really want to look like a Casanova, throwing a rose up in the pocket to charm your – often potential – beloved with?
The bag you carry can also make a difference. Try cross body bags, or those cool leather laptop briefs. We've seen men match their leather blazer to their MacBook's cover, which is why we still have hopes in fashion and those who carry it forward!
2. Turtleneck and Straight-Legged Jeans
For dressier and more formal occasions where ripped jeans are not suitable, try this timeless outfit. You can dress things up with a sleek, slim-fitting cream or grey turtleneck and structured straight-leg trousers in a non-distressed whitewash.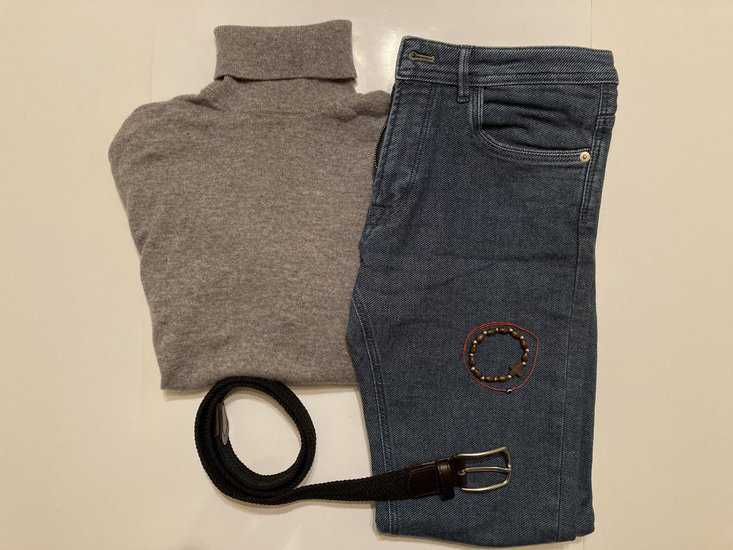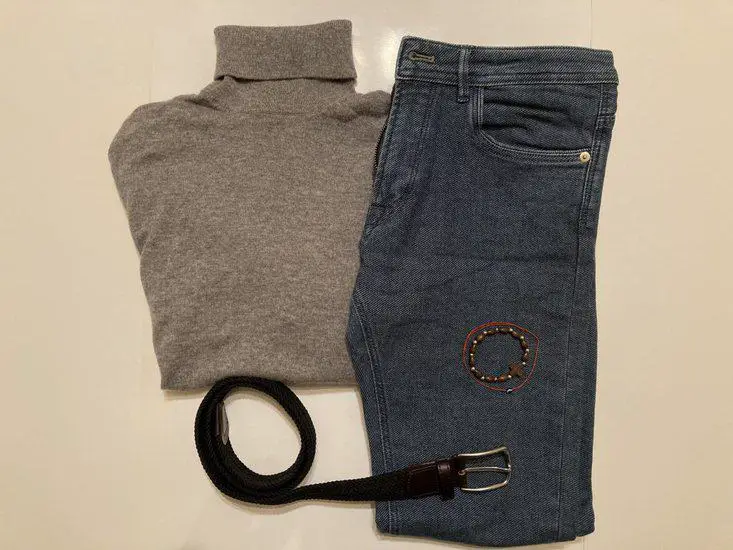 Get the edgy clothing look by adding a pair of black shiny shoes for a touch of glitz and possibly a pocket square. You can also wear neutral-colored cufflinks to tie in the whole look nicely.
But if you don't have a lot of time on your hands, just go for any turtleneck, dark pants, dark shoes, and a blazer. Add a simple chain and watch to bring it all together!
3. Faux Leather Blazer in Tan
Faux leather can be obtained in more natural colors and finishes that closely resemble genuine leather, but it is most frequently found in black, vivid colors, or intriguing finishes. Tan faux leather blazers are a great option for men who want an authentic leather-like look but don't want to use animal goods or want the look on a budget.
This outfit is also unique as not many people own such beautiful clothing pieces. You can pair such a blazer with cream pants and white sneaks for a classy and stylish look.
Additionally, you can add a brown shirt under the blazer as all the warm and earthy tones blend well with each other. Another interesting option is something coral, that leans more into the brown hue than the pink.
4. Sweatshirt and Jeans
Embrace simplicity. Put on a pair of black or gray slim-fitting jeans and either a white or black t-shirt with a logo or some graphics to break up the monotony. You could also layer a zip-through sweatshirt underneath your leather blazer to truly make this appear sporty and chic.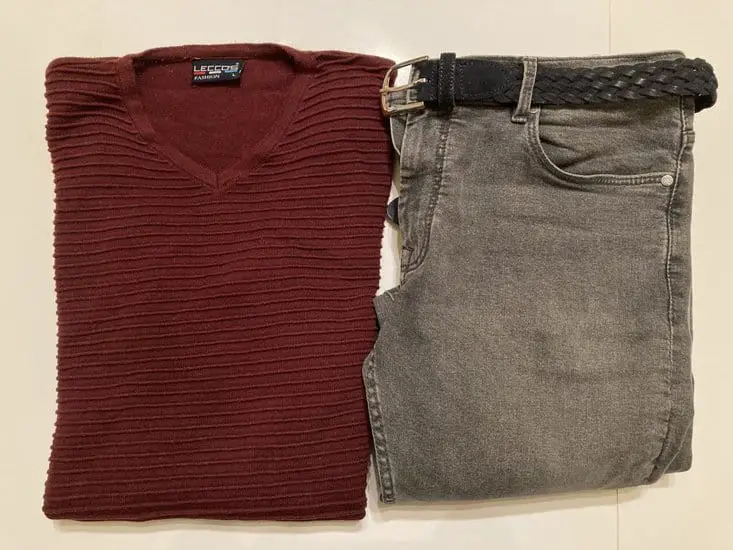 Add a pair of sneakers or another pair of street-style sneakers to finish off the look. A cap or maybe some sunglasses are great finishing touches if you want to add accessories. Remember that your leather blazer is the ideal finishing touch for this ensemble because it adds a touch of luxury to an otherwise very understated ensemble.
You can wear this outfit when going to a casual dinner with friends and family. It will keep you warm, comfortable, and always looking stylish.
5. Brown Leather Blazer and Gray Pants
Opt for a plain white t-shirt under a brown leather blazer and gray pants. You can even add a tie to the outfit if you choose a white button-up shirt.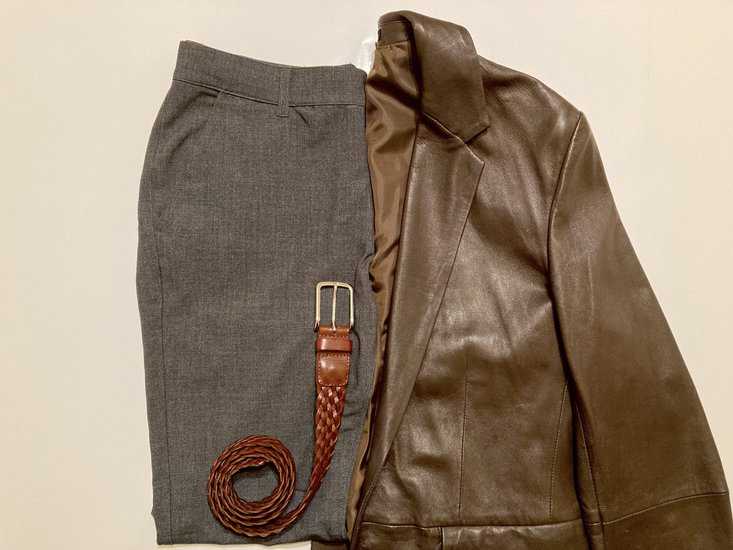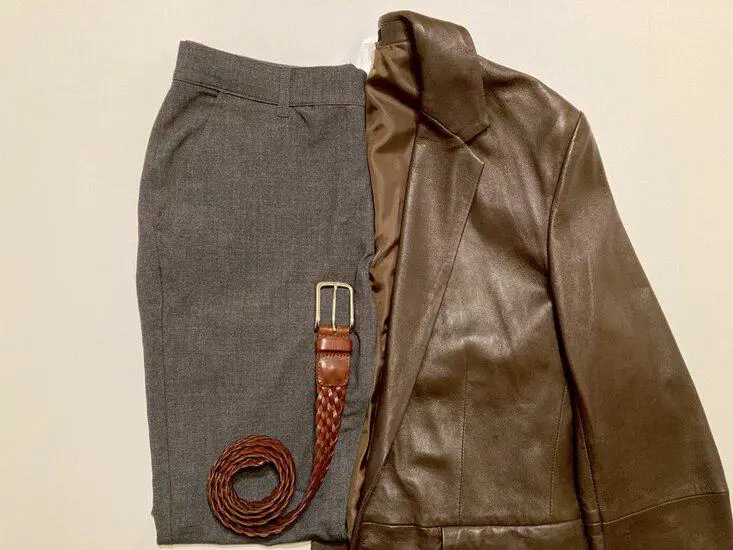 This looks great with oxford shoes, maintaining the preppy aesthetic. The leather jacket should ideally match the color of your shoes before being added last. The leather jacket adds a little bit of spice to the preppy appearance, which is all about refinement.
You can also go for checkered gray pants if you want to add even more spice to the outfit.
6. Leather Blazer, Turtleneck, and Chinos
Always match a leather jacket with a black turtleneck sweater and a pair of chinos to somewhat dress it up. You can choose whatever color scheme you like, just make sure to pick colors that complement each other and don't appear to be mismatched.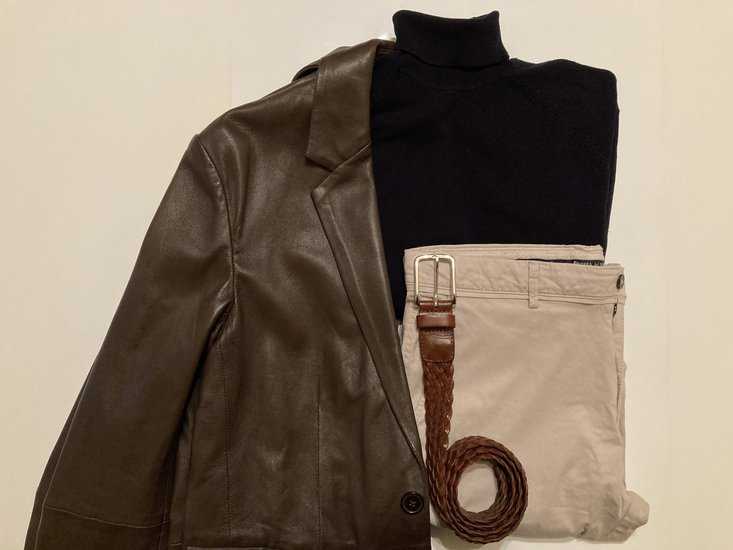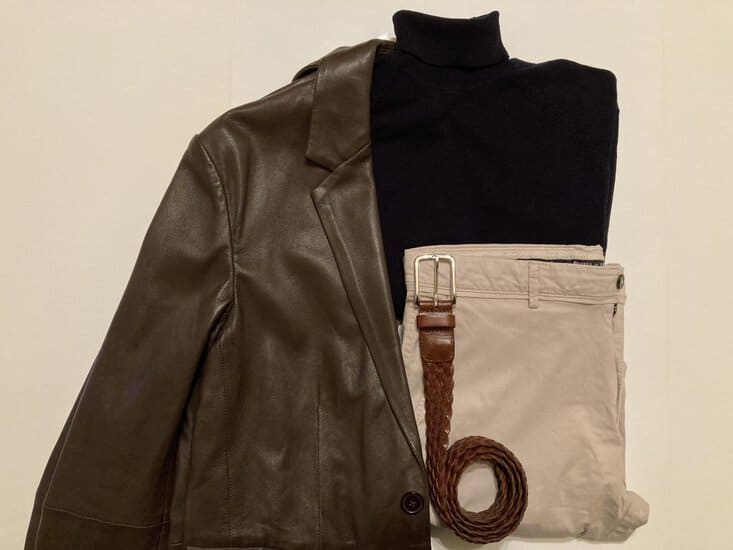 To be truly trendy, complete the appearance with a pair of derby shoes and a black belt. This outfit is the one to choose if you want to look stylish on the weekend while still wearing your leather jacket.
7. Long-line Leather Blazers and Pants
To switch things up a little bit, you can go for a long-line blazer as it is a very unique and dapper look. You can pair a black longline leather blazer with a white turtleneck and black jeans.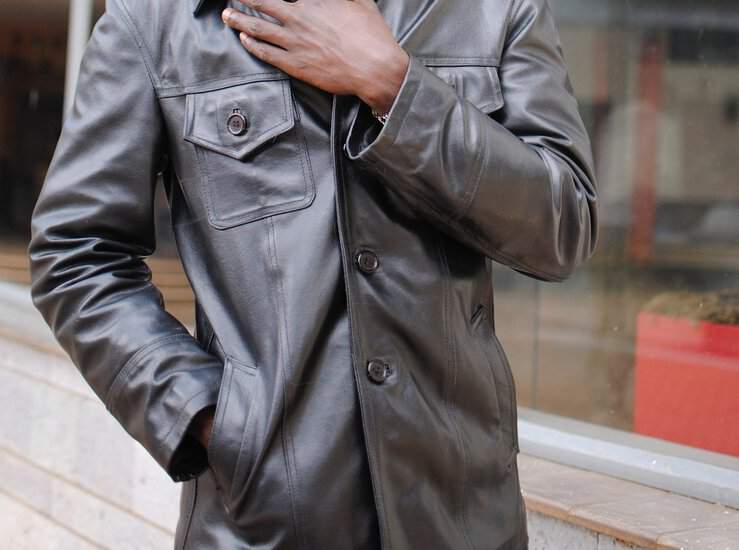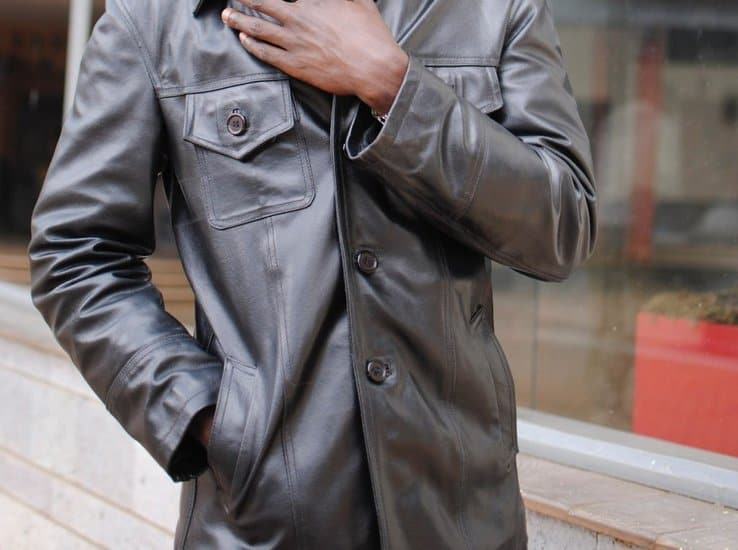 Black boots can tie the whole look together. You can wear this to look chic, impress someone on a first date, or for a casual meet up with your friends.
8. Leather Blazer and Blue Jeans
We would be committing a major crime if we failed to mention one of the best ways to style any leather blazer, with blue jeans.
There is absolutely no way to go wrong by wearing a pair of blue jeans with a white shirt and leather blazer. Plus it doesn't matter what color your blazer is. This ensemble will always work out for you.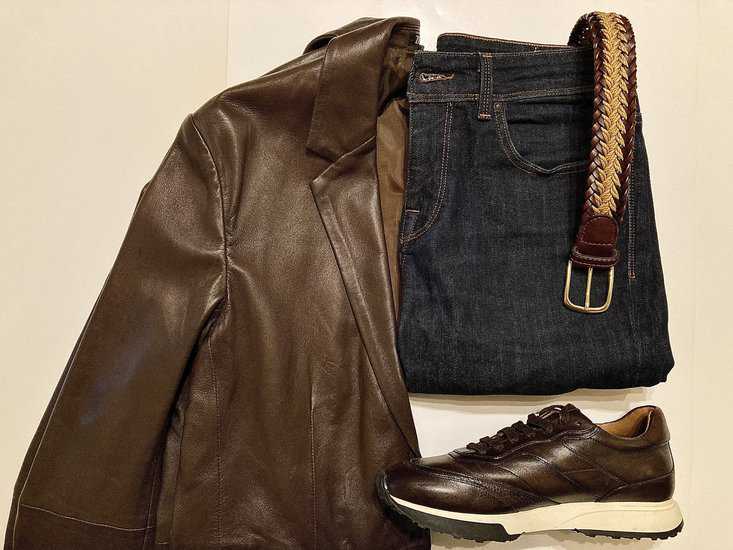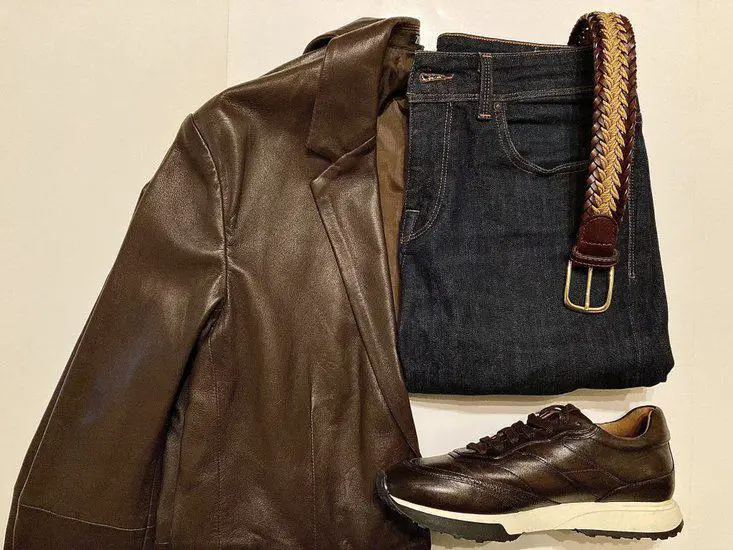 Brown, black, red, scarlet, tan, green are some of the most common colors and these will go perfectly with the blue and white! Add some boots, and maybe a longer coat overhead depending on the temperature, and not a soul will deny how good you look!
9. Ripped Jeans and Sneakers with Leather Blazer
Black ripped jeans and high-top shoes like Dr. Martens look great with a leather blazer. For a more street-style appearance, you could even put on a pair of skate shoes.
You might use a band t-shirt or a black plain t-shirt as the top. Just bear in mind that the leather blazer always looks best when worn with darker hues to maintain the grunge/rocker aesthetic.
10. Leather Blazer and Leather Pants
Just like denim on denim is a trendy look, leather on leather is also a fashion statement that is best for dressier, fancy occasions. You can either opt for a fitted leather blazer with form-fitting pants or an oversized blazer with baggy, straight-fit pants.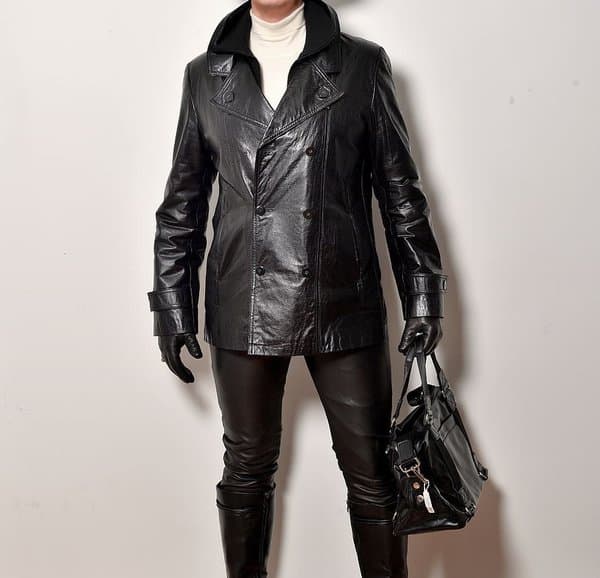 Under this outfit, keep it simple as all the leather is enough to catch everyone's attention. Go for a plain sweater, turtleneck, or shirt, whatever you like. You can even try a hoodie for the street wear look.
11. Leather Blazer and Cream Pants
Brown and cream are colors that seamlessly blend together, and you can pair a brown leather blazer with cream-colored or white pants. The earthy and warm tones complement each other well.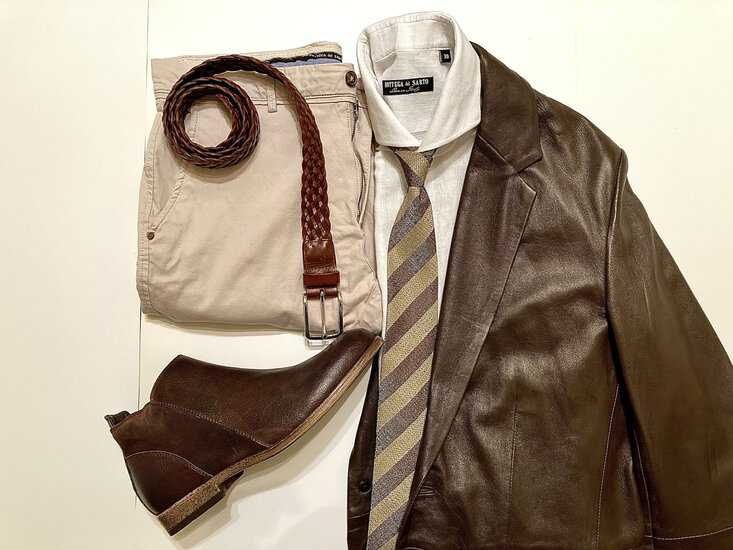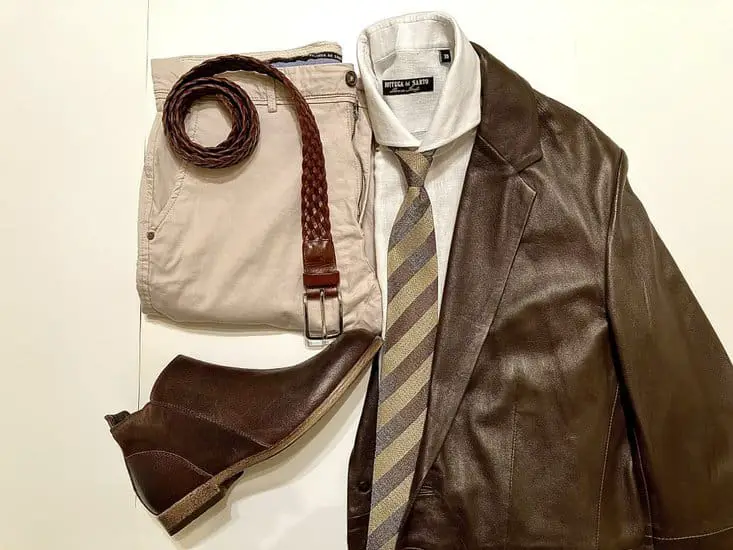 You can wear brown boots or brown leather shoes to tie in the browns of the outfit together. Throw in a belt, maybe something creamy as a top and you're all good!
12. Black Leather Blazer and Hoodie
This is a casual laid back look, something low-key yet stylish to opt for on a day you want to look good but stay relaxed.
Pair these up with sneakers, boots, almost anything goes. Wear a nice graphic hoodie, anything plain, something funky with a pattern, or anything you have on hand.
13. All Black Outfit
For a sleek, suave look, try all black.  Any of the outfits listed above can be kept all black, but the best one that we recommend is a black leather blazer, black turtleneck, black jeans, and black boots.
This is an easy to put together outfit and if all else fails, this will not.
14. Black Leather Blazer And Casual Shirt Outfit
For a sporty look try matching a black leather blazer with white casual shirt on black dots and ripped blue jeans. Remember to wear the shirt untucked.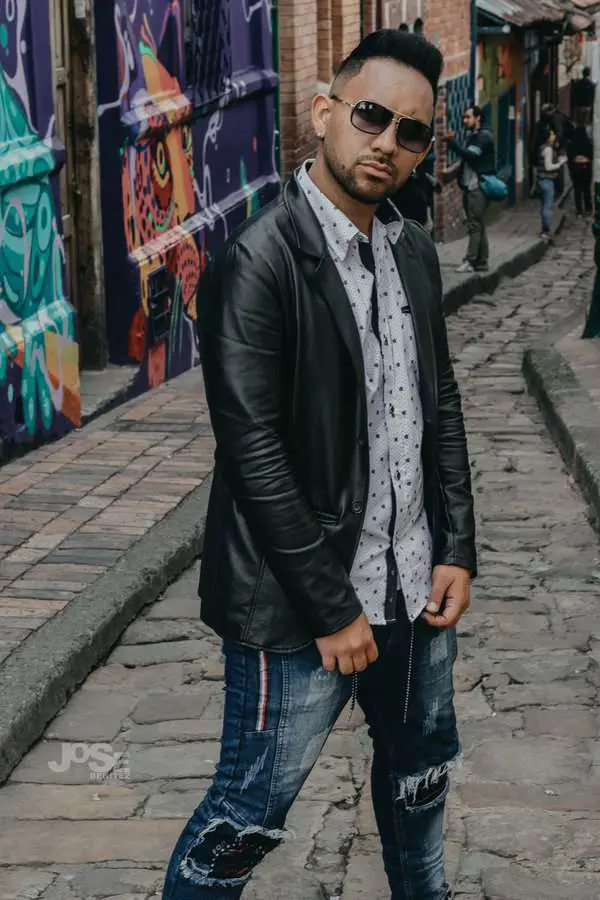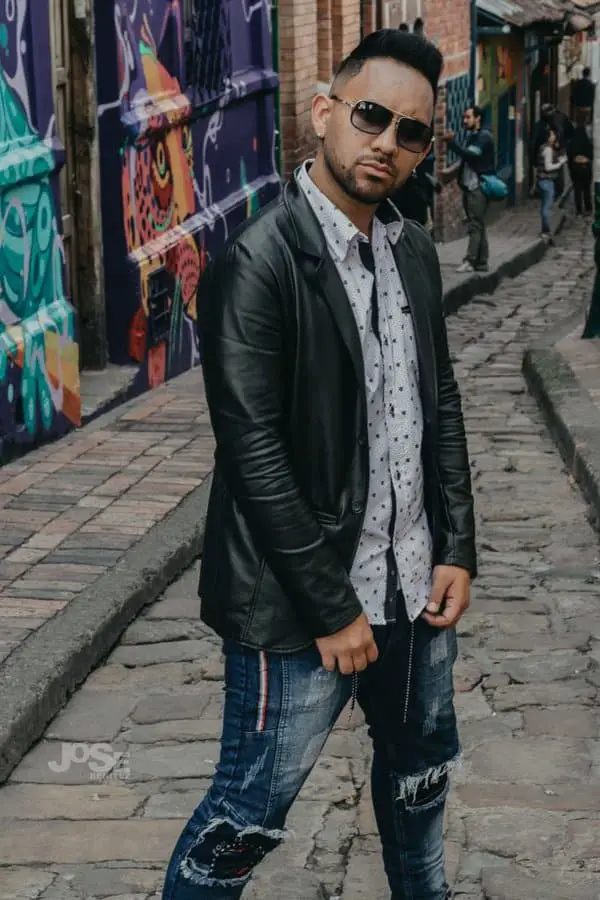 Conclusion
After reading the above options, you might feel relieved that the leather blazer you bought on impulse is not a waste, instead, it is a gem that will get many envious looks if styled properly. We hope that this guide provides you with various options you have to choose from when it comes to styling an outfit with a leather blazer as the centerpiece!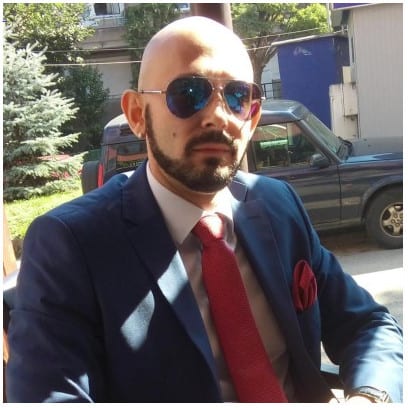 Samoel Ovanessian is the founder and creator of StylishAlpha.com – a website dedicated to men's fashion. As a proud owner of more than 200 ties, he loves digging through new clothing combinations for everyday use, formal events and even just for fun. You can read more about Samoel here.