Wondering what collar would look best without a tie for business and even formal settings? You are not the only one looking for an answer!
If you are like me, wearing a suit and tie every day can be tiresome, especially the tie. Wouldn't it be nice to be able to wear a collared shirt without wearing a tie and still look just as spruced up and professional? I am here to tell you that you can! 
There are many types of collars when it comes to dress shirts, however, only some of them can be pulled off without a tie. The hidden button collar, for example, can look great with or without a tie without you looking unprofessional or casual.
The spread collar also looks best without a tie if you seek a cool and casual, yet formal look when attending events such as weddings, office dinner parties, and more. 
While I may have answered the question you are looking for, there is a lot more to learn when it comes to understanding collars and which ones look best with or without a tie. Knowing what dress shirt's collar is best for what occasion and dress code has a greater impact on your appearance than the cuff style or even the overall fit. 
Read on to learn more about what collar types look good without a tie and which ones best suit your style, personality, and preferences. 
The Basics of a Collar 
What is a collar? A collar is simply the part of a shirt, coat, jacket, or blouse that is around the neckline and helps frame the neck. Collars can be both upright or turned over.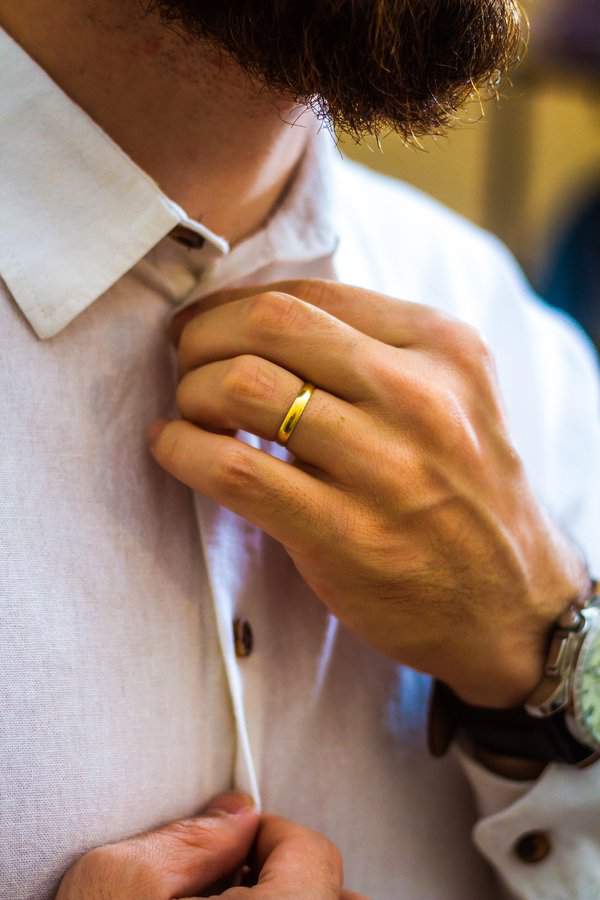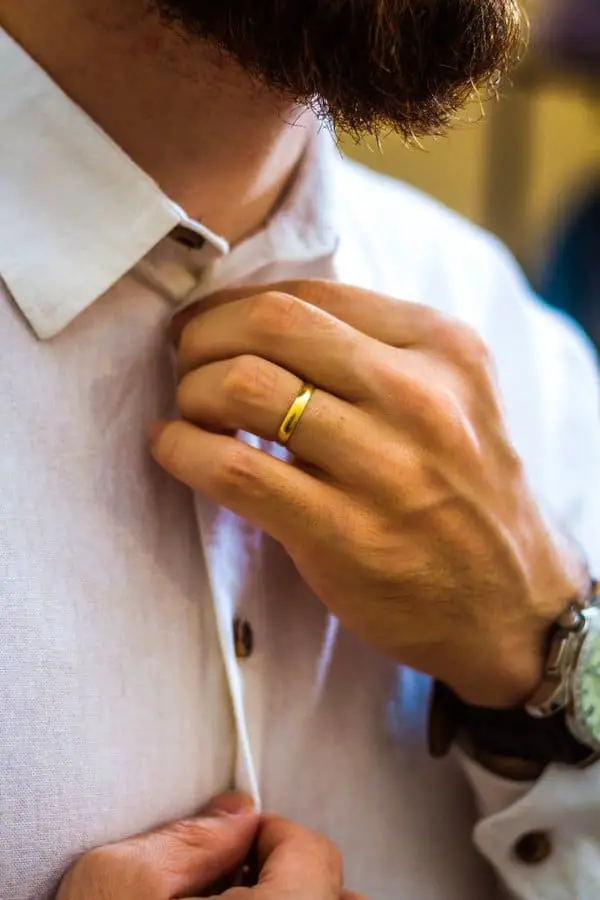 When choosing a collar style, it is important to understand how different collars can impact your neckline and your overall look. 
Here are a few straightforward parameters that will assist you in understanding what types of collars would be best suited for your needs.
Also don't miss:
The Level of Collar Stiffness 
If what you seek is a formal look, especially when wearing a business suit and tie, a firmer collar is always the better choice as it offers a crisp and sharp appearance. Generally, if you are looking to wear a collared shirt without a tie you would want the collar to be softer and less stiff.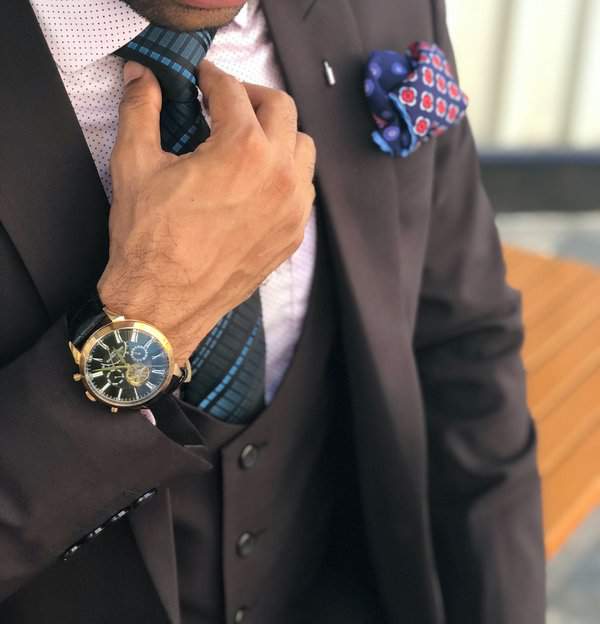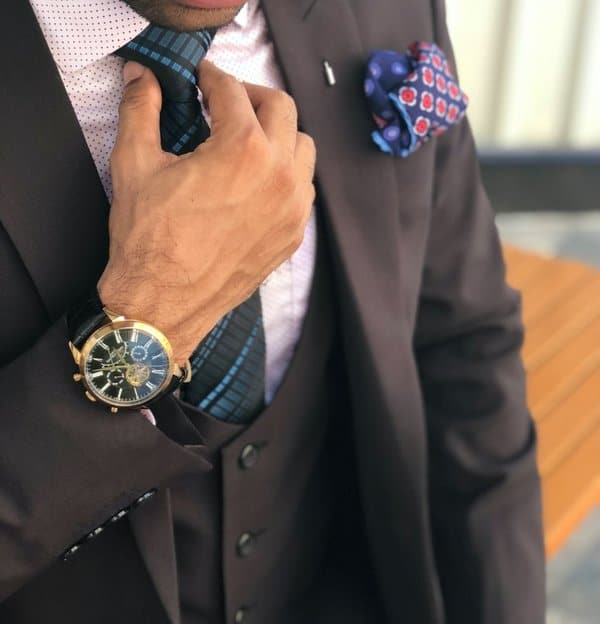 The stiffness of a collar is determined by its interlining and whether it has been starched or not. Today, the trend is for softer collars with soft tailoring as these types of collars offer more comfort and don't require the need for a tie.
Finding The Right Collar Height 
Collar height is the measurement of how high a collar sits on your neck. This is easier to specify if you are looking at made-to-measure or bespoke shirt options. Taller collars are more formal as well as more forceful; they convey that you intend to take care of business.
While picking a shirt for formal business settings, you will need a collar that sticks well to your neckline and isn't uncomfortably tight.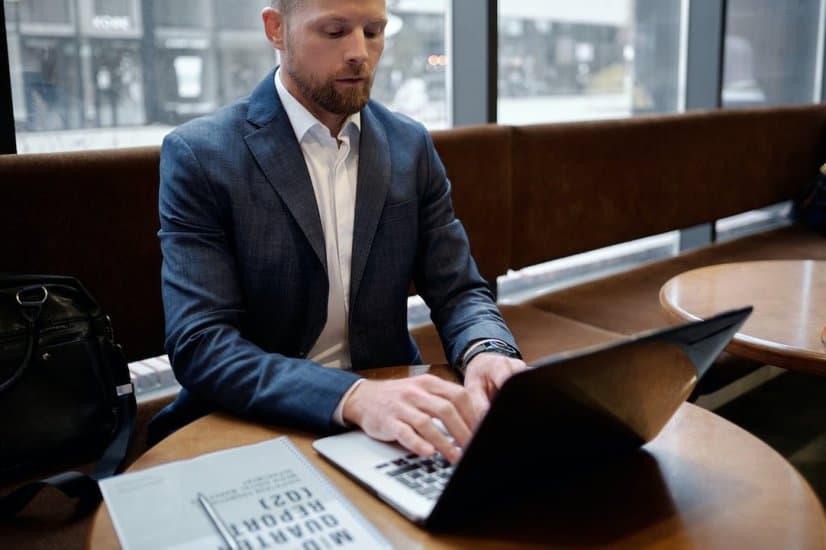 A high neckline shirt gives off more of an Italian style with some shirts needing two neckline buttons to keep the collar stiff and high.
Figuring Out What Works Best With Your Face Shape
If you have a bigger head (no pun intended!) or a roundish face, bigger stiffer collars may suit you better than softer smaller height collars. Wearing a small collar can make your face look lopsidedly bigger.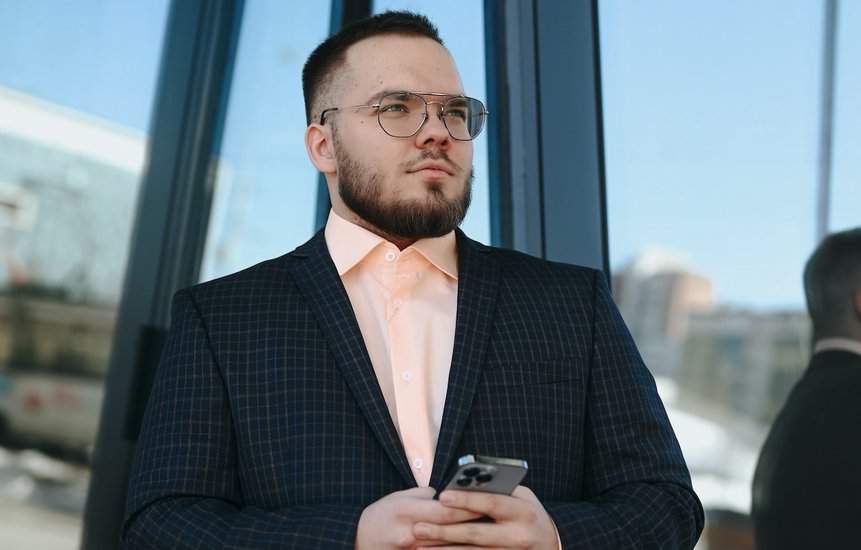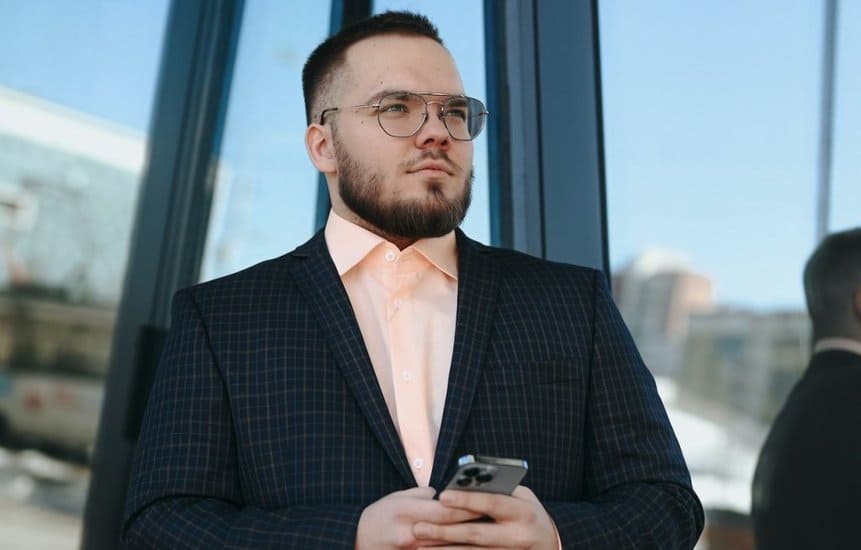 Assuming you have a thin face, a softer collar with a short height can help accentuate the slenderness of your neckline complimenting your facial features.
5 Collars That Look Best Without A Tie?
As promised here are 5 collars that look best when worn without a tie!
1. Band Collar
A band collar is essentially a neckband around a shirt and has no points. As such, this type of collar is only meant to be worn without a tie. If you are seeking a more business casual look this simple and clean style is the perfect blend of dressy without looking overly formal. The band collar is also a trending modern style that goes well with blazers as well.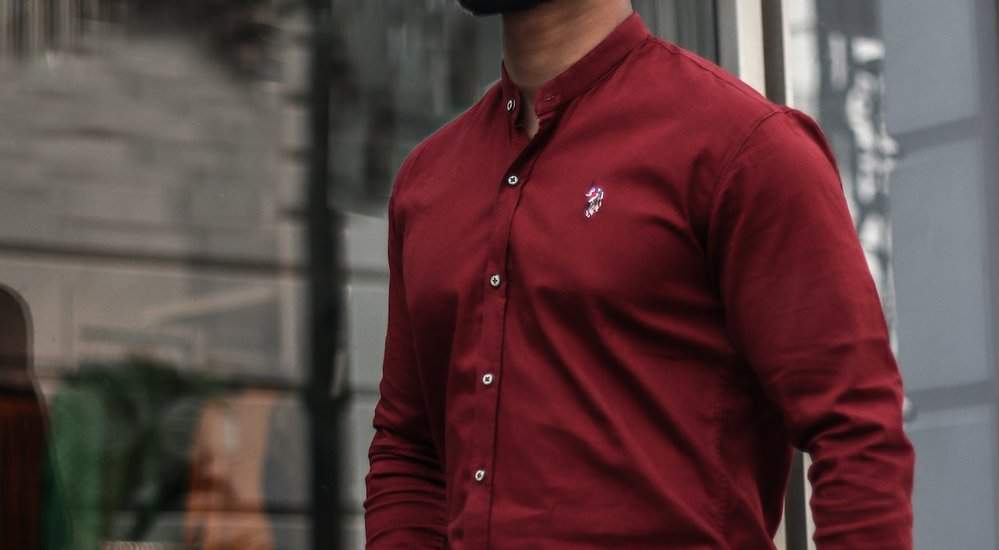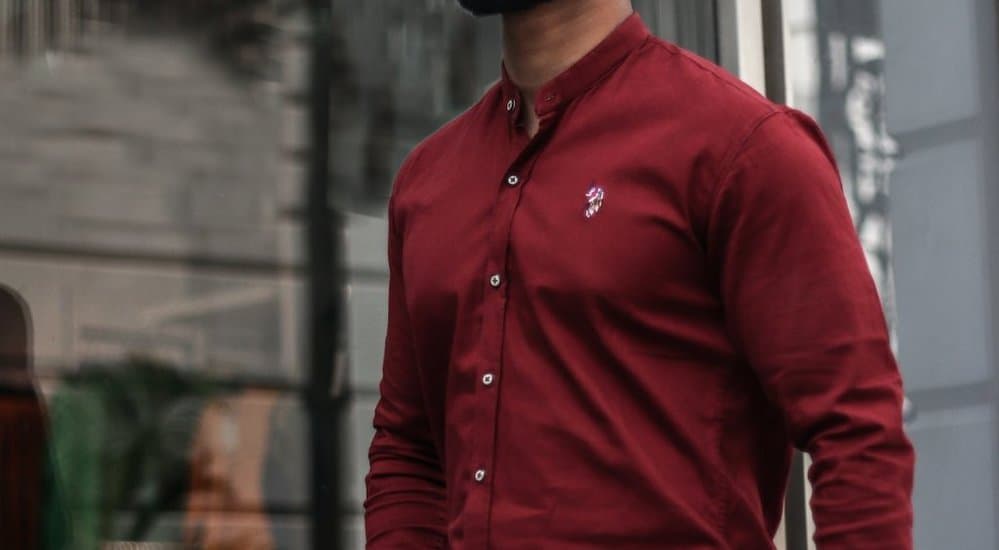 2. A Moderate Spread Collar
As a rule of thumb, the wider the spread of a collar the more formal it is. This is because the wider spread means a lot more open space around the neck which makes wearing a tie almost mandatory.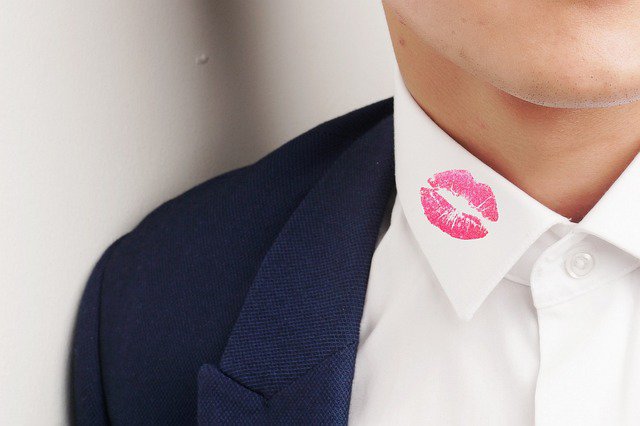 Thus, if you want to wear a collar without a tie you should opt for shirts with a moderate or thin collar spread. This type of collar style is considered to be on the borderline between casual and formal and can look great both with or without a tie. 
3. The Button-Down Collar 
The button-down collar was first worn by English polo players, but Brooks Brothers made it popular in the United States. A staple of Ivy, prep, and trad styles, the conservative neckline is a variety of the point-neckline dress shirt, and more often than not the classic button-down collars are often worn without ties.
You can even leave the collar buttons fastened to pull off that crisp yet casual look.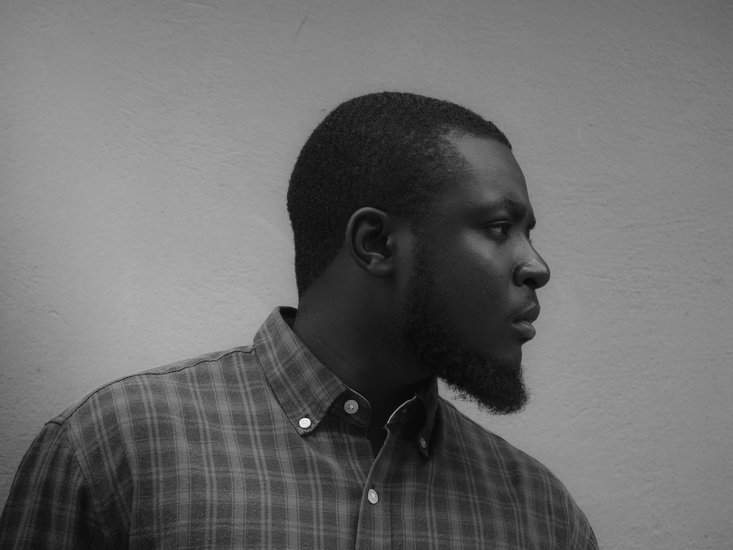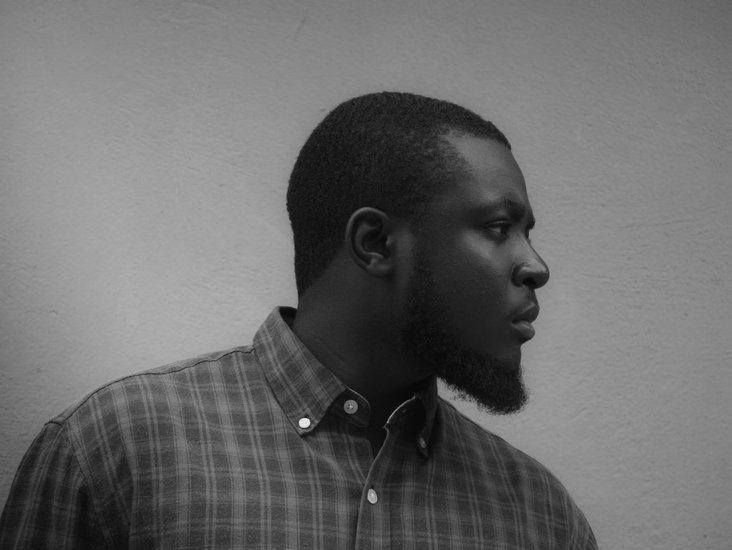 4. The Cutaway Collar
Despite what traditionalists say, a cutaway collar can look great even without wearing a tie. With the top button undone this collar type gives off that effortlessly suave and subtle Euro look that can be further accentuated when worn with a blazer or knit sweater.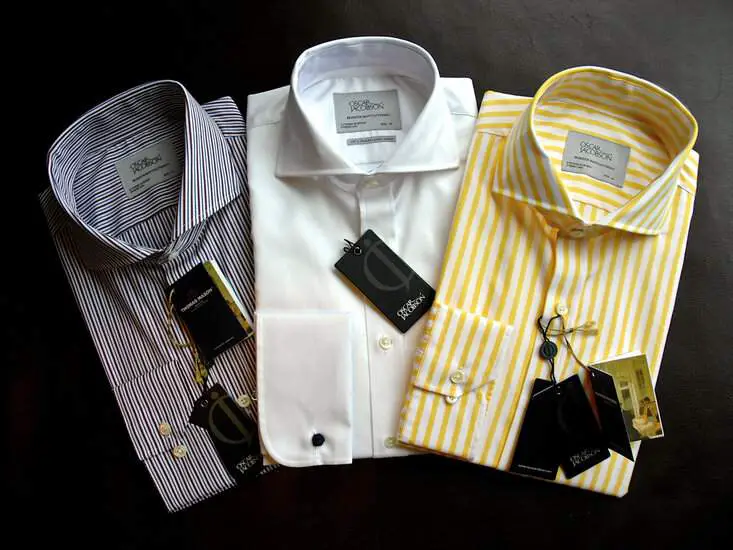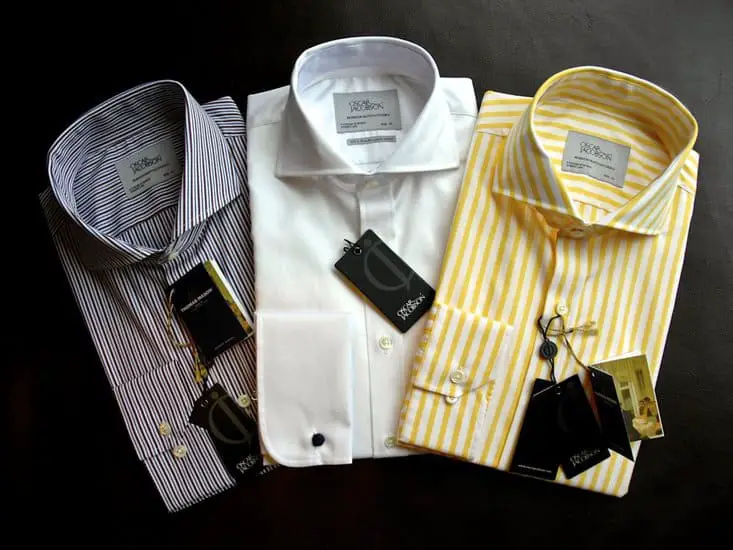 5. The Point Collar 
The point collar or straight collar is probably the most traditional of all collar types and the collar of choice for many white-collar business professionals. This style has the narrowest distance between the two collar points which helps ensure that a tie fits snuggly without any gaps.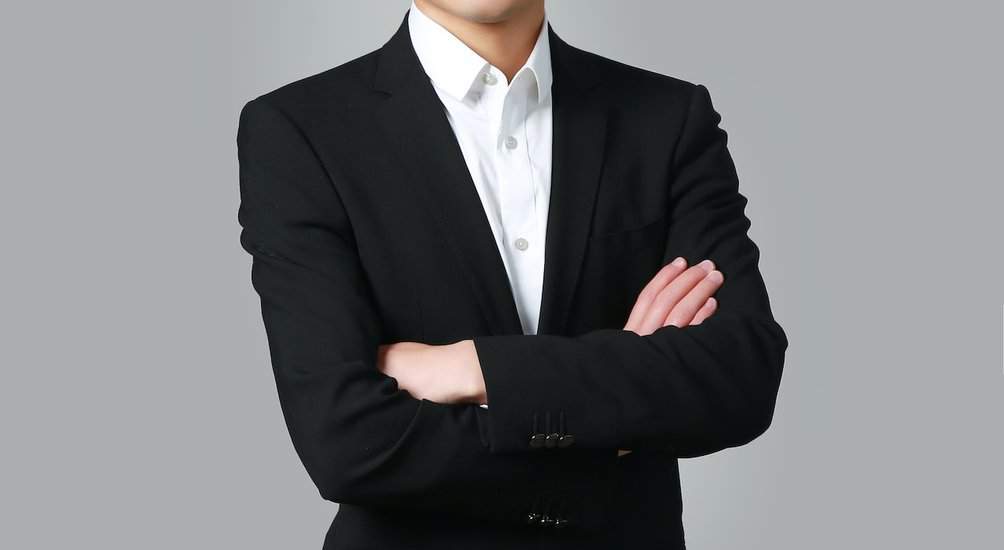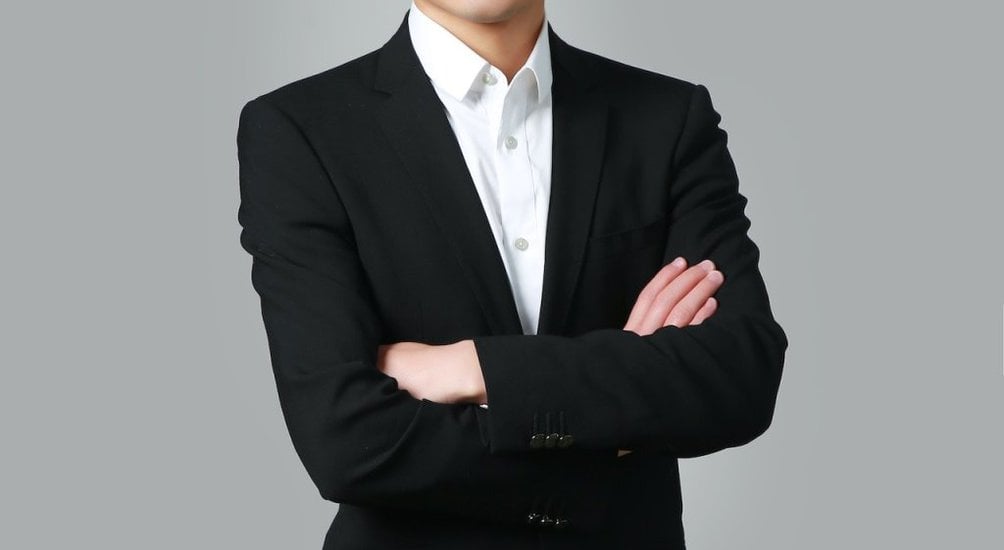 While you could get away with wearing a point collar without a tie the other collar types are far better options.
Why Wearing A Collar Shirt Without A Tie Is Fashionable? 
Wearing a collared shirt without a tie can be incredibly fashionable. It gives off a relaxed and effortlessly stylish vibe that's perfect for both casual and semi-formal occasions. 
Wearing a collar without a tie is all about embracing a more laid-back and modern approach to dressing up. By ditching the tie, you create a more open and relaxed neckline, allowing the collar to become a statement piece on its own.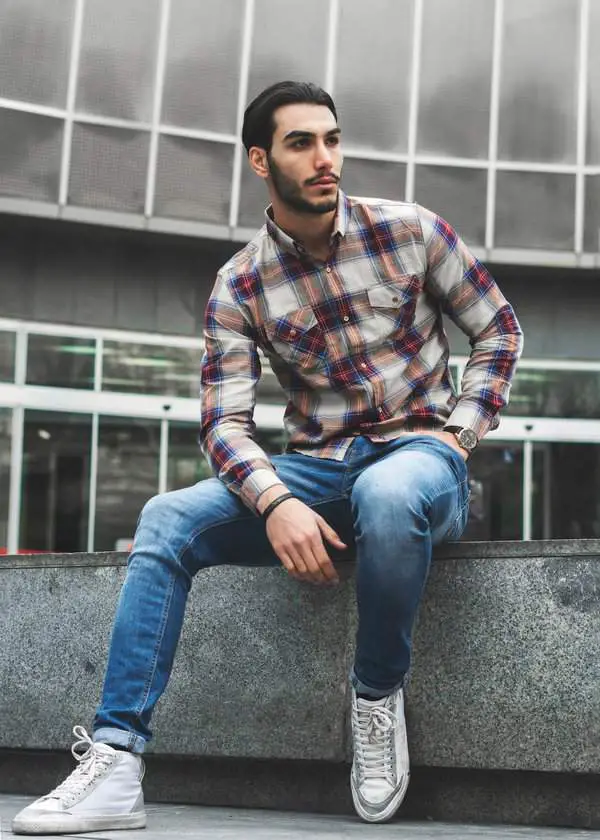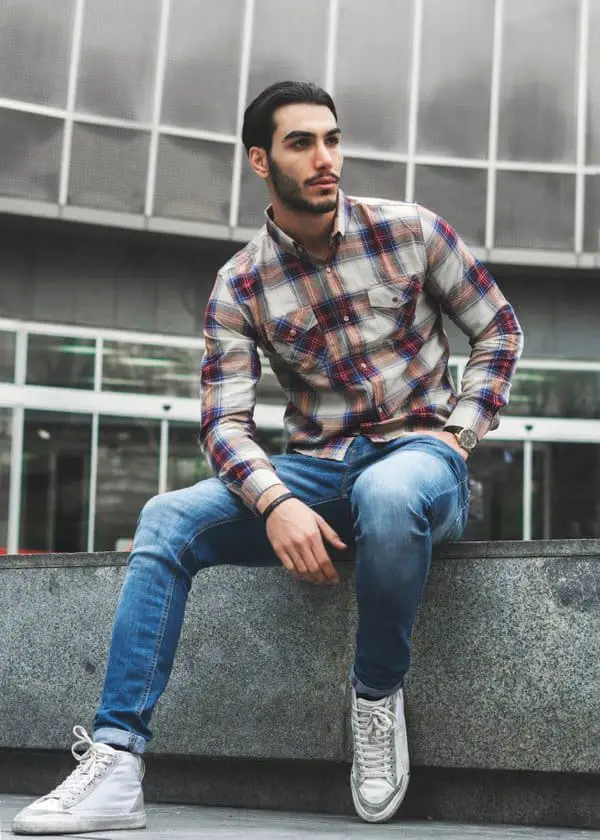 Not wearing a tie allows you to showcase different collar styles, which can add personality and flair to your outfit. Plus, going tieless gives you the freedom to experiment with different textures and patterns, like a chambray or patterned shirt, adding visual interest to your look. 
So, whether you're going for a smart-casual look or simply want to elevate your everyday style, wearing a collared shirt without a tie is a fashionable choice that exudes confidence and modernity.
Tips for Wearing a Blazer with an Untucked Shirt
Here are some tips for rocking a collared shirt without a tie:
Opt for a button-down collar or spread collar for a more polished look, or go for a camp collar for a relaxed and casual vibe.
Make sure your collar shirt fits well, with the collar sitting comfortably around your neck without being too tight or too loose.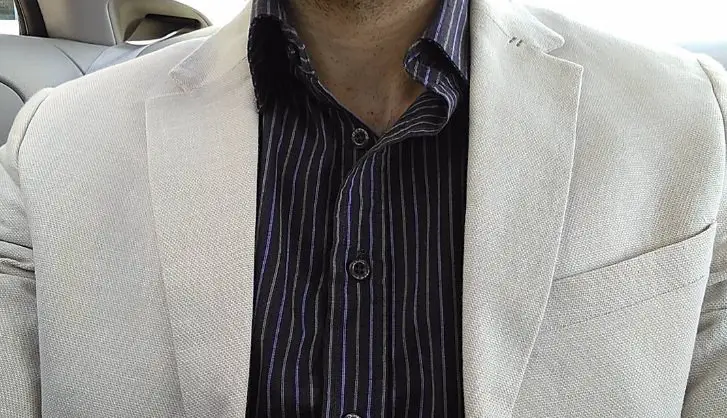 If you're not wearing a tie, consider buttoning up your collar for a clean and modern look, or leave a button or two undone for a more casual feel.
Since you're skipping the tie, you can add some personality with accessories like stylish chains, ear rings, shades, a pocket square, a stylish watch, or some statement cufflinks.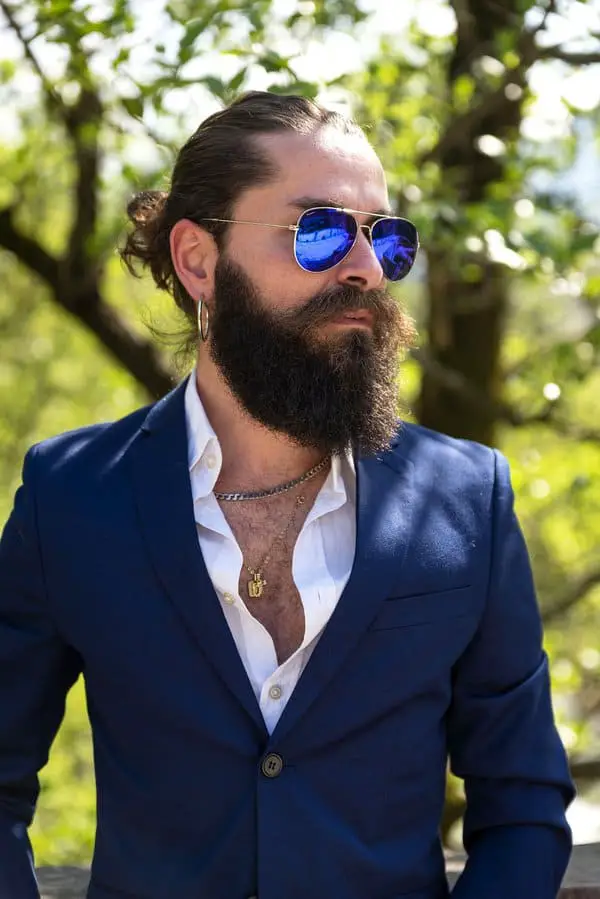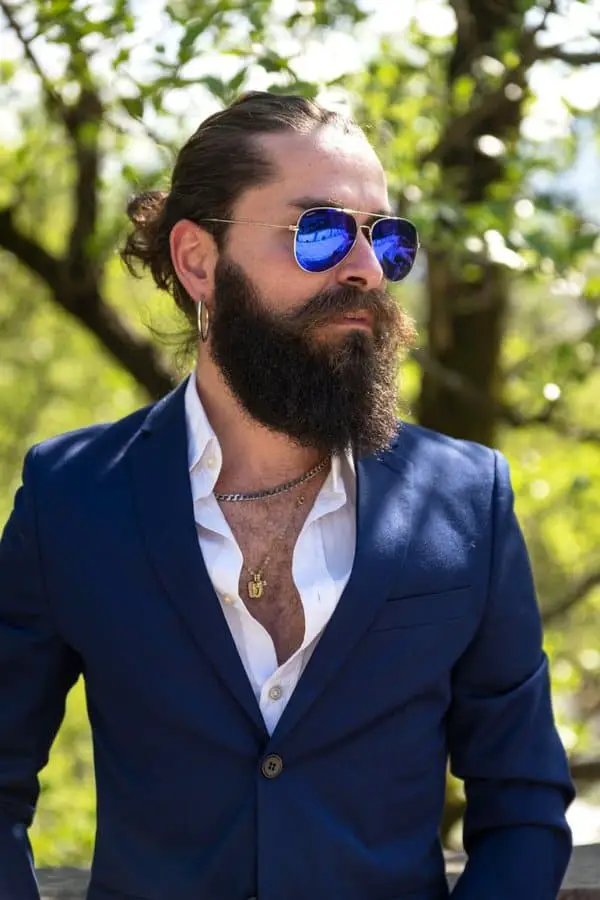 Layer your collar shirt with a blazer, cardigan, or a stylish sweater for added depth and texture.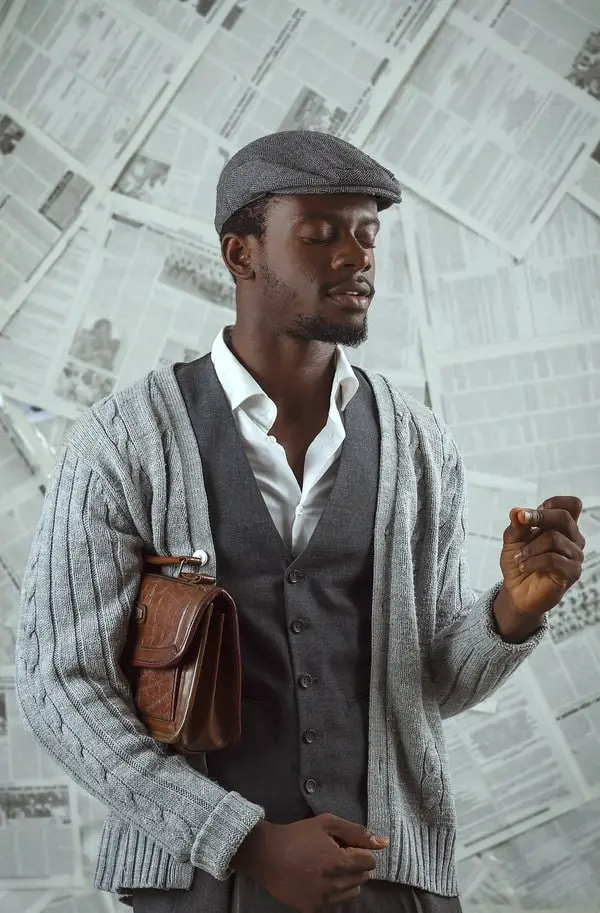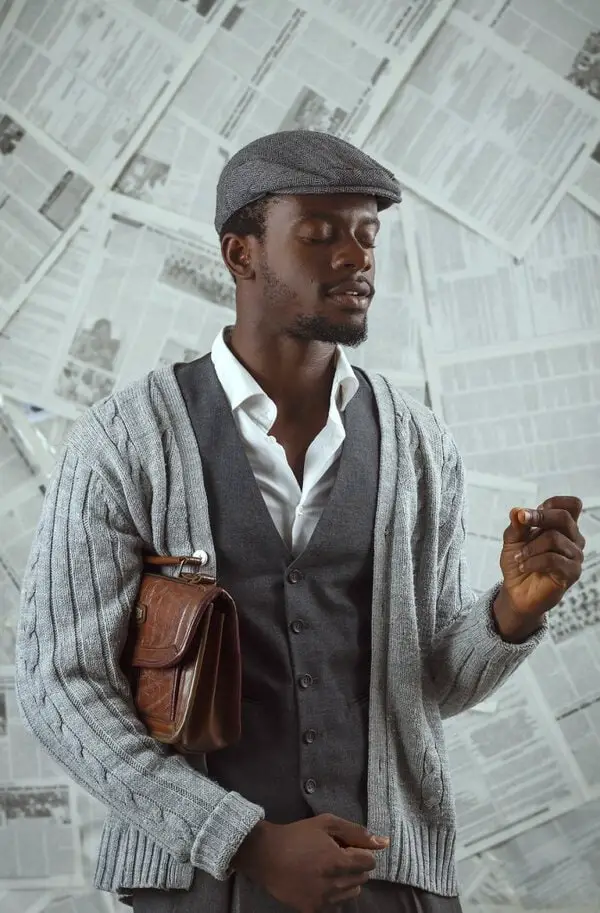 Frequently Asked Questions
Can you wear a collared shirt without a tie?
Yes, you can wear a collared shirt without a tie for a more casual and attractive look. You can either dress it up or down according to the event you are attending. It will not only look classy but also very chic. 
Is it unprofessional to wear a collared shirt without a tie?
Depends on the event. If you are attending an important corporate event or a business meeting, it is better to wear a tie. However, if you are going to a dinner party or dressing for daily office wear, you can wear a collared shirt without a tie. 
What collar works best with a suit?
The spread collar looks best when worn with a suit jacket or blazer. The spread collar can also be worn without a tie in less formal situations and still look great, even if you have a blazer or suit on.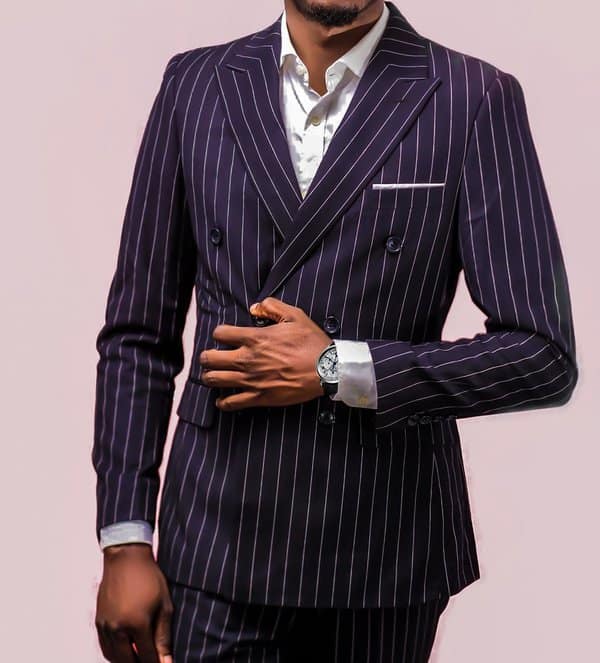 Final Thoughts on What Collar Looks Best Without a Tie?
It is okay not to wear a tie with a collared shirt. In fact, it has become quite a popular and fashionable choice in recent years. Wearing a collared shirt without a tie offers a more relaxed and modern vibe, perfect for both casual and semi-formal occasions.
It allows you to showcase the collar style of your shirt, whether it's a classic button-down or a trendy spread collar. Plus, it gives you the freedom to experiment with different patterns, textures, and colors to add personality to your outfit. 
So, if you want to embrace a more laid-back and effortless style, feel free to ditch the tie and rock a collared shirt on its own. Remember, fashion is all about expressing yourself and feeling confident in what you wear!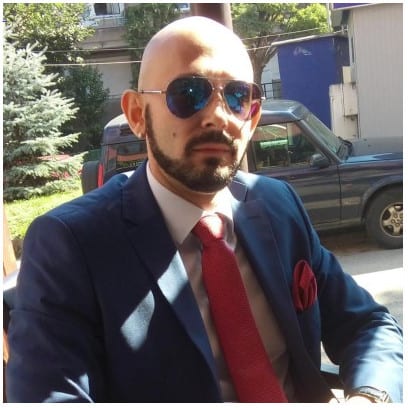 Samoel Ovanessian is the founder and creator of StylishAlpha.com – a website dedicated to men's fashion. As a proud owner of more than 200 ties, he loves digging through new clothing combinations for everyday use, formal events and even just for fun. You can read more about Samoel here.