Blazers are the number one item of clothing to have in your wardrobe. These under-appreciated garment pieces can dress up or dress down your attire for any occasion. With the right type of pants, shorts, and shirts, blazers are the chic way to go about looking your best.
If that empty spot in your closet is calling out for a new blazer, but you are unsure which color blazer would be most versatile for your wardrobe, we are here to help!
Arguably, for both men and women, a navy blue blazer is one of the most versatile and must-have pieces to have in your wardrobe. However, gray and beige are also popular choices for men as they offer a ton of versatility with different types of shirts and pant combinations.
For women, white and brown blazers can also be extremely versatile, as they look great in any season and every occasion!
If that empty spot in your closet is calling out for a new blazer, but you are unsure which color blazer would be most versatile for your wardrobe, we are here to help! This guide will help you find the right color blazer as well as enlighten you about the various ways you can style blazers to pull off some stunning formal and casual looks. 
What Is A Blazer?
Blazers are stand-alone jackets that have a similar appearance to suit jackets. However, they boast several unique attributes. For instance, these jackets come in solid colors, are typically paired with contrasting pants, and may have contrasting trim or piping. 
Initially only worn by men, this fashion item is now increasingly being adopted by women who are establishing mind-blowing fashion trends with it. From traditional to modern and formal to casual, blazers cover all ranges of styles. What's more? You can easily style these bad boys from summer to spring!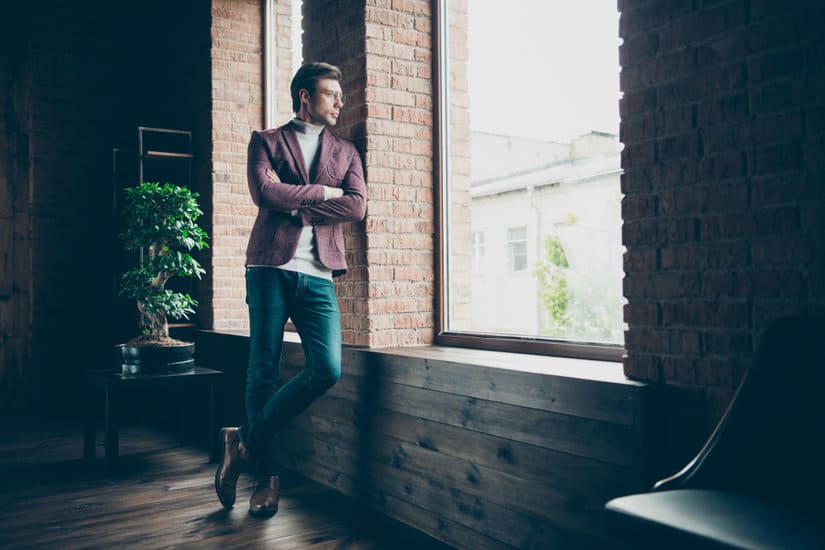 Blazers can be double or single-breasted. They come in a wide range of both vibrant and sophisticated solid colors, from beige and navy to shades like purple and mustard. This makes it easy to style them according to any event or occasion with jeans, skirts, dress pants, shorts, dresses, or even as part of uniforms! 
Check out these other popular posts:
Some Unique Attributes Of A Blazer
It's easy to confuse the different kinds of formal jackets like suits and blazers. To the everyday eye, they will all look the same, interchangeable. However, if you look closely, there are subtle differences that entirely set these clothing items apart! 
Blazers, for instance, have the following unique characteristics.
Buttons
Traditionally, blazers boast metal buttons. Where single-breasted blazers tend to have 2 to 3 buttons, their double-breasted counterparts tend to have 6 buttons. However, such a style isn't strictly followed, especially with the ever-changing fashion sense of the modern age.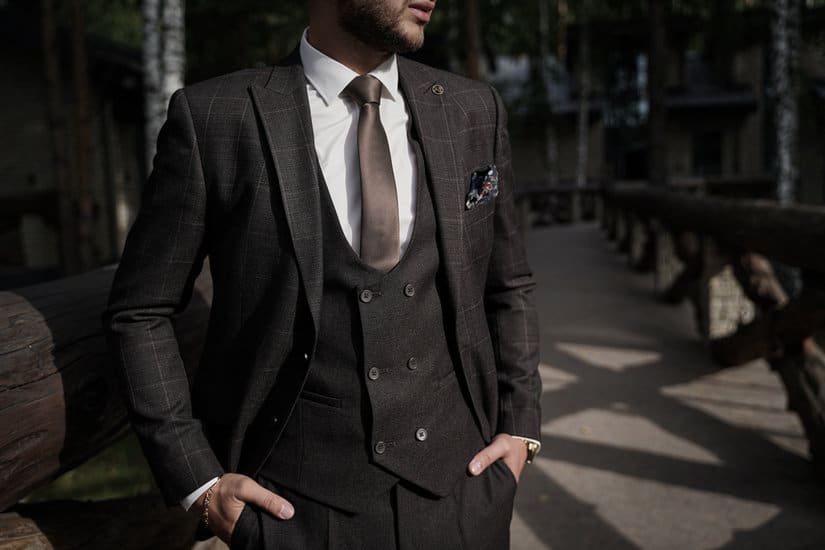 Shoulders
Typically, blazers have structured shoulders to exude a powerful look. However, the new designs are more unstructured as a characteristic of the modern and peppy charm. 
Hems
Women's blazers are typically single-breasted and therefore cut a little shorter. Men's blazers, on the other hand, are double-breasted and hang lower. Although with changing times, the cuts are not defined either, however, men continue to wear blazers that hang low.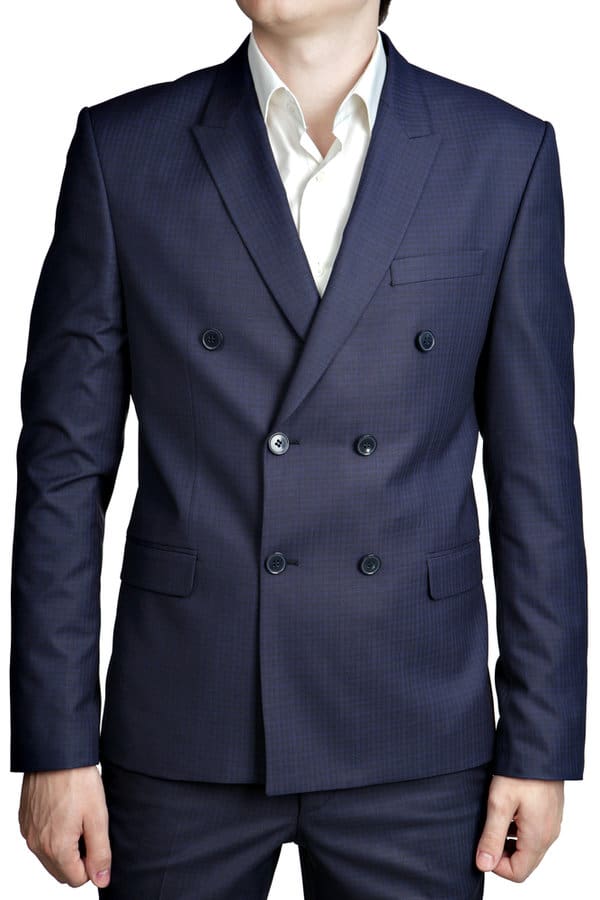 What Color Blazer Is Most Versatile
Blazers naturally radiate chic style, sophistication, and charm. However, there are some colors better than the others. Why? Because they will blend perfectly with any event, whether it is an interview or a date!
Plus, if you're not too sure about investing in blazers right away, one versatile blazer can be both pocket friendly and insanely wear-able for all kinds of gatherings!
Most Versatile Blazer Shades For Men
Let's give you a hint. It's Navy Blue, gray, and beige!
Navy Blue
It is believed that every man, at some point in his life, should own a navy blue blazer. We completely agree! Navy blue blazers can never go wrong and always be perfect for any kind of outing or indoor event.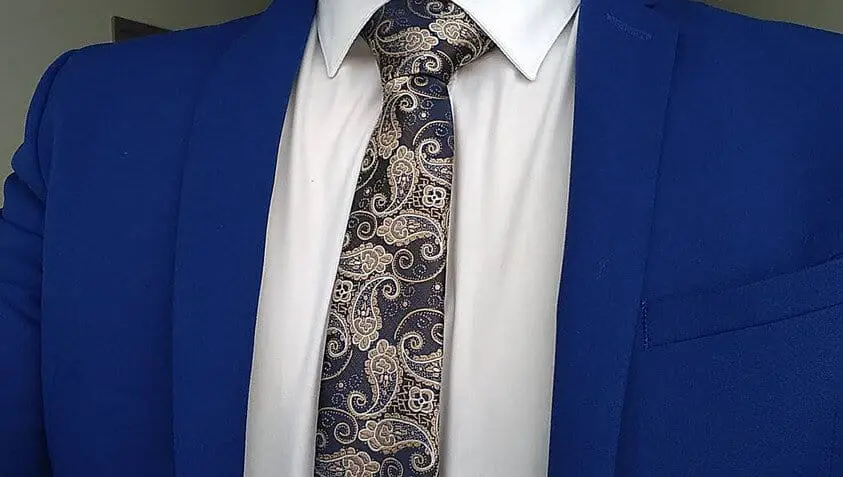 As long as you know how to style it, a navy blue blazer can make you the life of any gathering. This color goes with every style!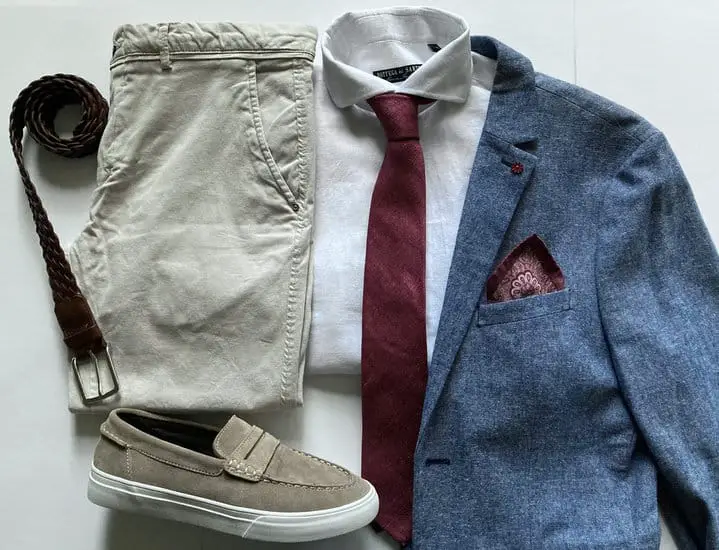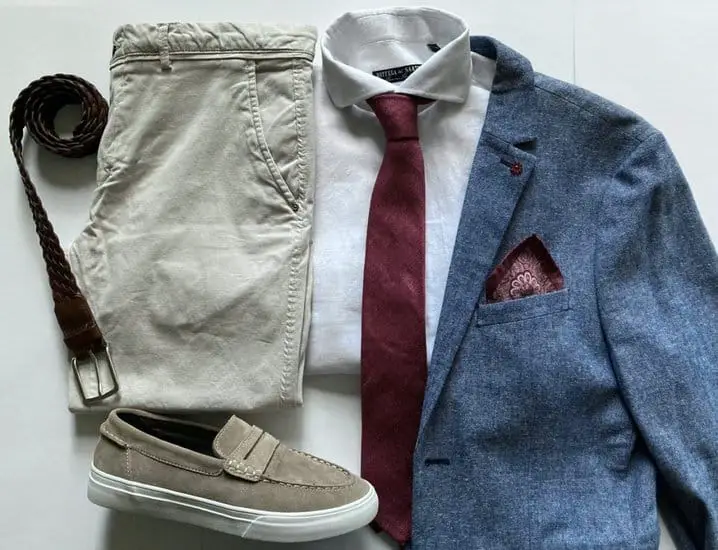 For instance, pair it with some khaki chinos and a white dress shirt, and you're nailing it at your interview, office, or any formal gathering. Feeling creative? Pair it with jeans for a more casual look. Or, you can pair this chic jacket with gray flannel trousers, and you're rocking a completely retro look! 
The key is to know how to style it, and this blazer color will take you places! 
Grey
If there is any blazer that can give competition to navy blue it's gray. This subtle hue can be worn with anything in any way. The best quality of this color is it makes the other contrasting hues pop out, giving a very classy look.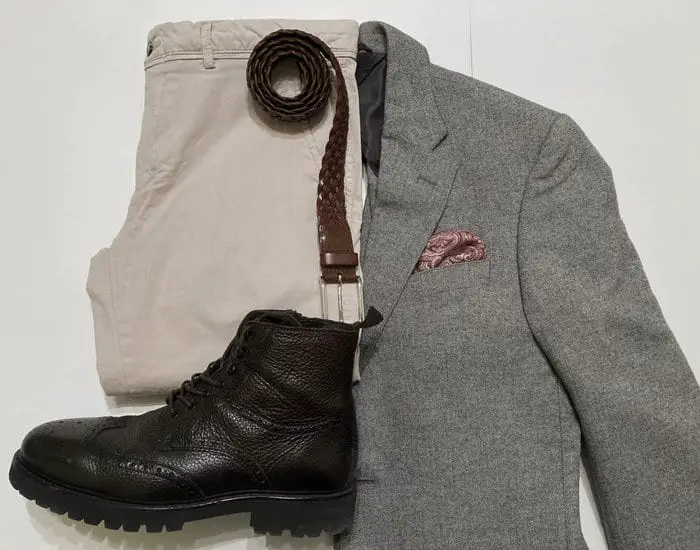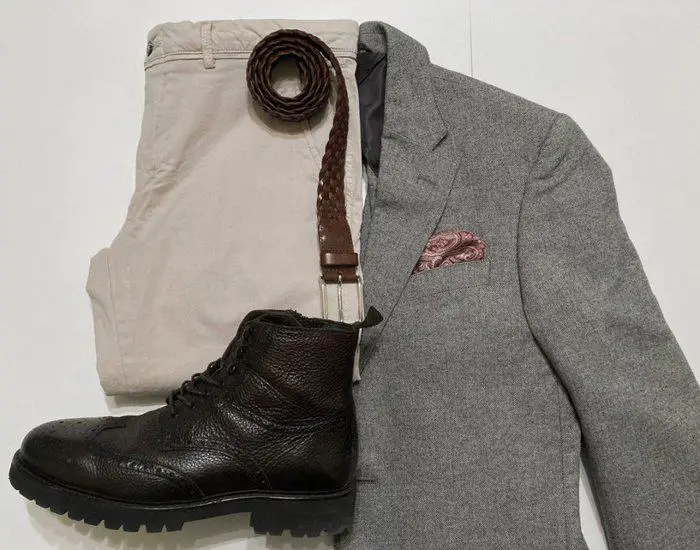 If you wish to style it as formal or work wear, pair it with slim-fit trousers, preferably in black, navy, or brown. You can throw in a formal shirt, a T-shirt, or even a jumper to enhance the look.
Or perhaps you wish to go for a more casual style. In that case, a pair of classy trainers or Chelsea boots on your feet and a T-shirt under the gray blazer will seal the deal!
Beige
A beige blazer is a timeless look. It's cool, it's chic, and it goes with every season! For example, you can pair it with matching beige chinos for a trendy summer look. Or, for a chilly autumn or winter, style it with dark-colored trousers or even jeans for a casual look.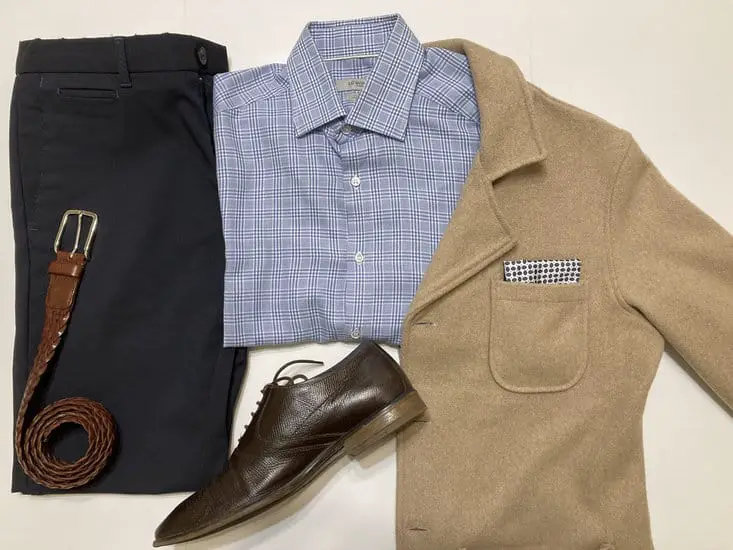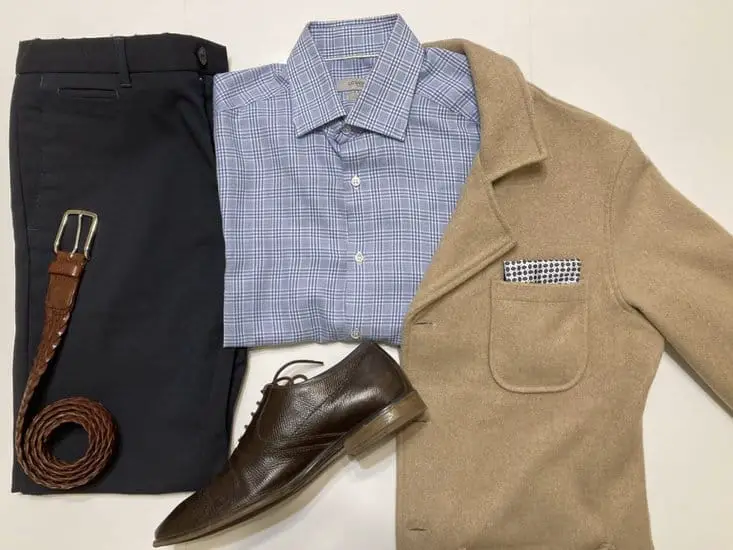 Imagine a charming formal look with the beige blazer, white formal shirt, and navy chinos. Top it off with cream loafers and exude class wherever you go!
For a more casual and creative look, you can pair it with a white t-shirt or polo shirt or any other color of your choice, jeans, and brown or blue leather boots, trainers or loafers, to slay the date, party, or any other outing you're getting ready for!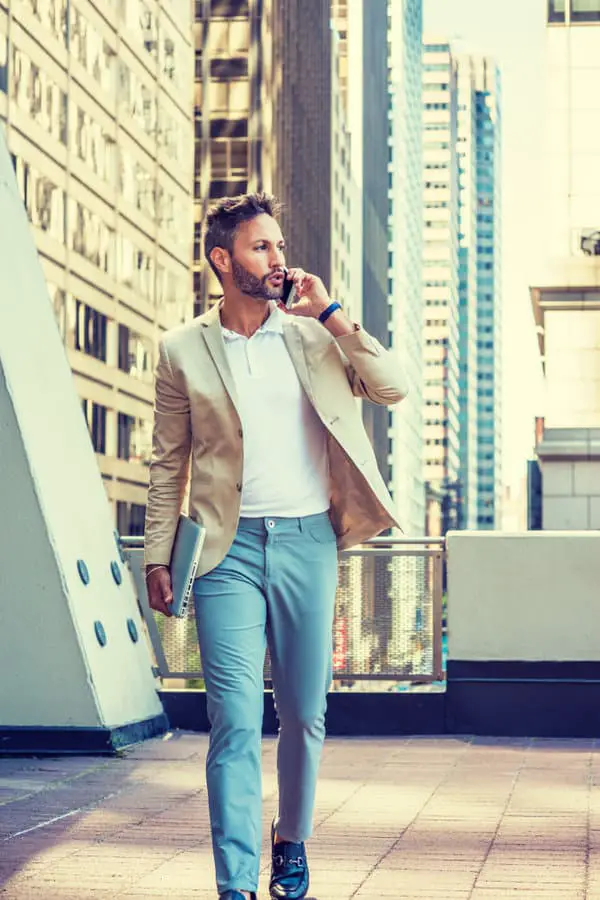 The bottom line is, this blazer will not disappoint you however, you style it. 
Most Versatile Blazer Shades For Women
For women, the color spectrum is an exploring field! From pink to mustard, they can style vibrant colors for all kinds of formal, casual, semi-formal, and creative looks. However, the top 3 versatile colors that go with anything are navy, white, and brown.
Navy
Be it summer or winter, formal or informal gatherings, as with men, the navy blue blazer is a fantastic and versatile choice for women. For a casual event, you can pair the blazer with a white t-shirt (printed or solid), jeans, and boots.
To finish the look, fold the sleeves a little and be creative with your jewelry, and voila! You'll be the life of the party, no doubt.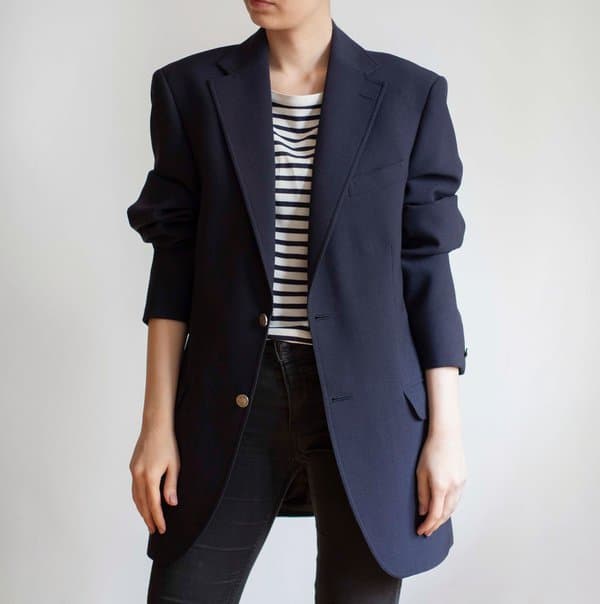 For a more formal look, you can pair a low-cut navy blazer with a white formal shirt, black pants, and heels to slay any interview or work party! In truth, with a navy blazer, the limit is your imagination because this color will adapt to any look you demand of it. 
White
White is among the most adaptable colors. You can pair a white blazer with any colored shirt, it will enhance mellow shades as well as complement the more vibrant hues. Plus, this cool color will look classy in any season.
Pair the blazer with white pants, and you will be the epitome of grace and sophistication. Contrarily, adapting it to a more casual style with a gray t-shirt and blue jeans, and heels opens infinite doors to style and fashion. You can even wear it over a cute dress and slay the look.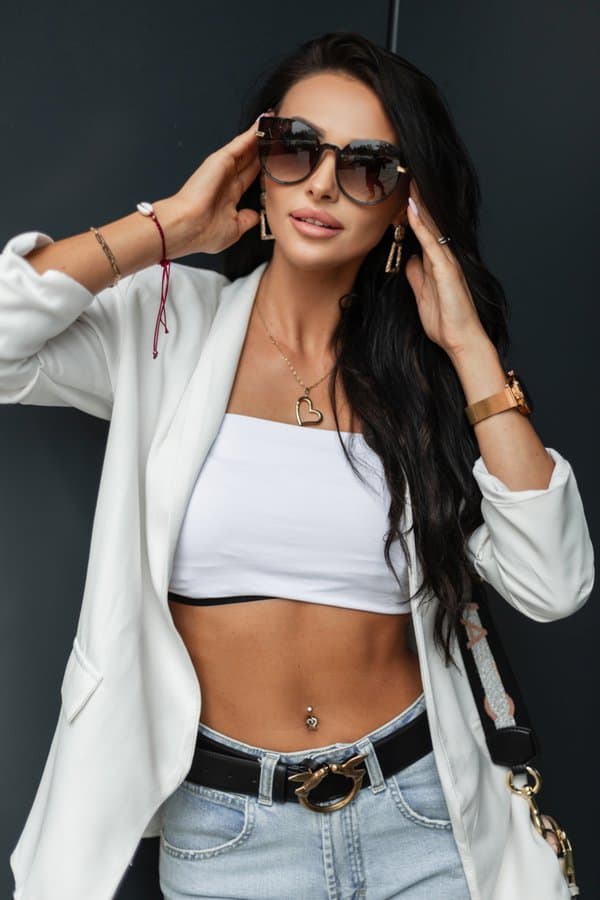 This color will allow you to create several jaw-dropping looks!
Brown
The brown blazer offers a wide range of fashion and styling opportunities. Pair it with a skirt, formal pants, or jeans, and you will not be disappointed.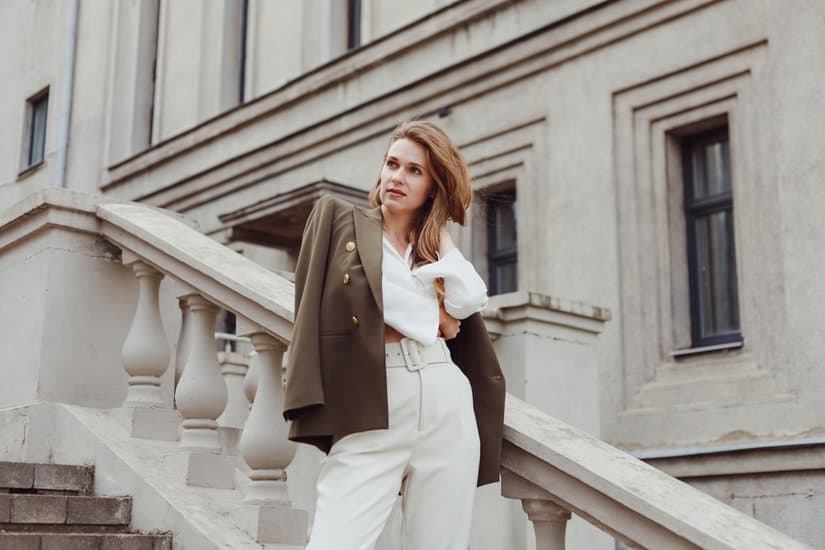 Pairing the brown blazer with white pants is the standard classy formal look that will make you stand out in any formal setting! You can pair it with a white shirt or even a beige high-neck. In addition, the brown blazer with matching brown pants paired with a white shirt is a phenomenal look to serve. 
Although, the brown blazer is nothing short of chic when it comes to casual looks. Pair it with your favorite t-shirt and jeans, a cross-body bag, or even a tank top, and you'll look fabulous!
Frequently Asked Questions
What color blazer goes with everything?
The navy blue blazer is a staple that should be in everyone's closet, men or women. It goes with every season and can be styled into all sorts of looks, whether the event is formal, casual, semi-formal, etc. It is also a color that will never go out of style.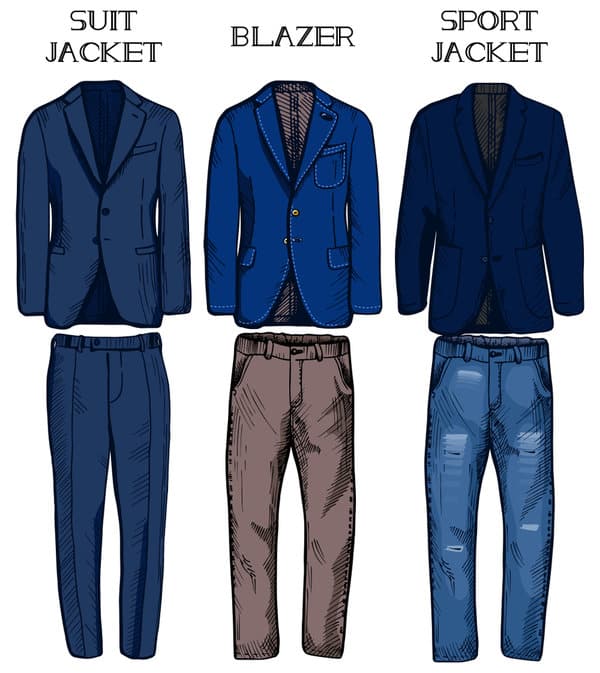 Do Blazers look good on everyone?
Blazers can adapt and fit any body type and shape. With the number of different styles and cuts coming to the market, you can easily find a blazer that suits you.
Do jeans look good on a blazer?
Jeans are a fantastic combination to create a smart and casual look. A set of blue, black, or grey jeans with a solid-colored blazer and a printed untucked shirt is one of the most popular and trending business casual attires right now!
Final Thoughts
Investing in a solid-color blazer is a choice you will not regret. Blazer colors such as navy blue, brown, white, gray, and beige go with just about anything and can add a great amount of versatility in terms of the styles you can pull off to suit any event.
A blazer is also the easiest way to dress up or dress down your look, helping you pull off some amazingly stylish and creative outfits.
So, whether you are a man or woman, don't deprive your wardrobe of a classy blazer that can be styled into all kinds of fabulous fits.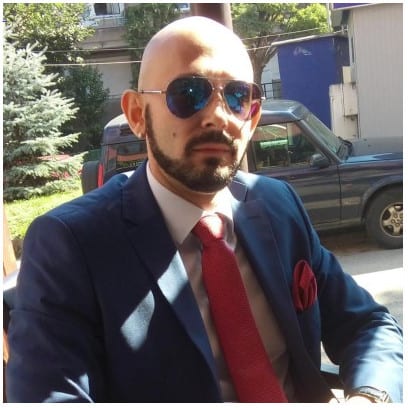 Samoel Ovanessian is the founder and creator of StylishAlpha.com – a website dedicated to men's fashion. As a proud owner of more than 200 ties, he loves digging through new clothing combinations for everyday use, formal events and even just for fun. You can read more about Samoel here.