A blazer is just one of those statement pieces that pairs with almost every outfit and can make or break your look! For example, a lighter-colored blazer will give you a fresh and cool appearance as opposed to a dark blue blazer, which would appear more formal. This begs the question – what to wear with a light blue blazer?
You can pair a light blue blazer up with a variety of clothing items that range from casual to dressed up to formal and even transition your clothes from day to night! You can't go wrong with khakis, turtlenecks or mock necks, any cream-colored sweater or even jumper. Just make sure the colors don't clash!
In this article, we will take you through the many ways you can style a light blue blazer, whether it's something as simple – yet effective – as skinny jeans, or something you can dress up perfectly for both a business lunch or a date!  
Shirt and Skinny Jeans
You're probably pensive about this one because someone out there thinks skinny jeans are a faux pas after being all the rage for several years. They're either lying to you or just don't know what to do with the skinny jeans at the back of their closet. We'll teach you how to style skinny jeans the right way, so you can take full advantage of an everyday item in your wardrobe!
1. White T-Shirt and Black Jeans
This is a stylish and professional look that is amazing for informal settings and in some contexts, they can be worn in formal settings as well. The blue, white, and black color contrast is eye-catching but neutral at the same time. Plus, skinny jeans can lend some amazing balance to your silhouette if you've got broad shoulders and narrow hips, because black is a naturally slimming color. Complete the outfit with a pair of gray or blue dress sneakers or trainers.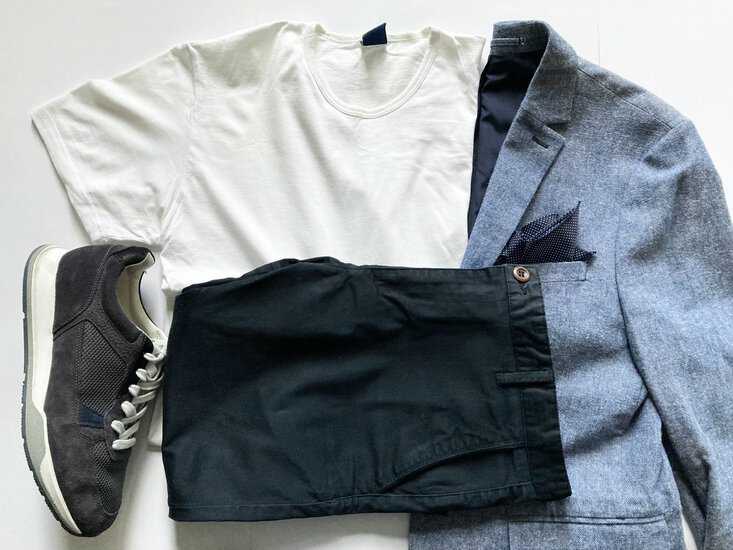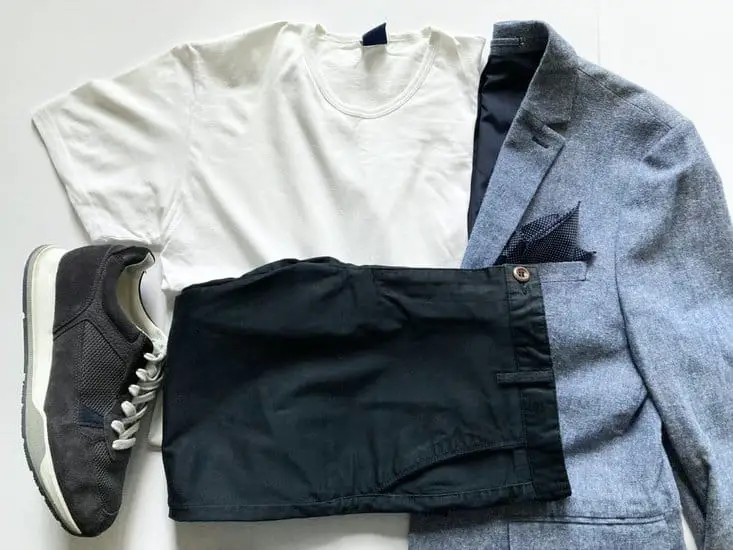 The blue and black color scheme may appear a little dull, but the key to making the ensemble look sharp is choosing the right color shirt to pair with the blue blazer. Black or white shirts are the best choices for the light blue blazer and black pants ensemble.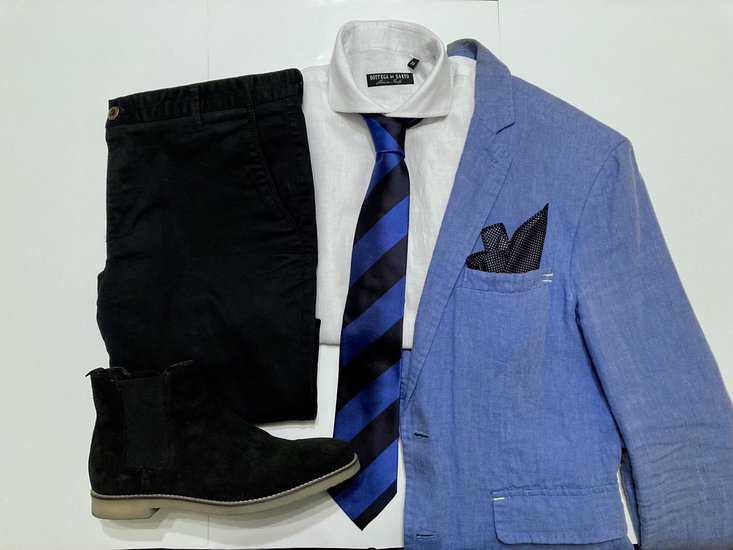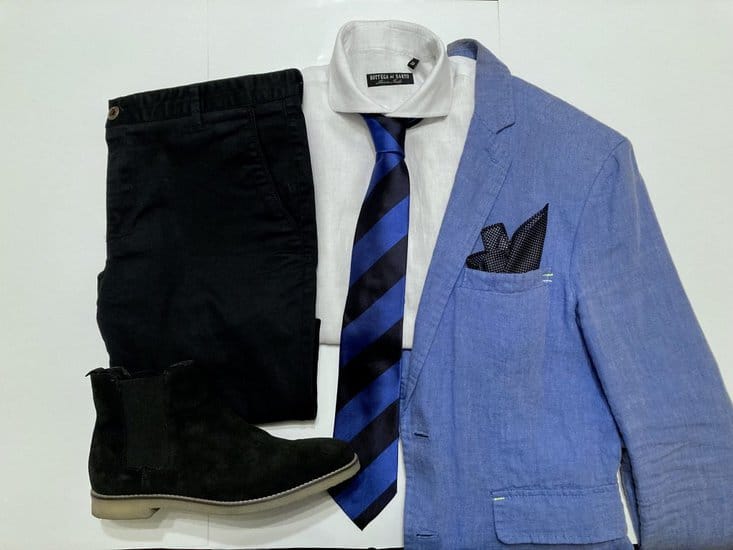 You could accessorize with a tie or scarf to play with the traditional looks. Choose plain black shoes if you're experimenting with prints or accessories. 
If your blue blazer and shoes are an absolute classic, try some loafers, oxfords, Chelsea boots or even sneakers; there's absolutely nothing wrong with playing it safe with some white sneakers if you can manage to retain their tidy state.
We highly recommend you try out a light blue blazer with a white shirt and black skinny jeans, especially since it is quite versatile and can be worn in many situations, regardless of the context of the setting.
You can even stand out as more casual if you'd like by pairing the blazer with a low v-neck, and some distressed jeans; this will look especially good if your light blue blazer has those classic padded or just broad shoulders or hangs a little loose on you.
2. White V-Neck and White Skinny Jeans
This outfit is slightly similar to the one stated above, but the top/shirt worn under the blazer is the main difference between the two. Blue goes well with white; the combination together is considered to be peaceful and refreshing.
This outfit can be worn by men in casual environments, such as a family dinner if you wish to stay looking sophisticated at all times.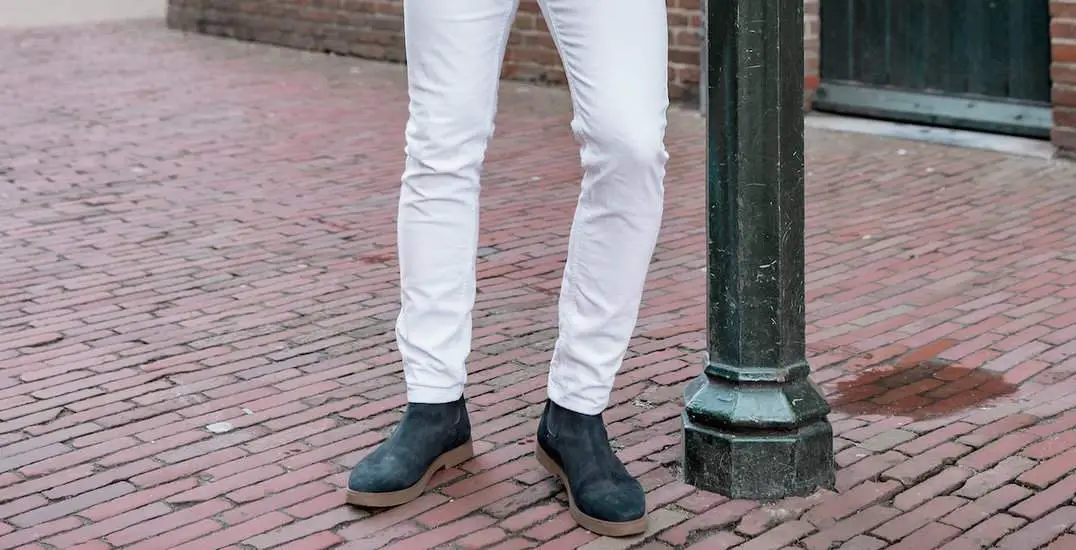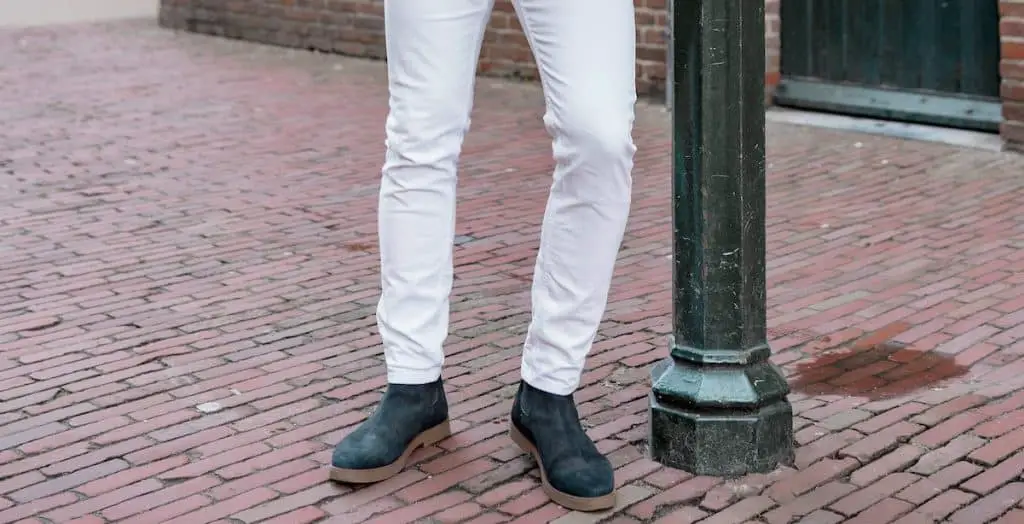 Our advice is to never wear anything snow or frost white because although the cool hues might seem like a good idea, when the lighting changes, they will offset the blazer and wash out your complexion.
3. White T-Shirt and Cuffed Skinny Jeans
If you are dressing up for a business casual setting, a light blue blazer paired with a white t-shirt and cuffed skinny jeans are a great option. You can make this look even more casual by opting for ripped skinny jeans or you can stick to the previous option we provided, as long as you feel good about yourself.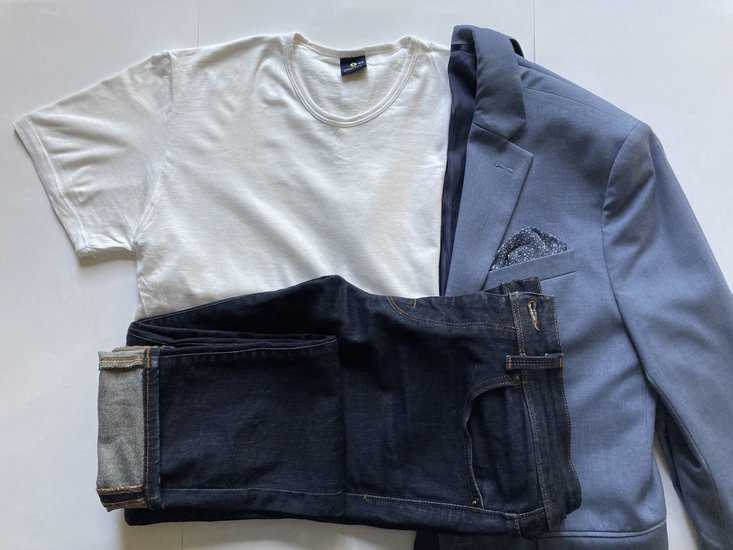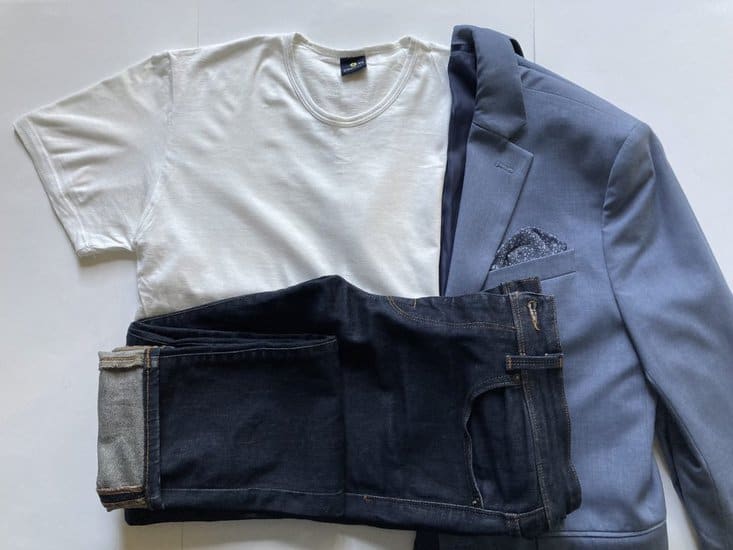 There are also many accessories you combine with this outfit like a nice watch or some men's jewelry. 
4. Striped T-Shirt, Leather Boots, and Skinny Jeans
This outfit is super-easy to pull off and looks great in casual settings and is appropriate for more professional occasions too. Starting off with the top, you can dawn on a striped t-shirt of a lighter shade and match that with a contrasting blazer.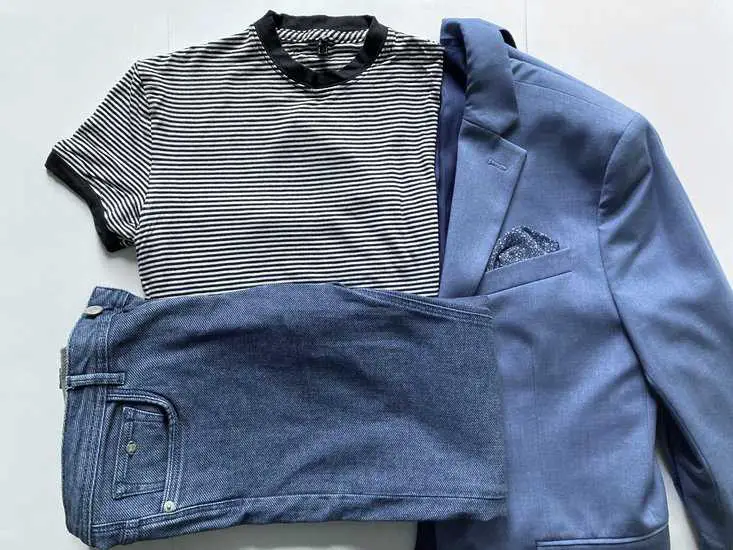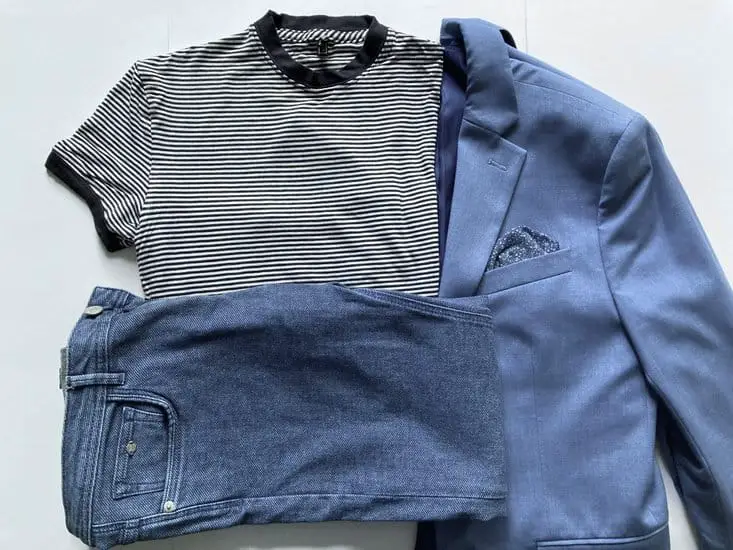 Our favorite combination is an off-white striped t-shirt matched with a light blue colored blazer. For bottoms, we recommend going with dark-colored jeans, preferably blue with ankle-high faux leather boots to truly complete your look.
Check out these other related posts:
Light Blue Chinos and Blazer
If you are truly fashion-forward and love to dawn on suits even when the end of the week is nigh, this is a fantastic casual suggestion for your wardrobe. You can create this outfit by pairing a light blue blazer with a pair of matching light blue chinos as a more casual alternative to a suit.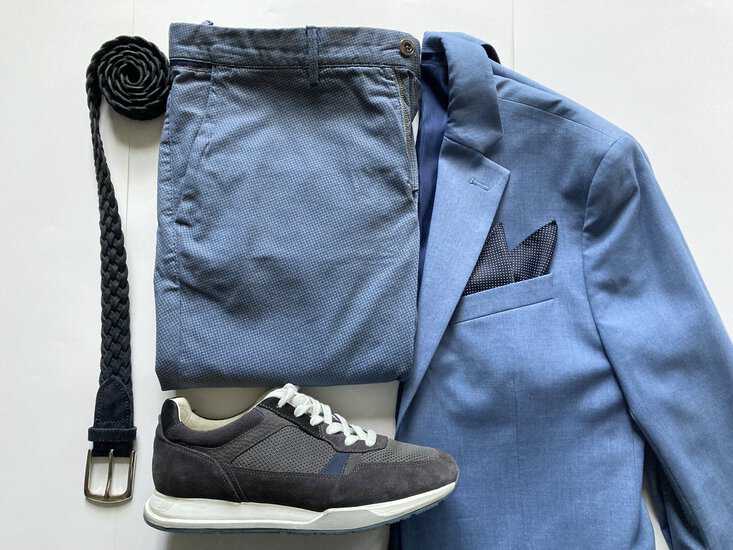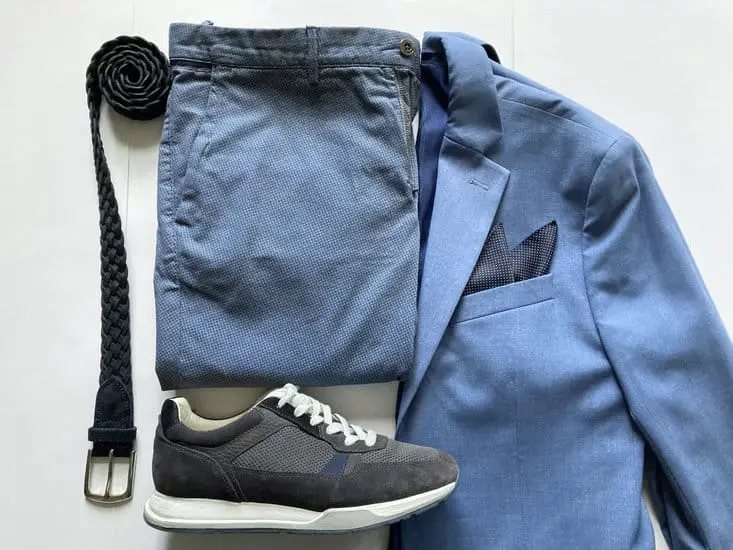 For shoes, a pair of loafers or sneakers is a great choice. It all depends on the setting you are dressing up for as sneakers are more suitable for informal contexts and the former for formal contexts.
White High Neck Sweater and Pants
Pick a white mock neck knit sweater with your light blue blazer. To complete this fit, go with light blue or white slacks or jeans. It could also be a cable knit sweater over a button down for that sweet, boy next door, Clark Kent-ish attire.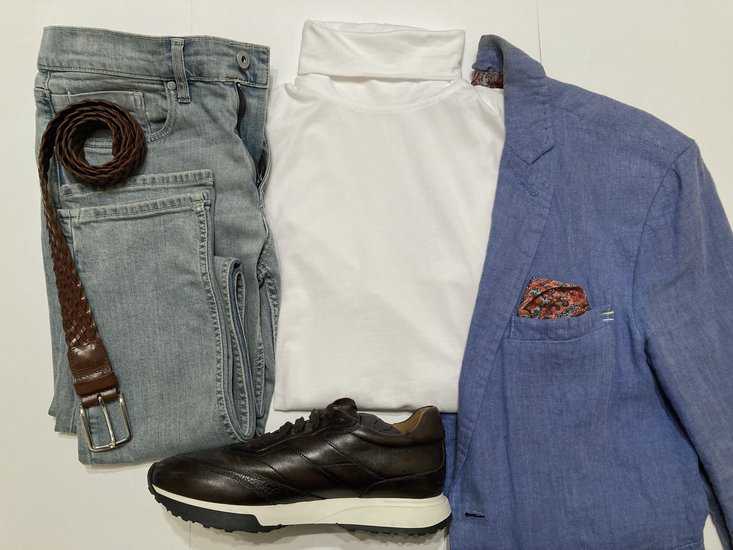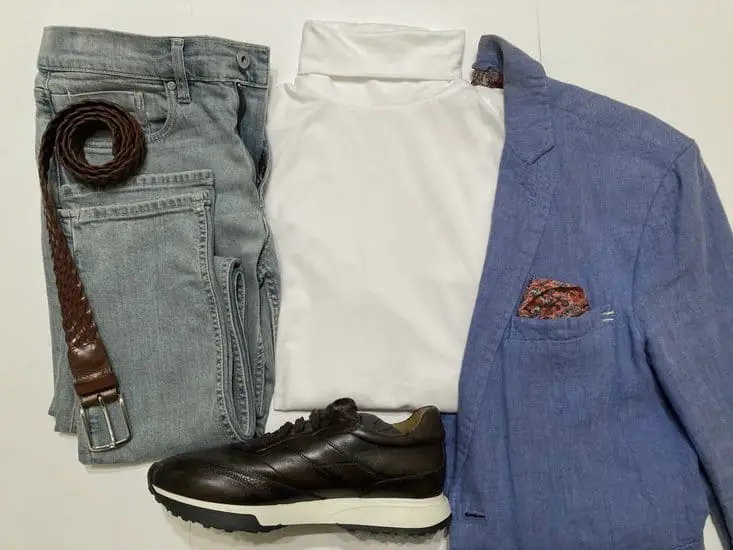 If you go with the latter choice, you can even pick high-top sneakers for a more casual look. You can also try a variety of colors in the pants like charcoal, black, beige, ivory, and even alabaster!
Light Blue Blazer With Gray Pants
The blue color goes amazingly with the gray color, whether it is dark blue or light blue, dark gray or light gray, all contrasts match beautifully with each other.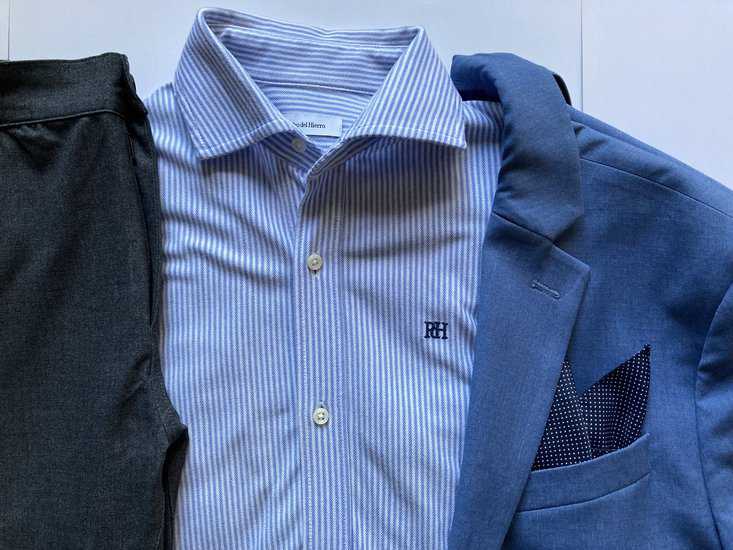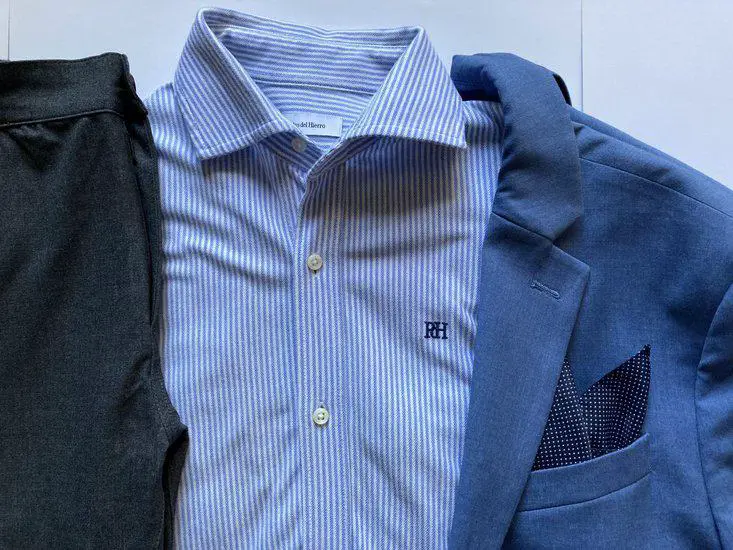 You can pair your light blue blazer with gray colored pants, these can be jeans or slacks. Opt for straight-legged gray jeans or gray-colored slacks as both will look great with a light blue blazer. Try not to go too dark with the gray, and if the blazer is patterned, stick to plain gray pants. We would also recommend keeping the pants plain if you're wearing a sweater or shirt with a pattern.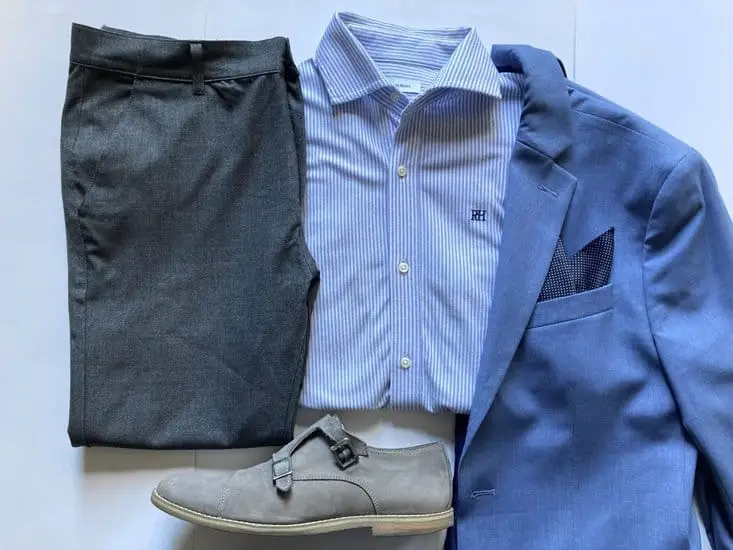 For the shirt underneath, you can choose a white colored shirt or a gray one if you want a monochromatic look. This entire look is chic, classy, comfortable, and modern. Try a pair of soft black, beige, brown or ivory boots to finish off the look with some subtle charm.
Light Blue Longline Blazer and Jeans
Try a longline blazer instead if you want to look distinctive and slender. With this blazer, combine a white t-shirt or pink dress shirt and light-blue/dark blue pants. Or really, any of the color combinations we've mentioned above but with jeans similar to the Levi's 502 Taper, or for an extremely relaxed but attractive look, the So High Bootcut.
This can be a very eye-catching and distinct outfit as longline blazers draw a lot of attention, and is great for men due to the style of the blazer. You can further accessorize the outfit as you wish.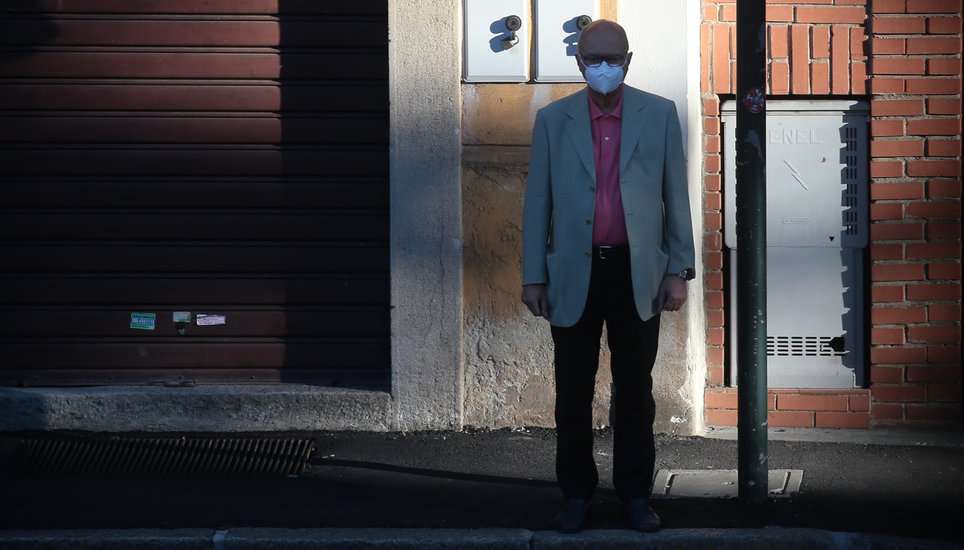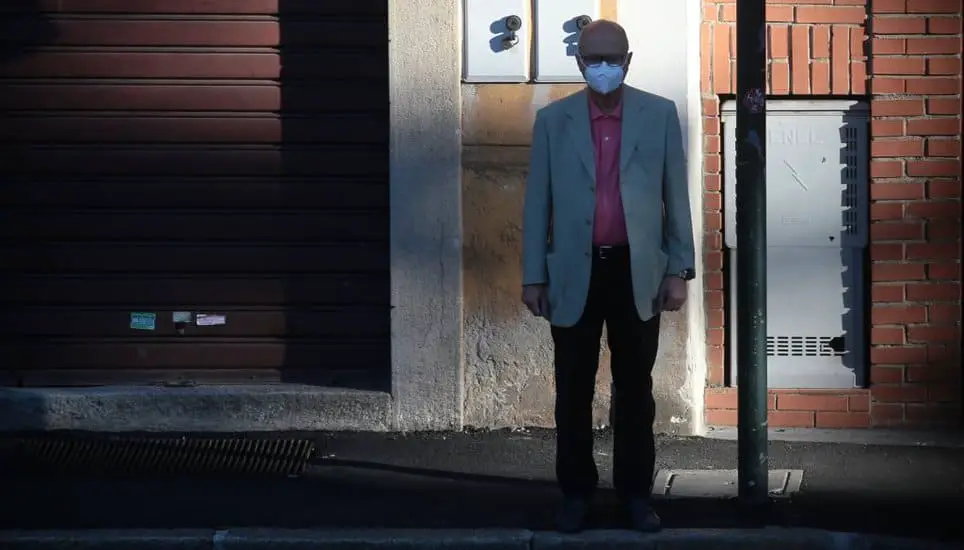 Light Blue Blazer and Checkered Straight Legged Pants
Another stylish combination is that of a light blue blazer with checkered pants. You can pair a light blue blazer with a gray turtleneck sweater for a sophisticated and poised business casual appearance.
Straight-leg pants with a black-and-white check pattern can make the outfit ten times more appealing.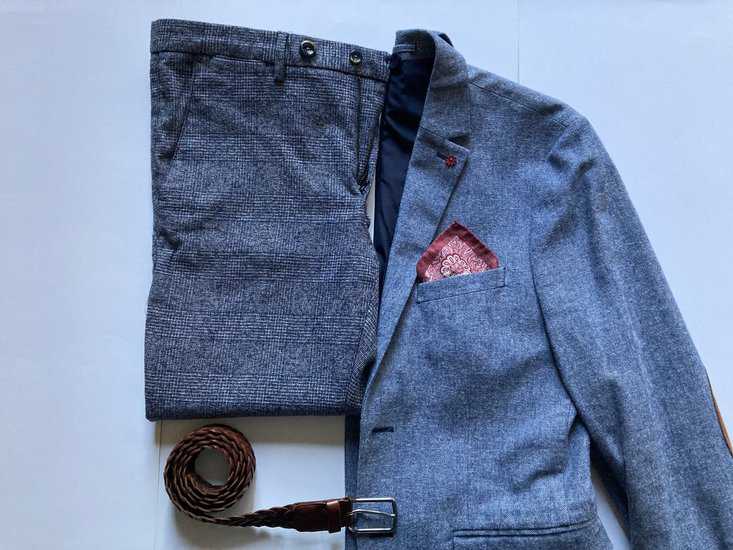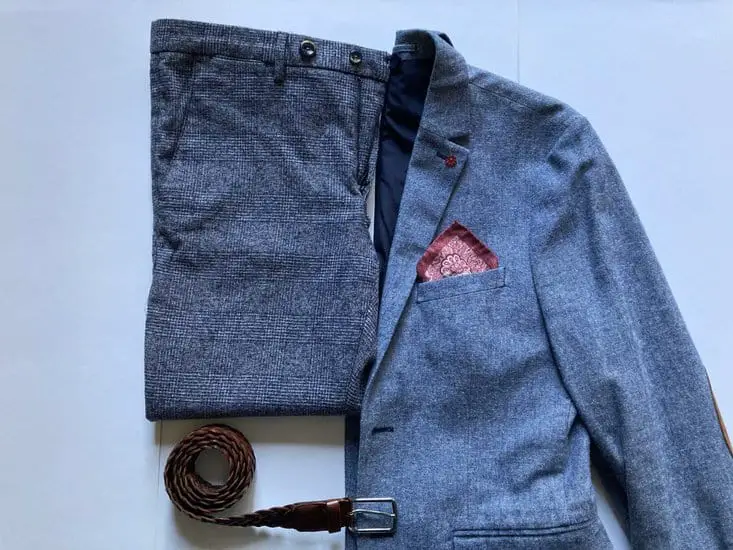 This is because both, blazers and checkered pants, are clothing items that stand out. Pairing them together can create a sleek look for men, especially if further accessorized with a nice pair of shoes and a shirt. 
Light Blue Blazer with Slacks
A good outfit combination for men when it comes to a light blue blazer is to pair them with slacks. This is a classy look that is bound to get you a lot of stares from everyone.
You can choose black, white or gray slacks. Choose ones that fall just right over your shoes in that effortless, graceful way.  Bonus points for a nice, loose, pair, cinched or well-fitted at the waist, with a crease that stands out for a sharp look.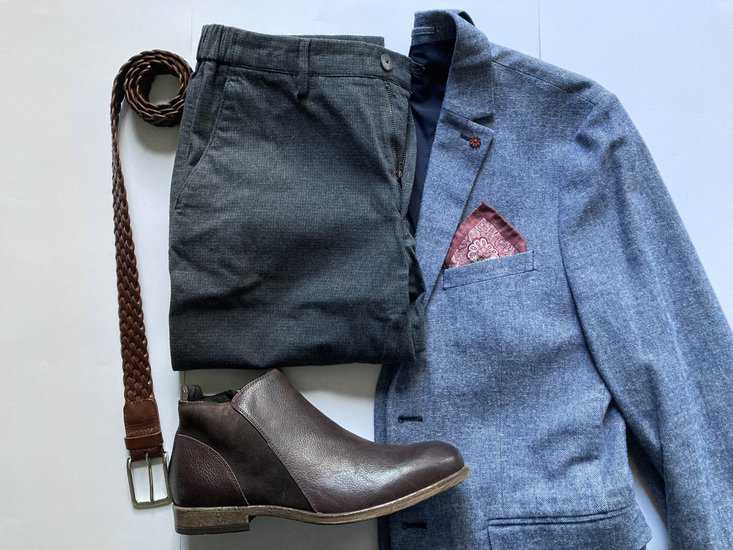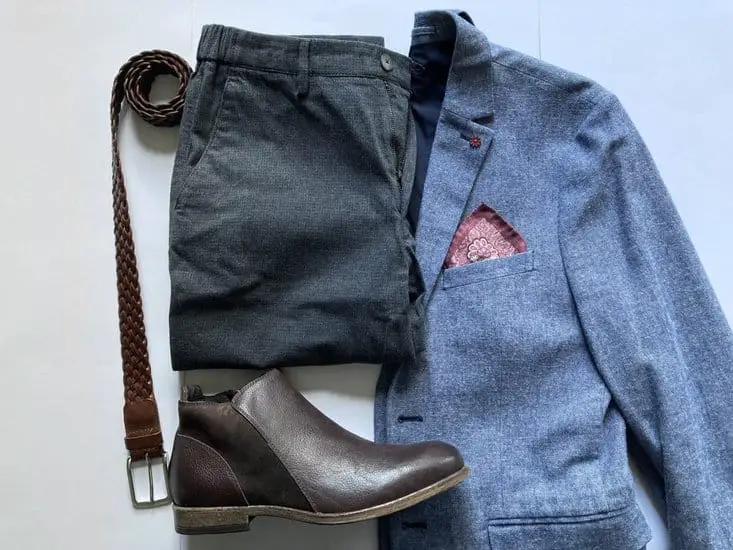 Khaki Pants and Light Blue Blazer
If you have a lot of things to do in one day such as a meeting, travel, a date, go out with friends, etc., you can choose to pair your light blue blazer with khaki pants as they can be worn in any setting. This is a very common – almost traditional – combination.
You can wear it with a white shirt to tie the whole look together. If you want a more casual appearance, you could even wear a white t-shirt underneath this outfit.
Always use brown or tan shoes to truly complete the appearance when wearing khaki pants and a blue blazer.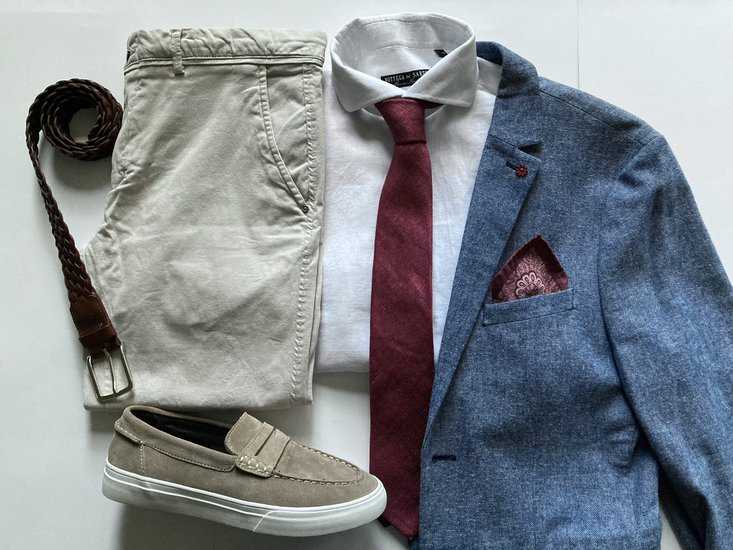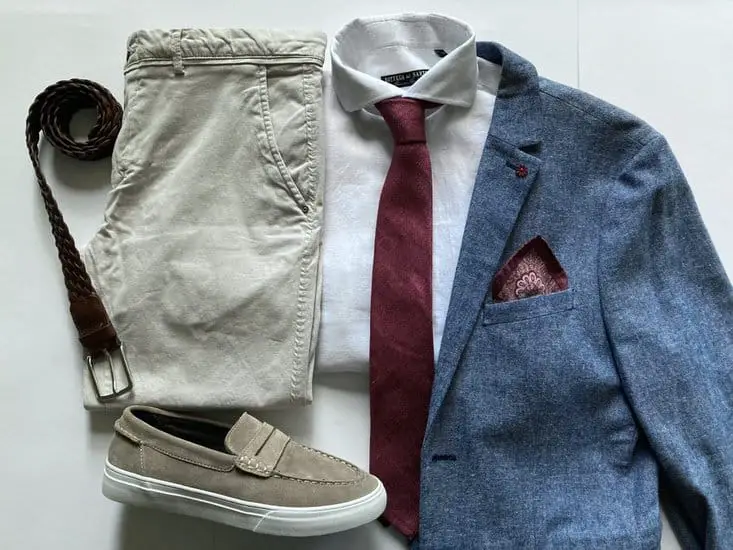 Light Blue Blazer and Denim Shirt
One of the coolest light blue blazer combos is to wear a denim shirt inside. If you like to keep things simple, choose white or black pants to go with this blue outfit. The denim shirt you choose can be of whichever color you want, blue, white, or black.
Just make sure to choose the right color contrast for the overall outfit as it can look messy if you choose colors that do not go well with each other.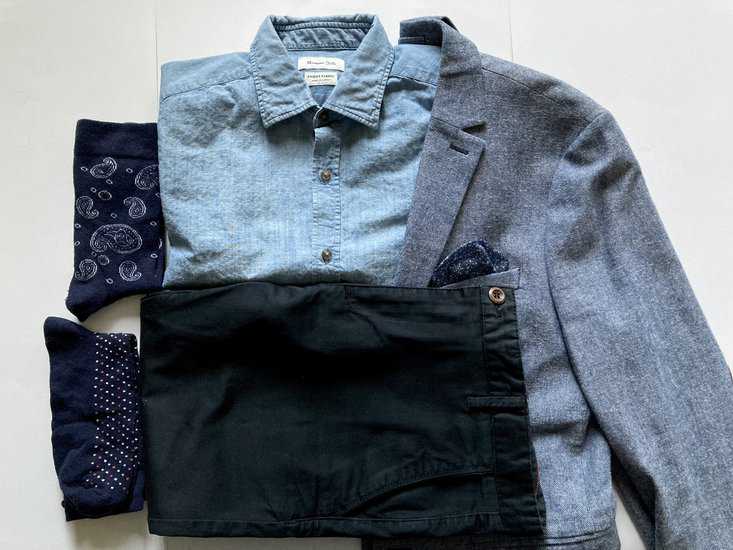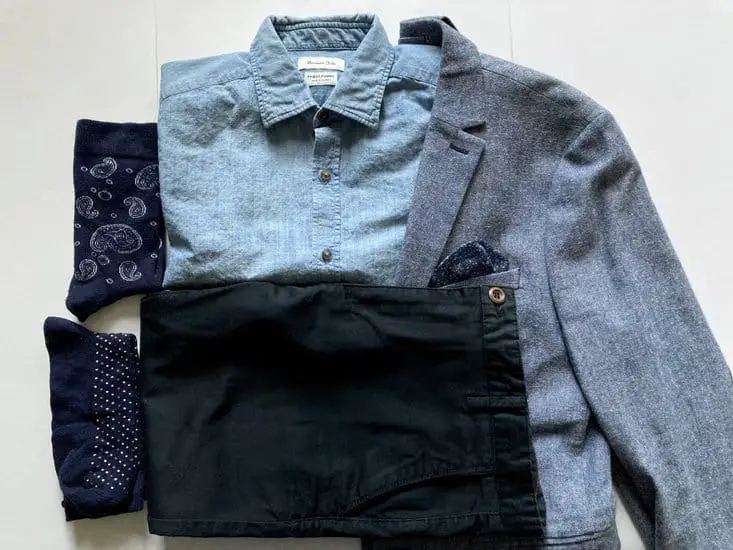 If you crave to add color, you can wear a pair of colorful socks to give your outfit a bit of funk since they are now quite fashionable and can help show off your creativity!
Final Thoughts on What to Wear with A Light Blue Blazer
Given the options above, we are sure that you are now aware that there are endless choices available when it comes to making an outfit with a light blue blazer. You can make this simple wardrobe essential as business-professional or as business-casual as you want, it all comes down to your preference. We hope this guide provided you with all the options you were looking for to style a light blue blazer!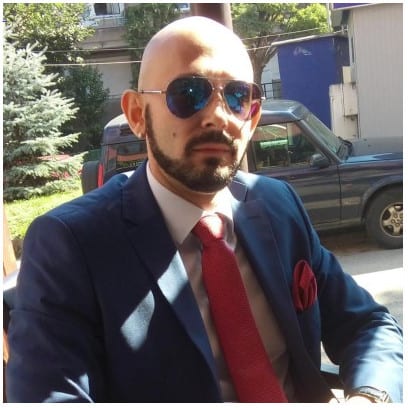 Samoel Ovanessian is the founder and creator of StylishAlpha.com – a website dedicated to men's fashion. As a proud owner of more than 200 ties, he loves digging through new clothing combinations for everyday use, formal events and even just for fun. You can read more about Samoel here.