Gray is a timeless and versatile color that can be used to create endless combinations in any wardrobe. When it comes to blazers, gray is a go-to hue to create polished, sophisticated looks. Whether you're dressing up for the office or attending a formal event, knowing what color pants to wear with gray blazer can certainly help.
In general, when choosing pants for a gray blazer – darker color pants, such as black or navy, are usually the best choices, as they help create an attractive and stylish look. To add a touch of color, opt for khaki or beige trousers, which can brighten up the overall outfit.
Men's fashion is an ever-evolving industry, and so are the trends that come along with it. Knowing what color pants to pair with a gray blazer is a must for any man who wants to look dapper and stylish. In this article, we will explore the different color pant combinations that work well with your gray blazer.
5 Best Pant Colors for Gray Blazer
Looking for the perfect pants accompaniment to a gray blazer? Read on below to find the best-colored pants that suit you and your individual style.
1. Navy Pants
Navy blue is an excellent choice when pairing with a gray blazer, as the two hues complement each other nicely without clashing. Navy pants will create a classic and timeless ensemble that you can wear for nearly any occasion. With its deep hue, navy can also help bring out the subtle shades of your gray blazer, highlighting its unique coloration.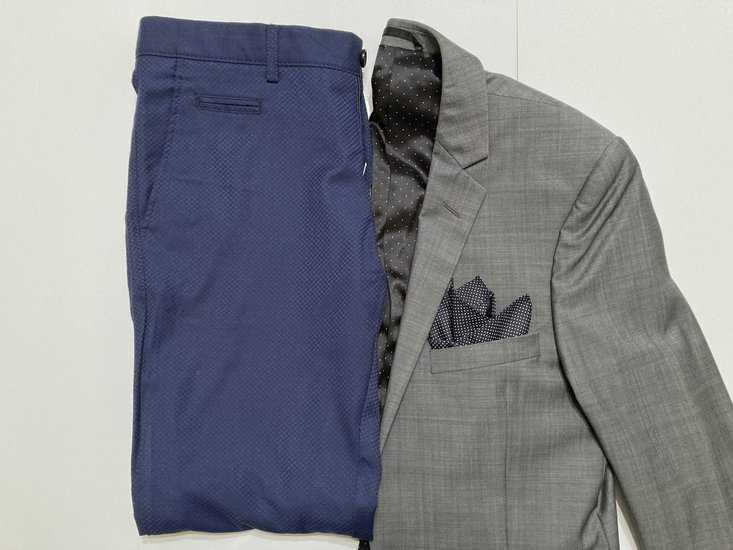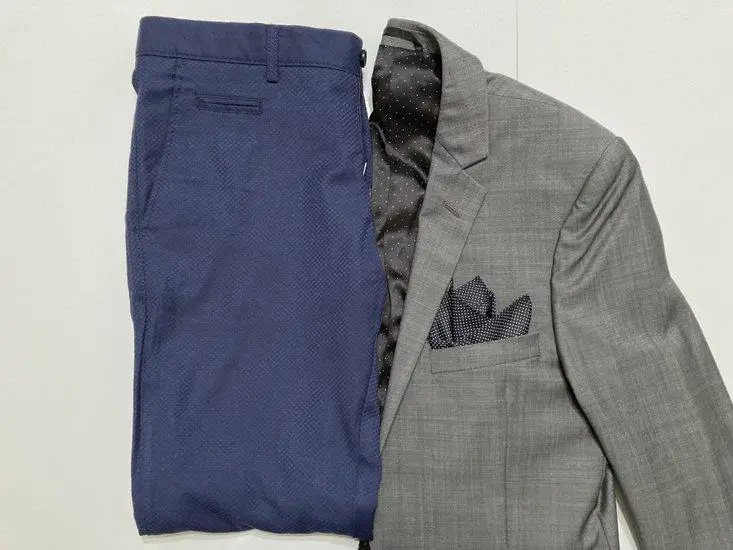 Whether you opt for chinos or dress trousers, navy pants will always make a great combination for your gray blazer!
2. Khaki Pants
When it comes to finding the ideal pant color for a gray blazer, khaki is another strong contender. Its neutral shade has just enough contrast to complement the gray of your blazer without overpowering it. Plus, khaki can bring a hint of warmth to an otherwise cool-toned gray look – perfect if you want something that's both stylish and inviting!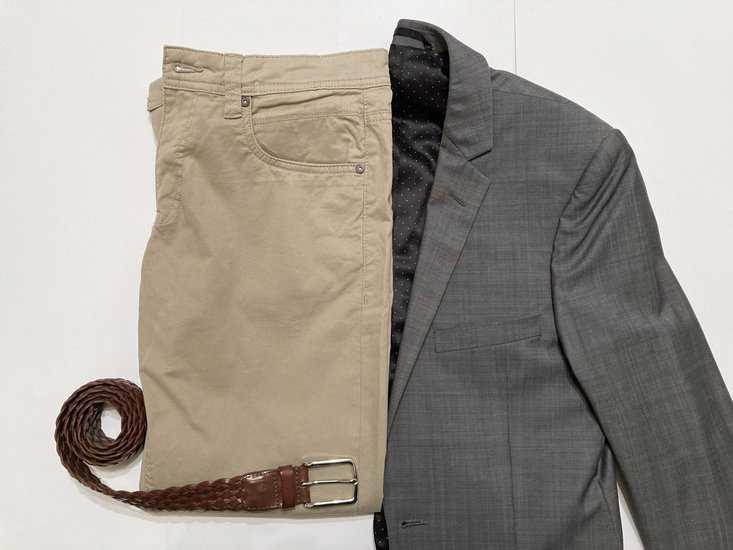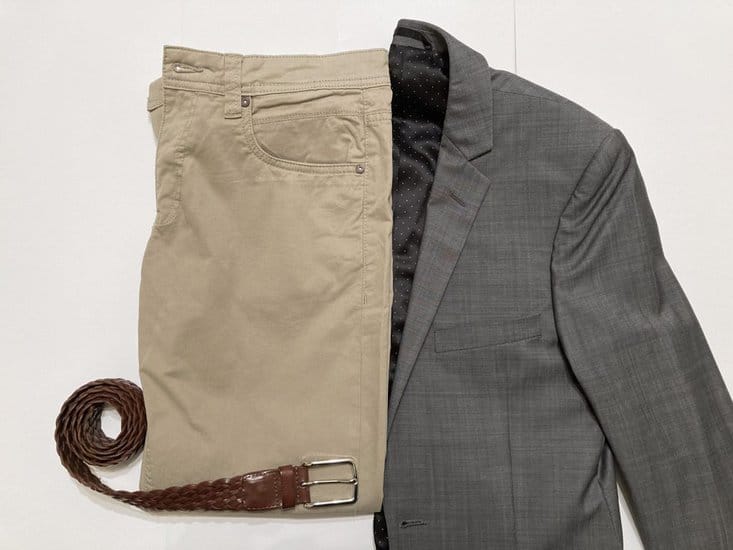 Top off your outfit with some casual brown shoes and you're ready to go.
3. Tan Pants
Tan is another popular choice when looking for complementary colors to pair with a gray blazer. This hue has just enough warmth to soften up the overall look while still helping the gray stand out in all its glory. Plus, tan goes well with most accessories so you won't have any trouble finding pieces like belts and bags that match perfectly with your ensemble!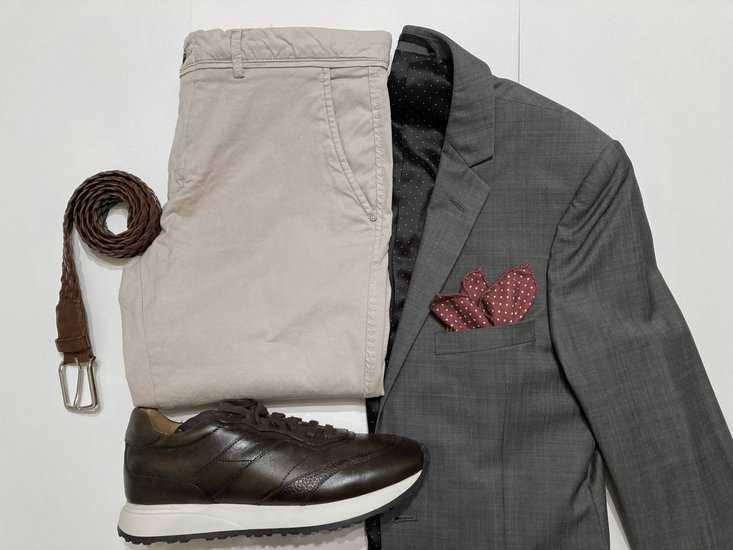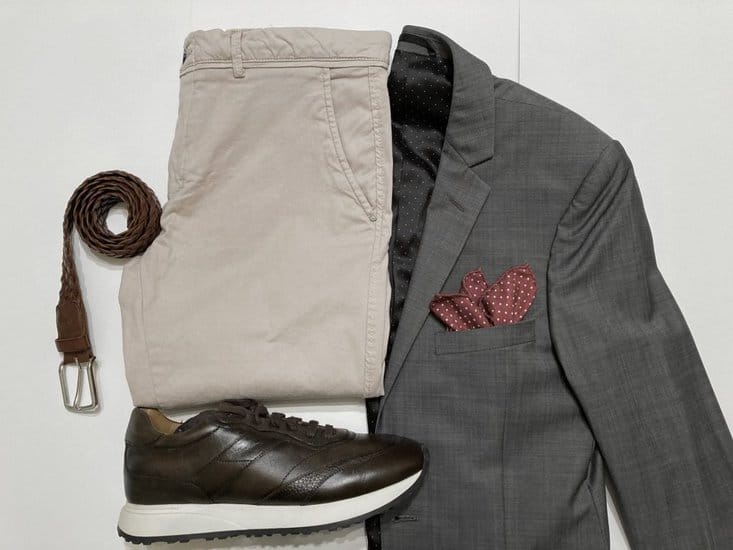 4. Olive Pants
For something slightly more adventurous than navy or khaki, consider olive green pants as an alternative for your gray blazer combo. It may not be everyone's cup of tea but if pulled off correctly, this muted hue can create a truly elegant ensemble that will get people's attention wherever you go!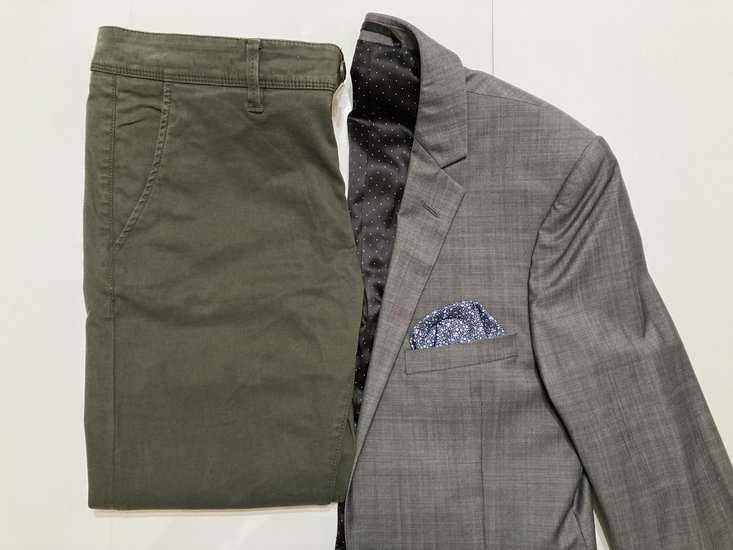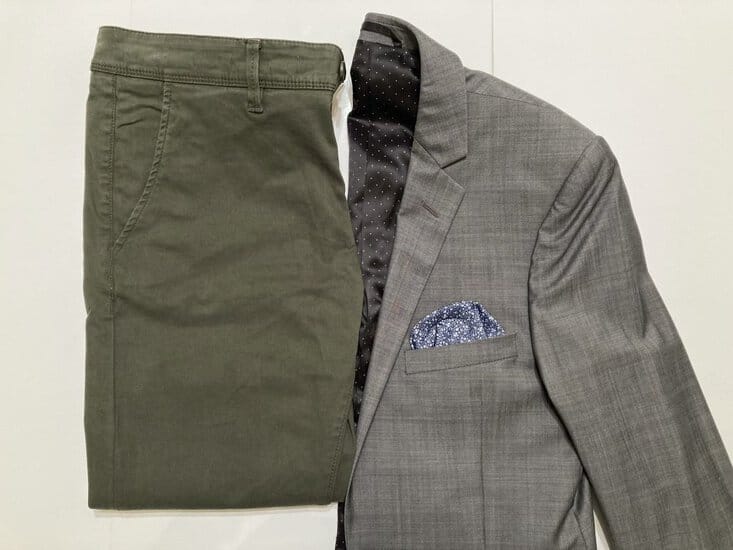 The key here is to find olive pants that are closer to the shade of light green rather than dark green – this will ensure the look remains sophisticated without being too overwhelming on the eyes.
5. White Pants
Last but certainly not least we have white pants – perhaps one of the boldest options when seeking a pant color for a gray blazer! White might seem counterintuitive at first but when paired correctly (i.e.neatly tailored pants) it can actually create quite an impressive combo!
Just be sure not to go overboard though – remember that white should serve as an accent rather than being overused in order to keep your look balanced and polished!
That's not all!
We've looked at the 5 best pant options that go exceedingly well with a gray blazer. However, if you're looking for something a bit more daring and fashion forward, consider pairing your gray blazer with dark gray pants or even burgundy trousers for a bold statement. 
If you want to stand out even more, try wearing patterned pants such as plaids or pinstripes in combination with your gray blazer. This will add texture and dimension to your look while still keeping it smart and appropriate for the occasion. 
How to Style Your Gray Blazer
Now that you've chosen your pant color, consider how to style your gray blazer combo. Gray blazers are incredibly versatile and can be styled in countless ways. Whether you're looking to dress up or keep it casual, a gray blazer is a great addition to any modern man's wardrobe.
Below are a few of our favorite popular looks:
You also shouldn't miss these other popular picks on classic style guides for the best looks:
Casual
For a casual look, pair your gray blazer with a plain white or black t-shirt. To complete the outfit, add some stylish sneakers, such as boat shoes, loafers or plimsolls. Leave the blazer open for an easy, relaxed look that works for everyday wear.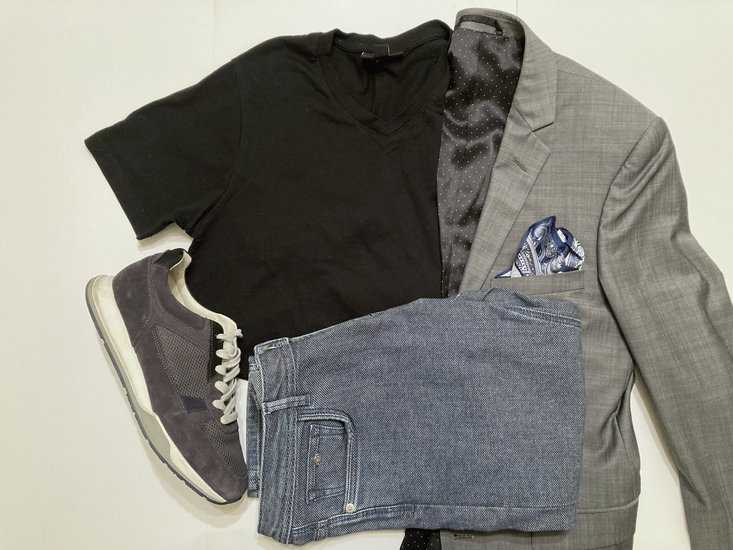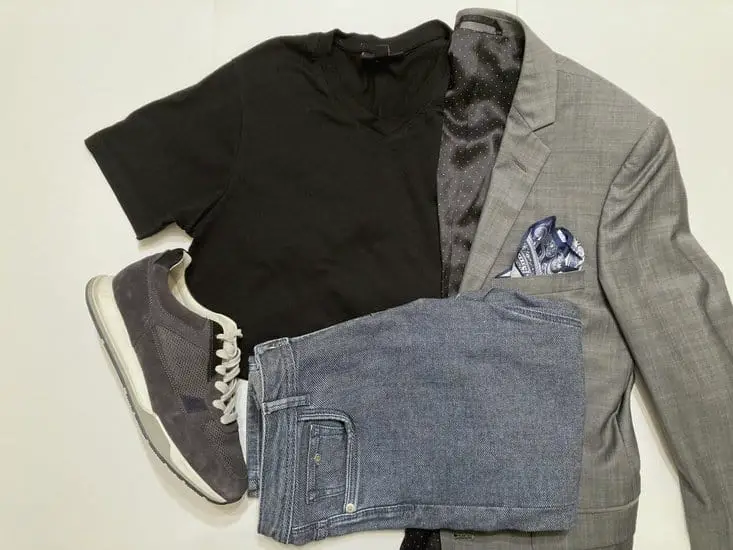 Best pants color for this is either navy, khaki or tan.
Business
If you're looking to make an impression during business meetings or formal events, consider pairing your gray blazer with a white dress shirt. Add some sophisticated accessories such as leather shoes or loafers, belt and pocket square to complete this sharp look. For your trousers, opt for the classic navy color.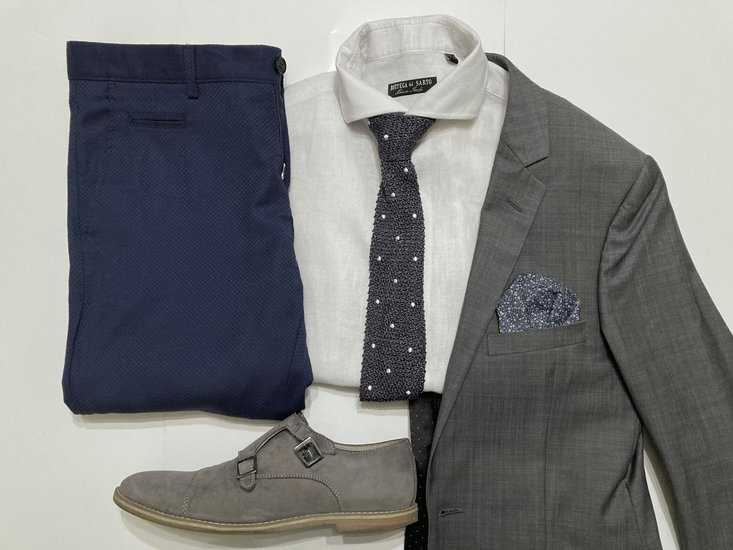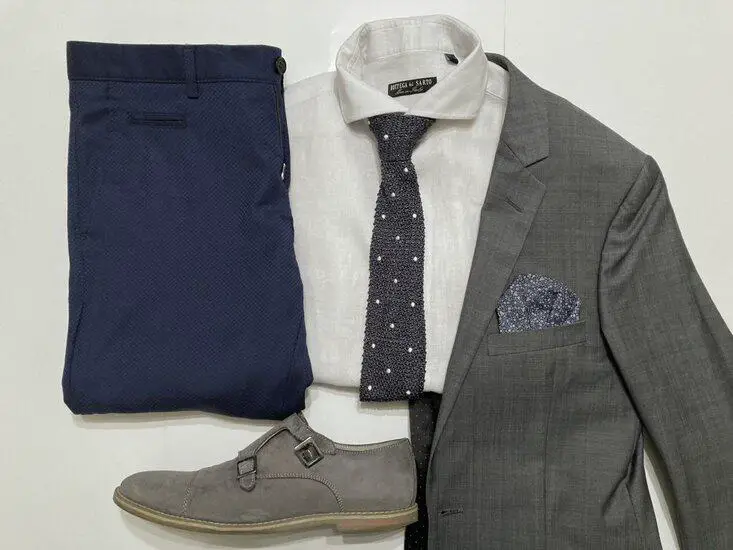 Formal
To achieve an even more dapper look for formal gatherings, coordinate your gray blazer with a white collared shirt, navy waistcoat and polished Oxford shoes. To finish off this timeless ensemble, add subtle accents such as a tie clip or a watch to bring the whole look together in style. Keep the pants color the same as for the business look – navy.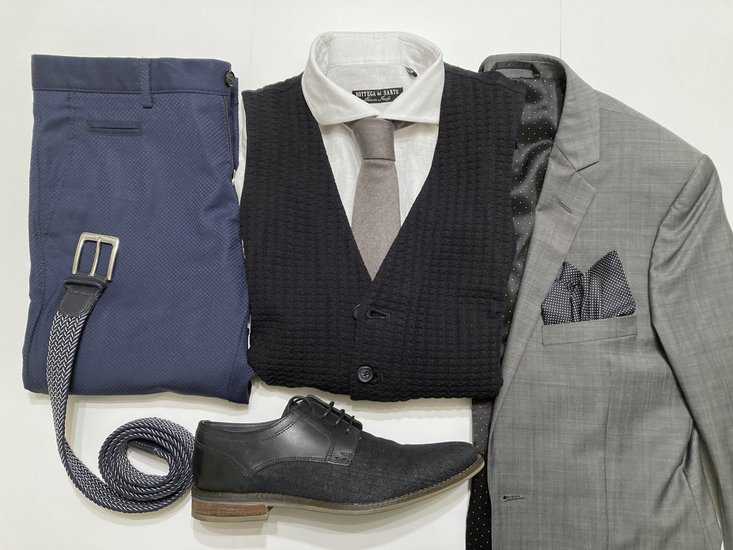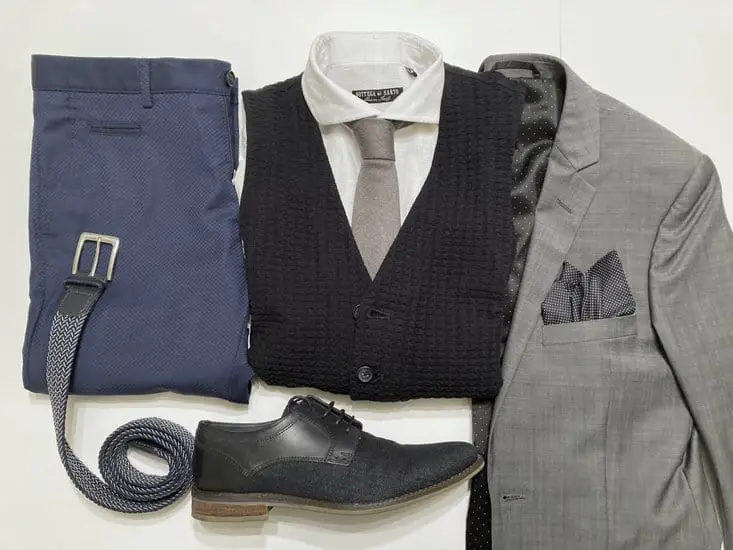 Everyday Style
For something different yet still appropriate in most settings, try pairing your gray blazer with dark brown leather boots for a more rugged style statement that will have people talking. Keep accents minimal and leave the second button unbuttoned to create an inviting silhouette without sacrificing sophistication.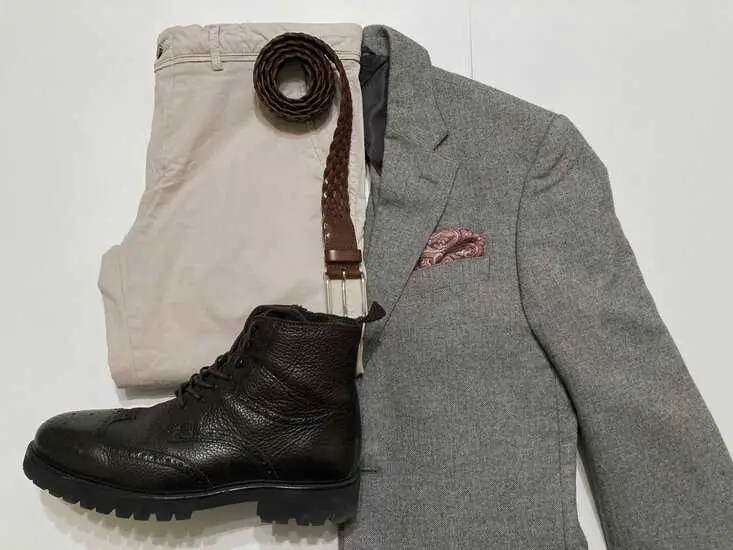 When deciding how to style your gray blazer, think about what type of occasion you'll be attending; this will help you determine which other pieces should accompany it to create an appropriate look for the event. This is the perfect occasion to try out those daring plaid or pinstripe trousers, or daring colors like burgundy for your trousers.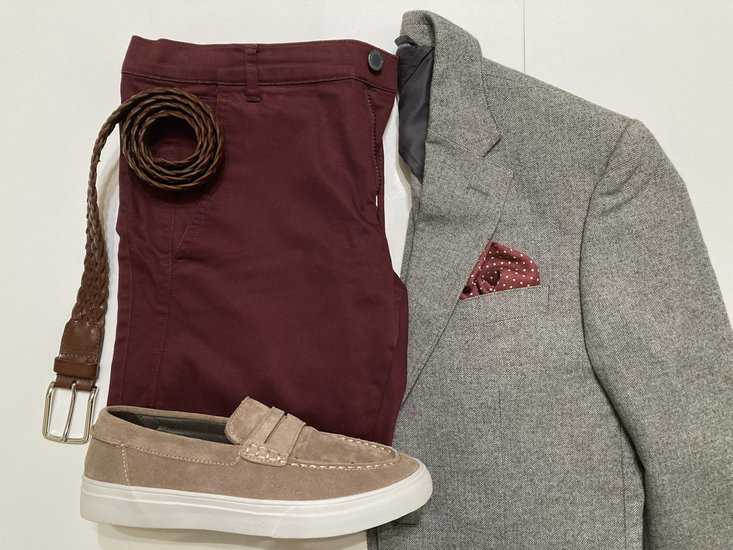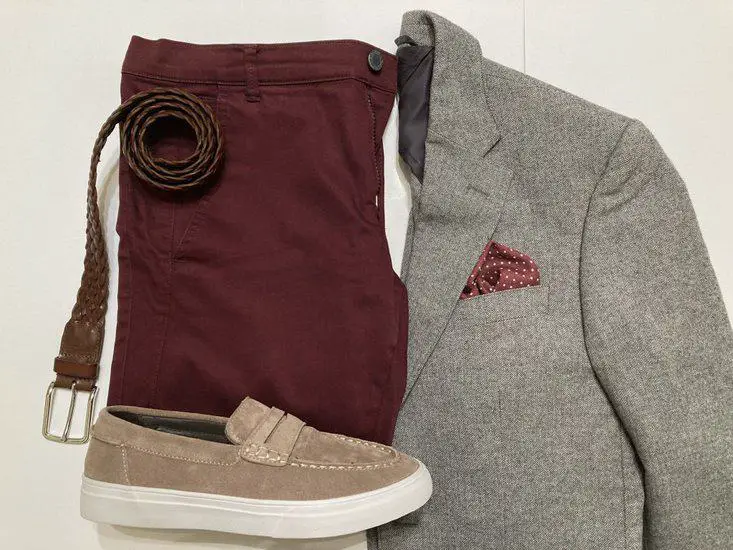 Ultimately though, no matter what items you choose to pair together — playing around with textures and prints is key when styling this versatile jacket!
Where Can I Wear My Gray Blazer?
When it comes to men's fashion, gray blazers are an incredibly versatile garment that can be worn in a variety of different settings. From casual lunch dates to formal business events, you can style your gray blazer to match the occasion. The key is to find the right balance between looking polished and stylish but not too dressed up.
For instance, you can rock your gray blazer with a pair of slim fit chinos or jeans and loafers for a smart-casual look that's perfect for everyday activities. Or dress it up with tailored trousers and a crisp collared shirt for formal occasions.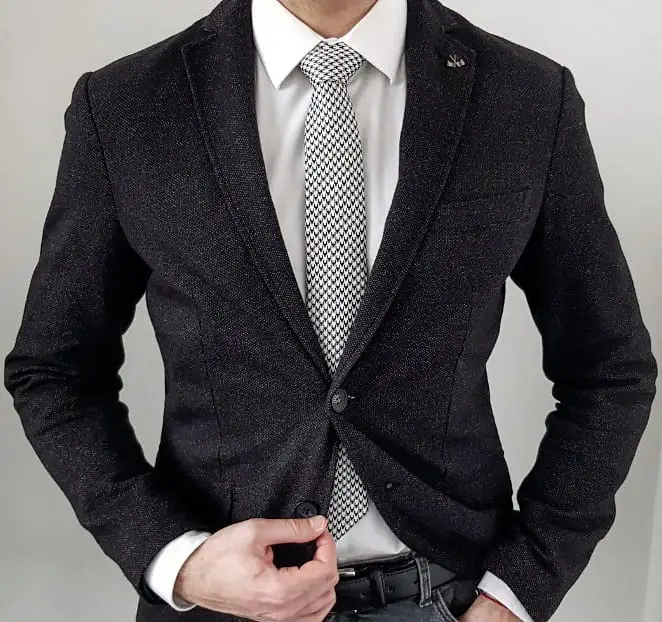 No matter where you're going or what look you're going for, a gray blazer is the perfect piece to bring it all together, as there's almost no limit to how you can wear it – just use your imagination, get creative and have fun with it!
FAQs
Can I mix and match different colored pants and blazers?
Yes, you can definitely mix and match different colored pants and blazers. Going for an all-black look is always a classic option, but if you want to add some color and texture to your look, you can go for a colorful blazer with black trousers or vise-versa. 
You could also opt for a patterned blazer and plain trousers or jeans in the same color family, such as pairing a navy pinstripe blazer with navy plain trousers. Or you could mix up colors by pairing a bold color like red or bright blue with neutral colors like gray or black.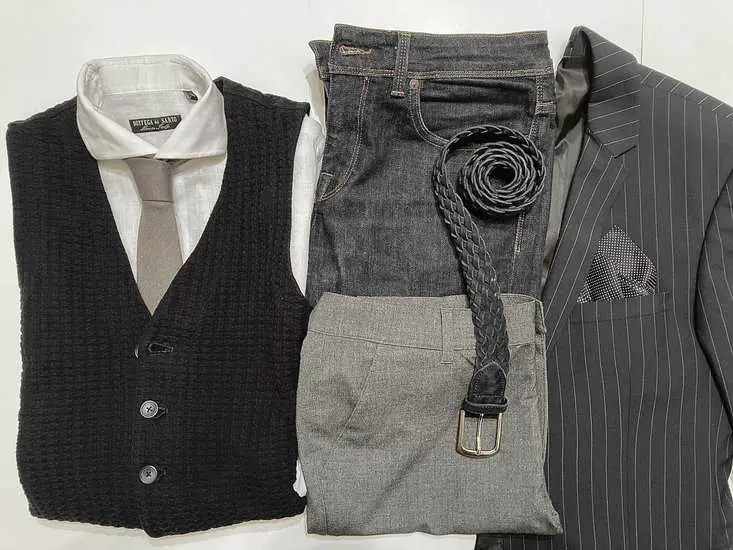 Do jeans work well with blazers?
Yes, jeans are a great option to pair with a blazer. This combination is perfect for everyday wear. Choose darker colors when opting for dressier looks, while lighter colors are better suited for casual ensembles. 
The key is to make sure that the fabric weights match – heavier jeans should be paired with heavier blazers such as tweed or wool, while lighter fabrics like linen are best suited for slimmer fit jeans. 
Can I wear shorts with a blazer?
Yes, you can definitely wear shorts with a blazer. The key is to choose the right color and style of shorts as well as the suitable type of blazer. Opt for neutral colors like black or navy blue and pair them with tailored shorts in fabrics such as linen or cotton. Additionally, you can add accessories like sun hats and sunglasses to further enhance the summery style of your outfit.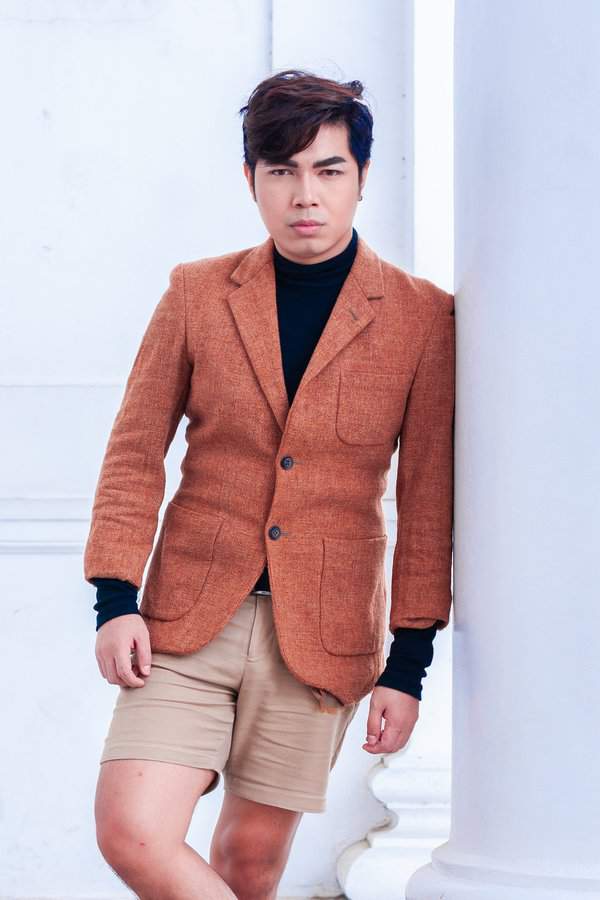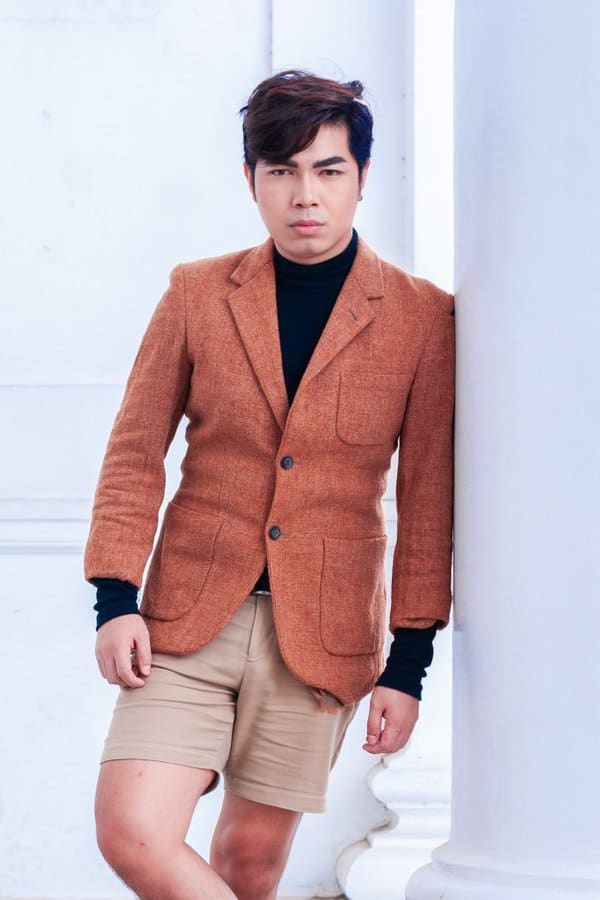 Final Thoughts on What Color Pants to Wear With Gray Blazer
When deciding what color pants to wear with a gray blazer, there are endless options that can create an attractive look. Overall, the 5 best pant colors that work well with a gray blazer are navy, khaki, tan, olive and white. Regardless of whether you choose solid colors or patterned trousers, make sure that they fit well! We hope this guide has given you some inspiration on how to style your gray blazer.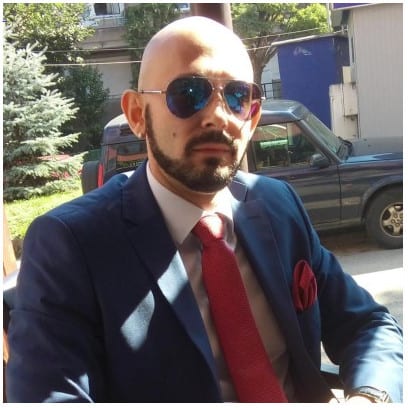 Samoel Ovanessian is the founder and creator of StylishAlpha.com – a website dedicated to men's fashion. As a proud owner of more than 200 ties, he loves digging through new clothing combinations for everyday use, formal events and even just for fun. You can read more about Samoel here.