There are just some things that are must-haves when it comes to your wardrobe. For men, one of these is a few nice dress shirts. You don't have to have many, just a few basic colors and maybe one or two stylish patterns. But like with anything having to do with clothes, finding the right fit and colors can be very challenging.
We promise it isn't as hard as you might think. You just need a few key pieces of knowledge, and you will be able to find that perfect dress shirt. That is why we have compiled this quick guide.
We will look at some of our choices for the best dress shirts on the market and then give you an insight into how we chose them by discussing the key factors we looked at when making our decisions. Hopefully, this buyer's guide and recommendations will help you out a little.
Comparison Chart
Dress shirts are must-have items in every wardrobe. They complete each look without stealing the show and will always bear sophistication. Fortunately, you can build a wide collection of these pieces by throwing in different colors to create a versatile closet.
If you're in the market for some dress shirts here are a few suggestions you might like;
Best Men's Dress Shirts Reviews
Van Heusen Poplin Dress Shirt
The first dress shirt we will be looking at comes from Van Heusen. Its lightweight fabric and relaxed regular fit make it a great option for a man who has a larger upper body.
Review
Regular fit
Poplin
Available in multiple colors
Button closure
Wrinkle-free
Point collar
Adjustable cuff
Chest pocket
Fuller sleeves and armholes
Easy care
Van Heusen is a pretty well-known brand and has been delivering quality products for quite a while. When it comes to this poplin dress shirt, they have created one that has a lot of great features and benefits. First, they started with a poly-cotton blend, which makes taking care of the shirt easy. The fabric also gives the shirt a note of durability. It is also a thinner fabric, which helps with breathability and makes it great for guys living in hotter climates.
That being said, there are a few issues that we would be remiss without mentioning. The first and most important is that the sizing does tend to be a little off. It is a relaxed fit design, and that means it is baggy in the middle. So if you're looking for a more fitted shirt, you may want to take a look at one of the other options on this list.
Pros
The shirt is crafted in a poly-cotton blend which doesn't wrinkle easily
Designed with a decent sized chest pocket
The collar of the shirt is stiff, which requires less ironing
The dress shirt is durable and can withstand consistent washing
Thin fabric makes it a great shirt for warmer climates
Cons
There are some issues with sizing
Colors are not as bright or as rich as pictured
CHECK LATEST PRICE ON AMAZON.COM
Alex Vando Dress Shirt
If you're looking for something with a little more color and character, then the next dress shirt is a great option. This regular-fit shirt is a tailored model that uses contrast coloring to give it that special something that is easily dressed up or down.
Review
Regular fit
Available in multiple colors
Cotton/Spandex blend (97% / 3%)
Spread collar
Buttoned cuffs
Contrast buttons
Chamfering cuff
Curved hem
Dress shirts can most definitely be the statement piece of your whole look. That is why we chose this amazing contrast color dress shirt. Not only is this a stylish dress shirt, but it is also extremely comfortable. This is thanks to the inclusion of a small amount of spandex in the fabric.
Along with this, the fabric feels soft against the skin for those that don't like to wear an undershirt. The fits are spectacular, too, with just the right length and the shoulders falling just right. As long as you get the right size, this shirt will fit you like a glove.
Now there are some things about the shirt we think could be addressed to improve the overall design. The sizing does run a little small for a regular fit. On top of this, you will need to do some ironing after it is washed as it wrinkles very easily.
Pros
The cotton-spandex blend gives the shirt stretch for improved mobility
Fashion design that is stylish and good for any occasion
The fit of the shirt is tailored perfectly from length to shoulders
Fabric feels nice against your skin
Buttons are stitched well for improved durability
Cons
The shirt tends to wrinkle easily after washing
Garment seems to run a little small
CHECK LATEST PRICE ON AMAZON.COM
Calvin Klein Herringbone Dress Shirt
Calvin Klein is a name synonymous with men's fashion and comes with a reputation for quality. This herringbone slim fit dress shirt lives up to that reputation very easily.
Review
Slim fit
Non-iron
Herringbone weave
Available in a variety of colors
100% cotton
Button closure
Point collar
Tapered sleeves
High armholes
Steel+ Technology
Adjustable cuff
Not only is this shirt for one of the most reputable designers, but it uses proprietary technology to elevate its comfort. The Steel+ technology helps make this shirt to all-new levels by helping regulate the temperature of the wearer.
It also is designed to wick moisture away from the skin for a cooler, more comfortable wear. The fit and design features of this shirt are classic and stylish as well. If you're looking for a dress shirt that will move with you and keep the formal look you wanted, then this is a fine choice.
There are, however, a few flaws that we could spot. The length of the body has been called into question by those that have a long torso or that are tall. Many feel it falls a little short, and that makes it hard to tuck in. There are also those that are not big fans of the thinness of the fabric.
Pros
Fabric used regulates temperature and is moisture-wicking
This dress shirt is crafted to move with your body
Designed with a yoke instead of darting for a more formal look
After washing, the shirt had no shrinkage
Nice mother of pearl, high-quality buttons
Cons
Some have found that the shirt is a little too short to tuck in
There have been some complaints about the thinness of the shirt
CHECK LATEST PRICE ON AMAZON.COM
Buttoned Down Spread Collar Dress Shirt
You don't have to spend a fortune to get a nice dress shirt. If you're working on a tight budget, then our next dress shirt is an excellent option for you.
Review
Tailored fit
Spread collar
Available in both multiple solids and patterns
100% Supima cotton
Machine washable
Side pleated back yoke
Pocketless
Dress shirts can get pricey when you are looking at known designers and so what do you do if you don't have a lot of money? There are great budget-friendly alternatives like this dress shirt from Buttoned Down. Not only does it come in a wide array of colors but several different fits so that you can find the one that works for you.
The shirt's cut is longer than others and is ideal for those guys who have problems finding shirts long enough due to their height or torso. Plus, if you have trouble finding sleeve lengths that work for you, this brand offers uncommon lengths.
However, though it is a nice cut and made well, there are still some issues with it. The design is simple, and for those who are a little more about style over substance, this may not be a good choice for you. Also, unfortunately, the shirt does have a tendency to shrink after wash. So you will want to wash with care.
Pros
The shirt comes in multiple fits, colors, and patterns for enhanced versatility
Price versus quality is better than most of its competition
Sleeve lengths are available in uncommon lengths
Stitching of the garment is well done and long-lasting
The body is cut long for better tucking capability
Cons
Simple design may not be as fashion-forward as other models
There is a good deal of shrinking when washed
CHECK LATEST PRICE ON AMAZON.COM
H2H Basic Dress Shirt
Our last dress shirt is a breathable slim fit model from H2H, a Korean clothing company. It is versatile and budget-friendly.
Review
Slim Fit
Wide range of colors
Cotton blend (53% cotton / 42% nylon / 5% spandex)
Button closure
Backside two dart line
Spread collar
This last shirt is another option for those that are working with limited funds. The basic shirt for H2H is available in a multitude of rich and vibrant colors, so it may be a little more trendy than the previous shirt we looked at. Crafted with a breathable, lightweight fabric, this dress shirt moves well and is great in situations where people may get a little hot.
It is a shirt that you can wear to work with a pair of slacks and then switch it out and wear with a pair of jeans and a blazer. That is why we included it on our list – the versatility is a definite plus.
Now that doesn't mean that there are not some issues. The company that makes it is based out of Asia, which means the sizes run a little small. But other than that, all the issues we find with it are centered around the collar. It loses its shape very easily after washing, and because there are no collar stay holes, it is very difficult to get back into shape.
Pros
The colors of this shirt are rich and vibrant
Materials used in construction are lightweight and breathable
Shirt does not ride up or constrict when moving
Design and style are suitable for casual occasions as well as dressier ones
The garment is budget-friendly and low maintenance
Cons
After washing, the collar loses its shape
The collar is not constructed with holes for collar stays
CHECK LATEST PRICE ON AMAZON.COM
Buyer's Guide
There is a whole slew of things that you could look at when looking for that perfect dress shirt. From design elements like the placket and collar to the buttons and hem, the list can go on and on.
Though these are all important, there are basic factors that you must look at first. These are the ones we used to compile our list of the best dress shirts out there. They are also the ones we suggest you look at, especially if you are not a dress shirt aficionado. Here are the factors that we looked at.
What You Need It For?
The first thing we think you should consider is what you are buying the dress shirt for. Dress shirts are actually a lot more versatile than most think. But by understanding if you are buying them for the office, a special event like graduation, or even a night out, can help you narrow down your choices.
This can help you choose the style and color as well as the fit and quality. For instance, if you are buying one for work and you work in a conservative office, you may want to stick with neutral colors and a more classic fit.
On the other hand, if you are looking for a dress shirt and you work in the fashion industry, a bolder, more fashion-forward option may be what you are looking for. Understanding what you are buying the shirt for will help you immensely.
Material
The material that the shirt is crafted in is also vital to choosing your dress shirt for many different reasons. The fabric composition will play a part in comfort and mobility as well as durability. There are many different materials used in dress shirts, and each has its advantages and disadvantages.
Not only do you have to consider the materials composition but the weave as well. Let's start with the fabrics of which you really only have a few choices… cotton or blend (though there are silk options as well, they are less common).
Fully cotton shirts will be breathable and allow for heat to be removed from the body. On the negative side, shirts made with 100% cotton tend to wrinkle very easily unless treated with something and are not good at retaining heat, making them not as good in colder climates.
Blended options are most often cheaper and retain heat as well as don't wrinkle as much. However, the shirt will be less breathable, so not as suitable for hotter climates and are often sateen finished making them difficult to iron.
Now that we talked about the composition, you should also consider the weave. Here is a look at some of the most common:
Broadcloth – This weave may be the most durable and is often what most people think of when thinking of a dress shirt. The shirt is similar to poplin but with a tighter weave. This allows good visual texture with the same versatility and richness of color as poplin.
Poplin – The material with a poplin weave is smoother and is weighted similar to Oxford fabric. Poplin dress shirts are easily dressed up or down. They also tend to have richer colors and a wider color selection.
Twill – If you want a really textured fabric, then twill, which is a cotton base, may be a good option. One of the most popular is herringbone. The shirts will have a shimmery quality and are a great dressy dress shirt choice.
Oxford – This is the most coarse option when it comes to feeling. Though it is comfortable, the texture of the shirt is more noticeable. This is due to the process by which the shirt is dyed. Oxfords do tend to be a little heavier and are most often designed with a button-down collar.
Design and Color
Another factor that you should think about is the design and color options available. Once you find a shirt that matches your needs in material and in purpose, then you will want to choose several designs and colors. But make sure they fit the occasion.
Solid basic colors work well for a conservative office setting and formal events. Patterns or brighter colors are suitable for more casual events traditionally. However, if you do them right, they are perfectly acceptable in office or formal events.
Another factor that plays a role in the consideration is the color of the suit or slacks you are looking to wear it with. You will want to look for color and pattern-wise options that pair well with the wardrobe you already have.
Tip: Don't be afraid of mixing patterns; if done in the same color pallet or complementary colors, you will be fine.
Dress Shirt Fit
Fit is also one of the most important elements to pay attention to. Making sure you get the right fit for your body type and style will ensure that you look well put together no matter the situation. You want to look for a fit that allows you to move easily and is flattering to your figure.
There are three main fits (but the actually cut will vary from designer to designer):
Slim Fit: This is a more slim and tailored cut. It is a great choice for athletic slim builds.
Regular: If you are a normal guy that is a little more muscular, then choosing the regular fit is a good option.
Loose: The fuller cut of the loose fit is perfect for the guy who carries a little more weight in the mid-section.
When looking at these fits, here are a few tips on how to choose the one that is best for your body:
You should be able to put your fingers between the collar and your neck.
The shoulders should stop where your arms and shoulders join.
Sleeves should be loose enough to move – not too baggy or too tight.
Cuffs should fall at the place where your hand meets your wrist.
Collar
The white dress shirt can be worn as formal, business casual, and casual attire. For this reason, understanding your collars can help you pick the right shirt for the occasion each time
The straight collar
The straight collar points end between 1.5-3.5 inches from each other. This collar is good for slimmer knots and can double down as a casual look when left undone
The button-down collar
This collar was originally designed for sports shirts but has since into everyday wear. These collars have buttons at the points to enable them to be buttoned down to the shirt. These collars are considered casual and are best for less formal events.
The Tab collar
This collar has a small button in between the collar points that serves to prop up your tie knot and give a more sophisticated look. This collar should always be worn with a tie.
The spread collar
This is the most popular collar and the points are usually 4-6 inches apart. This collar is perfect for larger tie knots as it balances the knot and does not appear stretched.
Final Thoughts
Utilizing the list of factors, we chose several great options for your dress shirt needs. We have made sure there was something for every type of body and occasion and hope that we helped your decision-making process.
FAQs
What can I look for when trying to identify a good quality dress shirt?
Quality speaks for itself. When it comes to dress shirts, this lies in the material, stitching, seams, and fit.
What is the difference between a dress shirt and your average shirt?
Dress shirts are made with the intent of being tucked in. For this reason, they have longer tails and come in slimmer fits to allow you to comfortably tuck in without getting the unwanted folds or feeling constricted. Sports shirts and casual shirts, on the other hand, are made shorter and can be left untucked without looking untidy.
Should I wear undershirts?
Yes, undershirts help give body and smooth your dress shirt while also preventing sweat from getting onto your shirt. Be sure to pick undershirts that blend into your skin tone to avoid harsh lines.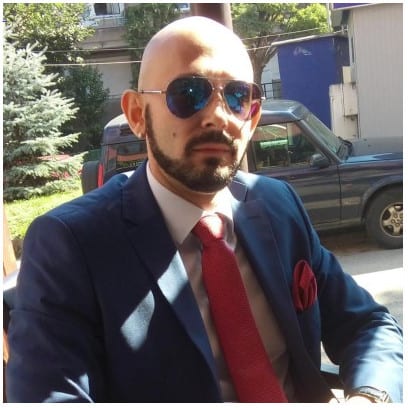 Samoel Ovanessian is the founder and creator of StylishAlpha.com – a website dedicated to men's fashion. As a proud owner of more than 200 ties, he loves digging through new clothing combinations for everyday use, formal events and even just for fun. You can read more about Samoel here.