A couple of fine dress shirts is something that any man should have in his wardrobe. It is a staple when it comes to classy outfits, and most importantly, a good dress shirt can be worn both to work and to parties.
Nevertheless, there is one big annoyance related to this product, and that is wrinkling. Having to iron your dress shirt each time, and carefully fold it after washing, can take up a lot of your much needed time and energy.
This is why we have searched for models that are composed of wrinkle-free fabrics. Take a look at our list of the best non-iron dress shirts for men and see which one is best to complement your style!
Comparison Chart
Non-Iron Dress Shirts for Men Reviews
Dress shirts are the core of every official to semi-official look so it's no surprise that they are some of the most popular wardrobe items. For the luxury of always looking polished and put together, dress shirts do need some love and ironing after every laundry session.
Having to iron your dress shirt each time, and carefully fold it after washing, can take up a lot of your much needed time and energy
Fortunately, a team that was probably over the early morning ironing invented the non-iron shirts and we must say it's been a game changer. If you're on the lookout for some shirts that are worth your bucks here are a few recommendations;
Mizzen + Main Antimicrobial
This dress shirt is designed for the active man and the designers left no stone unturned to ensure you feel confident when rocking this shirt even after a long day of work. Let's not forget to appreciate the odor-free technology that ensures you smell your best even when you don't feel so
Review
This button-down shirt is crafted from 86% polyester and 14% spandex making it breathable and perfect for the gentleman that is constantly in motion. The high-performance fabric offers zero constricts when it comes to doing heavy tasks and promises 4-way stretch.
This shirt is a versatile wardrobe piece as it has a spread collar, long sleeves with button cuffs, and a curved hem all without the headache of having to deal with wrinkling.
 The stand-out feature of the Mizzen + Main shirt is the SILVADUR Technology treatment that allows it to remain fresh and odor free even after a long day of work. This is achieved with the help of moisture-wicking and quick-drying properties that ensure sweat dissipates quickly instead of pooling in one area. This shirt has a wide size ranging from Small to XXL and an even wider pattern range making it a top pick for us.
Pros  
Antimicrobial technology
Moisture wicking
Wide size range
Many different patterns
Wrinkle-Resistant   
Cons
Expensive
Sizes may run up for some buyers
CHECK LATEST PRICE ON AMAZON.COM
Brook Brothers Regent Regular-fit dress shirt
Brook Brothers are the pioneers of non-iron dress shirts and have no shortage of designs to pick from.
Review
This dress shirt is made from pure American-grown Supima cotton and has been taken through a thorough treatment process to ensure it does not wrinkle. The shirt is available in both regular and relaxed fits and a size chart is provided to help you get your neck size and sleeve size right.
The shirt also comes with a signature English spread collar giving you all the flexibility you need to experiment with your tie knots. This shirt made it to our top picks because it features Brook Brother's signature 6-Pleat shirring at the barrel cuffs, a left chest pocket, and a center back pleat which are all stand-out features.
Pros
Moisture wicking
Wrinkle free
A size chart with neck and sleeve measurements is offered for easy shopping
Cons
CHECK LATEST PRICE ON AMAZON.COM
Van Heusen Men's Traveler Strech Shirt
When it comes to affordable dress shirts, Van Heusen stands as one of the most recognizable names. There is a good reason for this, as this company always offers a wide array of different options. In this case, you can choose between a plethora of square-patterned, lined, or solid color models that can be worn for any occasion.
Review
The first thing that we want to talk about is the design of these models. All variations are available in Small, Medium, Large, X-Large, and XX-Large, which means that you should have an easy time finding the one that fits you. Some of the most popular designs are Blue Ice, Black Windowpane, Blue/Black Iris Solid, Dusty Lavender, Blue Depths Mini Check, as well as a bunch of others that you can choose from.
The second important piece of information is that this Van Heusen shirt is 66% cotton, 30% polyester, and 4% spandex. This means that, apart from being soft to the touch and comfortable to wear, it is elastic and allows freedom of movement. Also, the maintenance is quite simple, as you can wash this in a machine on the lowest setting.
As for the important design details, we are quite happy with the high button closure and the adjustable sleeves (with cuff fasteners). One of the coolest points of this product is that it is stain-free, which means if you spill any liquid on it, no one should notice. Additionally, the fact that it comes with a wrinkle-free finish means that you will spend a lot less time ironing your dress shirt and preparing it for the event you are going to.
The only issue that we have with it is the smell of the fabric, which is quite weird at first. However, after a couple of washes, it should fade away. Overall, you are looking at an affordable and fancy dress shirt that comes at a reasonable price and that should last you for years of regular use!
Pros
Reasonably priced for most people
Anti-wrinkle design makes it great for all-day wearing
Stain-free material
Comfortable to wear for longer periods
Classy designs for formal or semi-formal wear
Cons
Funky fabric smell when new
CHECK LATEST PRICE ON AMAZON.COM
Calvin Klein Men's Dress Shirt
When talking about popular fashion retailers, it is hard not to mention Calvin Klein, which has been on the market for more than five decades. 100% made of cotton for added durability and soft texture, it is also incredibly breathable and should help you stay cool on the hottest days.
Review
First and foremost, there isn't any artificial fabric – only 100% natural cotton. For most people, this is the best solution due to the fact that it is hypoallergenic and nice on the skin. Much like the aforementioned product, this one can be machine-washed for faster, more efficient maintenance.
The breathable wicking design goes a long way if you have to wear a dress shirt or a suit during the hottest months, as it will help you stay dry and comfortable. Most importantly, the non-iron design that this product is highlighted by will reduce the chance of wrinkles and allow you to wear it throughout the day without worrying if there are any creases.
The most popular color options are Mint Julip, Ultra Blue, Antique Rose, Lilac, Purple Dusk, Bordeaux, and Black. All of these options come in a regular fit and with additional room at the shoulders and chest for added comfort.
Our only issue is the fact that it is kind of see-through. This is why going for darker colors is better if it is a formal event that you are going to. Other than that, there is not much that we can say against it. It is a well-made dress shirt that is superb for all styles!
Pros
Fancy designs to select from
Breathable wicking design keeps you cooler
Wrinkle-free – ideal for travel
Comfortable to wear for longer
100% natural cotton is durable and soft
CHECK LATEST PRICE ON AMAZON.COM
Amazon Brand Buttoned Down Dress Shirt
It is quite impressive how the Amazon Brand is able to do almost as well as fashion retailers that have been around for decades. Reasonably priced, there are a bunch of buttoned-down models that you can choose from, including French Blue, Green, Purple, Pink, Light Yellow, Charcoal Heather, and Classic Black.
Review
The first good thing is that there are more than a few different colors of this dress shirt, which will allow you more freedom when it comes to combining it with elegant dress pants, khaki pants, or denim jeans. Also, you can choose whether you want a dress shirt with or without a pocket depending on if you want a streamlined look or not.
Made in Indonesia, we are quite impressed with the 100% Supima cotton that this shirt is made of. Incredibly soft to the touch, it is a perfect solution for anyone who has to wear dress shirts on a regular basis. It has a lightweight non-wrinkle finish that will save you from having to iron it each time you wear it.
While we are satisfied with the design of the spread collar, it seems to be a bit rough and scratchy. Still, looking at the overall composition and the fine price tag, this is a dress shirt that you should definitely consider!
Pros
Good price for good quality
100% Supima cotton is durable and soft
Non-iron finish looks smooth
Lightweight and soft to the touch
Vibrant designs to choose from
Cons
Rough/scratchy collar can be irritating
CHECK LATEST PRICE ON AMAZON.COM
Kirkland Signature Men's Dress Shirt
Every man should have at least one white dress shirt in his closet, which is why we are presenting the Kirkland Signature to you. While it comes in a number of colors, including Blue Checkered, Navy Blue Solid, Pink Plaid, Grey Charcoal Check, and Mint Green, the white one is always a classic.
Review
The good thing about this product is that it comes in a variety of sizes, from S to XXXL, which means that anyone who is attracted to the Kirkland Signature can find a size suitable for them. What makes it stand out from the aforementioned products is the seven-point seams that are featured to minimize puckering and to enhance durability.
It is made out of 100% cotton and is a dress shirt that you won't have to iron on a regular basis. We have just one issue with it, and that is that it leaves a bit too much room at the waist and chest area. However, if you are careful with sizing and tuck it in correctly, it shouldn't be that big of a problem!
Pros
Classy design suits most men
100% cotton
Anti-puckering
Wrinkle-free design
Cons
A bit baggy – sizes run larger
CHECK LATEST PRICE ON AMAZON.COM
COOFANDY Men's Wrinkle-Free Vertical Striped Shirt
Ending our list of the best non-iron dress shirts, we have a product that is good for anyone looking to invest in an office-friendly model. No, this one isn't for fancy parties given the fact that it doesn't present any vibrancy, but if you are a fan of classy stripes, it is just perfect for a work environment.
Review
Available in Black, Grey, Light Grey, and Navy Blue, you can choose according to the color of your dress pants or denim jeans. It comes with two front pockets, as well as long sleeves that are simple to roll up. Additionally, we like the high-button design, as it offers a classy look.
Most importantly, you won't have to worry about wrinkles, as the finish is straight and the dress shirt should hold its form throughout the day. Overall, this dress shirt is good for all seasons and business occasions!
Pros
Elegant stripes look great
90% cotton
Lightweight for all seasons
Does not wrinkle no matter how you wear it
Cons
Not as vibrant in color as could be
CHECK LATEST PRICE ON AMAZON.COM
Wrap Up
If you are on a tighter budget and looking for a versatile dress shirt that doesn't require frequent ironing, our recommendation is the Calvin Klein Men's Dress Shirt for its fine price and optimal quality. As our second favorite, we would point out the Van Heusen Men's Traveler Stretch Dress Shirt, because it comes at an affordable price and it's comfortable to wear during long periods.
FAQ
What is moisture wicking?
This is the ability of a fabric to pull moisture away from the skin and onto the surface of the fabric. This feature works directly with the quick drying feature to ensure you are always kept dry. This technology is achieved with special fabric treatment that allows capillary action to occur between the sweat and the internal surface of the fabric which allows the sweat to move through to the surface.
What makes a shirt non-iron?
Fabrics naturally do not resist wrinkling and for non-iron features to be achieved, the materials go through a chemical treatment that allows the chemical to bond with the fibers of the shirt to make it more resistant to wrinkling. This process is followed by high-temperature bake to lock in the benefits of the chemical treatments.
Can you iron a non-iron shirt?
With the right care, you don't have to iron your non-iron shirt, however if you notice any wrinkling, you can iron the area on low heat. Avoid using the high heat setting when working with noniron shirts as that will ruin them.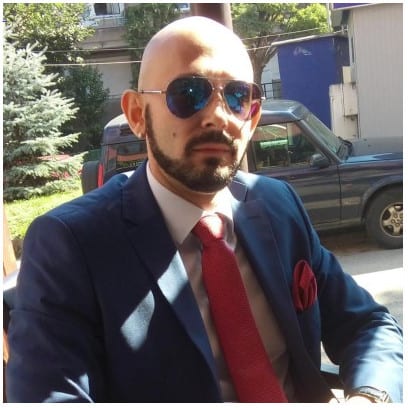 Samoel Ovanessian is the founder and creator of StylishAlpha.com – a website dedicated to men's fashion. As a proud owner of more than 200 ties, he loves digging through new clothing combinations for everyday use, formal events and even just for fun. You can read more about Samoel here.