As one of the many accessories of a well-dressed man, pocket squares can help you step up your fashion game. If you were wondering what it is that sits in the left-chest pocket of blazers and suit jackets, now you know!
While you can use a pocket square to wipe your suit clean, the concept that stands behind it is creativity. You can bring an old-school suit to life or simply add more class to your blazer. Whether you are a fan of elegant or colorful jacket handkerchiefs, you should have at least a few different ones to choose from depending on the occasion.
The idea of this article is to help you discover the best pocket squares for men that you can wear with confidence and for any event. So without further ado, let's get started!
Comparison Chart
Pocket Squares for Men Reviews
Suits and blazers often have very little going on for them so it's no surprise that pocket squares are as popular now as they were when they first came out. These pieces are essential to adding a pop of color and flair to help you stand out instead of simply blending into the multitude of suit-wearing gentlemen.
Here are some of our top picks when it comes to pocket squares.
Jeatonge 20pcs of Assorted Pocket Squares
When it comes to pocket squares, it doesn't help to buy just one when there are many great sets that you can benefit from. Coming from a well-recognized brand in the fashion industry, you are looking at an assortment of elegant and colorful models that can be worn with just about any suit. Let's take a look.
Review
When talking about stepping your game up with pocket squares, versatility is key. This particular package includes more than 20 pieces of fine handkerchiefs that are all of different designs. It also comes with a reliable gift box for storage. Most importantly, the price of this whole set is extremely affordable and will better your style without breaking your budget.
Whether it is a gift that you are planning for your partner, father, or brother, or it is something that you want to get for yourself, the different colors and styles are what makes this product such a great choice. Firstly, for the solid variations, there is Red, Yellow, White, Green, Sky Blue, Pink, Navy, Orange, Black, and Purple – all of which are simple to combine with classy blazers.
On the other hand, if you are looking for something fancier, then the Blue, Wine Red, Red, Black, and Purple polka dot pocket squares may work even better. Lastly, there are several paisley-styled handkerchiefs that we particularly like, including the Red, Turquoise, Purple, Black, and Blue.
The dimensions of all the models are 10 by 10 inches, while the holder is set at 3.4 inches in width and 4.6 inches in length. As for the materials, these are made out of polyester and silk, which seems to be the best solution when it comes to ensuring durability and a soft feel. The main issue related to these is that the polka dot and paisley ones aren't equally patterned on both sides.
However, for the extremely affordable price that these come at, plus the fact that you are getting 20 pieces, this is a great deal.
Pros
Great price for good value
20 different pocket squares
Solid, polka dots, and paisley
Silk and polyester
Reliable assortment box
CHECK LATEST PRICE ON AMAZON.COM
SelectedStyle 100% Pure Silk Pocket Squares
If you are working with a more flexible budget, and you want to make sure that the handkerchief you get will last you for years, then the SelectedStyle stands as a fantastic option. Coming in a couple of different color variations, including Black, Burgundy, Gold, White, and Ivory, these are fine pocket squares that will go great with a classy suit jacket.
Review
What we were most impressed with is the 100% Pure Momme Mulberry silk material that these are made out of. This composition ensures that the SelectedStyle pocket squares are incredibly difficult to tear and make maintenance much easier. Additionally, investing in one is for a lifetime.
Another reason why these justify the somewhat higher price is the hand-rolled edges that make both sides coordinated and superior to most pocket squares on the market. The 11 by 11-inch design makes them just perfect for wearing with an elegant suit jacket, sport coat, or fancy blazer.
While we understand that these handkerchiefs were 100% hand-sewn, the stitching could have been done better. Still, with the proper care, you shouldn't have any issues related to durability. Overall, you are looking at timeless pocket squares that can make even the cheapest jacket look like an exclusive one.
Pros
100% silk
Hand-sewn quality
Coordinated sides
11 by 11 Inches
Easy to clean and maintain
CHECK LATEST PRICE ON AMAZON.COM
SHLAX & WING 5 Assorted Pieces
Getting on with our list of the best pocket squares for men, you are looking at one of the most versatile assortments on the market. Whether you are someone who enjoys polka dots, paisley, square-patterned, or solid-color handkerchiefs, chances are that SHLAX & WING has got you covered!
Review
Highlighting all of the available sets would be too much for this article, but you must know that there are a plethora of different options depending on whether you are looking for pocket squares of purple, blue, red, or some other color scheme. The unique design makes this fancy accessory an even better investment given the fact that you can bring a little bit more class to the most classic suit jacket on the market.
One of the coolest points of these pocket squares is the impressive size of 12.6 by 12.6 inches. This will allow you to fold them in any direction or shape that you may want. They are hand-stitched and made out of microfiber fabric to ensure a soft texture.
Given the wide assortment, it would be even better if the manufacturer allowed you to pick between all the available pockets instead of having to go with a premade set. Still, the quality and reasonable price of this set make it a product that you should definitely consider.
Pros
Reasonable price
Comes with 5 pieces
Soft microfiber fabric
Impressive size
Hand-sewn
Cons
Premade sets – not customizable
CHECK LATEST PRICE ON AMAZON.COM
DanDiao Mens Pocket Squares
For those of you who want to invest in a versatile set of pocket squares that can be worn for weddings, formal parties, or other occasions, DanDiao has a fantastic offer for you.
Review
Firstly, you will be wowed by the number of suit handkerchiefs that this set includes. Getting 30 pieces for such a good price is something that only the well-recognized DanDiao could offer. While all pocket squares are solid in color, there are many different variations, including several shades of red, black, brown, green, white, purple, and blue.
Manipulating and positioning these in the exterior pocket is quite simple, and the maintenance shouldn't require a lot of effort, either. Keep in mind that these are made out of polyester satin, which may not be as soft as silk, but it is incredibly attractive to anyone who is looking at you.
Our main concern is that the pocket squares measure only 8.5 x 8.5 inches, which means that they may be a bit too short depending on your blazer size. However, as long as you make sure that the DanDiao pocket squares can fit your suit jacket without looking funny, you should definitely consider this offer given the wide assortment and the low price that it comes at.
Pros
Comes with 30 pieces
Solid color pocket squares
Easy to manipulate
Suitable for any occasion
Affordable price for a great set
Cons
Not as soft as similar options
A bit small
CHECK LATEST PRICE ON AMAZON.COM
HISDERN 6 Piece Assorted Woven Pocket Squares
Lastly, we present you with a set of high-quality microfiber suit handkerchiefs that serve as a fantastic wedding gift and can be worn for any occasion.
Review
The first thing that we want to discuss is the versatile design that you will be getting. Coming in 10 pre-made sets, each featuring six different pieces, stepping up your fashion game has never been easier. Frankly, just a single set will give you a bunch of different options to help you look classier or fancier depending on what you want.
The microfiber material is a good solution for pocket squares, as it is soft to the touch and comfortable to wear. While these could be a bit bigger, with the size being set at 10 x 10 inches, if you are experienced with suit handkerchiefs, shaping them without the risk of falling shouldn't be that big of an issue.
The different printing patterns and the great quality of these hand-woven pocket squares is the main reason why we consider them to be a worthy choice!
Pros
Hand-woven and high quality
Versatile patterns
Comfortable and soft to the touch
Simple to shape
Great value for money
CHECK LATEST PRICE ON AMAZON.COM
Tips to help you rock the pocket square confidently.
Your pocket square should complement and not blend into your outfit. To always get this right, choose a secondary color from your tie as the primary color of your pocket square
Silk pocket squares should always be at least 40cm by 40cm as the fine texture of the material can slip into the pocket and end up not being part of the outfit completely.
Learn more than one fold as different occasion call for different folds. If you're going to a formal event, settle for the flat fold or one or two points fold. Casual occasions can always get all the flair they need.
Balance the patterns. If your blazer is patterned opt for a less patterned pocket square. If you have a plain blazer you can pair this with a patterned shirt and pocket square.
Try to match your material to the season. Silk is good for winter and fall while cotton and linen are perfect for summer and spring.
Wrap Up
At the end of the day, the pocket squares you choose all depends on what you are looking to get. If you want a single pocket square, then you can't go wrong with SelectedStyle pocket squares given the 100% pure silk composition and the solid color design that these are highlighted by.
On the other hand, if you want to get a fancy set that will offer you a pocket square for any given occasion, we would recommend the HISDERN 6-piece Assortment for its reasonable price and explicit quality.
For more stylish options to complete your look, be sure to check out our review of the Best Bolo Ties.
FAQS
What is the ideal size for a pocket square?
The ideal size for your pocket square is anywhere between 16 to 18 inches. This size allows your pocket square to sit properly in your pocket without slipping or bulging. The only exception to this rule comes in when working with a bulkier material. In this case, settle for 12 inches as anything larger will not fit in the pocket.
What is the difference between a pocket square and a handkerchief?
Pocket squares are made to be worn on the outer pocket of the blazer and are simply used as an accessory to the outfit. Handkerchiefs on the other hand are worn in the blazer's inner pockets and are for wiping down sweat.
What materials are used when making pocket squares?
The most popular material for pocket squares is silk however, silk is an expensive material that often drives up the price. To meet market demand, brands avail pocket squares made from linen, cotton and sometimes wool blended with silk to ensure there's something at each price range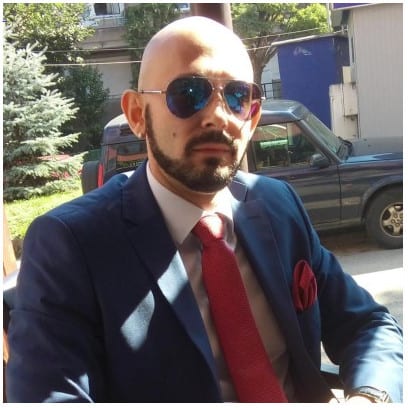 Samoel Ovanessian is the founder and creator of StylishAlpha.com – a website dedicated to men's fashion. As a proud owner of more than 200 ties, he loves digging through new clothing combinations for everyday use, formal events and even just for fun. You can read more about Samoel here.