A high-quality jacket is certainly a staple of men's fashion. Paired with nice pants and leather shoes, you are sure to make a statement, whether it is at that party you are going to or simply at the office.
When it comes to searching for an adequate blazer, it all comes down to making sure that it fits you properly and that it has a good material composition that can last you for years to come. Luckily, there is a myriad of retailers, including Calvin Klein, Tommy Hilfiger, J.Crew, and others that do a great job of offering superb models at fair prices.
To help you find the right one for you, we have created a list of the best men's grey blazers, doing our best to highlight the essential design details, as well as the pros and cons of each so you can make an educated decision based on your body and budget. So without further ado, let's take a look at what each of these blazers have on offer.
Comparison Chart
Breaking down the grey blazer so you can get it right
Grey blazers come in quite the number of shades so figuring out the different available shades can help you narrow down your search;
The Dark Grey
The dark grey blazer is one of the most slept on blazer in the grey blazers category. Sure it may take a little more effort to pull off but the results are always unique and bound to leave an impression. This blazer goes well with darker pants and is a close substitute for the black blazer.
 The Grey Tweed Blazer
This blazer is what comes to mind when we think of fall besides the pumpkin spice latte rave. The blazer is warm and pairs well with both darker and lighter shades making it the perfect choice for breezy days
The Mid Grey
This is a neutral blazer that can be paired with dark and light shades to create unique looks each tie. This is the most versatile of the grey blazers as it can be pulled out all year round to tie together a myriad of outfits. It's truly a favourite once it hits your wardrobe.
The Grey Linen Blazer
This blazer is light, breathable, and the perfect addition for semi-formal styling. It stands out amongst the greys as it is made with less structure allowing it to follow your body's contour and is exactly what you need for a relaxed day.
Men's Grey Blazers Reviews
Luciano Natazzi Men's 2 Button Wool Suit Jacket
When it comes to mid-end Italian fashion brands, Luciano Natazzi is among the most recognized. While this model comes in Blue or Brown, the Grey Charcoal is best for combining with different styles. Available in a wide array of sizes from 36 to 52, it is suitable for everyone.
Review
The first thing that we love about this blazer is its lustrous design that features a bird's eye sharkskin pattern. It is modern and classy at the same time, making it perfect if you want to wear this jacket with grey khaki pants, elegant jeans, or fine dress pants. Also, the 160'S Worsted Wool blend, which is 90% wool and 10% polyester, is a fantastic solution if you were planning to wear it throughout the year.
As you may or may not know, wool is one of the most reliable materials for suits given the fact that it will warm you up during winter and keep you cool when the sun strikes. Talking about the design details, it features a two-button closure and a double-side vent, which is quite common for classy suit jackets.
We love that it is highlighted by a modern fit with a trimmed chest and tapered sleeves, making it a good choice for formal parties and fashion events. On top of all that, there are two flap pockets at the front, a single chest pocket, as well as an interior pocket for putting away your mobile phone, keys, or wallet.
Although tapered, the sleeves are a bit long, which is why you will want to be extra careful when it comes to the sizing. Other than that, the Luciano Natazzi Wool Suit Jacket is a fantastic choice for any man who loves wearing grey and wants a model that can be combined with several different styles.
Pros
Reasonable price for good value
90% wool
Modern fit that looks great
Trimmed chest
Flap pockets
Cons
Sleeves might be a bit too long
CHECK LATEST PRICE ON AMAZON.COM
U.S. Polo Assn. Men's Linen Sport Coat
If you are on a limited budget but still want to get a fine jacket, this U.S. Polo model may be just the right product for you. It covers a variety of sizes from 36 to 60 Short, and it comes in a few color variations, of which the grey one seems to be the most attractive.
Review
The good thing about grey blazers is that you can combine them with virtually any sort of pants from elegant dress pants to casual denim jeans. Unlike the aforementioned product, which was suitable for autumn and winter, this one is made out of 100% linen, and for that reason, it serves as an ideal choice for spring and summer.
The composition of this jacket is the main reason why it fits so well without that stiff feel that most models are known for. Additionally, linen is incredibly simple to maintain, as dry cleaning every couple of weeks is more than enough. As for the design details, there is a left-chest exterior pocket, as well as two flap pockets for added convenience.
The overall design of this blazer is quite modern and highlighted by a notched lapel, double vent, and two-button closure. Luxurious and comfortable, it is a product that you will enjoy as someone who wants to appear more fashionable.
Our only concern is that it is prone to wrinkling, which means that you will need to expose it to a steamer more frequently. Other than that, it is an affordable and attractive jacket that you should definitely consider.
Pros
Breathable linen
Comfortable fit
Two-button closure
Good value for money
CHECK LATEST PRICE ON AMAZON.COM
D&R Men's Dark Grey Blazer
Moving on with our list of the best men's grey blazers, this is a model that is a good choice for any occasion. It is highlighted by a slim-fit design and an elegant lined pattern. Made 50% out of cotton, 30% out of viscose, and 20% out of polyester, you can wear this jacket throughout the year regardless of the weather conditions.
Review
This blazer is made according to the latest fashion standards and using only premium materials. For the given price, fit, and durability, what you are getting is quite impressive. As we have mentioned above, the combination of cotton, viscose, and polyester ensures that you are comfortable and confident while wearing this model, no matter the season.
Much like the aforementioned products, this one is single-breasted with a double vent and a two-button closure. Modern and stylish, it is something that you can wear for both formal and informal events. Most importantly, the softness of cotton will allow you to stay in it and feel confident for hours.
Aside from the fact that this blazer doesn't feature functional front pockets except for the left chest pocket, it holds great value that you shouldn't miss out on.
Pros
Modern design
Elegant lined pattern
Soft cotton
Perfect for all seasons
Comfortable
CHECK LATEST PRICE ON AMAZON.COM
Theory Mens Xylo NP Slim Fit Blazer
Are you looking for a classy, modern sport coat that is ideal for combining with nice dress pants? This grey blazer is just that, as it is highlighted by a slim fit and a clean-line design that can be worn on different occasions.
Review
Firstly, the fact that this product is made completely out of wool is a guarantee of quality. As we have mentioned above, this is the best material when it comes to jackets for all four seasons. Unlike some other models, this one also has a touch of stretch, which goes a long way when it comes to ensuring a comfortable fit.
Highlighted by a timeless single-breasted and center-vent design, it measures 21.5 inches underarm to underarm and 43 inches in the chest (42R). With a two-button closure and four decorative buttons at the cuffs, this blazer is rich in design details that make it even more elegant.
Additionally, there is the Besom chest pocket, as well as two flap pockets, which are the most common and functional solution. Our main and only concern is that this blazer doesn't come in several sizes, which means that finding the right one for you can be quite tricky. Still, as long as you fit the 42R, it is an impressive model that can be made a part of a suit or a more casual combination.
Pros
100% wool
Slim fit
Functional pockets
Clean lines
For all seasons
CHECK LATEST PRICE ON AMAZON.COM
Tommy Hilfiger Men's Soft Constructed Fancy Blazer
Lastly, for those of you who love Tommy Hilfiger fashion, this is a perfect grey blazer. Composed of 64% polyester, 34% rayon, and 2% spandex, it is soft and elastic at the same time. Most importantly, it is suitable for dry cleaning, which makes maintenance a whole lot easier.
Review
The grey pin-dot color is both elegant and modern, which means that you can successfully wear this jacket with regular denim pants. Looking at the design details, there is a two-button closure, as well as a notched lapel, which is a classy and functional solution.
The fit is comfortable due to the light construction of this blazer. Keep in mind that it is only 3/8 lined, with the shoulders being quite soft. The result of this is that the Tommy Hilfiger Men's Blazer is more prone to wrinkling, but with a proper steamer, this shouldn't be an issue.
Pros
Light construction
Comfortable fit
Soft shoulders
Classy and modern
CHECK LATEST PRICE ON AMAZON.COM
Wrap Up
Coming up with a final verdict on which of the products is best isn't that easy, as they all hold great value. Our personal favorite is the Luciano Natazzi 2-Button Blazer given the fact that its elegant design and reasonable price make it suitable to wear on any occasion throughout the year.
If you are on a tighter budget, then the U.S. Polo Assn. Linen Blazer stands as a great alternative, as long as you are fine with the fact that it isn't designed for colder months!
FAQs
What can I wear with a grey blazer?
Grey blazers go well with neutral solid colors. You can successfully pair your blazer with official pants, navy pants, khakis, or jeans.
What is the best shirt to wear with a grey blazer?
You can easily get away with wearing a white shirt with your grey blazer however one of our favorites is the blue shirt. Blue goes impeccably with grey and adds some character to your look.
How can I accessorize a grey blazer?
Grey is a versatile color and can easily be accessorized with brown leather, black leather, and silver straps.
You also shouldn't miss our other top reviews: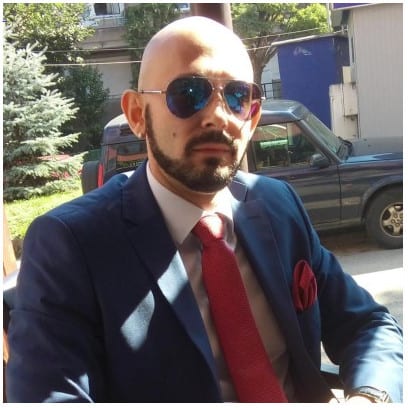 Samoel Ovanessian is the founder and creator of StylishAlpha.com – a website dedicated to men's fashion. As a proud owner of more than 200 ties, he loves digging through new clothing combinations for everyday use, formal events and even just for fun. You can read more about Samoel here.