When it comes to formal wear, the most important garment – before the suit, the tie, or the shoes – is arguably the dress shirt. It is the centerpiece of any formal outfit. As such an essential item, there is an abundance of dress shirts available today – but which one is best? Here is a list of the best dress shirts under $50 available to buy today.
Comparison Chart
Dress Shirts Under $50 Reviews
Chaps Men's Regular Fit Dress Shirt
This dress shirt from Chaps offers the most basic features of a dress shirt and delivers all that you would expect. Available in both blue mist and regular white, this dress shirt features a standard pocket on the chest, sleeve cuffs, and a buttoned collar. Comfort is ensured with the soft fabric and stretchable collar.
Review
Chaps delivers the ultimate office attire with this dress shirt, which is designed for long days of work and goes perfectly with any suit or outer coat. The dress shirt will remain almost totally wrinkle-free and does not require ironing.
This shirt is well-made and can breathe easily, allowing the wearer to remain cool. The regular fit will also compliment any body type and will not stretch. However, the color options for this shirt are limited.
Pros
Great office attire
Goes with anything
Wrinkle-free
Remains cool
Compliments all body types
CHECK LATEST PRICE ON AMAZON.COM
IZOD Men's Dress Shirt Regular Fit
IZOD provides a wide variety of bright, eye-catching shirts while also retaining all the necessities you'd expect from a dress shirt, including a button-down collar, breast pocket, and cuffed sleeves. Perfect for everyday work, the colors available are bright but not too garish and can be worn with most trousers and suit jackets.
Review
This dress shirt from IZOD has an attractive, silky feel to it, which makes for a comfortable wear. For the price, this is amongst the best-priced quality dress shirts available.
The colors available are extensive, and each gives off a brightness that makes each shirt stand out. The colors also go well with most suit jackets and ties, and the shirt even looks stylish when worn on its own.
These shirts are very light and airy, which is a huge bonus. However, this comes at the cost of the shirts being particularly thin, which could pose a problem on cold days. Although promising to be crease-free, these shirts require additional ironing.
Pros
Comfortable
Inexpensive
Lots of colors available
Stylish design
Light and airy
Cons
Very thin
Sometimes requires ironing
CHECK LATEST PRICE ON AMAZON.COM
Stacy Adams Men's Dress Shirt
This shirt from Stacy Adams comes in a variety of refined styles all based around a paisley pattern, which makes for interesting and attractive options. On top of these patterns, this garment comes with the essential dress shirt characteristics – a sizable breast pocket, cuffed sleeves, and buttoned closure. Made from cotton and spandex, these shirts are designed to fit comfortably.
Review
This modern fit shirt from Stacy Adams is perfect for most body shapes, and the spandex and cotton materials make for a comfortable fit that is not at all constricting. The spandex also keeps wrinkles on the shirt to a minimum.
However, there are no buttons near the bottom, so this shirt may be unsuitable for wearers of a certain height. Although suitable for the office, this shirt would work best at a formal event, such as a homecoming dance, where it would make the wearer stand out.
With lots of patterns available, buyers are sure to find a pattern to match an outer coat or suit jacket. This shirt is not too thin or flimsy and keeps the wearer warm on colder days. The collar is not button-down, though, which may be an inconvenience.
Pros
Perfect for most body shapes
Great for a formal event
Lots of different patterns
Not too thin
Cons
No buttons near the bottom
No button-down collar
CHECK LATEST PRICE ON AMAZON.COM
Chef Works Men's Gingham Dress Shirt
This basic checkered shirt from Chef Works is available in red, navy, and black, and it is made of polyester and cotton. Featuring a left breast pocket, a back yoke, cuffed sleeves, and a button-downed collar, this shirt offers all the basics. With a long and loose bottom, this shirt is made to be tucked in.
Review
This is a good buy for anyone looking for a basic shirt that features all the essentials. The material itself is rugged enough and renders the shirt suitable for all lines of work.
The colors available – red, navy, and black – are subtle enough to go with any outfit and will not stand out. Some buyers may find the sizing to be slightly off from standard size guides. Be sure to refer to the exact measurements that are posted by Chef Works.
Pros
Looks great
Can be worn anywhere
Rugged and strong
Subtle colors
CHECK LATEST PRICE ON AMAZON.COM
Tommy Hilfiger Slim Fit Men's Dress
This cotton shirt from Tommy Hilfiger comes in a variety of pastel colors and is available in both long and short sleeve varieties. These shirts are non-iron and look refined on all body shapes, as the fabric stretches and molds itself around the user. The shirt features a buttoned closure and adjustable sleeve cuffs.
Review
The length and collar fit perfectly around the body, and the bottom of the shirt is significantly longer. However, this makes it more comfortable to tuck in.
While the shirt is crease-free, unfortunately, the bottom of the shirt will appear creased over time. The pastel colors appear exactly as they are described in the description, which gives the shirt a light, alluring appeal.
For a premium brand such as Tommy Hilfiger, this dress shirt is particularly well priced in comparison to others on the market.
The shirt is lacking in both a breast pocket and a buttoned-down collar. However, this arguably gives the shirt a more clean, basic look.
Pros
Perfect, adaptable fit
Crease-free
Comfortable to tuck in
Attractive colors
Inexpensive
Cons
The bottom will become creased
No breast pockets or button-down collar
CHECK LATEST PRICE ON AMAZON.COM
Conclusion
As you can see, there are several great options for dress shirts that will not break the bank. Overall, we'd recommend the Stacy Adams Men's Dress Shirt for its variety, price, and thickness.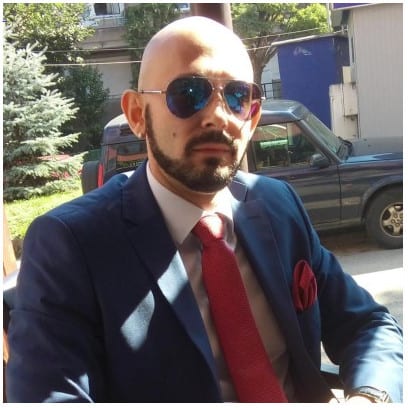 Samoel Ovanessian is the founder and creator of StylishAlpha.com – a website dedicated to men's fashion. As a proud owner of more than 200 ties, he loves digging through new clothing combinations for everyday use, formal events and even just for fun. You can read more about Samoel here.