Life is full of surprises, and whether that surprise takes the shape of a formal event, a job interview, or a business meeting, it's always important to have a luxury tie on hand to go with your suit. However, with ties being one of the oldest accessories in garment history, it's hard to know where to begin, so here is a comprehensive list of the best luxury ties.
Comparison Chart
Luxury Ties Reviews
Mahogany Row Luxury Men's Neckties
This set of five Italian microfiber ties is ideal for those with both office and formal arrangements to attend to. Each of the five ties is handmade and boasts a unique pattern and design. Woven with jacquard, these ties are designed to remain crease-free and stain-resistant. This collection also features two modern tie bars and a convenient storage box.
Review
Considering that this pack offers five luxurious ties, as well as two tie bars and a reusable storage box, this luxury tie set from Mahogany Row is one of the best on the market in terms of value for the money.
The cheapness does not reflect in the overall quality of the ties, though, as they feel well made and soft to the touch. The ties have intricate designs but aren't overly brash, and they remain stylish and regal.
Given the sleek box that the ties come in and the layout of the ties therein, this product makes for a perfect gift. The only real drawback is the fact that they come as a set and cannot be bought individually.
Pros
Premium quality
Soft to the touch
Stylish and regal
Versatile
The perfect gift
Cons
Cannot be bought individually
Expensive
CHECK LATEST PRICE ON AMAZON.COM
Tavato Premium Men's Gift Tie Set
One of the more extensive offerings on the market, this Tavato set comes complete with three 60" ties, three handkerchiefs, four cufflinks, and four tie bars. With all the accessories included, this set is perfect for graduations, meetings, birthdays, and weddings. Made with polyester, Tavato promises that the ties in this set are non-fading and highly durable.
Review
This set offers great value for the money if you're looking to buy all the necessary accessories for graduation, a meeting, or a wedding. On top of the ties, this pack comes with handkerchiefs, cufflinks, and tie bars.
Each of the three ties is elegant and vibrant, but they are different in style and design. Also, each has a coordinating cufflink, handkerchief, and tie bar, which is a huge plus.
The ties are of premium quality and feel durable. However, they are not the softest ties. As handy as the accessories are, they are notably of lesser quality in comparison to the ties – particularly the cufflinks.
Pros
Good value for the money
Versatile
Elegant and vibrant look
Coordinating accessories
Premium quality
Cons
Can feel rough
Accessories are of lesser quality
CHECK LATEST PRICE ON AMAZON.COM
Lorenzo Cana Silk Tie
This handmade tie from Lorenzo Cana is woven with jacquard and is expertly designed for tie connoisseurs. Coming exclusively in a paisley patterned black, this tie is made for people looking for a basic tie with the utmost elegance. Made from 100% heavy silk, Lorenzo Cana has designed this tie to be long-lasting, crease-free, and smooth to the touch.
Review
This tie is sure to give off the allure of elegance for the businessman or office worker, with a subtle paisley pattern giving it a burst of individuality. Lorenzo Cana has handcrafted this tie using 100% silk, the effects of which can be felt in the touch.
The tie offers the utmost softness, which helps make it very comfortable to wear. It also has a voluminous appearance due to the materials used and the embroidery.
Given that the tie only comes in black, it can be worn alongside almost any shirt or suit. However, this tie may not be the best option for those seeking a more flamboyant clothing accessory.
Pros
Simple and elegant design
100% silk ensures softness
Voluminous
Versatile
Cons
Lacks color
Not that noticeable
CHECK LATEST PRICE ON AMAZON.COM
Secdtie Men's Paisley Tie
These ties are for those looking for a flamboyant, out-there look with a unique, intricate paisley pattern embroidery on each. Offering a wide range of colors to chose from, these ties are designed for both formal and celebratory events. The ties are made from microfiber polyester and are handcrafted with high attention to detail.
Review
The woven patterns give a sturdiness to the ties, giving them a voluminous quality, as well as a light gleam. This, alongside the pattern itself, make these Secdtie products stand out in the crowd while giving your outfit character and style.
The thickness of the tie also makes for a very tight knot, meaning that the tie will not loosen over time. The background color to the pattern, mainly silver or black, creates a nice contrast and elevates the paisley design further.
Although the tie goes well with certain shades of suits, it does not go well with all shades. This tie is recommended to be worn alongside a matching handkerchief. However, this is not included.
Pros
Sturdy and voluminous
Does not loosen
Contrasting colors
Flamboyant
Cons
Does not go with all outfits
No matching handkerchief
CHECK LATEST PRICE ON AMAZON.COM
Massi Morino Men Tie Set
This durable tie from Massi Morino is well crafted using 100% polyester and is available in several regal colors and patterns. Massi Morino promises that each tie will be long-lasting and comfortable to wear. This set also includes a matching scarf, a silver tie clip, and cufflinks.
Review
The simple design of these ties works, especially when paired with the matching clip, cufflinks, and scarf. It is ideal for business meetings or job interviews.
The wide range of colors and designs available allows the user to choose the most appropriate option to go with their outfit. The material appears durable enough. However, it is not the sturdiest and makes the tie look slightly floppy.
On the other hand, the wrinkles can be easily ironed out. Also, the packaging that the set comes in is very elegant and practical, and it can be used as a means of storing the tie and accessories when they are not being used.
The cufflinks and scarf are handy accessories. However, they are of noticeably lower quality than that of the tie.
Pros
Simple design
Ideal for business
Wide range of colors
Durable
Easily ironed
Packaging useful for storage
Cons
Slightly floppy
Accessories of a lower quality
CHECK LATEST PRICE ON AMAZON.COM
Conclusion
Although there are several excellent options, these are just five of the best that we found. From the above luxury ties, we'd recommend the Lorenzo Cana Silk Tie to any man for its voluminous and overall stand-out design.
For more stylish options to complete your look, be sure to check out our reviews of the Best Floral Ties and the Best Bolo Ties.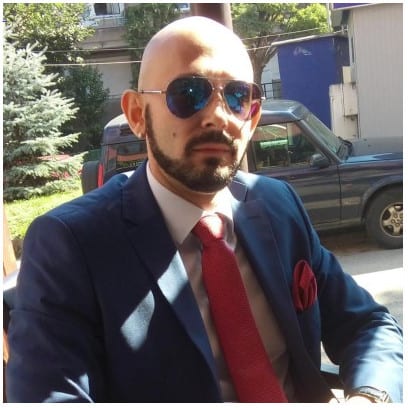 Samoel Ovanessian is the founder and creator of StylishAlpha.com – a website dedicated to men's fashion. As a proud owner of more than 200 ties, he loves digging through new clothing combinations for everyday use, formal events and even just for fun. You can read more about Samoel here.