When a man looks to update his wardrobe, one of the many things that can do this is a nice suit. But with that suit, the gentleman should also look at investing in some beautiful and impressive men's floral ties. You can choose from many different patterns and prints, but finding ones that match your personality and style is key.
Perhaps that means that you are a gentleman who might want to peruse a few floral ties. Below we have taken a look at some of the best men's floral ties that will give your wardrobe something special to make you stand out. So let's get right down to it.
Let's admit it! Even the best of us shy away from the floral pattern for fear of appearing less masculine. Whether you believe it or not, you can still maintain your masculine stance while playing around with some color. After all, this isn't the first time floral hues are making an appearance in your wardrobe.
Tips for wearing a floral tie
If you're a beginner to the world of florals, you may want to start by pairing a floral tie with a solid color. White and lighter shades pair immaculately with florals without overpowering each other. Even as a veteran, avoid intense patterns with this look as they will not complement each other.
Pick colors that bring out your skin tone. This style of tie means you get to play around with a lot more colors than you usually would. Try to find colors that do not wash you out but instead highlight your skin.
Pick the right width. Skinny floral ties might be all the rave however wearing floral ties doesn't deviate from the basic rules of tie-wearing. If you're o the bigger side, find florals with enough width to give dimension to your look. If you're a bit leaner you can get away with the skinny look. All in all, choose a width that keeps you comfortable.
Match the season and occasion. Florals are a hit at weddings so if you're pulling this piece out for a wedding, try to match the scheme even though you're not part of the wedding party. It gives a more put-together appearance. And don't forget, springtime will always be the opportune time to pull off as many floral looks as you possibly can so it's best to make use of your pieces before they have to hibernate for a few seasons.
Floral Tie Reviews
Comparison Chart
DAZI Skinny Floral Print
The first floral print tie that will be looking at is a modern skinny design crafted in high-quality cotton. The DAZI men's tie is a great option for those wanting to add a little flair for a special occasion.
Review
The tie is 58″ long and 2.5″ wide. Ideally, this design is intended for men up to the height of 6'10". Crafted with 100% premium grade imported cotton, this tie not only has durability but also has a wonderful feel to it as well. The tie itself is dry clean only as it is handmade and slightly delicate. Other than the fantastic design, there are tons of great features and benefits that any guy can take advantage of if they choose to invest in this floral tie.
When it comes to the overall design, the tie itself comes in a wide range of colors and is produced with a thinner body, giving it a much trendier look. The fact you have a wide range of colors may be the best thing about this tie as it will ensure that the gentleman who is looking to purchase it will be able to match his suit and personality perfectly.
Durability and ease of care are also other great benefits this tie affords the wearer. It is crafted with high-quality cotton that lends itself to a matte finish and a durable yet soft feel.
Though there is a lot to love about this tie, there are also a few issues that need to be addressed before a final decision is made. Like most things, the lights used in the photography of the pieces have created a richer color than the one you may receive. On top of this, there have been some issues with the durability of the seams after continual wear.
Pros
The tie is available in a wide range of colors so you can choose to suit your preferences
Cotton material gives the tie a matte, modern finish
Crafted with a durable cloth that has a soft, sleek feel
Designed with a thinner body for a more modern look
Cons
Some have found the color is not as vibrant as in the images
There have been some questions about the durability of the threading
ELZAMA Floral Skinny Tie
For those looking for a patterned men's skinny necktie that is perfect for a casual affair, the next tie we're looking at is a good choice. ELZAMA has designed a skinny tie from high-quality cotton that will make any outfit that much better.
Review
Designed with a 58″ length and a 2.4″ width, this tie can be used by just about any guy. Designed with 100% cotton, the tie is comfortable to wear and soft to the touch. The gentleman looking for a patterned tie will have a selection of 12 different floral designs, which means that there is a tie for every suit and shirt combination.
When it comes to this tie, maybe one of the best things about it is the fact that it feels like a tie that is more expensive than it is. On top of that, there are a plethora of options so that the gentleman looking to improve his wardrobe has plenty of versatility. Designed with a sleek style and coming within an accompanying tie clip, this skinny tie has a lot of value for a very budget-friendly price.
That being said, the length of the tie is nicely designed to be versatile when it comes to a person's height. However, there may be a couple of things that cause it to be a disadvantage. For those gentlemen that have a thicker neck or a longer torso, they may find that the tie is not quite long enough. On top of this, the cotton used in the process and the overall design leave the tie feeling skinny but thick. If the guy likes to tie a smaller knot, then that may be an issue for them.
Pros
Tie feels like it is on par with more luxury options
A plethora of options help enhance the versatility of the tie
Crafted with a sleek style that looks great on most people
Comes with a tie clip to enhance the wearer's look
Cons
The length of the tie might be an issue for those with a long torso or larger neck
Some might find the thickness of the tie a bit of a hindrance when it comes to tying a smaller knot
Levao Floral Skinny Tie
Coming in a wide range of colors, the following tie is also a skinny modern cut crafted in high-quality cotton. This tie is perfect for a summer event or just for a business casual look.
Review
For those looking for a slightly shorter and thinner tie, this Levao tie might be perfect. When measured, this tie roughly comes in at 57″ long and 2.36″ wide. There is a wide range of colors, including sets you can purchase with more than one tie in them. The tie itself is crafted in cotton and comes with a whole slew of advantages that the wearer and their wardrobe will be pleased to take benefit from.
The quality and texture of the cotton fabric used in this design give the wearer a nice feel. Because of the skinny design and the wide range of floral pattern options, the value you get from investing in this tie is well worth it. One of the best things about this tie is the floral print itself. Each of the prints is designed with multiple rich colors that give a gentleman a more versatile pairability with their suits and shirts. All of these wonderful benefits combine to give any guy a much-needed boost to their style and wardrobe.
Of course, nothing is ever 100% perfect, and sometimes the decision to invest in something comes from your personal preferences. Because of the excessive thinness of this tie, some gentlemen will find it a little too modern for their taste. If this is the case, there are many other skinny ties that still all afford a wider look. Also, there have been many instances where the color of the tie is not consistent with the online image.
Pros
The quality and the texture of the fabric is excellent and strong
Price versus value is on par with more luxury options
Design of tie allows for a wide range of use from casual to special occasions
The floral print is multi-colored for even more pairing options
Cons
Some gentlemen may find the tie a little too thin for their personal style
There have been issues with the color consistency
Mantieqingway Printed Skinny Tie
Not only can you buy these skinny floral print ties singularly, but you can buy them in sets which makes this option not only versatile but budget-friendly. That is why this type from Mantieqingway has been added to this list.
Review
This skinny floral tie is crafted using a flexible and premium-grade cotton material. This cotton material allows for improved durability as well as feel. Crafted with a 57″ length and a 2.36″ width, this tie is shorter than the standard tie but is perfect for a wide range of occasions as well as body types. Designed with a retro style, the gentleman can be sure to stand out in the crowd.
There is a lot about this tie that stands out. From the soft cotton material that helps add a little extra to that retro print to this floral print itself, which is sure to get plenty of compliments for the wearer, this tie is by far one of the best investments any guy can make for his wardrobe.
As a bonus, each tie that you buy comes with a how-to guide on tying the proper knot. Also, unlike many other ties, the colors of this design tend to be very accurate with the images used to market them.
There are still a few drawbacks, though, when it comes to choosing this tie for your wardrobe addition. There have been some that have experienced pilling of the fabric only after a few wears. This will, of course, detract from the overall feel of the tie and decrease the longevity that the gentleman may be able to wear it. On top of that, the stitching has been known to come loose rather easily.
Pros
The tie comes with an instructional guide on how to tie it
Soft cotton-like material lends a vintage look to the tie
Stylish print is designed to grab people's attention
Colors are consistent with the images provided
Cons
Issues with the stitching coming loose
Some have experienced pilling of the fabric after limited wear
HISDERN Paisley Necktie
The last tie is not a traditional floral pattern but rather a paisley design, which can be lumped into this classification. This tie from HISDAERN is a classic necktie that also comes paired with a matching pocket square which makes it well worth a second look.
Review
This paisley tie is designed in 100% silk with a 59″ long and 3.4″ wide silhouette. The pocket square that comes with it is 10″ by 10″. The tie and pocket square combination comes in a wide range of metallic-like prints that give it a uniquely modern yet classic look. No matter what occasion you're looking to update your wardrobe for, whether it be for work or play, this tie is a great way to do it.
Because of the designer's dedication to using high-quality material, this tie will stand the test of time. Crafted with premium-grade silk, the tie is durable yet flexible. The silk also affords this tie no chance of stretching out after wearing as cotton ties often do. Adding a pocket square to the purchase only serves to elevate the stylishness and benefit of choosing the tie.
On top of that, the tie has two colors as opposed to multiple, which for those that are challenged in matching a patterned tie with a patterned shirt will make the process much easier.
Unfortunately, though the use of silk makes the tie more durable as well as heightens its stylishness, it also means that the tie is thicker than other options. This thickness can affect the ease of tying the knot and the type of knots you can tie. Other than that, though the tie is of a standard length, it may be too short for those with a broader torso or who are taller than average.
Pros
Crafted with high-quality material to improve durability
The tie does not stretch out after being worn
Comes with a matching pocket square that looks great
Two-tone coloring makes it easier to match with other patterns
Cons
The thickness of the tie affects the usability of this accessory
Some may find the length of the tie to be a bit too short
Final Verdict
Sometimes when gentlemen are building a wardrobe or updating one, they want to add a little something extra to show their personality. When it comes to accessories like ties, this often means looking for cool prints or unique designs.
Though a floral print is a classic depending on the print itself and the design of the tie, a gentleman may find that this is the best option. The ties above are just a few of the best of the best when it comes to men's floral ties available today.
For more stylish options to complete your look, be sure to check out our reviews of the Best Skinny Ties and the Best Luxury Ties.
FAQs
Can I wear a floral tie to work?
Floral ties are not considered professional attire however with the new business casual policies across work environments, I believe it is possible to get away with wearing a floral tie to work.
Can I wear a floral tie with a tweed blazer?
Absolutely not! Tweed is already very busy and may end up overshadowing your tie, which we believe is a standout piece. Instead, settle for more neutral patterns and colors to draw attention to the tie.
Can I use a pocket square when wearing a floral tie?
Yes, a pocket square that complements your floral tie could be just that finishing touch you need. And by this, we do not mean the tie and pocket square set but an entirely different complementary piece.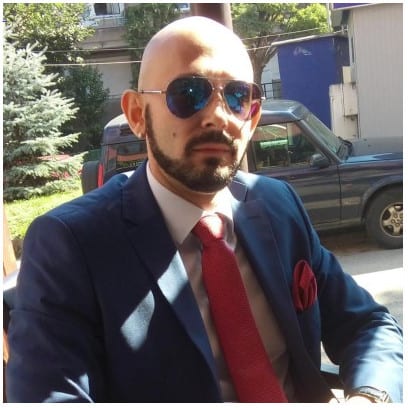 Samoel Ovanessian is the founder and creator of StylishAlpha.com – a website dedicated to men's fashion. As a proud owner of more than 200 ties, he loves digging through new clothing combinations for everyday use, formal events and even just for fun. You can read more about Samoel here.