Anyone who knows men's fashion will tell you that ties are the quintessential accessory for a classy style. Whether you are into polka dots, plaid, floral, or solid patterns, choosing the right one can go a long way when it comes to helping you look your best.
However, skinny, wedding, and elegant ties aren't the only ones that the market has to offer. In the past couple of years, and especially among celebrities, bolo ties have been in demand. Usually coming in the form of braided leather with a stone or a metal pendant, these can't be combined with an elegant suit. However, with a high-quality polo shirt or sport coat, they work like a charm.
To help you understand the concept of this product, we have prepared a list of the best bolo ties and highlighted both affordable and high-end models. Let's get started!
Comparison Chart
Bolo Ties Reviews
Flashy occasions call for a suit and tie however did you know you can deviate from the regular tie and stand out with a bolo tie? This style that was originally attributed to the West has taken the fashion world by storm in recent years and even high-end luxury brands are jumping on this chic look.
What is a bolo tie?
In case this is the first time you're hearing about the bolo tie, we understand that not all of us are constantly on top of fashion trends. A bolo tie is a necktie that is made from a cord of braided leather that is secured to the neck with a metal clasp.
These metal clasps are often made available in a variety of styles and sizes allowing you to pick a style that portrays your personality.
The origin of this tie is unclear as some people attribute it to the Native American community while others believe it was accidentally discovered by a cowboy during his horse ride.
Regardless of its origin, this piece has come a long way since it first hit the fashion industry. Here are some of the finest bolo ties we could get that will help you stand out without breaking the bank;
HUABOLA Round Shape Western Cowboy Bolo Tie
Starting off our list with one of the most recognized names in the bolo tie sphere, these are not only of great quality but also incredibly eye-catching. Available in a plethora of variations, including Black Rhombus, Black Agate, Black, Tiger Eye, Totem Element, and Turquoise, there is something for everyone!
Review
Whether you are looking for a fashionable gift or you are interested in trying bolo ties yourself, HUABOLA models are a superb choice. The first thing that we want to discuss is the hand-braided leather rope that is set at 41 inches in length and 0.15 inches in diameter. There is an alloy piece at both ends to ensure that the ends don't fray.
When it comes to the size of the pendant itself, it all depends on the model that you are going for. The Black Agate is 1.65 inches by 1.4 inches, while the Turquoise is set at 2.5 inches by 1.8 inches. The best thing about these ties is that the stone is all-natural, and all the cracks are completely intentional.
The main concern that we have for this product is that the cords take a while to straighten out after not being used for some time, but other than that, this is a fantastic product that you should certainly consider.
Pros
Great price
Fancy natural stone pendants
Suitable dimensions
High-quality braided leather
Cons
Takes time to straighten out
CHECK LATEST PRICE ON AMAZON.COM
HUABOLA Bolo Tie for Men
If you were moved by the aforementioned product, then this one may be even more interesting to you. Once again coming from HUABOLA, this tie is suitable both for men and women, and it is highlighted by an engraved letter (of your choice) in an aluminum alloy pendant.
Review
Even at the affordable price that this tie comes at, you get all the freedom of customizing your own bolo tie. The pendant is quite attractive, combining the elements of black, gold, and silver colors to achieve a very stylish appearance. Made out of aluminum alloy and measuring 1.68 x 1.96 inches, you should have no doubt that this product can withstand regular use.
Much like with the stone pendant bolo tie, this one has a 41-inch braided leather rope that is secured with aluminum tips. The main issue that we have is that the leather is a bit stiff. Still, for the price and given the overall design quality, this is a bolo tie that you should definitely consider as a gift or even for yourself.
Pros
Fancy engraved letterings
Long, braided, leather rope
Sturdy aluminum alloy pendant
Good price
CHECK LATEST PRICE ON AMAZON.COM
COOLLA Bolo Tie Handmade Western Cowboy
Moving on with our list of the top bolo ties, COOLLA does a fantastic job when it comes to designing neck chains that can be worn by both men and women. Made out of aluminum alloy and all-natural leather for the rope, it is a fashionable product that can be used for different occasions.
Review
The first thing that we want to discuss is the variety of featured designs. You can choose from bold ones, such as the Bolo Tie Eagle or Bolo Tie Wolf, or more classy ones, such as the Wing Silver or pendants with customized letters. The rope is set at 42.5 inches, with the aluminum alloy tip being around 1.5 inches long to prevent fraying.
The pendant is a bit big, so you should be quite careful when it comes to choosing the design that suits you (especially for women). Other than that, it is a premium product that will last you for years and that can nicely compliment your style!
Pros
Fantastic price
Engraved letters and symbols
42.5-inch leather rope
High-quality pendant
Suitable for different occasions
CHECK LATEST PRICE ON AMAZON.COM
Thunaraz 4Pcs Bolo Tie
When talking about the best bolo ties, it is essential that the designer offers a wide assortment of models that you can choose from. You will be happy to find that in this offer, you will find four different pendants in one set – the Texas Star, the Turquoise Stone, the Cow Skull, and the Eagle.
Review
For all of you who are looking to get a set of bolo ties, this is an adequate choice. The quality is immense given the hand-braided cow leather and silver-plated alloy that ensures the pendant can be worn on a daily basis without breaking or scratching.
There are four completely different styles, which means that you can effectively put these to use for both formal and fancier events. The rope is a bit too big, but that is something that you can adjust with a short knot. Overall, this is a fantastic set that you should definitely opt for if you are a fan of versatile bolo ties.
Pros
High-quality braided leather
Four pieces – Skull, Eagle, Stone, Star
Silver aluminum alloy
For fancy and formal events
CHECK LATEST PRICE ON AMAZON.COM
KDG Triangle Nature Bolo Tie
At the end of our list, we have a product that is suitable for anyone who is attracted to natural stone pendants and wants to step up their fashion game with a bolo tie.
Review
The first thing that differs from the aforementioned products is the length of the leather role, which is set at 38 inches. This is a good feature, as you won't have to do any further adjustments. The zinc alloy and natural stones ensure that the quality of the pendant is excellent.
Highlighted by a plethora of design options, including Tiger Eye, Black Crack, Blue Crack, Red Crack, Sand Blue, and a few others, you should have an easy time combining one of these with your suit jacket or blazer. While the length of the lace is proportionate, we would like it if it was somewhat thicker to ensure more durability. However, for the price and given the attractive design, this KDG tie is a superb option.
Pros
Fashionable
High-quality zinc alloy pendant
Natural stones
Adequate lace length
CHECK LATEST PRICE ON AMAZON.COM
Things to consider when picking a bolo tie
Leather
Traditionally, bolo ties were made from real leather however, the new age has become more environmentally aware making faux leather a hit when making bolo ties. The truth is, nothing can beat good ole leather as it is sturdy and durable.
While faux leather is acceptable, it is only good for a while. If you decide to go with faux leather, stick to the darker colors as it finishes any look off
Length
Bolos were initially made long however they have since evolved to accommodate the modern wearer. You can easily find a bolo tie in the standard length (38-40cm) and the extra-long length (42-44). Like with the necktie pick the standard length if you're of average height and leave the extra-long for the taller gents.
Slide and Tip Color
The tips of the average bolo tie come in silver however there is no rule book holding you back from trying the gold look. The slides on the other hand come in a multitude of shapes and materials from metal, resin, stone, or wood. You can always use this piece to showcase your personality or settle for the standard pieces.
Wrap Up
At the end of the day, it all comes down to what you are particularly interested in. If you prefer natural stones, then the KDG bolo tie is a fantastic choice given the quality of the pendant and the fact that you can wear it both when dressed formally or casually.
On the other hand, if you want to get the most for your money, and you are more attracted to symbol pendants, then we would suggest the Thunaraz set that features an Eagle, Texas Star, Cow Skull, and Turquoise Stone!
For more stylish options to complete your look, be sure to check out our reviews of the Best Luxury Ties and the Best Pocket Squares.
FAQs
How can I straighten my bolo cord?
Your bolo cord losing its shape is completely normal as the process of making the leather cord includes coiling the leather around a spool. To fix this, hold the cord in one hand and use the other to pull back and forth until it straightens.
Can I make my bolo tie?
With the right equipment, yes you can. The process is fairly easy and if you have extra time to spare and a creative imagination, you can follow guides to create a unique masterpiece.
Are bolo ties controversial?
Native Americans often associate bolo ties with their culture however due to the unclear origin of this style of tie this concern is often swept under the rug. If you are concerned about appropriating, it is safe to say that fashion has mingled greatly over the years and different styles have adapted to numerous areas. If anything it is simply appreciation.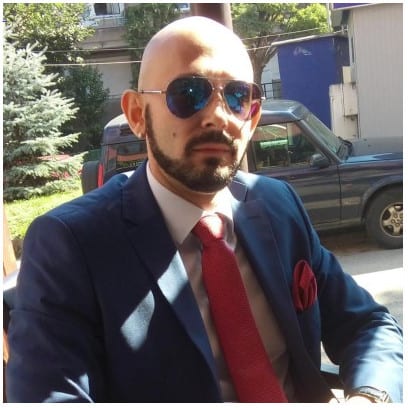 Samoel Ovanessian is the founder and creator of StylishAlpha.com – a website dedicated to men's fashion. As a proud owner of more than 200 ties, he loves digging through new clothing combinations for everyday use, formal events and even just for fun. You can read more about Samoel here.