A patterned shirt can add style and pizzazz to any outfit and help you look great for any occasion. Whether it is business casual Fridays at the office, or you want an everyday outfit that is comfortable and stylish, the right pairing of a pair of pants with a patterned shirt helps you stand out from the crowd without looking too eccentric, clownish, or overly dressed. 
For men, wear dark-hue solid-colored dress pants, jeans, chinos, or shorts with most types of patterned shirts. For women, blue chinos and denim jeans pair well with patterned shirts, especially ones that are light-colored with floral designs.
Are you a fan of patterned shirts and are having difficulty pairing your favorite shirts with the right type of pants? Well, you have come to the right place. In this guide, we will look at what pants go best with different styles of patterned shirts and share some top tips to help make mixing and matching easier.
What Is A Patterned Shirt? What Are The Types Of Patterned Shirts?
Patterned shirts have been around for ages and are a staple attire for fashionable men and women. A patterned shirt has a recurring pattern (hence the name) that can be in the form of lines, colors, and shapes such as paisleys and polka dots. There are also bolder patterns such as floral-designed patterned shirts and plaids, that are less formal but are becoming increasingly trendy amongst men and women.
Adding patterned shirts to your wardrobe is a great way to open up options for casual and formal wear as these shirts can be used for a range of different styles, whether it be a dressed-down suit look, holiday vibes, or something to wear on top of your denim jeans.

Some patterned shirts are more subtle and can be used for formal occasions and business attire. Others are a lot more vibrant and informal, which makes them perfect for fashionable casual wear. 
So, before moving on to pants, let's look at each style of patterned shirt in more detail and gauge which one best matches your style, personality, and needs.   
You will also like these other popular style guides:
The Rugged & Dependable – Checks
Checks have been around forever but are just as popular today. The three styles of checks you see the most include the tattersall, gingham, and windowpane.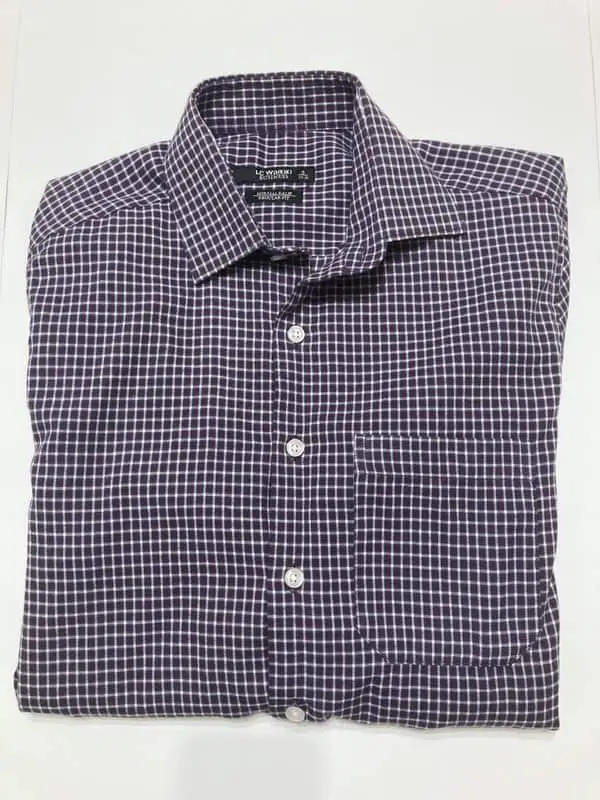 Windowpane and tattersall usually offer more subtle check designs, such as graph patterns, and are the perfect way to add a bit of style to your formal business attire. On the other hand, the gingham style is a lot bolder with much larger checks that are often in a different color than the base color of the shirt, making them ideal for party wear and casual wear.
Always In Style – Stripes
The classic striped patterned shirt is a timeless favorite for many working men and women as their subtle designs, and cool colors make for the perfect business attire. The three most popular styles of stripes include the Bengal stripes, pencil stripes, and pinstripes.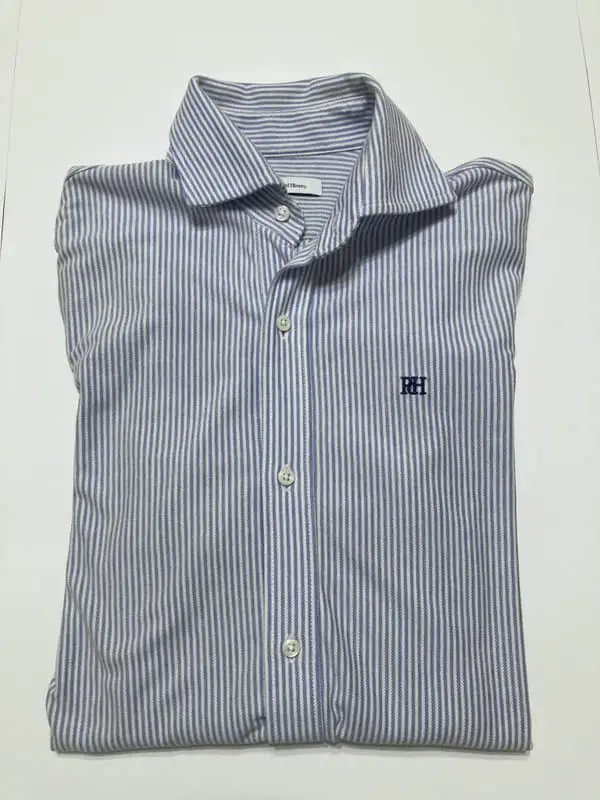 Bengal stripes have vertical lines that are thicker and more spread out. This offers a bolder look. 
Pencil stripes are the most conservative and versatile style. They can be used for both formal and informal wear making them a solid medium stripes option. 
Pinstripes have much thinner lines that are very close to one another and are a popular choice when pairing a shirt with textured or solid-colored suits.
Bold & Trendy – Geometric & Floral Prints
Perhaps the most trendy of all the styles, geometric and floral patterned shirts are cooler and hipper than ever with the latest designs offering a suave, sophisticated, and modern casual look that is sure to turn heads.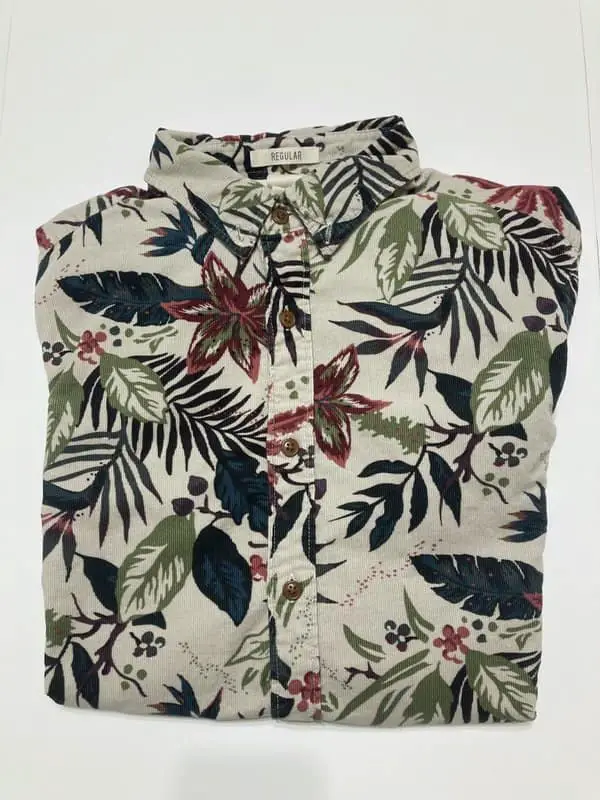 Those wanting to add a little more style and pizzazz to their casual wear should add geometric and floral printed patterned shirts to their wardrobe. 
The Full Lumberjack – Plaids
Plaids are the staple style for men that tend to love the outdoors and are perhaps the most "manly" of all shirt styles. Although, recently, they have become an increasingly popular style for women as well. Plaid shirts usually have busy patterns that are a mix of lines and checks and can involve multiple colors.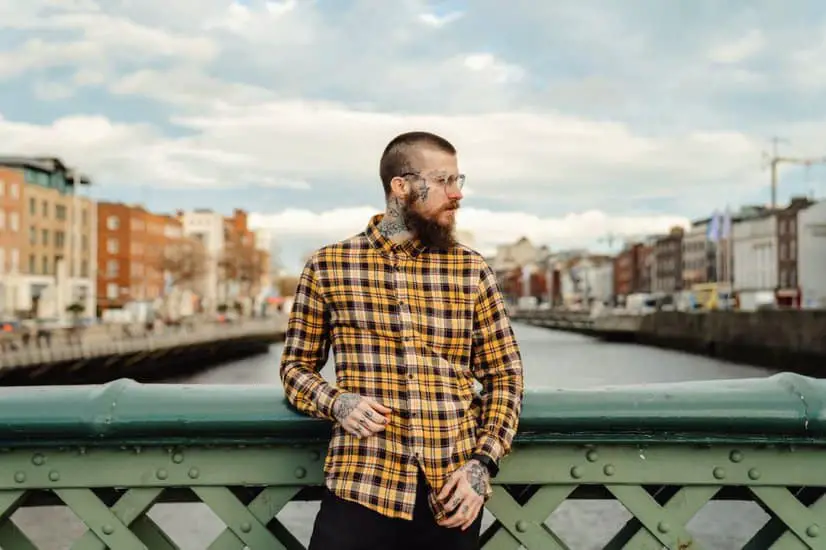 What Pants To Wear With What Type Of Patterned Shirt?
Alright, so now that you know about the different types of patterned shirts, it is time to find out what type of pants go best with each type.
What Pants To Wear With Striped Shirts?
The reason why striped shirts are so popular is that they go well with a range of pant options. Whether you are wearing a striped shirt over a pair of dark denim jeans, neutrally-toned dress pants, or solid chinos, you are likely going to pull off the look. Just make sure your pants aren't striped as well, as that would be a fashion disaster!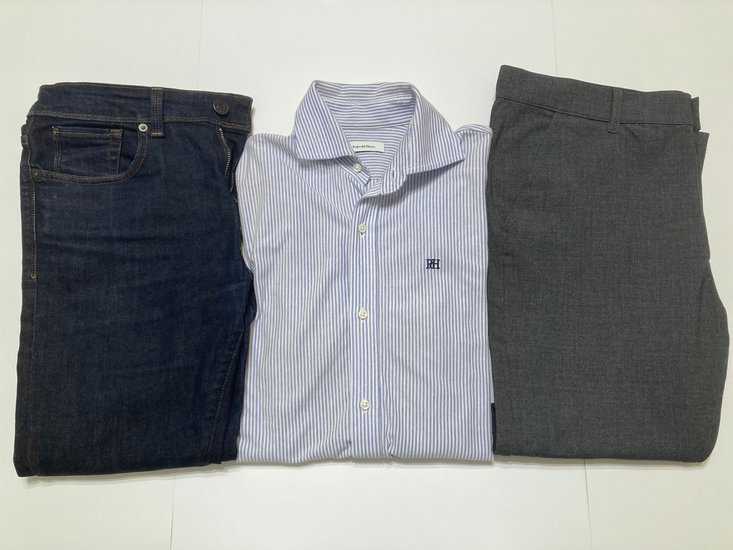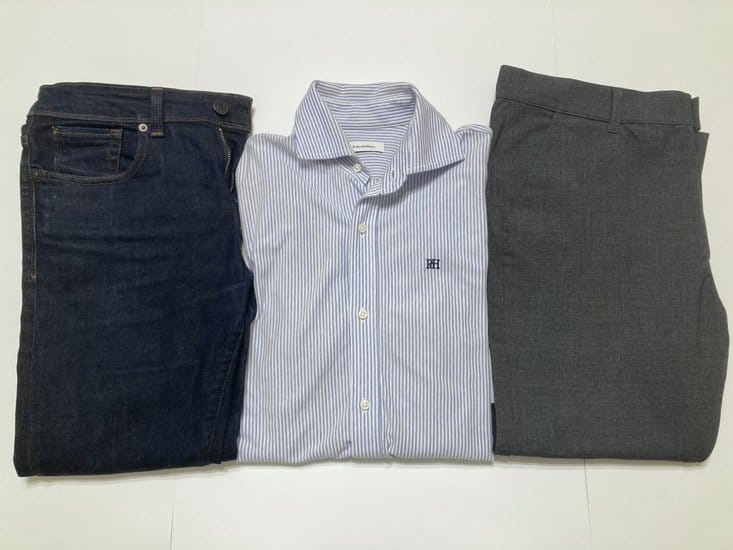 What Pants To Wear With Checked Shirts?
You will use a similar pairing of pants for checked shirts as well. A pair of dark-colored dress pants, denim jeans, or chinos are your best option for a sophisticated and clean look that can be further dressed up by adding a solid-colored jacket, suit, or tie.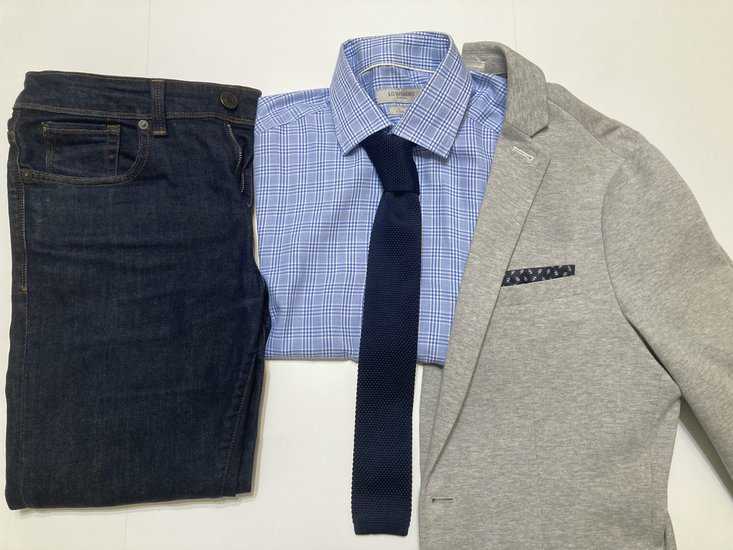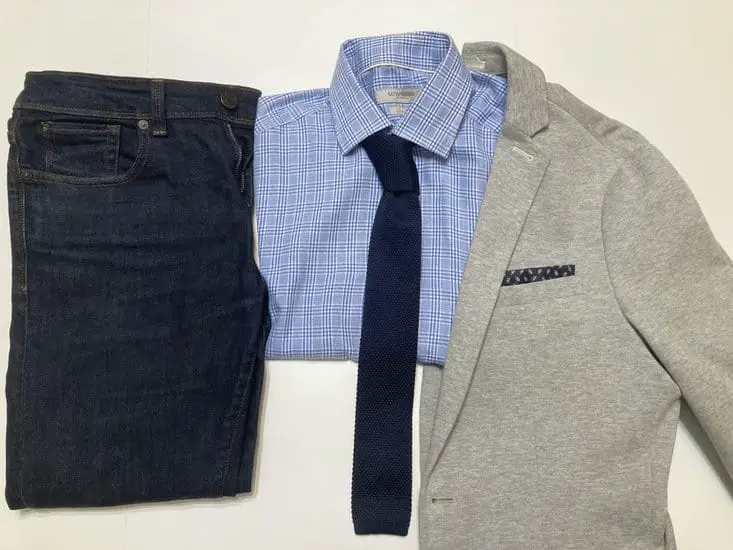 What Pants To Wear With Geometric & Floral Prints?
Let's be honest, you are not going to walk into a corporate business meeting or wedding wearing a floral-printed shirt, so avoid pairing this type of patterned shirt with formal dress pants. What works best is a pair of dark jeans or chinos, preferably in a solid gray or tan tone. If you are on holiday, rock a pair of solid, light-colored shorts for the ultimate Hawaiian holiday tourist look.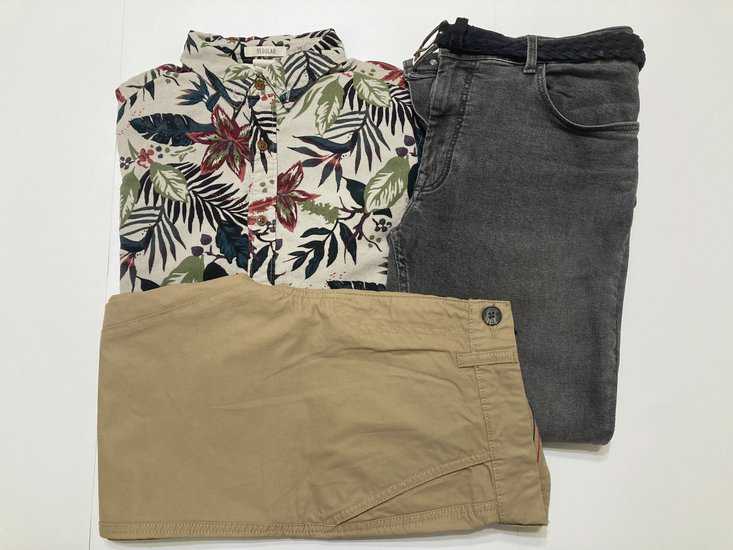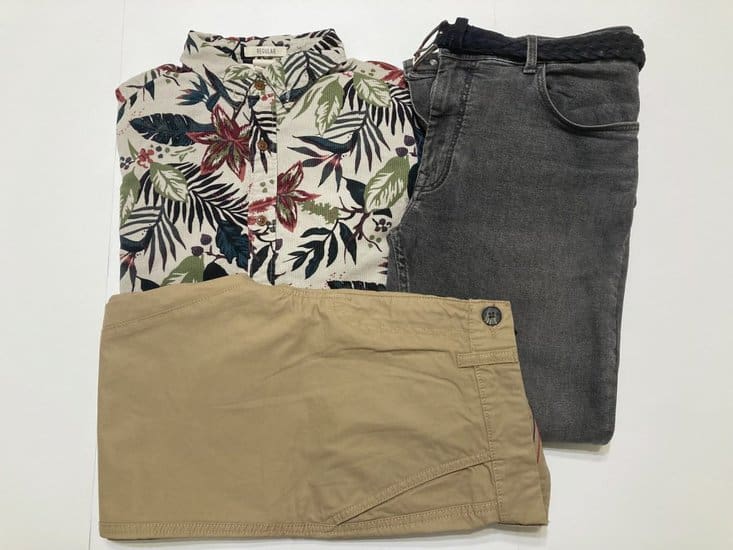 The geometric or floral patterns on the shirt are the mainstay of your styling, so make the rest of your outfit more subtle to help balance the look.
What Pants To Wear With Plaids?
As plaid shirts have busy patterns and are designed for casual wear, pairing them with a pair of solid-colored shorts, denim jeans, and chinos is the best way to show off your rad plaid designs. If you feel the plaids are a bit too much, you can tone down your look by putting on a dark blazer, lightweight jacket, or light-colored sweater to balance the outfit.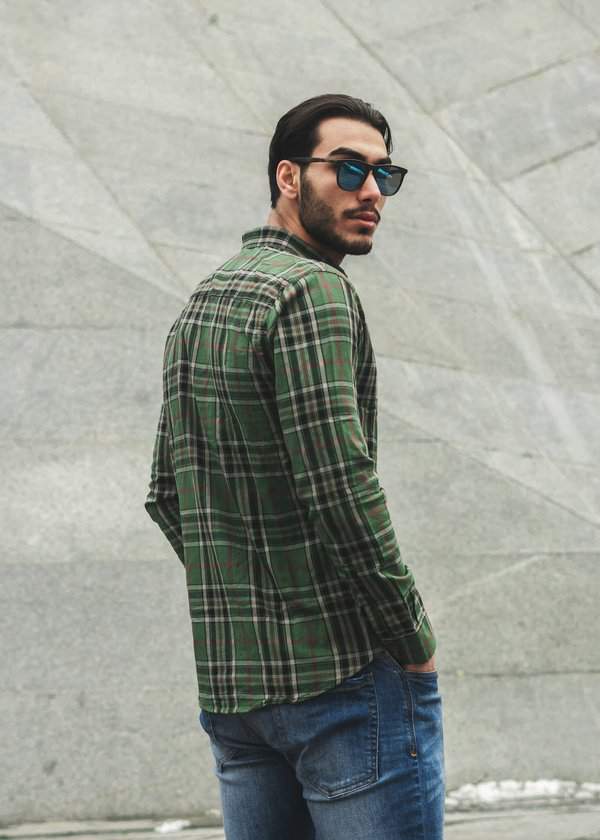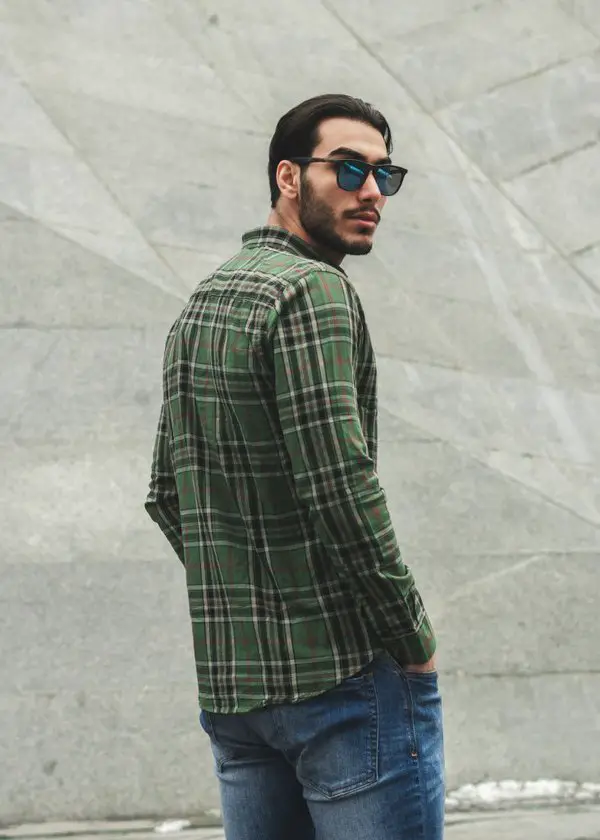 Top Tips For Matching Pants With Patterned Shirts
Here are some of our top tips to help you match pants with patterned dress shirts.
As a rule of thumb, the bolder and busier the pattern on your shirt, the more subtle and bland your choice of pants should be. This is because wearing bright-colored, textured, or patterned pants on a patterned shirt will, in most instances, take things well over the top and make you look like a little bit of a fool.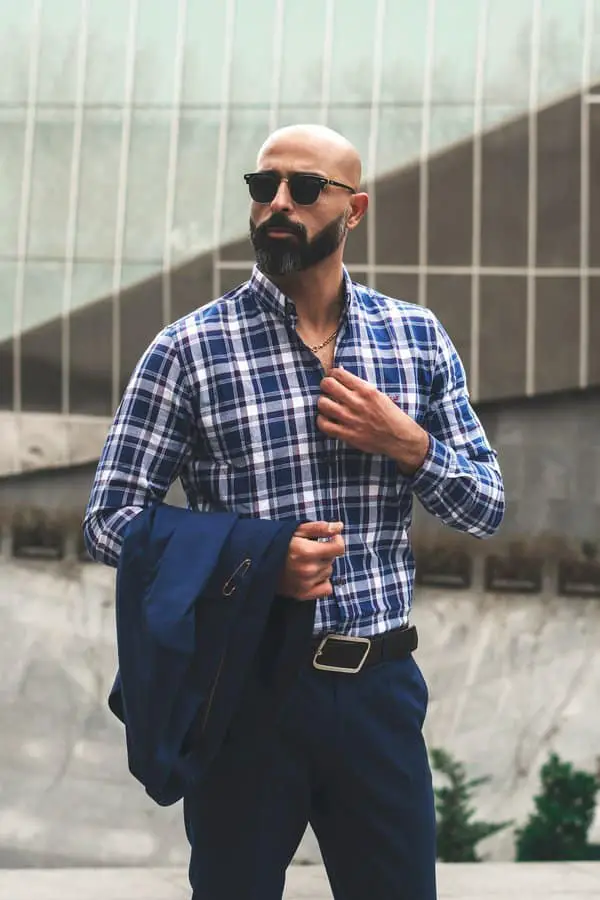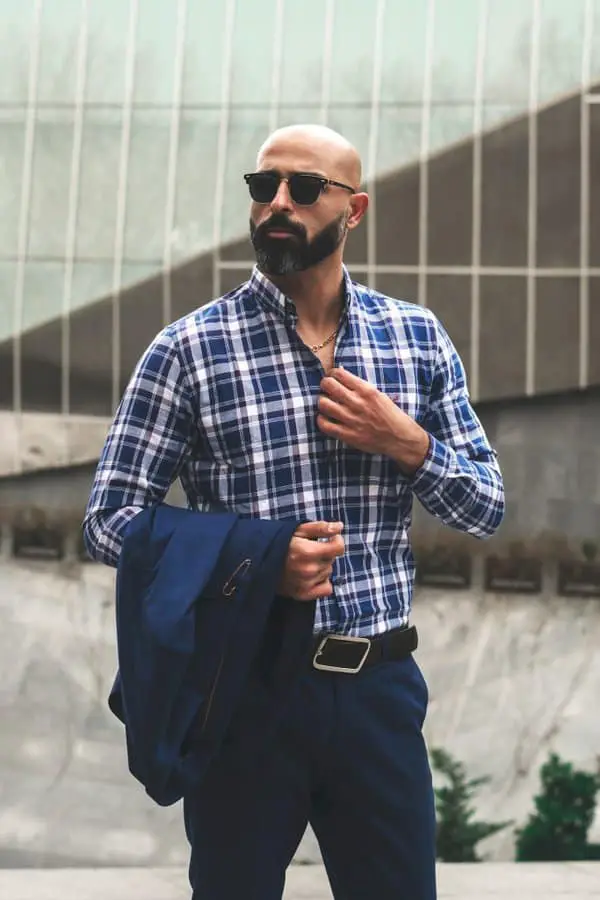 Avoid wearing striped pants with patterned or solid dress shirts. This is because this gives the impression that you have broken up your suit into two (even if you haven't), which is not a good look.
Keep your styling philosophy simple. Solid shirts compliment check, plaid, and windowpane patterned pants. Patterned shirts are highlighted more when worn with solid-colored dress pants. Stick to this general rule, and you should be able to nail your pairings every time!
The way you dress can also make you look taller or shorter. By pairing contrasting colored pants with shirts, you create a horizontal waistline that helps break up your height and makes you look less lanky or overly tall. If you want to look taller, do the opposite. Wear pants and shirts that have similar color depth, for example, a light blue shirt with a pair of light gray pants, as this makes the horizontal line less visible and offers a more elongated look.
Frequently Asked Questions
Can Patterned Shirts Be Worn For Formal Wear?
Yes, you can wear patterned shirts for formal wear, but it is recommended to choose patterns that are subtle such as a striped or lightly patterned shirt that can be worn underneath a solid-colored suit.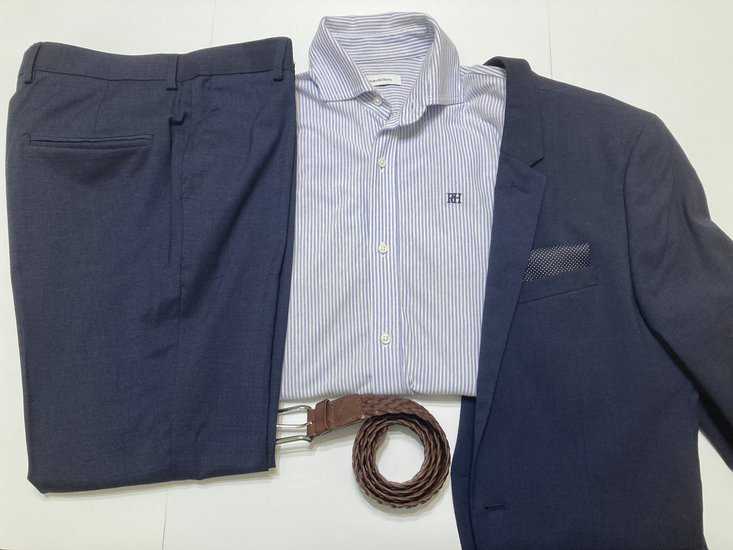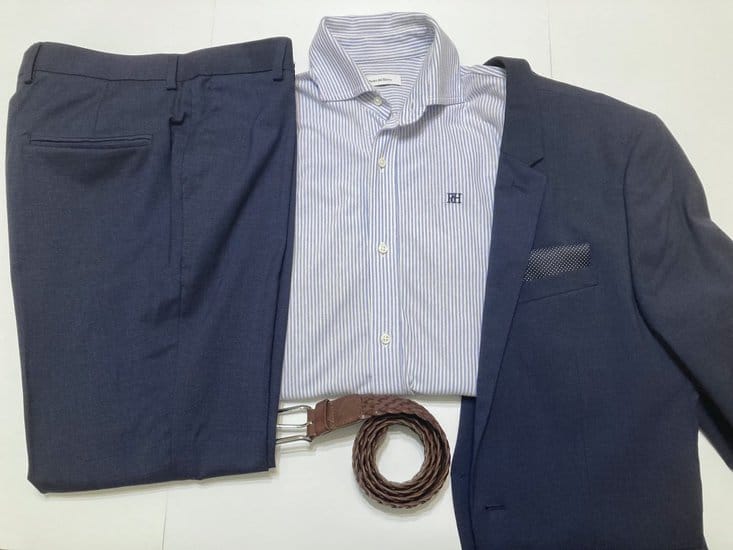 What Shirts Should You Wear With Patterned Pants?
The most important thing when pairing pants with shirts is to ensure that the outfit remains balanced. If you have a pair of striking patterned pants that you want to show off to the world, wear a solid top as that will accentuate your pants and keep the outfit balanced, helping you look great and stand out from the crowd.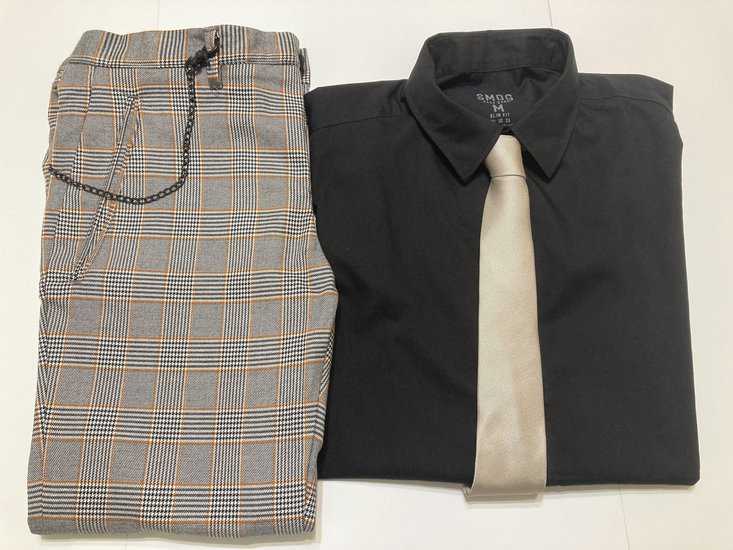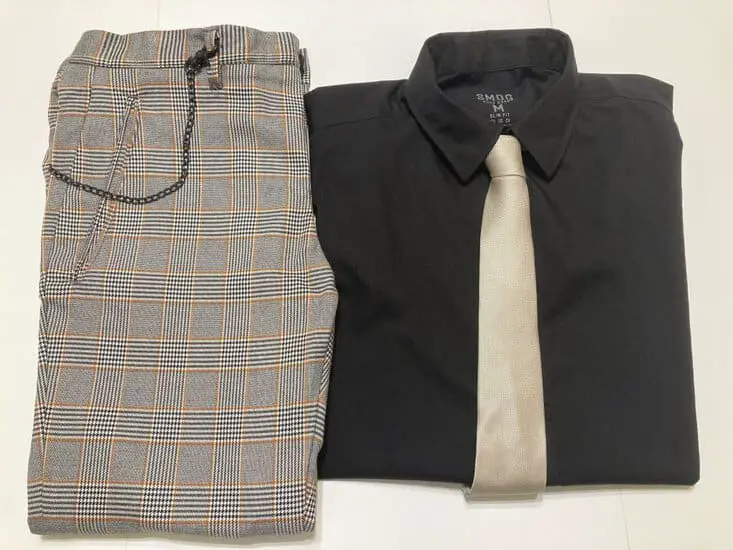 What Are Two Safe Colors That Go With Everything?
Black and white are the two safest color choices, as these colors go with just about anything you wear. When in a pinch, put on a white shirt with a pair of black pants, and you are ready to hit the road!
Final Thoughts
Choosing what pants to wear with what type of patterned shirt can be a difficult choice for those of us that are fashion-conscious. After all, there is a fine line between a bold look and looking clownish. We hope that this guide has put any doubts you may have had at ease and provided you with all the information you need to make any patterned shirt pop, no matter the occasion!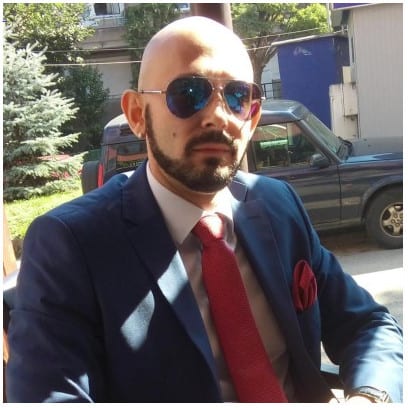 Samoel Ovanessian is the founder and creator of StylishAlpha.com – a website dedicated to men's fashion. As a proud owner of more than 200 ties, he loves digging through new clothing combinations for everyday use, formal events and even just for fun. You can read more about Samoel here.