If you are looking to improve your wardrobe you should consider investing in a nice men's blue tie. It is a fashion essential that will allow you to stand out from the crowd.
High-quality blue ties go great on a black, or white dress shirt. In addition to that, they complement a formal and casually elegant style. To help you find the perfect model we've prepared a list of the best mens blue tie offers on the market.
Throughout this article, we will cover the budget-friendly and more pricey products which may meet your preference. Let's get started!
Comparison Chart
A blue tie is perhaps the safest option you can go with when picking out a tie. For one, it goes with nearly every piece you own and can be worn as part of a formal, business casual, or casual look.  For that reason, it's important to find a tie that you can rock for more than just a few years. Here are some of our favorites;
The Blue Tie Broken Down
The Navy Blue tie
The navy blue tie is the most versatile of the pack as it goes well with dark colors and brings a wonderful toning effect when worn with brighter colors. This tie is ideal for job interviews, business meetings, and every day wear. It's a great companion to look stylish and neutral.
The Sky Blue Tie
This tie is reserved for days when you want to add a little more character to your look. You can style a sky blue tie by using it to create a monochromatic look that ties together or paired with a neutral suit to create contrast.
However you choose to style this incredible piece, we always recommend picking a tie that offers some sort of texture to make the look even more luxurious.
The Royal Blue Tie
This tie is for the in-between club. You don't want to stand out too much with the sky blue but also don't want the navy.
This color is equally as versatile as your navy blue tie and you can pair it with both your darker suits and neutrals to create incredible looks.
Best Mens Blue Tie Reviews
KissTies Solid Satin Pure Color Necktie Men's Tie + Gift Box
This tie is a stylish item made of jacquard woven microfiber and designed by KissTies, one of the top manufacturers. This necktie is vegan-friendly and should last you for years if properly cared for.
Above all, it comes in a variety of appealing colors, including royal Atlantic blue, royal blue, teal blue, turquoise blue, and ice blue which is our personal favorite. It has a contemporary construction and can be worn by both younger and older folks, making it ideal for weddings, formal events, and business meetings.
Review
First and foremost, we want to highlight KissTies' excellent design work. This necktie isn't too thin or too wide, with a width of 3.35 inches and a length of 57 inches. With that in mind, pairing it with a black, blue, or grey suit and a white or black dress shirt should be a breeze. It's wonderful to know that the KissTies models are designed to survive repeated usage and that you can steam iron them without fear of losing their form.
If you want a soft, smooth, and silky necktie, the jacquard woven microfiber is a great option. With a handcrafted glossy finish, it will set you apart from the crowd. Most notably, the necktie's construction allows for heavy wear with 1200 stitches. There's no reason to be concerned about it wearing out, in our opinion. The only issue is that the manufacturer didn't use the double-stitching technique but the tie remains durable.
The construction of all accessible models is the same, and it is up to you to pick the one that best suits your demands. While we like the ice blue, you won't go wrong with the royal Atlantic blue or turquoise blue as long as you have a suit or dress shirt to match. KissTies also come in several different hues, such as red, black, grey, yellow, green, purple, orange, and pink.
While you won't get a matching handkerchief or cufflinks, finding any shouldn't be difficult because this necktie has a strong design. Nonetheless, the price point is good, allowing even those on a tight budget to enjoy a fashionable and versatile accessory.
Pros
Set at a budget-friendly price
With a width of 3.35 inches and a length of 57 inches, it's ideal for both young and senior folks
Ice blue, turquoise blue, and royal Atlantic blue
Animal-friendly and gentle to the touch, made of jacquard woven microfiber
Hand-finished in a glossy finish
It has a smooth, soft, and silky feel and is quite durable
Cons
No matching handkerchief
Not double-stitched
Jacob Alexander Solid Color Men's Regular Tie
If you want to acquire stylish accessories from well-known manufacturers, this Jacob Alexander necktie will be ideal for you. It comes in turquoise blue, royal blue, and steel blue and has a lovely rib stripe design. This necktie's aesthetic look and structure make it an excellent choice for pairing with a white or blue solid color dress shirt.
Review
You can't get much better than Tommy Hilfiger in terms of quality. It is a fashion house that has been operating for decades and is one of the most well-known. The width of this tie is 3.25 inches and the length is 58 inches. It's an excellent choice for most people who wish to wear a red tie with a white or blue dress shirt, much like other current models. Keep in mind that if you are taller than 5'9″, the length of 58 inches may not be ideal. Aside from that, the Jacob Alexander Solid Color's construction will let you experiment with several trendy knots.
It is made of microfiber with a satin finish that works together to offer a durable and reliable men's blue tie. In addition to that, it is fully lined and makes a sturdy knot. It doesn't come with a matching handkerchief or cufflinks for your dress shirt, unfortunately. It has a characteristic contrast tail and 1400 stitches, ensuring that it will last with repeated usage. Keep in mind that it should not be washed in a machine and should instead be dry cleaned or hand washed. Furthermore, to minimize and prevent creases, this Jacob Alexander necktie should be steam-ironed.
It not only has a smooth, soft, and silky feel, but it also has a high level of general durability. Not only that, but it also signifies that this product is cruelty-free, which is critical whether you are a vegan or care about the environment. Overall, you're looking at a long-lasting and stylish necktie that's well worth the money!
Pros
Includes a satin finish and is made of microfiber
It has 1400 stitches for added durability
Smooth, silky, and delicate to the touch
A steam iron might help you get rid of wrinkles
Steel-blue color, which is also available in different blue hues
Different knots are simple to tie and are easy to manage
Cons
Can't be washed in a washing machine
No matching handkerchief/cufflinks
Calvin Klein Men's Steel Micro Solid A Tie
If you are on a more flexible budget and want to invest in a high-quality tie that will last you for years you are in the right place. This Calvin Klein model is not only extremely attractive but is made of 100% silk. In addition to that, it is available in two different sizes including regular (3" x 57") and extra long. Furthermore, a few attractive variations include Berry, Lavender, and Slate Blue.
Review
The fact that it is constructed entirely of silk is the trendiest aspect of this product. With that in mind, you can rest certain that it is smooth and delicate to the touch. Furthermore, with regular maintenance, it will last you for many years. While it can only be dry cleaned, it can be steam ironed to eliminate creases. The attractive micro-dot pattern perfectly complements a dress shirt of a solid color.
In terms of the design itself, it is 3 inches wide by 57 inches long. Most current neckties have these dimensions, and they look great with a modern suit or dress shirt for a wedding or a party. Calvin Klein's microdot is a good accent to a clothing combination influenced by tones of black, blue, and grey because it isn't too flashy.
One of the nicest features is that you may get a refund if the product has a structural flaw or you just don't like it. Apart from being smooth, soft, and silky, this necktie also features 1200 stitches to avoid wrinkling and maintain the necktie's composition. As a result, we would suggest this product to anyone who enjoys wearing a blue necktie and wants one that will endure for years if cared for properly.
Pros
Attractive micro-dot pattern
Available in two different sizes
A contemporary design with a width of 3 inches and a length of 57 inches is included, as well as 1200 stitches to provide robust construction and reduce wrinkles
Soft and silky to the touch, made of 100 percent natural silk
Limited warranty on built-in defects
Cons
Can't be machine washed
Pricey
QBSM Men's Ties Solid Polyester Textile Neckties Pure Color Neck Ties
Moving on to the next item on our list of the best men's blue tie deals, you're looking at another QBSM fashion piece that is both affordable and stylish. Navy blue, blue, and light teal, which is our personal favorite, are just a few of the popular hues available. Apart from wearing it to a business meeting, this necktie is also appropriate for other events such as weddings, parties, and daily walks.
Review
If you're seeking a fashionable item made of jacquard woven microfiber, you've come to the correct spot. This deal includes an elegant necktie with a width of 3.15 inches and a length of 58 inches for a very low price. This product's structure is modeled by a current solution utilized by several prominent companies and copied by RBOCOTT. As a result, as long as you aren't taller than 6'1″, you should be able to wear this necktie comfortably.
It has 1200 stitches using a double-stitching process, which adds to its longevity. With that in mind, you won't have to be concerned about the necktie falling apart after a few washes or usage.
It appears to preserve its form and color regardless of the ironing or washing procedure used, as long as the temperature settings are kept low. The stitching method not only improves longevity but also allows for a broad range of attractive knots.
It's the ideal present for Father's Day, Christmas, Thanksgiving, or an anniversary celebration. If your spouse, kid, brother, friend, or father doesn't like blue, it shouldn't be an issue because QBSM has so many different hues to choose from.
Made of jacquard-woven polyester satin (microfiber), this necktie is comfortable and soft. On the other hand, it falls into the group of heavier models and is a perfect choice if you wear fashion accessories daily. Our main issue? The fact is that it is not as smooth as the aforementioned ties. Still, the affordable price and the solid structure make it a worthy choice.
Pros
It comes at a very reasonable price
1200 stitches support a variety of knots while also increasing durability
Jacquard woven polyester satin is soft and comfortable
Standard blue, navy blue, and turquoise blue are all options
Set at a width of 3.15 inches and a length of 58 inches
Cons
Enterprise Dot Blue Men's Tie
Last but certainly not least is a tie that is a fantastic choice if you are a Star Trek fan. While it does come at a high price and isn't a good offer if you are on a limited budget wanting to invest in a solid color tie, it is one of the most inspiring fashion accessories out there. Coming with the USS Enterprise motif, it is an attractive and durable tie that will revolutionize your wardrobe.
Review
First and foremost, knowing that this necktie is made entirely of natural silk and has a jacquard weave is fantastic. This USS Enterprise tie is long-lasting, silky, and comfortable. This one is a contemporary tie with a width of 3 inches and a length of 59 inches, similar to the goods above. It is ideal for practically everyone due to its somewhat larger construction.
It has 1400 stitches done with the double-stitching method, in addition to the high-quality composition. As a result, you can be assured that this necktie will last more than a few days. Not only that, but the 1400 stitches ensure that it keeps its color and form regardless of how you clean it.
In our experience, it perfectly complements a solid color dress shirt (blue, black, white). Furthermore, it can be washed in a washing machine, and there is no risk that the silhouette of the USS Enterprise will wash away (as long as you set it to the lowest settings). The only issue? The very high price. Other than that, it is a high-quality tie that you shouldn't miss out on if you are a Star Trek fan.
Pros
Comes with a lovely USS Enterprise design
100% genuine silk, delicate to the touch, and comfy to wear
1400 stitches are used to increase durability and form retention
Set at a width of 3 inches and a length of 59 inches
Cons
Wrap Up
At the end of the day, all five models are worth the price and represent fashionable accessories. Our personal favorite is the Jacob Alexander Solid Color Men's Regular Tie for the fact that it offers a perfect combination of an attractive design and a reasonable price. As our second choice, we would go for the Calvin Klein Men's Steel Micro Solid A Tie which is an inspiring tie to complement a high-quality blue, white, or black shirt.
For more stylish options to complete your look, be sure to check out our reviews of the Best Golden Ties and the Best Ties for Weddings.
FAQs
What does wearing a blue tie portray?
A blue tie showcases trust, confidence, and stability. Blue ties are great for making lasting first impressions and can be great to wear to an interview, a first date, or events that require you to speak publicly. According to experts, wearing a lighter shade of blue makes you even more approachable!
Which other blue ties are appropriate?
There is no shortage of blue ties as others like the aqua blue and turquoise colors have gained popularity over time. These ties are equally as versatile as the sky blue ties and can be styled just as you would a sky blue tie.
Which is the best knot for a blue tie?
When tying your tie, we emphasize achieving symmetry to ensure your entire outfit appears like it was thoughtfully put together. We always recommend the four-in-hand knot for most of our ties however you are free to try the different knots to find what works for you and flatters your fit.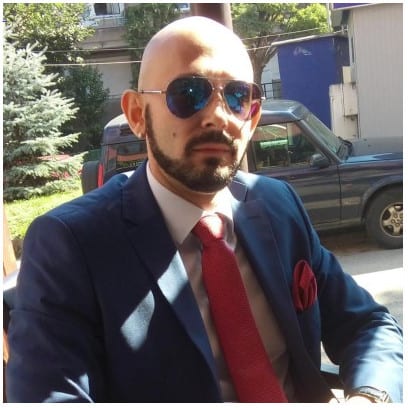 Samoel Ovanessian is the founder and creator of StylishAlpha.com – a website dedicated to men's fashion. As a proud owner of more than 200 ties, he loves digging through new clothing combinations for everyday use, formal events and even just for fun. You can read more about Samoel here.