While blazers are a staple of menswear, a maroon blazer can be a bit tricky to style. The key to getting the most out of it is by pairing it with complementary pieces that make the color stand out. In this article we will discuss everything there is to know about what to wear with a maroon blazer.
If you're going for a more formal look, then the best things to wear your maroon blazer with are some slim fit khaki pants, a white dress shirt, and black leather loafers. For a more casual vibe, go for light-wash jeans and a simple black v-neck T-shirt. Slip on some white sneakers and you'll have achieved an effortless style.
If you want to learn about styling a maroon blazer with different colors and patterns to create interesting looks, and how to layer your maroon blazer with other garments, then read on!
How to Style a Maroon Blazer
There are various different aspects to focus on when styling a garment, so let's start with different colors and patterns you can use when styling a maroon blazer.
Check out these other popular style guides for a stunning look:
Play Around With Tones
To bring out the warmth of a maroon blazer, try pairing it with shades of brown like tan or beige trousers and loafers. The contrast of the two colors will help to enhance the richness of the maroon color. Alternatively, you can opt for navy or light blue trousers and a matching shirt to create a subtler contrast.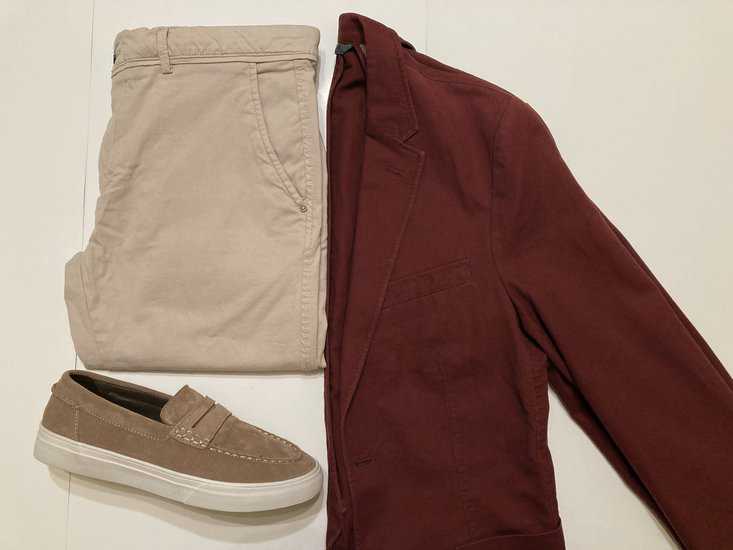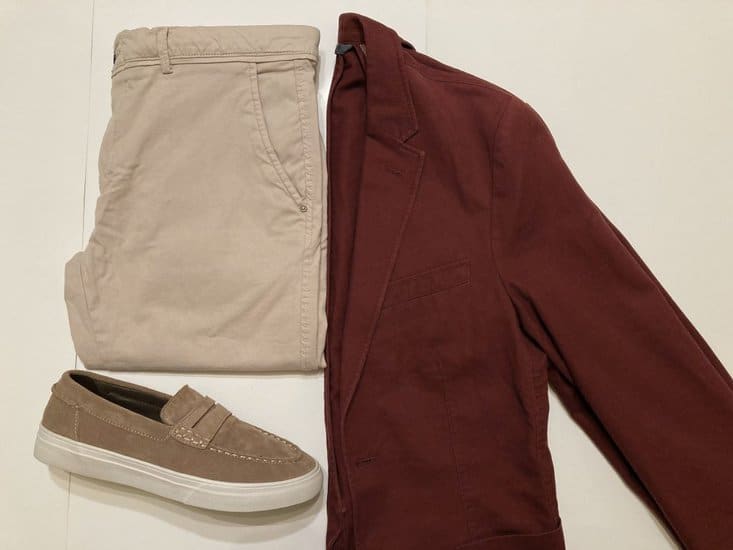 Styling Tip: Use the color wheel as a guide to which colors best compliment the item you are trying to style, they will be located opposite to the color of the item on the color wheel. Hence, to compliment maroon, you should use shades of blue.
Mix Patterns and Textures
Patterns help to add visual interest to any outfit, and can be used to great effect when styling a maroon blazer. Maroon is a strong color, so it's important to pick patterns that don't overpower it. The main reason why certain patterns will work better than others when paired with maroon is because they'll contain shades of colors that compliment it.
Here are some of the best patterns to pair with your maroon blazer:
Stripes
Plaids
Polka Dots
Paisley Prints
Subtle Weaves in Deep Blue or Dark Brown
Checks
For example, a light blue gingham shirt, navy trousers, and brown loafers or shoes will look great with a maroon blazer.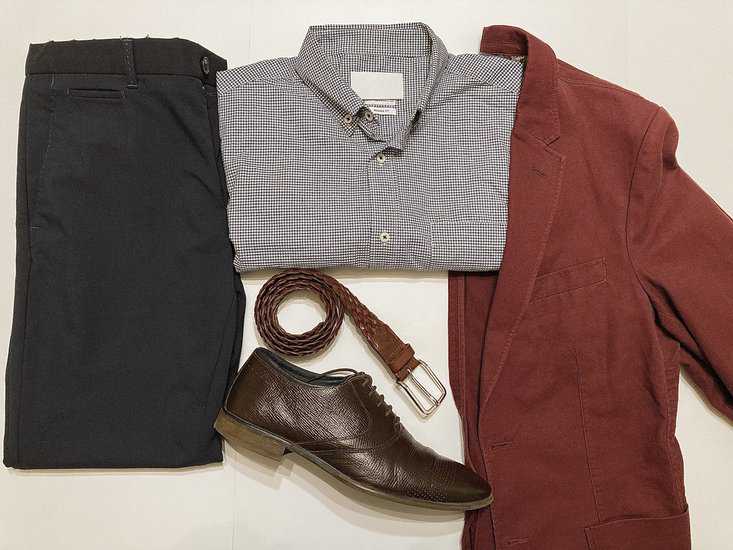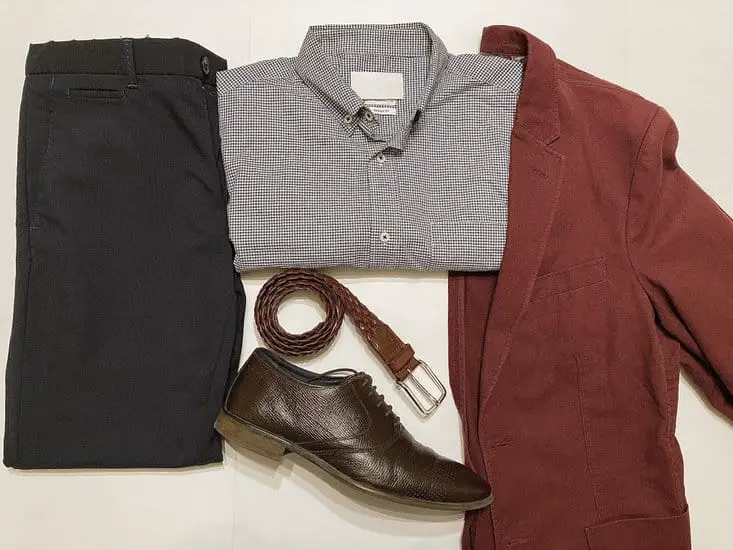 Adding textures creates interest and dimension to your overall look. Some of the best materials to use in a maroon blazer outfit are rich velvet, tweed, corduroy and wool.
Layer
Layering with your maroon blazer is a great way to add to your outfit. To create the perfect layered look, start with an undershirt such as a white t-shirt or light blue oxford shirt and layer it under your blazer. Then, wrap yourself up in a wool scarf or choose one in shades of blue to enhance the maroon color. Lastly, add a dark overcoat or leather jacket to finish the look.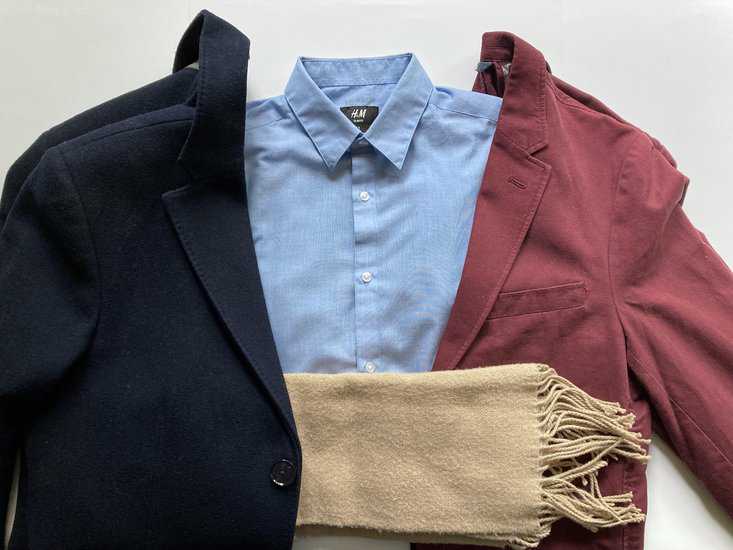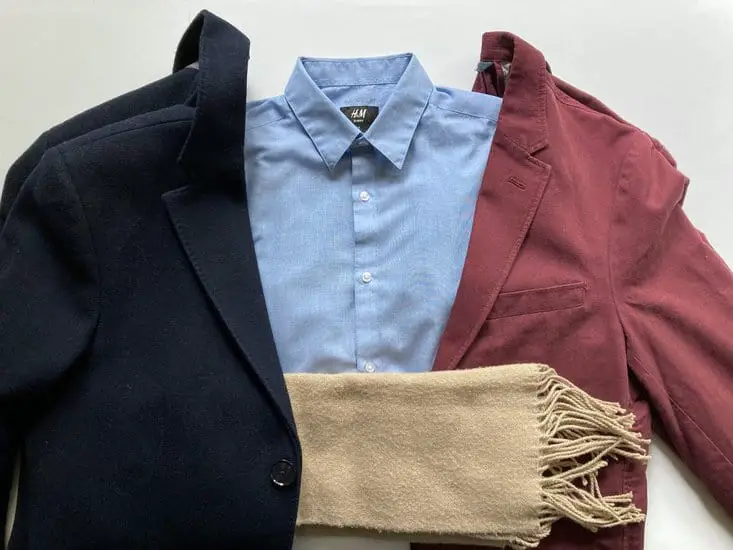 You can also layer up with accessories like watches, hats and glasses to complete your outfit.
Accessorize With Colorful Pieces
To polish your look, you can accessorize with small colorful pieces like a pocket square or tie in shades of yellow, green, gray or orange to pull the outfit together. Socks in these colors can also be worn to attain balance in the outfit.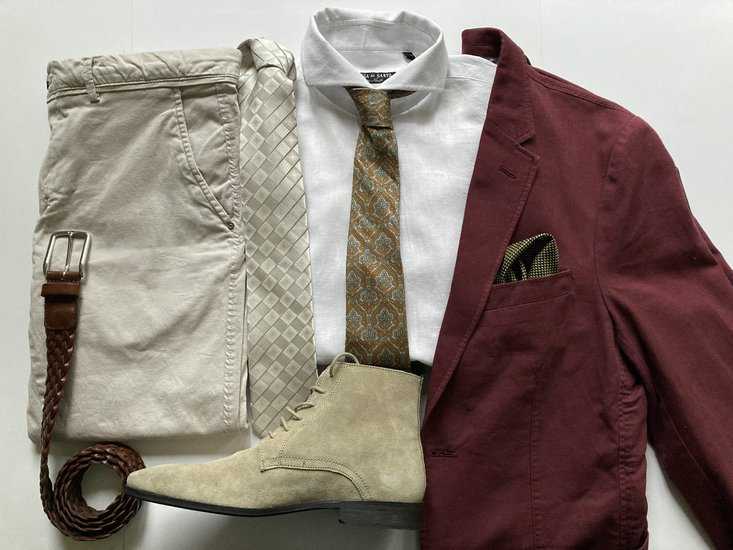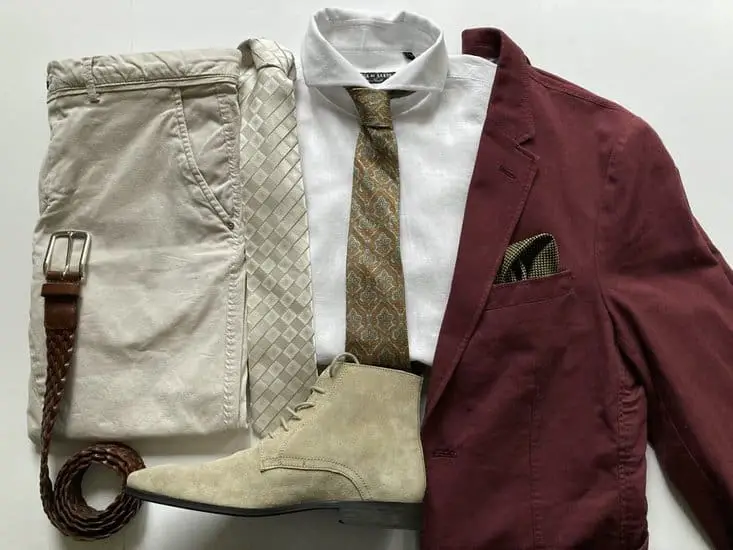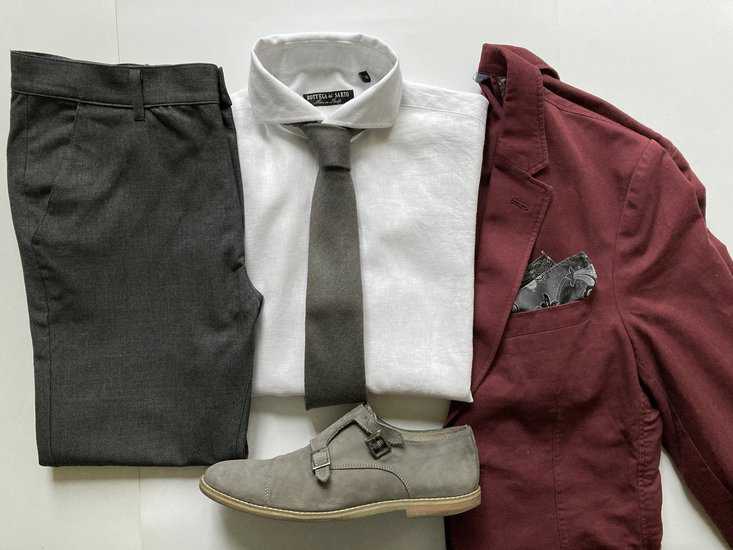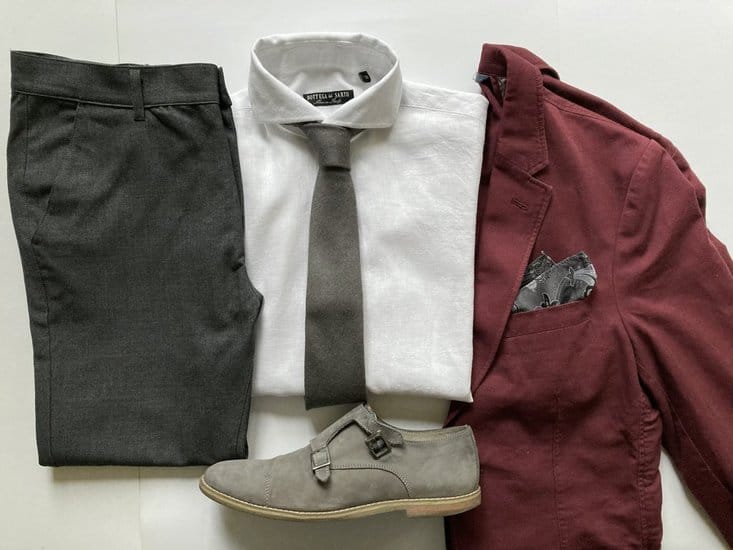 Mix With Creams and Beiges
Finally, don't forget that creams and beiges can also work well when pairing a maroon blazer. To style this look, try wearing a cream turtleneck, some tan or biege trousers and brown shoes or sneakers with your maroon blazer.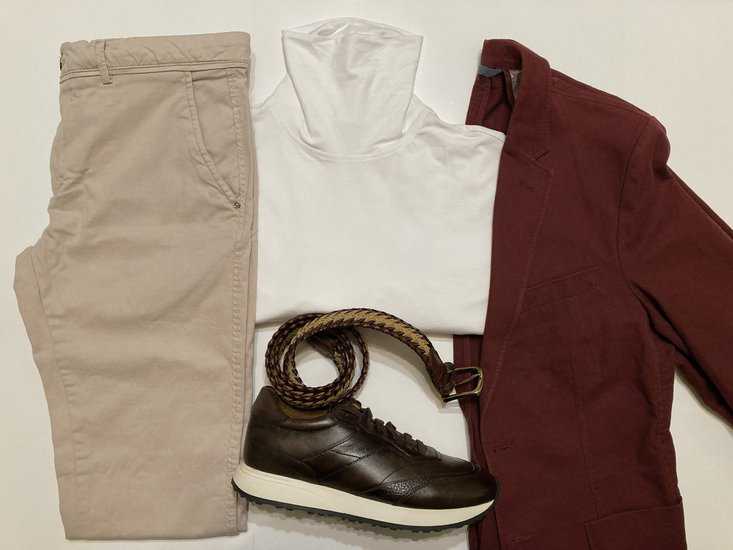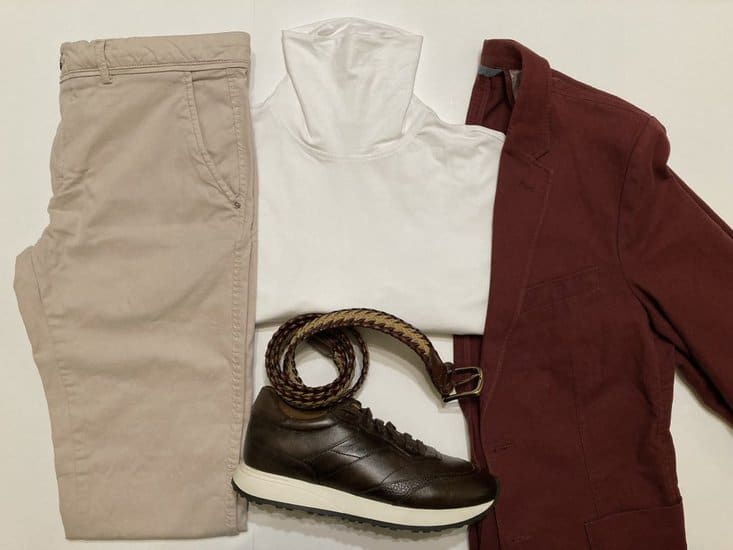 5 Great Outfit Ideas for Your Maroon Blazer
We've put together five of the best outfit ideas to wear with a maroon blazer, to save you some time when trying to style your outfit.
Evening Out
When styling for a smart evening out, wear your maroon blazer with a light blue shirt, beige trousers and brown oxfords. This combination will bring out the sophistication of the blazer while keeping it looking classic. For accessories, go for a brown belt and pocket square in shades of yellow or green.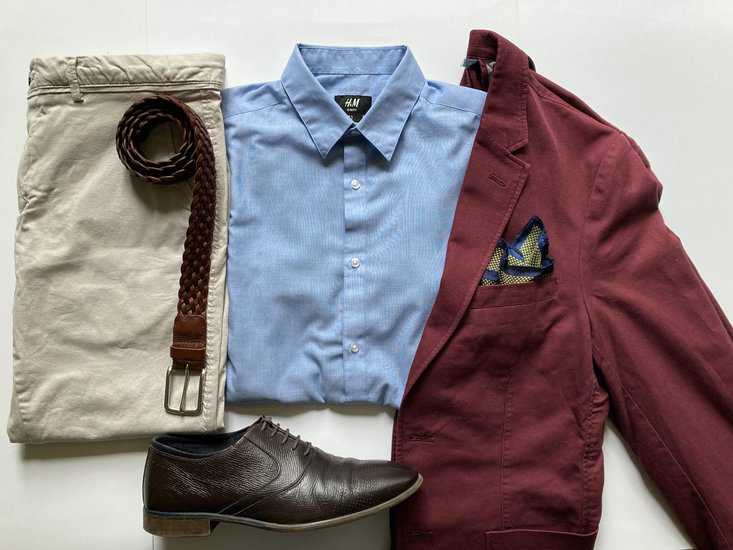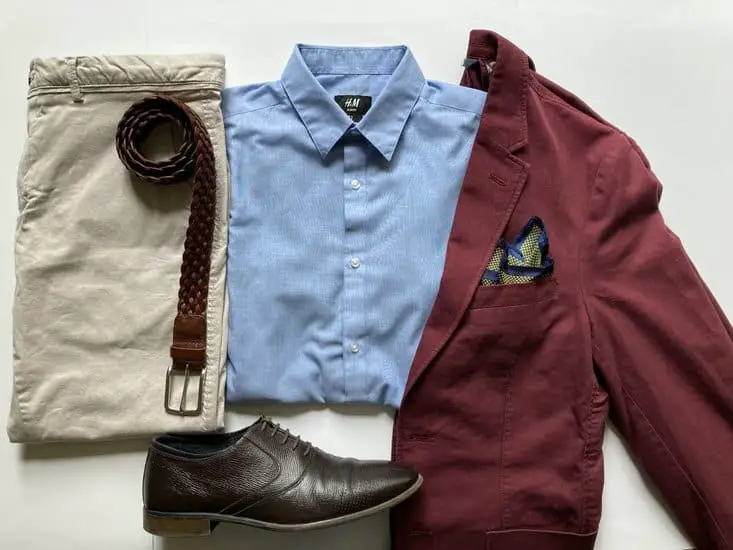 Wedding Guest
To ensure your outfit is right for this occasion, wear a cream turtleneck and beige trousers with your maroon blazer as mentioned in the Creams and Beiges point above. The color combination of creme/beige and maroon will help you stand out from the crowd, while still looking smart. Tan loafers will complete the look perfectly, along with some small accessories like a brown belt and pocket square.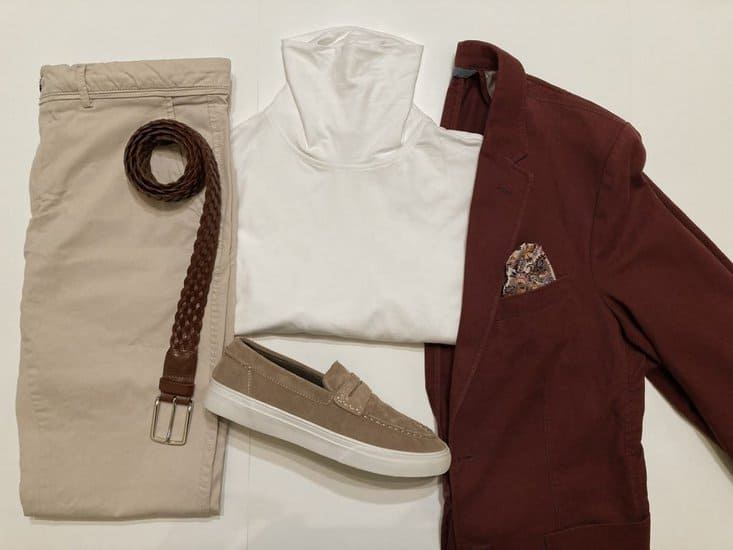 Casual Day Out
For a casual day out, style your blazer with some light blue jeans and brown sneakers. A plain white t-shirt or light gray polo shirt will also look great when paired with the maroon blazer. White or light blue socks can be worn in this combination to draw attention to the footwear and create contrast. This outfit can be accessorized with a brown belt and cap to create an effortless, yet stylish look.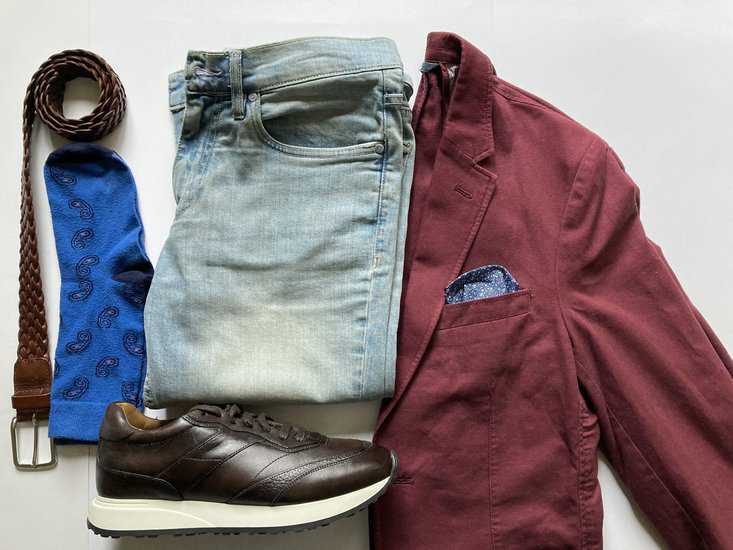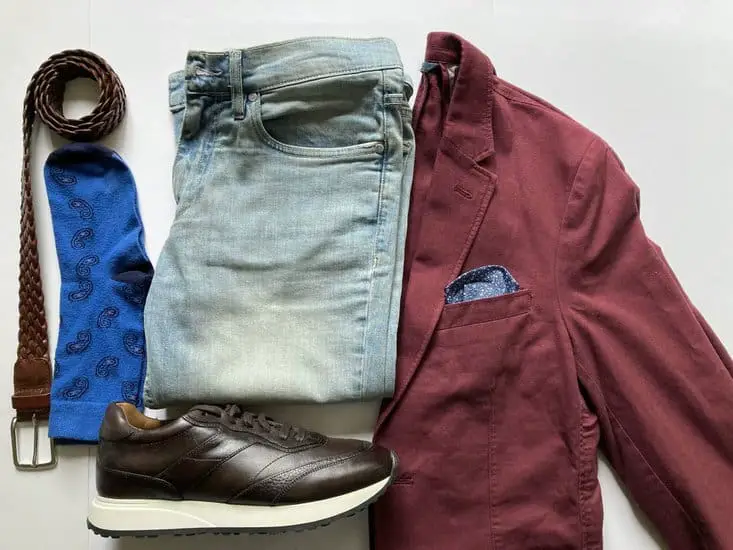 Smart Casual
For a semi-formal event, style your blazer with navy trousers. A light pink shirt will bring out the color of the blazer, along with some brown or tan brogues/boots. Accessories like a pocket square and belt in shades of yellow or green are great for adding an element of fun to this look.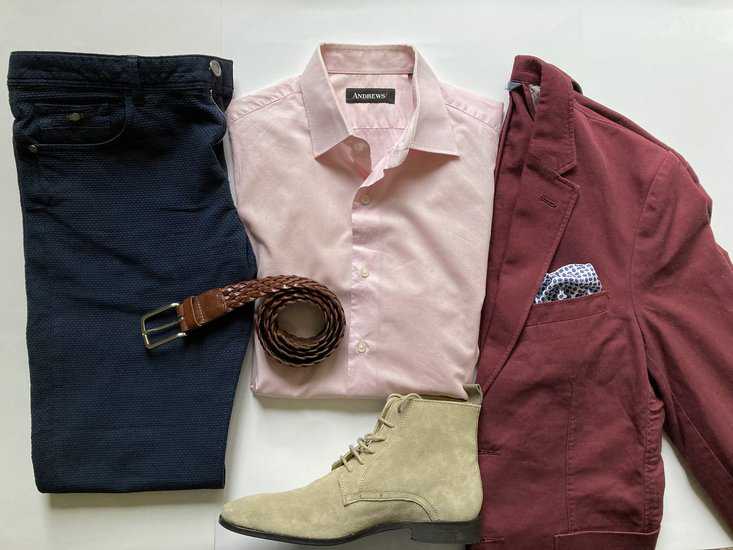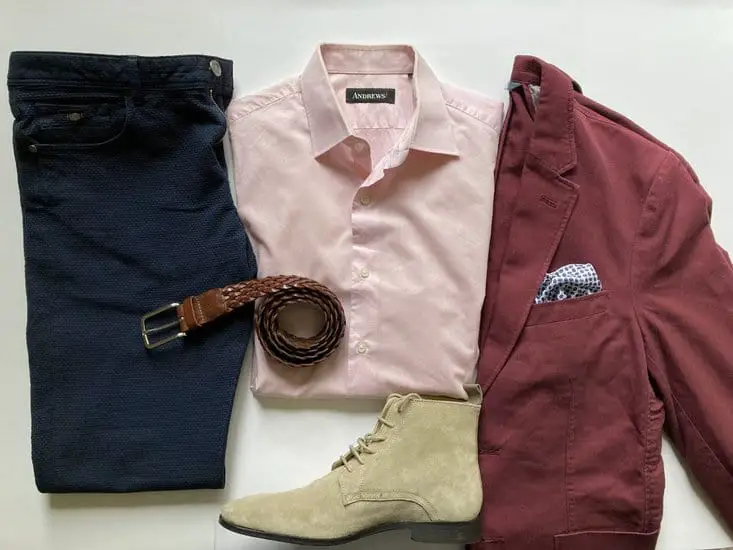 Business Look
For a business-like look that projects confidence, go for navy trousers and white dress shirt. To add an extra touch of class to the outfit, wear some black dress shoes and a patterned brown belt with the blazer. For accessories, go for plain dark gray or navy socks that blend in subtly with your trousers.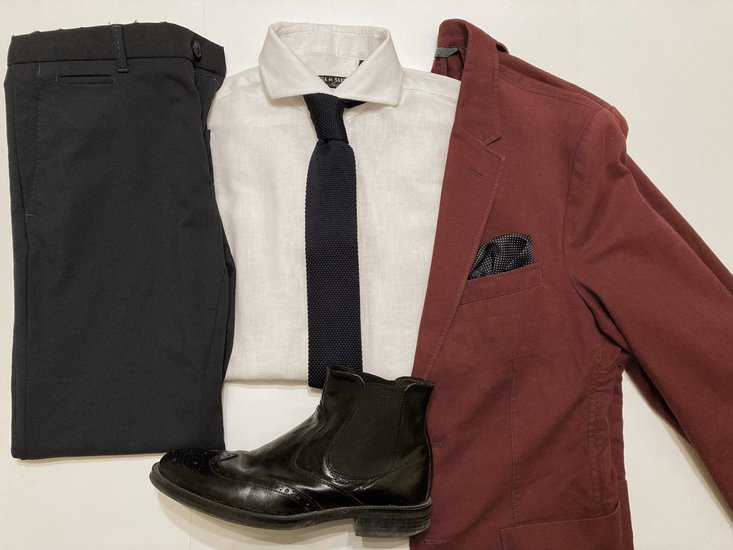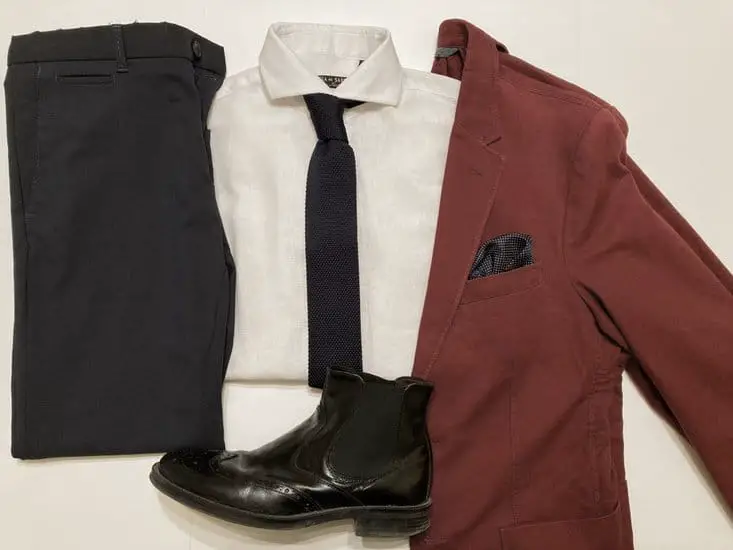 Fun Experimental Look
If you want to experiment with different textures and fabrics, put together a maroon blazer with brown trousers, white t-shirt and tan boots. For accessories, add some color with an eye-catching orange pocket square or tie. To finish the look, add a black belt and watch to make your outfit look put together.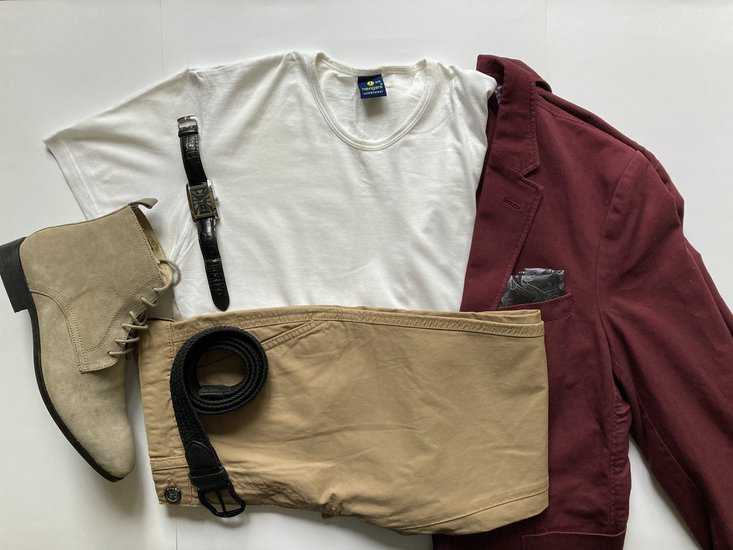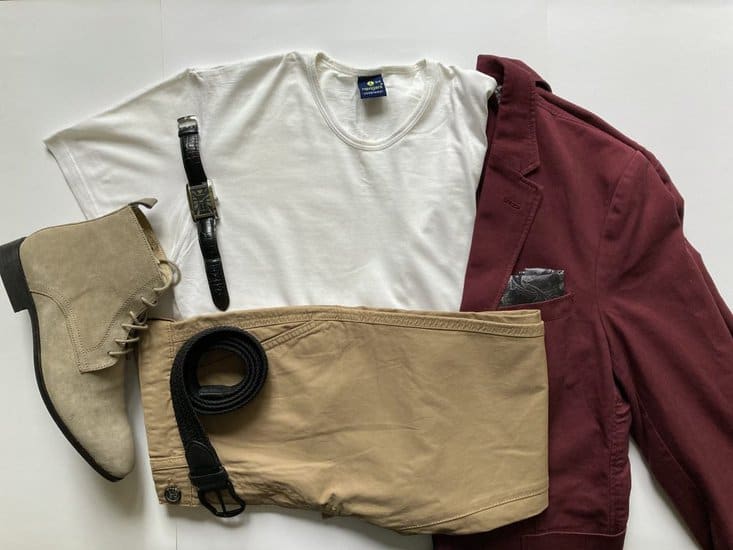 Is a Maroon Blazer a Must Have In Your Wardrobe?
A maroon blazer is a great wardrobe item that can be styled in many different ways, from casual to formal. Not only will it add an element of sophistication to your look, but the color will also draw attention and help you stand out from the crowd.
However, if you're looking to fill your wardrobe with items that are more everyday and easier to wear, then a maroon blazer might not be the best choice for you. A maroon blazer is not an everyday outfit choice and can be a bit challenging to style. However, one important thing to keep in mind about it, is that it can be styled with other "simple" items that you will likely have in a wardrobe kitted out with everyday attire.
If you're looking for something with more versatility and easier to put together, then some of these clothing items are probably a better choice:
| | | | | |
| --- | --- | --- | --- | --- |
| Jackets | Tops | Bottoms | Shoes | Accessories |
| Classic navy blazer | White or black t-shirts | Chinos in a classic colors such as khaki | Black/brown leather shoes | Watch |
| Cardigan | Oxford dress shirts in different colors like white, light blue and pink | Gray slacks | Dress shoes such as loafers or oxfords | Leather black/brown belt |
| Sweater | | | White sneakers | High socks in black or dark gray |
| Sports jacket | | | | |
Overall, the decision of whether or not to add a maroon blazer to your wardrobe will depend on your personal style. If you're looking for something that is versatile and easy to wear, then the items mentioned above are probably a better choice. However, if you're looking to add a touch of sophistication and color to your look, then investing in a maroon blazer is definitely a great decision!
FAQs
Here are some of the main questions that come up on the topic of styling a maroon blazer:
Which shirt goes with a maroon blazer?
A light pink shirt is great for pairing with a maroon blazer. However, depending on the occasion, you can also go for other colors like white, light blue, gray or black.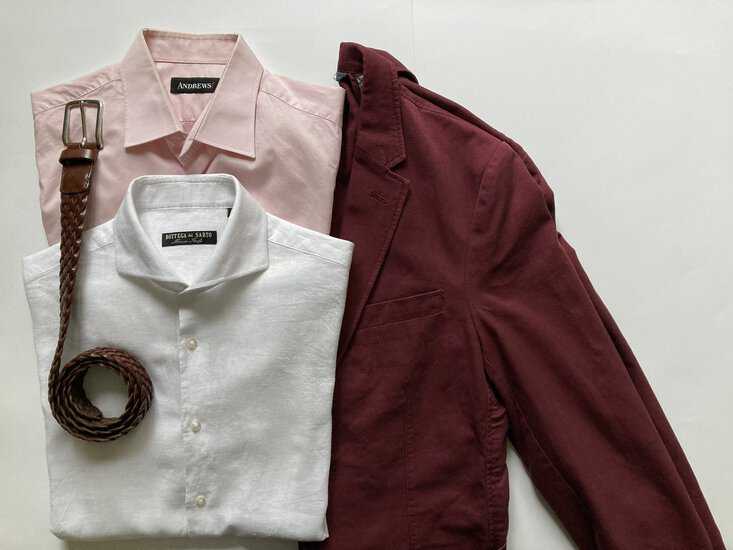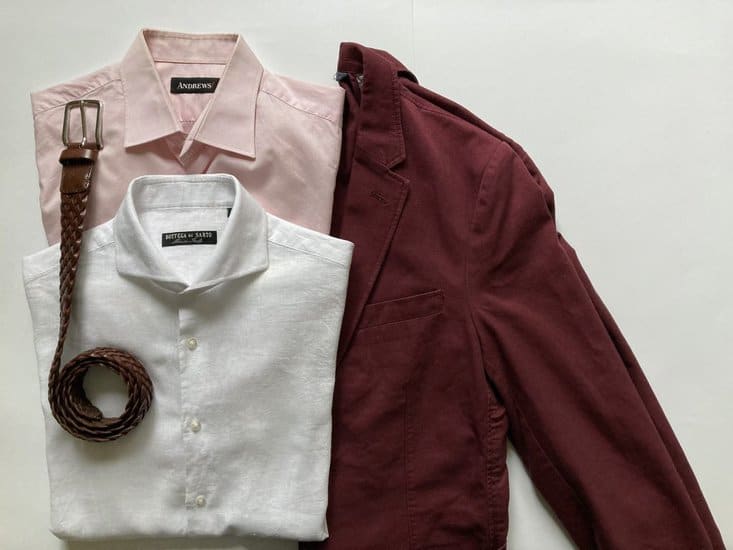 What shoes go with a maroon blazer?
A pair of brown brogues is perfect for creating a classic, smart look with a maroon blazer. Alternatively, you could also wear black dress shoes or tan boots. For a more casual look, you can pair your blazer with some white sneakers or black leather shoes.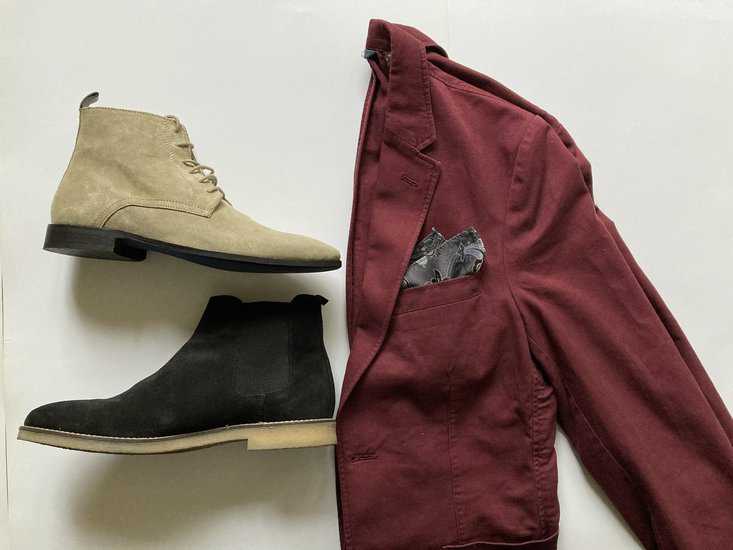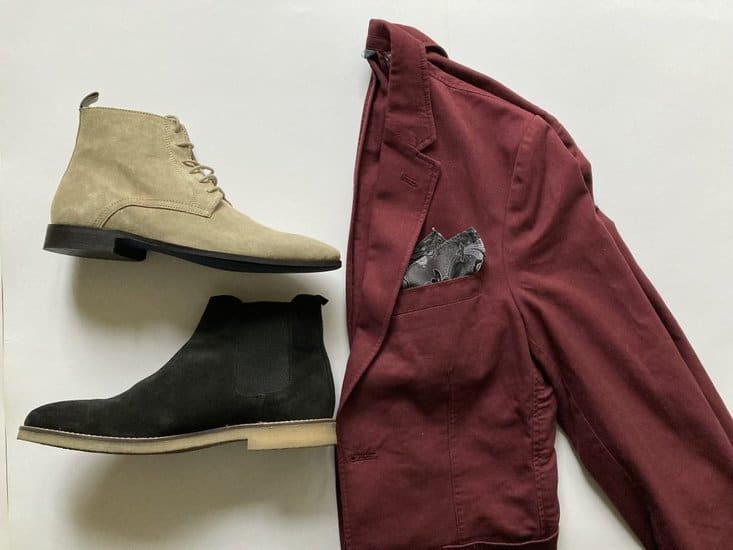 Does maroon go better with silver or gold?
Maroon is a very versatile color and goes well with both silver and gold. The best color cufflinks for a maroon blazer are usually silver, but if you prefer gold or rose gold then they will also look great. It looks especially good when paired with golden accessories like a watch or belt.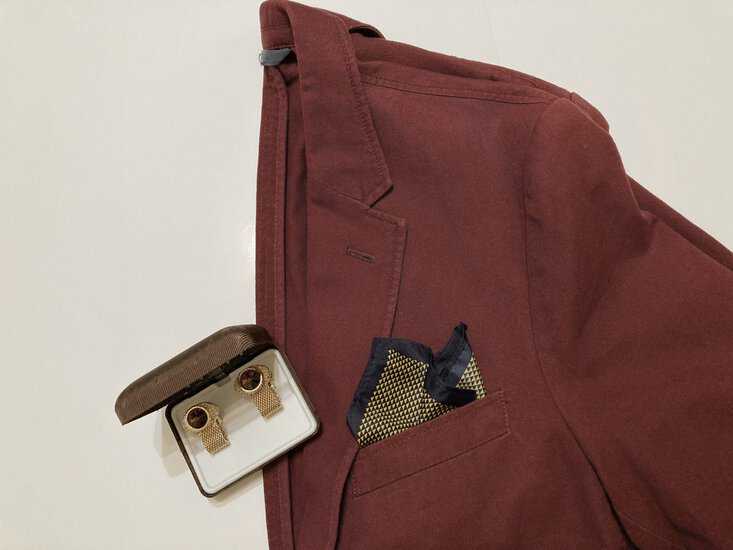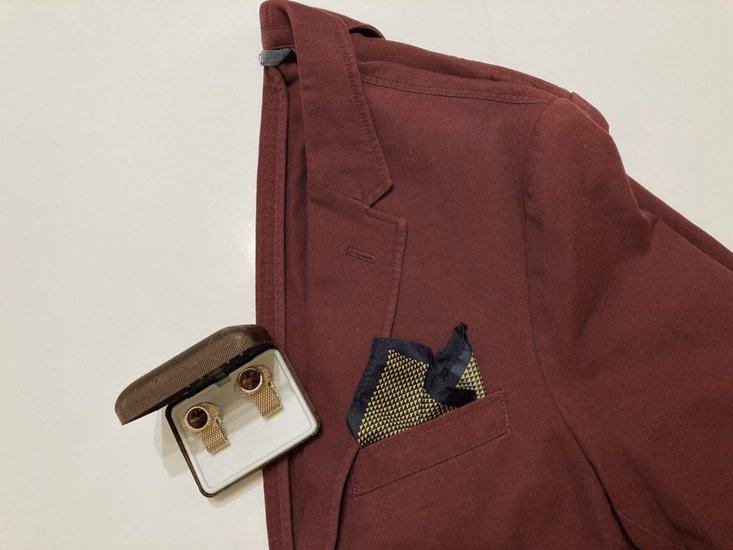 Ultimately it comes down to personal preference and the occasion that you're attending.
Conclusion
We hope that our article helped you learn what works best with a maroon blazer. By following these tips, you can create a great look using the blazer. Remember to have fun experimenting to find what works best for you!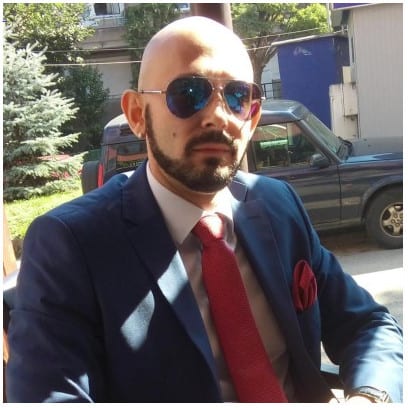 Samoel Ovanessian is the founder and creator of StylishAlpha.com – a website dedicated to men's fashion. As a proud owner of more than 200 ties, he loves digging through new clothing combinations for everyday use, formal events and even just for fun. You can read more about Samoel here.