Velvet can be a tricky fabric to work with especially if you're not too experienced with it and how it looks in the sun and in the dark. However, it's super comfortable, warm depending on the type you get, and can look exquisite and elegant if done the right way.
A velvet blazer can be worn in a bunch of ways such as a dressier, black-and-white ensemble, with roll necks, denim, knitted clothes, jeans, and a green velvet suit. You can also add a turtleneck or wear it with button-ups.
In this article, we will be showing you how to wear a velvet blazer in different ways, whether it is knitted clothes or pants!
Don't miss these other top posts:
Replace Your Plaid Blazer with a Velvet One
Simply substituting a velvet blazer for what you would normally wear as a jacket is the simplest way to wear one as more often than not, they're interchangeable with most other outfits.
Although you might think that black velvet would be the greatest choice, blue is a bit more worn and frequently feels more casual, so it goes better with jeans, white t-shirts, and other weekend essentials.
For a dressier version of the same look, replace the T-shirt with a silky shirt and add a pair of leather dress shoes. For the bottom half, you can wear some slacks or jeans, whatever style is your favorite.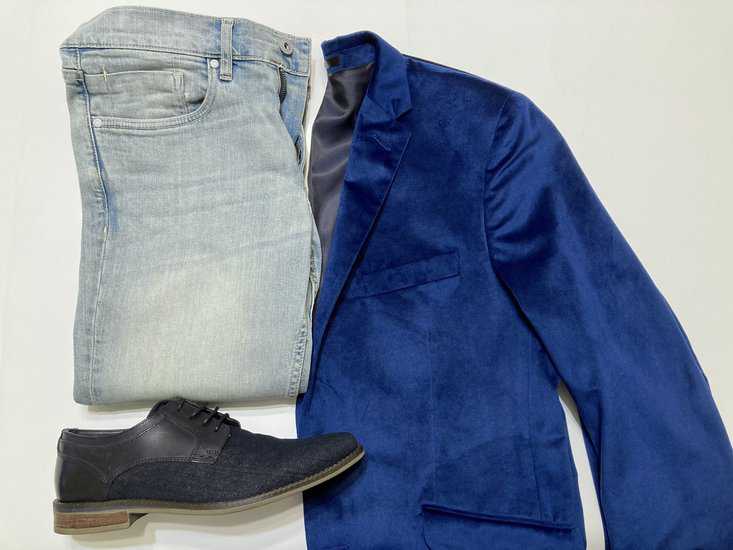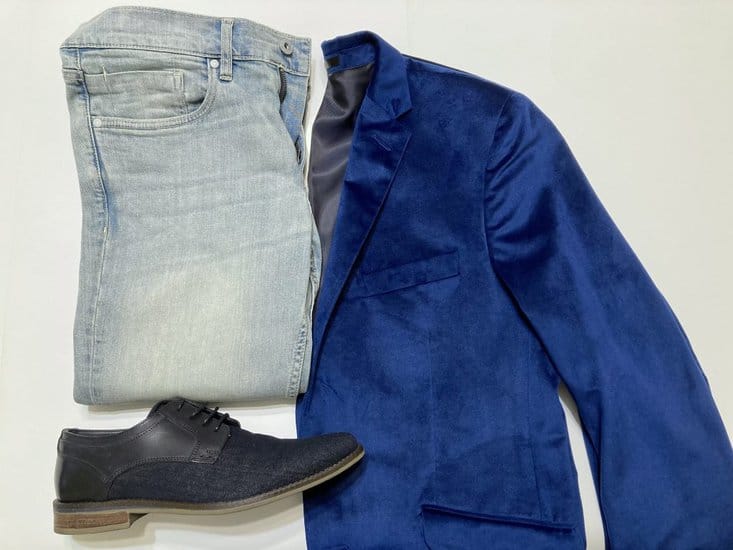 The main tip we will tell you to keep in mind when it comes to velvet blazers is to focus on the color of your outfit. A blue velvet blazer, white shirt, and light khaki pants are a good combination but if you replace khaki with purple, it can look very off-putting.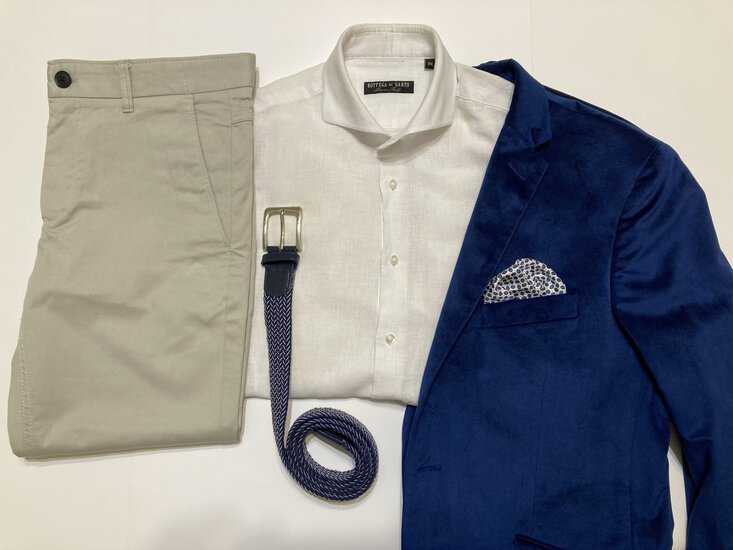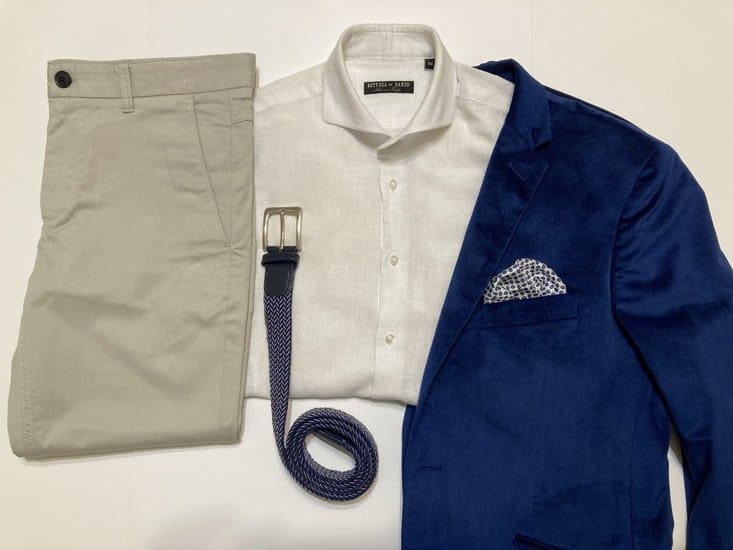 Velvet Blazer and Roll Neck
Velvet and European style are synonymous with poshness. A velvet blazer is easy to wear when paired with a flat roll neck in white or cream to make the colored velvet shine.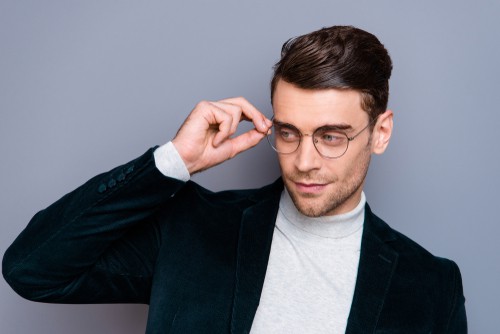 Because Europeans prefer their sweaters to be thick and natural-looking, opt to wear cashmere underneath your velvet blazer. Rich red or sapphire blue keeps the ensemble sophisticated without making it seem too imposing.
Additionally, since accessories are crucial, go large and bold with your scarves and wear leather shoes to give off a classy and elegant look.
White-Blue-Black Ensemble
Not in the mood to go completely professional? No worries, put on a tight turtleneck or a mock-neck sweater with a pair of black jeans or straight-fit dress pants with some accessories such as leather loafers or boots and gloves to add a bit of glamor to your outfit.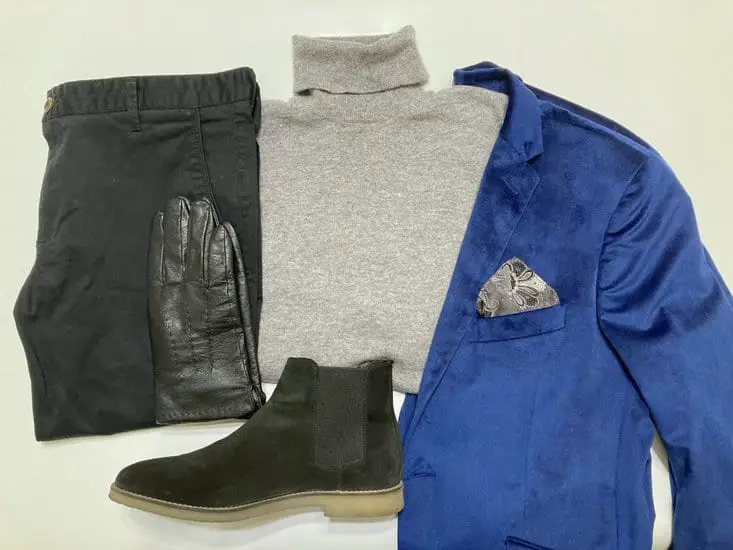 The blue velvet blazer will tie the whole look together. You can also create a black or an all-white outfit with a white velvet blazer, it all depends on what colors are your favorite and for what setting you are dressing up.
Bold and Vivid Velvet Blazers
Life is too short to restrict your style. Go all out with lighter, more brilliant hues like rose, lavender, mint, or yellow for a chic, star-of-the-show appearance. Alternately, choose a trendy jacquard brocade in black and let the rich design and velvety fabric parade throughout the celebration.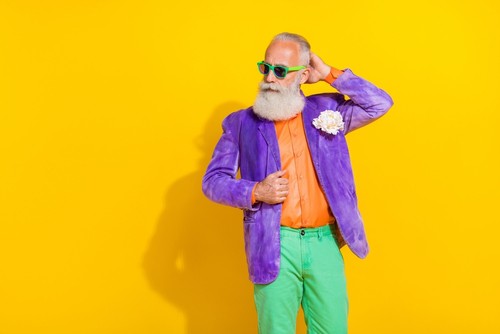 The basic velvet blazer can make the ideal printed clothing partner. You can pair it with a heavy or light print and it'll still look spectacular.
Velvet and Denim
Speaking of denim, the tough fabric is a traditional complement to velvet, although some pairings look more fashionable than others. For instance, we're big fans of wearing dark denim jeans with a velvet blazer and a light-striped t-shirt underneath.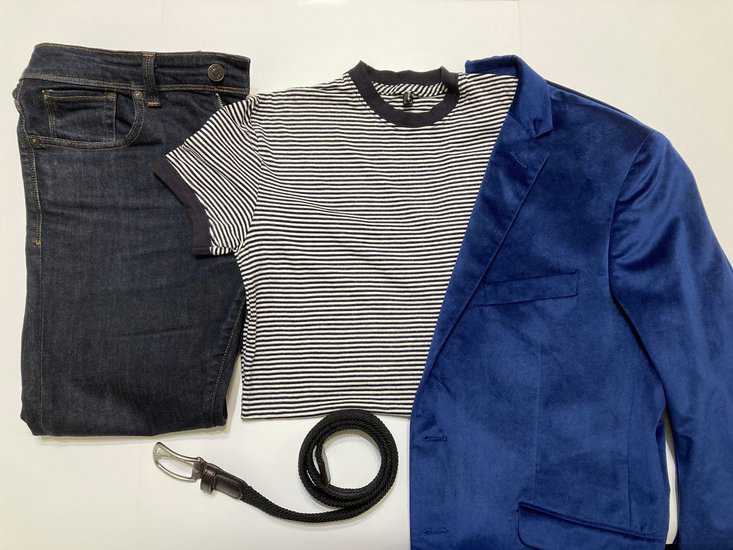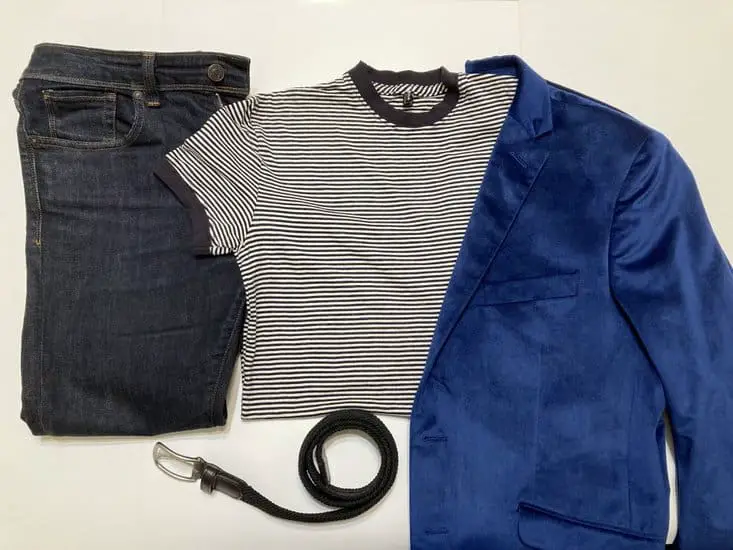 You can wear blue denim jeans with a matching denim vest underneath, topped with a black velvet blazer. This look is more for casual environments so keep that in mind. And, no matter how you style it, denim and velvet blazers will not work in a professional setting as the pairing can feel awkward in more serious situations. 
Dress Up Loose Silhouettes and Casual Knits
Our favorite weekend trend is a quirky knit paired with flow pants or denim. Just a single fitted piece like a velvet blazer can elevate your look to absolute perfection for that important dinner date or a night out with the guys.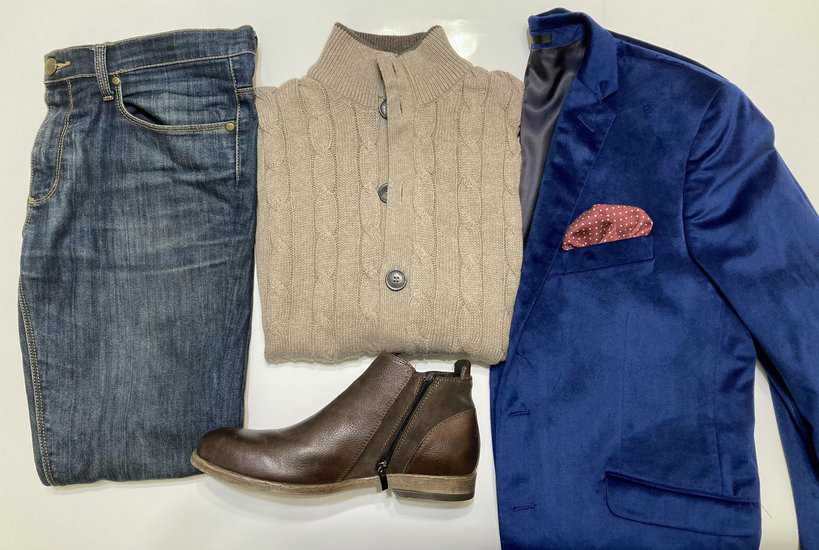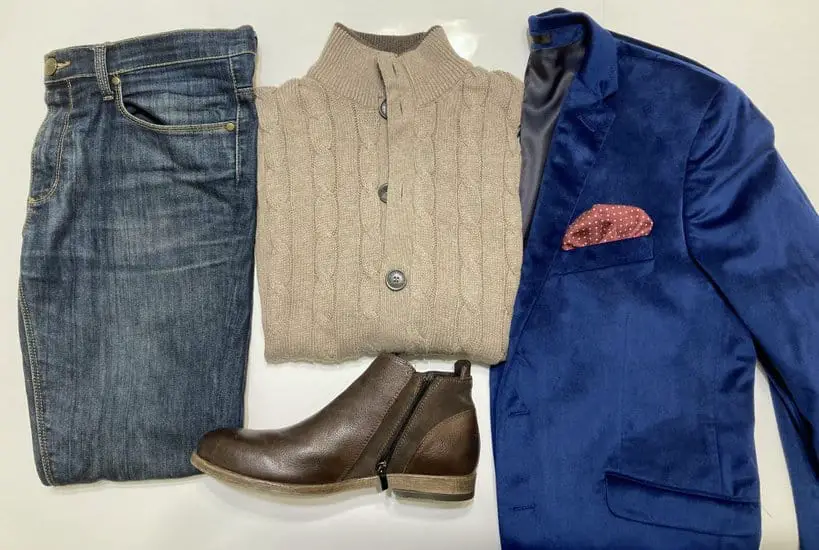 Regardless of whether you opt for warm, earthy tones or cool shades, it all depends on your occasion, taste, and mood. With a velvet blazer, not only will you get sophistication in your look, but – you'll also add a lot of depth and richness to your attire, a perfect look for a night out!
Green Velvet Suit in Emerald
We have a suggestion for you if you're thinking about what to wear to a lavish and fancy business party. Emerald green is a deep shade, and it appears much more beautiful on velvet.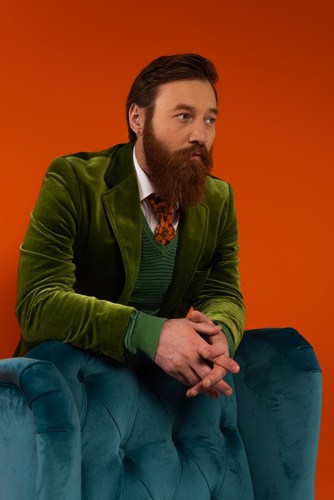 A velvet suit is a perfect outfit to wear if you want to look formal, and classy and if you like to have people's attention on you.
Velvet Blazer and Jeans
Velvet adds a bit of glitter to a man in jet black, thin jeans, and floppy hair for those fun occasions when you want a little edge without screaming punk or goth. Velvet blazers are a perfect substitute for leather jackets since they give off a melodious rock ballad, slightly Elvis Presley style without the metal and extra zip detail.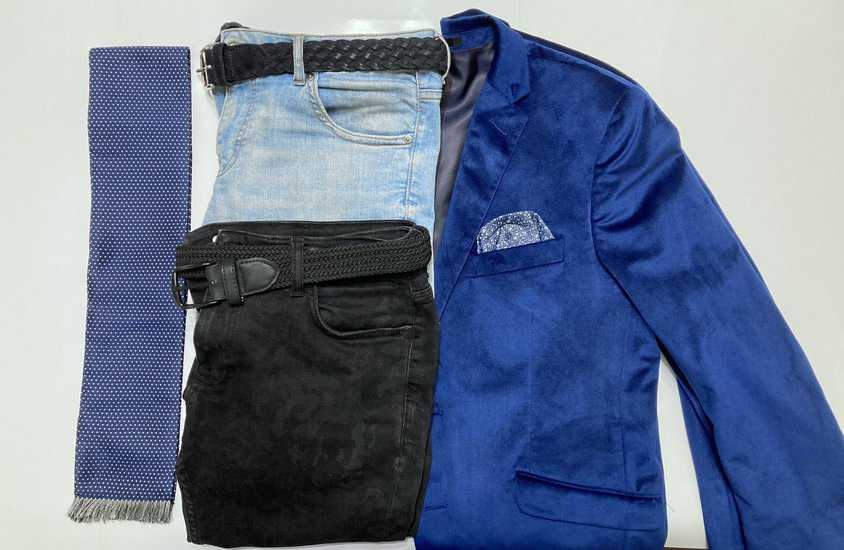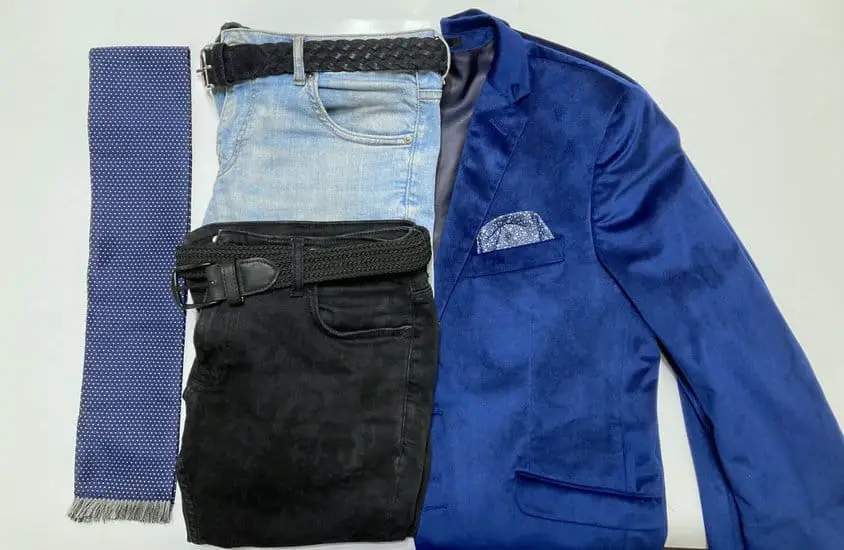 The flat sheen of printed silk scarves complements the gloss of velvet without taking the stage when worn with velvet. 
Velvet Blazer and T-Shirts
No book in this world says that velvet cannot be casual. And when you approach it with ease, it's simple to do. Since there isn't much thought required, wear the blazer simply over a streamlined street appearance.
With stark, white shoes, an effortless ensemble of slim jeans and basic tees (always untucked and somewhat oversized) is transformed into a sports luxe look.
Elevate your winter wardrobe with the ultimate tonal blue aesthetic. Take a larger-fit velvet blazer and layer it with any of the following: a chic tweed waistcoat, or a trendy cable knit sweater.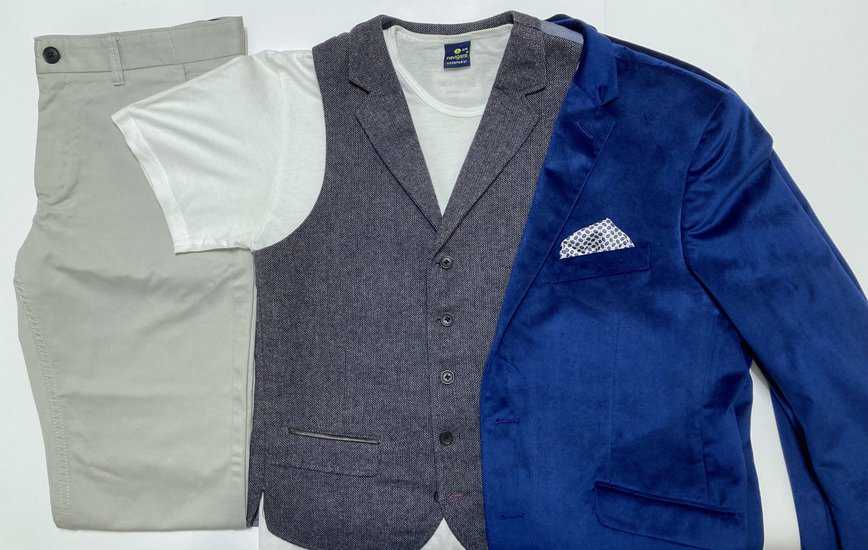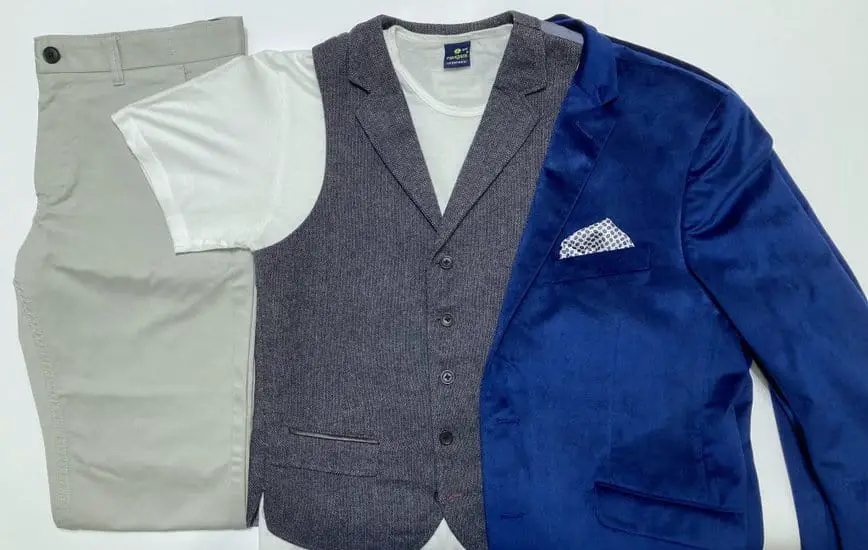 Trust us, you'll be turning heads and serving some serious style wherever you go. Another tip, make sure you choose the right shades of blue depending on your accessories or blazer to make sure your look pops!
Velvet Blazer and Button-Up Shirts
As long as you aren't violating a dress code for the workplace – as if looking good could ever be a crime – by wearing the sheeny jacket, velvet is appropriate for the workplace.
With a fresh white shirt (velvet doesn't need prints or patterns here) and a silk-woven business tie for added texture, creative agency types have this look down pat.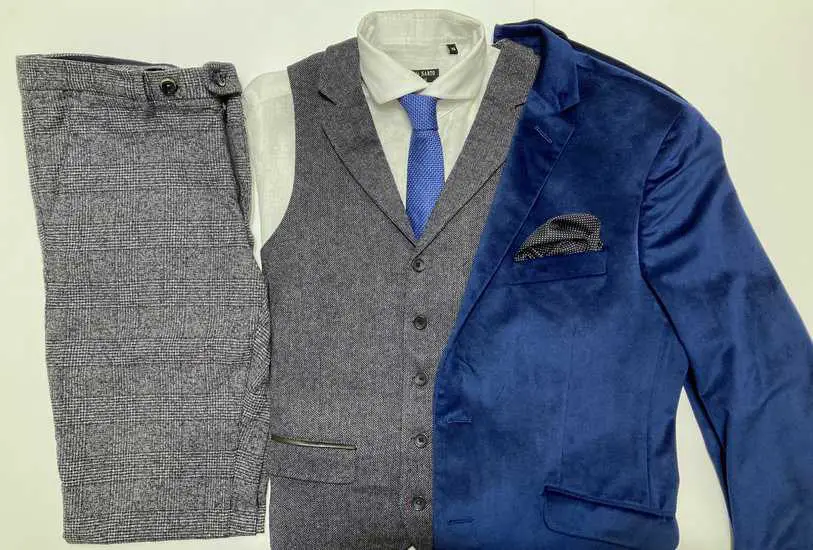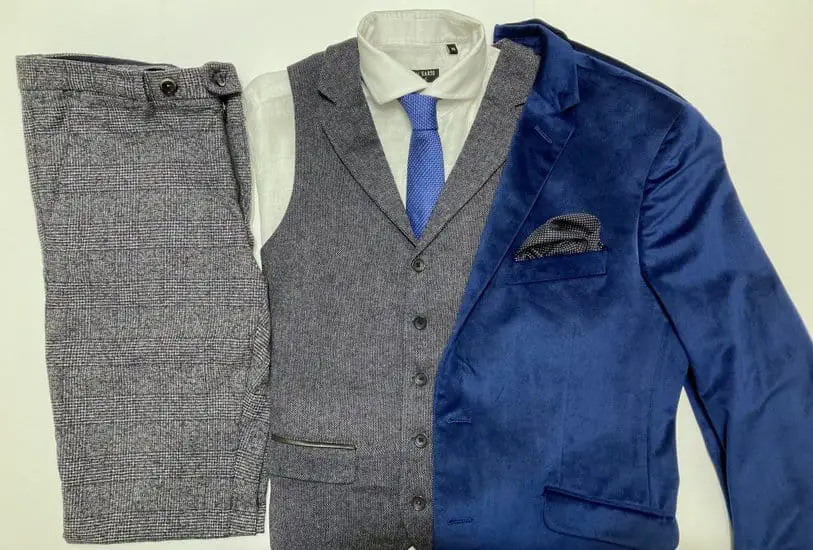 The velvet jacket must be extremely tailored, just like any office garment would, and paired with a pair of wool pants, cotton chinos, or corduroy.
Fake A Bright Suit with Matching Pants
Although you could certainly do this with black or brown as well, opting for more pastel shades is a far more daring and alluring option. Opt for a blue velvet blazer and pants of lighter material, such as cotton, denim, or wool crepe rather than trying to match two velvet pieces, which is quite likely to make you appear too much.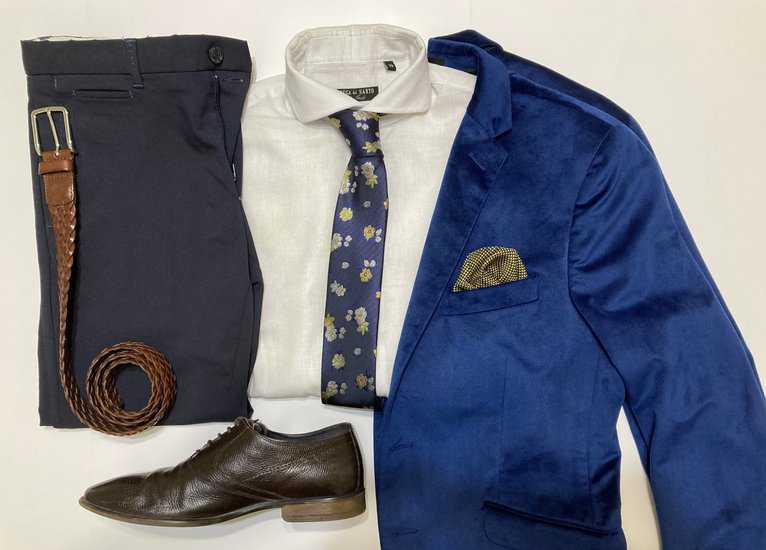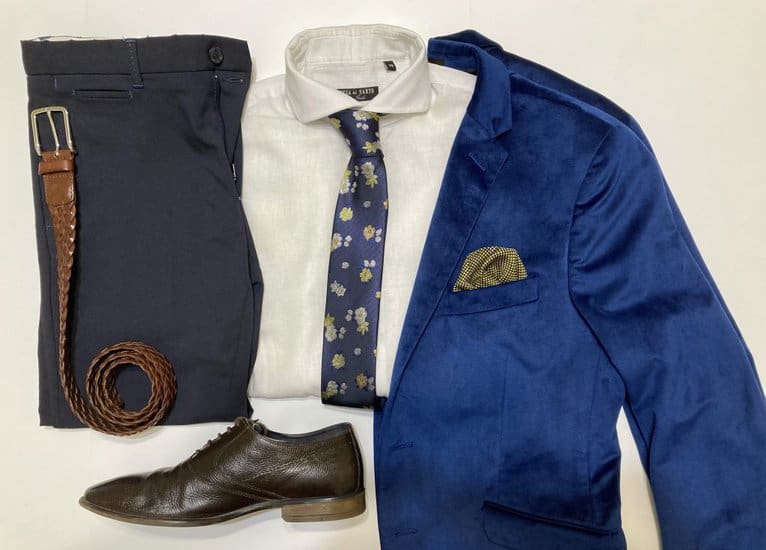 If you can't find similar tones of the same color, having mismatched materials makes it appear less weird. Add simple finishing touches in other solids, such as white, gray, or even pale yellow.
Add a Swater or a Turtleneck Underneath
Even though winter isn't nearly done, you're already getting tired of your puffer coat. A velvet blazer can keep you somewhat warm on your way to work when worn over a thick sweater because velvet is incredibly warm.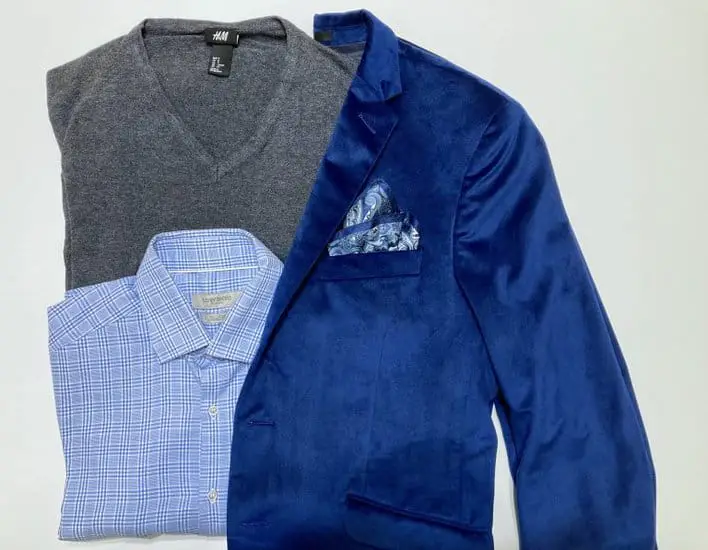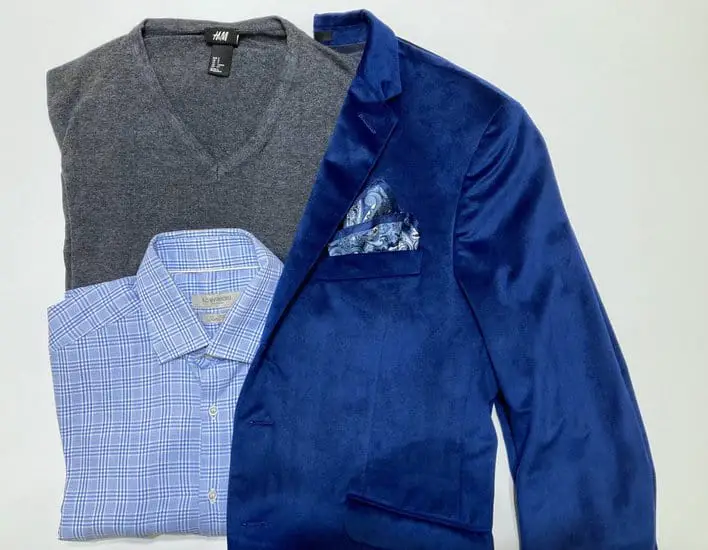 Use layering to your advantage by putting on a shirt or clean t-shirt under your sweater so you can keep the blazer on and take off your sweater at your desk without getting too hot.
Another excellent match for your velvet blazer is the turtleneck. Try pairing the blazer with a cream or white turtleneck, dark gray khinos and black Chelsea boots. Add a contrasting pocket square to finish the look.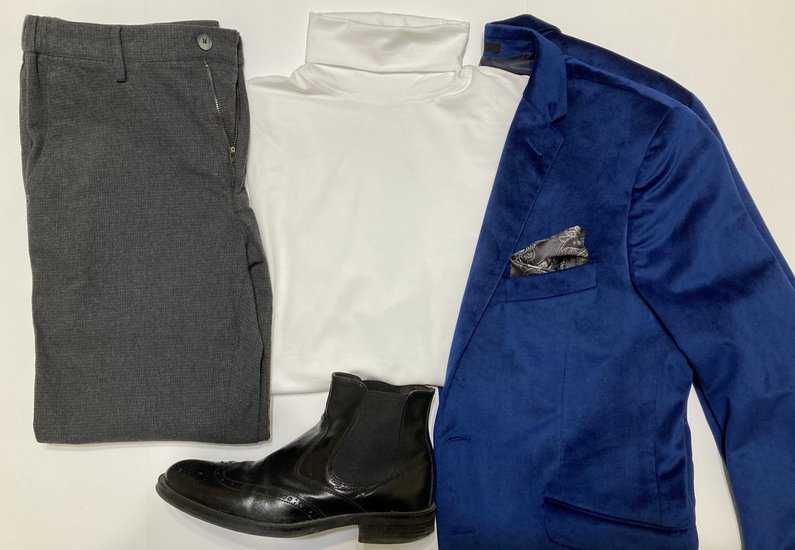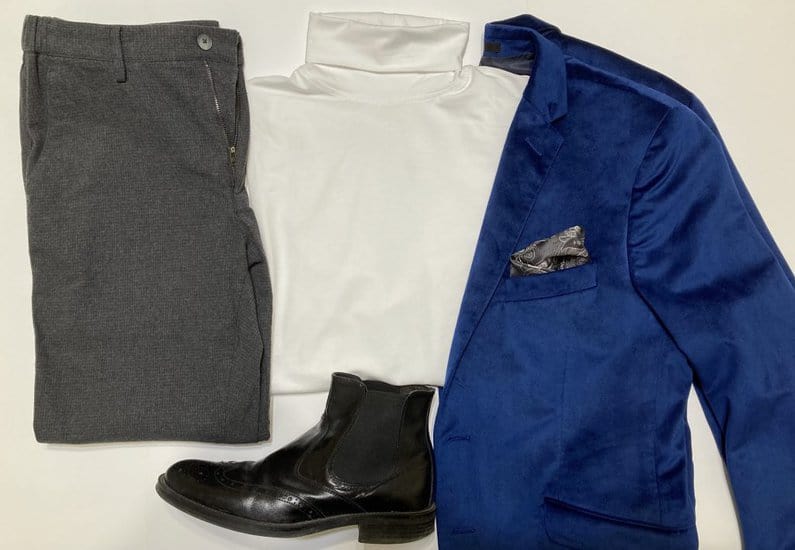 Match Your Accessories to A Colorful Velvet Blazer
Matching your entire set of accessories to your outfit was considered a cardinal sin in fashion a decade or two ago. But now, it is considered a fashion-forward trend. With that said, matching your accessories to your velvet blazer nets you a lot of versatility when it comes to your top and bottom.
For instance, you can wear contrasting clothes, and different patterns, or go for pastel color schemes that'll look alluring as well as match up with your outfit given that your accessories share the same shades of color.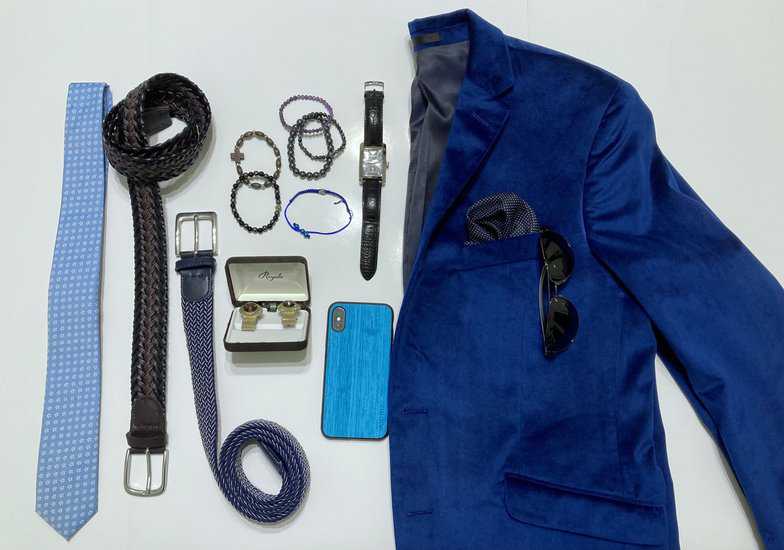 FAQs
Are velvet blazers in style?
Velvet blazers are a great way to add a touch of luxe to your wardrobe. They look especially sharp when paired with dressy trousers and can be an excellent alternative to the traditional black or navy blazer.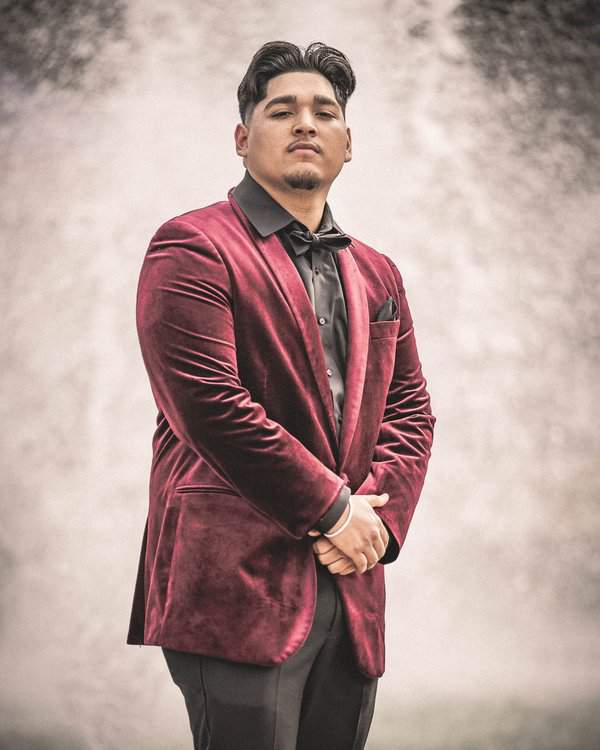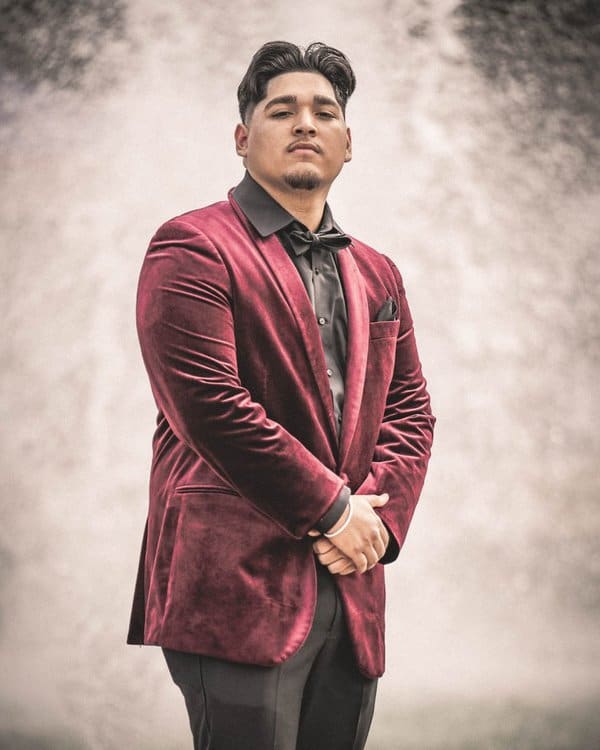 While velvet blazers have been popular for years, they are currently trending as one of the most stylish pieces of clothing for the fall and winter seasons.
What pants do you wear with a velvet blazer?
The best pants to wear with a velvet blazer will depend on the occasion. For a more formal go for tailored trousers in black or navy. For a more casual take, opt for colored corduroy pants, jeans or tan chinos.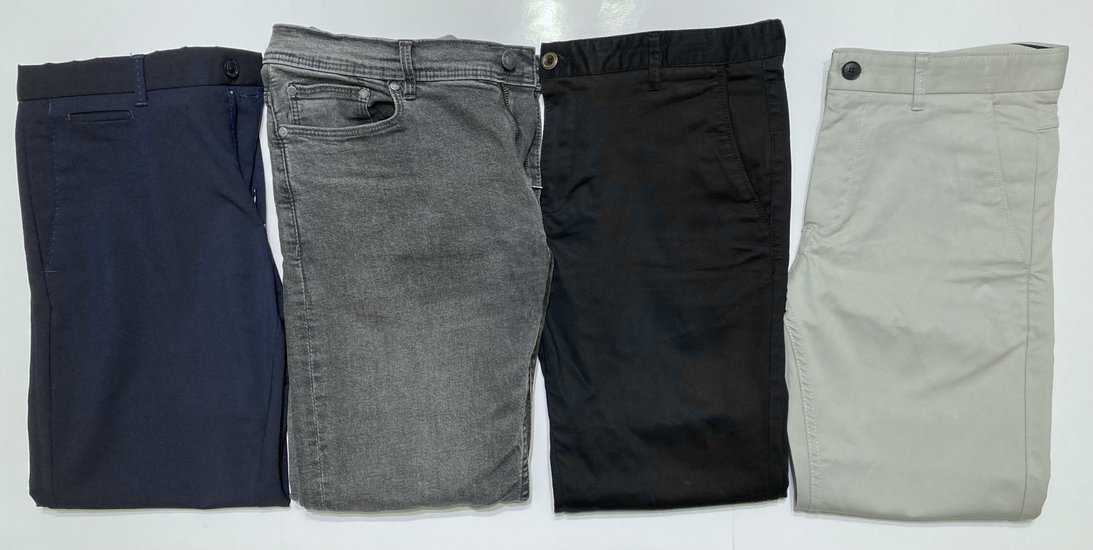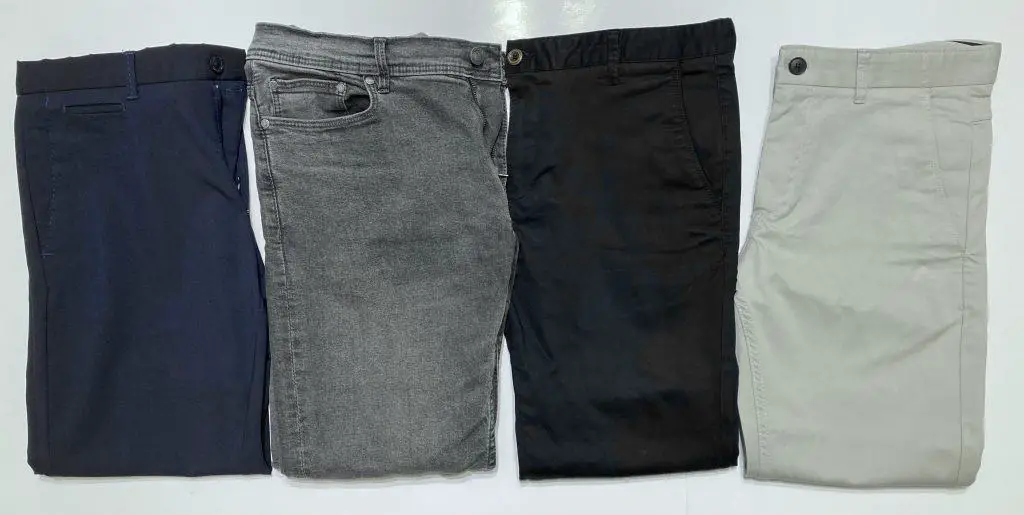 Conclusion
To wrap it up, you can wear a velvet blazer in a variety of ways as it is a simple and easy way to make a statement and get everyone's attention. Whether it is in the corporate world or just in a casual setting. We hope that this article showed you all of the ways you can style a velvet blazer to look classy and chic!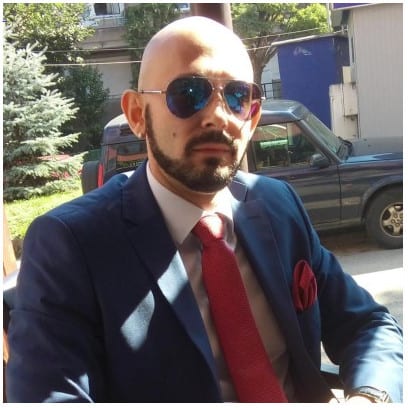 Samoel Ovanessian is the founder and creator of StylishAlpha.com – a website dedicated to men's fashion. As a proud owner of more than 200 ties, he loves digging through new clothing combinations for everyday use, formal events and even just for fun. You can read more about Samoel here.